Herat, Afghanistan: City of Peace
Welcome to Abdul Bari Zarifi and his colleagues as well as the citizens of Herat, Afghanistan, the third largest city in that country and a newly established International City of Peace. Abdul is director of the Afghanistan 3rd Generation for Human Rights (AGHRO) organization which is a national, non-profit, nonpolitical and non-governmental organization that seeks national and international help for development of Afghans in basic human rights need.
Note: Introduction page with information primarily at the time of joining International Cities of Peace. For updates, please contact the liaison.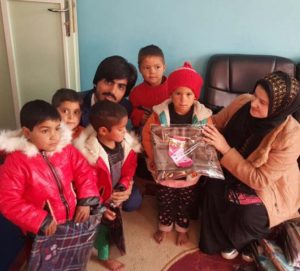 Distributing Scarves and socks to the Orphan kids.
AFGHANISTAN 3RD GENERATION FOR HUMAN RIGHTS (AGHRO)

AGHRO continues and carries operations to help citizens, vulnerable communities, prisoners obtain to enjoy and practice their human rights even in the hardest times which is why we believe that we have created a movement of people who stand up against injustice for people and we campaign for an Afghanistan where human rights are enjoyed by all. We are funded by members and people like you who believe together we can make a difference to make the world a better place which is why we are independent of any political ideology and economic interests.

Kids awaiting their chance to receive their gifts.

 

VISION

AGHRO's vision is that human rights and democracy are included with emphasize in Afghanistan's internal and external policies to make Afghanistan effectively protect and defend human rights and become a force for positive change in world.

Letter of Intent

AGHRO In pursuit of this vision aims to improve Afghanistan's human rights policies to promote democracy, human rights and sustainable peace across the region. AGHRO strives to ensure human rights are respected by everyone so that people live in peace with justice and in a community where all contribute to build a better society without any discrimination, racism, constraints equally.

MISSION

Our mission is to support human rights defenders through comprehensive protection programs that build their capacities to protect themselves from any possible threats allowing them to continue working and fulfill their obligations. AGHRO defends fundamental human rights such as life, dignity, liberty, security and gender equality by fighting against all forms of discrimination such as race, creed, gender, sexual orientation and physical /mental disabilities in accordance to the (UDHR) Universal Declaration of Human Rights set forth by the United Nations.

AGHRO seeks to apply sound virtue projects in rehabilitation and restoration of Afghan women & children through educational & professional trainings and capacity building. We are committed to assist Afghan citizens, residents, immigrants, and those who live abroad with a variety of services that include settlement, family counseling, employment training, translation, interpretation, artistic training, and volunteer opportunities.

GOALS

AGHRO aims to establish technical and professional training centers throughout Afghanistan. – AGHRO works to empower women and women equality with men by providing education, professional, capacity building trainings to improve quality of life for women, men, families and communities.

OBJECTIVES

AGHRO identifies human rights needs and problem throughout Afghanistan and then seeks financial resources and possibilities to implement projects to solve identified issues and improve people lives.

AGHRO raises public awareness and promotes human rights throughout Afghanistan particularly in remote and rural areas by educating about human rights and how to defend and eliminate all forms of discrimination against race, gender, religion and ethnic backgrounds.

AGHRO also works to make resettlement of returning displaces Afghans and refuges in their rural and urban communities smooth.

INTRODUCTION TO AGHRO

Afghanistan Third Generation for Human Right organization (AGHRO) is a national non-profit, non-political, non-governmental organization that seeks national and international help to develop and improve human rights in Afghanistan.

AGHRO promotes human rights, social development, education, health, women empowerment to make Afghanistan more peaceful and progressive where human rights and fundamental freedoms are recognized, respected and everyone is able to defend their rights regardless of race, color, religion and ethnic backgrounds without any restrictions and fear of threats. AGHRO works to improve civilization, hand craft industry, street children lives, agricultural and livestock by increasing public awareness via sessions, conferences, workshops and trainings.

AGHRO ensures that the Universal Declaration of Human Rights (UDHR) are respected and the rules are followed by promoting a common understanding of human rights which is an important part of our individual status as human beings and of our collective status as members of the global community of humankind. AGHRO's independent non-profit, non-political, non-governmental nature allows it to promote and protect human rights with a particular emphasis of improving situation of the most vulnerable groups such as women, children by providing basic primary and computer education, environment protection and preservation and health care particularity by raising awareness of what spreads HIV/AIDS.

AGHRO has stood by the citizens and helped the vulnerable communities, refugees and prisoners obtain, enjoy and practice their Human Rights in times when the country was facing severe difficulties and witnessing flagrant violations of human rights. AGHRO's acts started after approval of analyses higher commission, registrations and receiving license from ministry of Economic.
WHAT WE DO

AGHRO pays keen attention health, education, agriculture, irrigation and profession sectors although we work in all parts of Afghanistan but the NGO is particularly interested and focused to work in the places where severely damages are left by war by implementing projects that aren't undertaken. AGHRO's head office is in located Herat and we have an operative vision to provide high quality services throughout Afghanistan and especially in the remote areas by implementing projects in sectors that improve living conditions in Afghanistan such as health care, education, professional trainings, hand craft, vaccination, teachers training.

At AGHRO, we believe that everybody has the right to fulfill their potential and improve their life prospects via education. We provide Afghans access to the following long and short term educational and professional trainings so that no more time, potential, or lives wasted. – Business Administration training: Business administration is one of the most popular college degrees in the world and with good reasons. Armed with this versatile knowledge students can potentially launch a career in any industry, from music to manufacturing, construction to consulting. In general, our business administration trainings cover management principles and practices such as the following:

• IT Courses: Today's modern world is incomplete without computers and their applications. It's almost impossible to even imagine the modern facilities without the use of computers but unfortunately in Afghanistan people still don't have access or never used computers before. Our training is designed to give students a solid foundation. Once they have understood the basics, they will have a clear understanding on which to build their future knowledge and skill with computers and the Internet. In general, our IT trainings cover and practice the followings: Microsoft office package, Hardware, Internet, Graphic design and Web development.

• Language Courses: We teach a wide range of foreign languages that are carefully designed to take students from beginner to beyond advanced level. All of our courses are taught by communicative methods involving active learning and useful language skills. Students have the option to choose from the languages below or discuss with the instructor to choose one that's right for them. English (DEL), Turkish, French, German and Arabic.

• Agriculture training programs: AGHRO's agriculture training program teaches how precision agriculture and modern day farming practices impact farming operations and agribusiness around the world. Through AGHROS' training program students and farmers have the opportunity to gain hands-on experience in a beekeeping, field crops, horticulture, gardening, livestock, dairy farming, food processing and fruit nursery. Learn the most efficient harvesting methods by using the newest and most up-to-date agricultural machinery and technology in our custom harvesting, field crops, and precision agricultural programs. Our experienced trainers' help participants learn the necessary business, technology, and farming skills to be successful in the rapidly changing industry and be prepared for any challenges they may face.

• Hygienic and healthy environment training: AGHRO's hygienic and healthy environment training program has many facets of an efficient and effective cleaning program in a long-term care facility, from cleaning, to disinfecting, to infection prevention, to creating a "just like home" environment. We understand that making a safe and clean living space can be challenging in Afghanistan, but with the right processes in place, the students can make a hygienic and healthy Afghanistan.

– Mobile & wireless engineering: AGHRO's wireless engineering training program is intended to provide students with leading edge specialized knowledge in for advancement in this career and productivity. The program incorporates electives in the latest wireless technologies, such as courses in Global System for Mobile (GSM), Universal Mobile Telecommunication System (UMTS), IEEE 802.11 and other non CDMA-specific wireless technologies. Wireless communications technology has developed without measure in the past ten years. The worldwide success of wireless communication has resulted in an increased demand for skilled people in Afghanistan.

• Tailoring trainings for women: AGHRO's tailoring training program provides Afghan women the opportunity to learn tailoring and how to run a small tailoring business from their homes. Women enter the course not knowing the basics and they leave with a livelihood. Poverty remains widespread in Afghanistan's struggling economy and widows are especially vulnerable to unemployment and poverty. In order to help widows and other women AGHRO has tailoring training programs that teach women to sew a wide variety of clothing from patterns which they can then sell. https://www.globalgiving.org/projects/small-business-for-afghan-women/

• Traditional carpet weaving training program: AGHRO's carpet weaving training provides women with the opportunity to learn to weave beautiful carpets and then the sales earn women income to support themselves and their families. Many Afghan women today experience cultural barriers to employment. But carpet weaving is a traditional income-earning occupation for women in Afghanistan. Therefore, women can easily use this skill to support themselves and their families.

• Handicraft training program: AGHRO's handicraft training program overcomes strict cultural norms in Afghanistan that discourage women from pursuing employment, often forcing them to live in poverty if there are no male family members willing to support them. We identified that there was very little opportunity for disadvantaged women and in particular widows, to undertake vocational training or receive dignified income-generating opportunities. Our handicraft training program for women is designed to empower women generate a sustainable income for themselves and their families. Most of program participants after acquiring this valuable skill become self-sufficient, either by operating handicraft services from their homes or selling handicrafts locally.

• Micro and small business loans: AGHRO's micro and small business loans program helps small business owners with limited access to capital have a chance to live their dreams. We provide small business loans and minority business loans for women, startups, and entrepreneurs throughout Afghanistan. When the businesses are unable to obtain traditional financing for their needs, we arehere to help them so that they become financially stronger, create jobs, revitalize and contribute to Afghanistan economy.

ORGANIZATIONAL STRUCTURE

AGHRO is governed by the Board of Directors that includes key owners and top managers from the following departments. General Director, Deputy Director, Administrative Department, Planning Department, Social Service Department, Profession Department, Education Department AGHRO is composed of several human rights departments including Women Rights, Children Rights, Social Service Department, Profession Department and Education Department as well as Finance, Human Resource, IT, Operation & Procurement and Medical & Agriculture advisories.

We have spent years building and refining our organizational structure to ensure the consistency and quality of our development processes. AGHRO employs a matrix organizational structure that is flexible and adaptive to customer requirements. Each department typically consists of several project teams. A team is headed by a Project Manager and may include employees from different production departments.

Each team member is accountable to the Project Manager and the Head of his/her production department. AGHRO is staffed with an organized group of administrative personnel to support its operations. A project Manager is typically assigned a project and coordinate the various activities of the different disciplines involved. He/She will coordinate the various disciplines in all phases of project development which include site investigation, conceptual schematics, and cost estimates, technical specifications, bid documentation, project scheduling, and project management depending on the engagement of the firm. The managing Principal coordinates the different project managers.
---
ABOUT ABDUL BARI ZARIFI AND AGHRO
DIRECTOR'S MESSAGE

Afghanistan 3rd Generation for Human Rights Organization (AGHRO) was established by a group of like-minded individuals, with a passion for serving humanity and fighting for human rights & justice. Mr. Abdul Bari Zarifi among the group of forward thinking and enthusiastic young people, decided to establish an organization in order to serve all citizens regardless of race, color, religion, and ethnic background by providing assistance, guidance, and protection against human rights violation.

He realized that citizens residing in the remote areas of Afghanistan in spite of living in a modern age where access to information is relatively easy needed to be made aware of their basic human rights to protect their self and their family. This is an astonishing fact especially in an era where in some parts of the world a hint of violation against human rights is a punishable offense, yet in Afghanistan such violations are unremitting. Afghanistan is still in war which is destroying development, killing hopes and beliefs in a better future.

Although the UN worked and implemented a lot of projects in last 15 years but the majority of Afghanistan still doesn't have access to basic services and are in need of the UN & international communities to support education, professional training, economy, social culture, agriculture & livestock, health care access, higher education and clean environment.

AGHRO provides educational and professional trainings to young Afghans because lack of access to higher education is one of the major problems for youth in Afghanistan which is also one of the reasons they leave their country. We motivate the youth to provision education to their families especially women and consider themselves individual supporters of Afghanistan by developing their capabilities, knowledge, and capacity. AGHRO works with farmers to modernize and standardize farming and livestock to improve production and cultivate more with fewer resources.
---
CONTACT INFO
For more information please contact:

Abdul Bari Zarifi, Director
Afghanistan 3rd Generation for Human Rights Organization
Phone: 040236977
Cell#: +93(0)799500522 /+93(0)700000708
Skype: aghro.aghro1
PO Box: 141 Herat
Email info@aghro.org.af
director@aghro.org.af

Web www.aghro.org.af

Address
Mehri High School Road, Mehri Herway Street 12, 5th District
Herat, Afghanistan.
---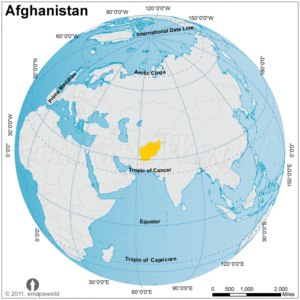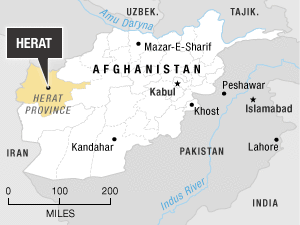 ABOUT HERAT, AFGHANISTAN (from Wikipedia)
Herat is the third-largest city of Afghanistan. It has a population of about 436,300, and serves as the capital of Herat Province, situated in the fertile valley of the Hari River. It is linked with Kandahar and Mazar-e-Sharif via highway 1 or the ring road. It is further linked to the city of Mashhad in neighboring Iran through the border town of Islam Qala. 

Herat dates back to the Avestan times and was traditionally known for its wine. The city has a number of historic sites, including the Herat Citadel and the Mosallah Complex. During the Middle Ages Herat became one of the important cities of Khorasan, as it was known as the Pearl of Khorasan. It has been governed by various Afghan rulers since the early 18th century. In 1717, the city was invaded by the Hotaki forces until they were expelled by the Afsharids in 1736. After Nader Shah's death and Ahmad Shah Durrani's rise to power in 1747, Herat became part of Afghanistan.[4] It witnessed some political disturbances and military invasions during the early half of the 19th century but the 1857 Treaty of Paris ended hostilities of the Anglo-Persian War. Herat suffered from extensive destruction during the Soviet war in the 1980s, but certain parts of the city have been spared from it.

The name of the district and its main town is derived from that of the chief river of the region, the Herey River (Old Dari Hereyrud, "Silken Water"), which traverses the district and passes some 5 km (3.1 mi) south of modern Herāt.

Herāt is now fully under the control of Afghanistan's new central government, led by Ashraf Ghani, who was initially backed by the United States. The Afghan National Army (ANA) and the Afghan National Police provide security in the city as well as the whole province. Regional Command West, led by Italy, is the International Security Assistance Force presence in the area, which assists the local Afghan military headquarters, the ANA 207th Corps. Herat was one of the first seven areas that transitioned security responsibility from NATO to Afghanistan. On July 21, 2011, Afghan security forces assumed lead security responsibility from NATO. On the occasion, Minister of Defense Wardak told the audience, "this is our national responsibility to take over our security and defend our country."


Due to their close connection, Iran began investing in the development of Herat's power, economy and education sectors. As a result, the city now enjoys 24-hour electricity, paved roads, and a higher sense of security.[25] In the meantime, the United States built a consulate in Herat to help further strengthen its relations with Afghanistan. In addition to the usual services, the consulate works with the local officials on development projects and with security issues in the region.
It is a multi-ethnic society with Persian-speakers as the majority. Persian serves as the lingua franca of the city.
DO YOU THINK YOUR COMMUNITY CAN BE A CITY OF PEACE? SEND AN EMAIL!

Note: If information or photos used here are copyrighted, please contact us and we will immediately delete the copyrighted material.