The staff of Sun Fundacion in Medellín.
Medellín, Colombia: City of Peace
Welcome to VALENCIA MARY SOL ACEVEDO and her colleagues from Medellíin, Colombia: City of Peace. She is the founder of the Sun Foundation, which has been working in Medellín since 1999.
Note: Introduction page with information primarily at the time of joining International Cities of Peace. For updates, please contact the liaison.
 

---
Since the 1960s, the country has suffered from an asymmetric low-intensity armed conflict. The conflict escalated in the 1990s, but since 2000 the conflict has decreased considerably.

Letter of Intent

 

FUNDACIÓN EL SOL

The Sun Foundation is a nonprofit doing humanitarian social work beginning in 1999. It was registered with Legal Personality No. 0026 issued on January 18, 2001 by the ICBF, with Nit. 811027031-8 DIAN, and low register 390, the Chamber of Commerce of Medellín for Antioquia and carrying a force to serve the community at large than 15 years.

The organization, led by VALENCIA MARY SOL ACEVEDO, collaborates with the state in individual and social development of the community with various programs that allow the effective achievement of improvement quality of life of populations in different sites of the Colombian territory.

The Sun Foundation initiates activities, handouts and primary care, with one of its flagship programs, ¨The attention to homelessness and people in drug rehabilitation in 2000 was consolidated by meeting directica board and potentiates its work in 2001 by legalization and registration, receiving status, Nit DIAN and Resolution Chamber of Commerce of Medellín for Antioquia, Colombia.

 
---
VISION

Within the humanitarian social work with different programs, the Sun Foundation supports processes for some programs in the form of contracts with the Colombian State, which are developed in compliance with one hundred percent compliance in these services and quality are certified of the work that the Foundation is providing.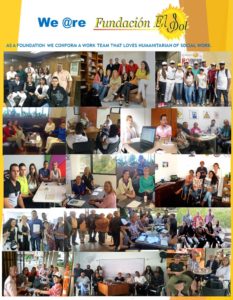 ---
MISSION
• The Colombian Institute of Family Welfare for juvenile offenders
• As pioneers in peace programs in Antioquia with:
• The Mayor of Medellin. Flag Program demobilized urban militias
• Presidency of the Republic of Colombia with the peace agenda:
• Ministry of Defence with the demobilized and Ministry of the Interior and Justice with attention to the reinserted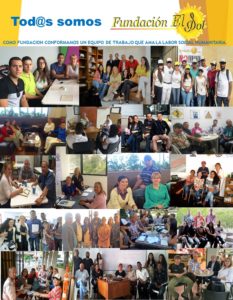 By serving these last three programs, the Sun Foundation has become pioneers in developing peace programs in Medellin and Antioquia. Colombia, considering the population out of the armed conflict where they were actors who were operating illegally program where we are who we generated patterns of social reintegration program and re psychosocial inclusion, this service also are highly certified in writing by the ministries and the presidency and also we have been certified each of our services where the government is our main supplier of achieving our humanitarian social work.
GOALS
• The organization continues to develop in different cities of our country actions, activities and programs that allow us to generate contributions of progress, improvement, quality of life and peace for the people we serve
• The Sun Foundation in its history constantly working to strengthen its programs and activities with the population which is engaged in humanitarian social services, which allowed it to be recognized with the programs championed by working with all those populations that are in social inequality and therefore generate instability of the social fabric and the right to peaceful coexistence
• The Sun Foundation is an institution concerned about the vulnerable population in extreme poverty, the youngest children, female heads of households, young and older adults, different social groups and populations that are involved in different forms of conflict and social needs and who serve from different psychosocial intervention programs and training projects with high entrepreneurship and sustainability that allows them to improve their quality of life and contribute to the rebuilding of the social fabric and aboriginal women's social peace so desired by the country.
• The Foundation framed in the policies of the new millennium, that seek to reduce poverty by supporting vulnerable populations with high entrepreneurial projects and high future sustainability and at the same time are in the care of the environment and climate change, seeking the development and creation of opportunities for humanity and social peace
WE ARE IN PARTNERSHIPS AND JOINT DEVELOPMENT BANK PROGRAM IN OTHER COUNTRIES AS PERU AND MEXICO.
• Acceptance as Representative of International Cities of Peace
From VALENCIA MARY SOL ACEVEDO: "I want to express my greatest appreciation for the confidence and appreciation that provides me by making me part of this valuable commitment as being the representative international city of peace for Colombia from Medellin. The path we have already allowed us to gain experience in this model of negotiations and work on creating social peace, with commitment and love for the human being, our commitment is large and unlimited in time and activities to do we perform. It is my desire to bring this social work at each of the sites of my beloved country and cross borders every place where we can contribute a bit to the much desired peace we want all human beings, this planet is very beautiful and only needs we generate social networks to care for and keep fit for every being in the happy living with himself and his environment.
"In our proposal we are very aware that we need to work with individuals, populations, organizations and national and international to increase and have higher achievement and social impact organizations, cross social boundaries and countries that achievements can be carried out in each and every one of the sites that can bring stability and social peace.
"Both my personal and institutional commitment is full and unlimited and it is able to develop great actions around city building peace. I reiterate my thanks for being part of your team and assume proposals and implementation of high impact actions and positive content to have this commitment to achieve peace cities."
---
ABOUT VALENCIA MARY SOL ACEVEDO
CURRICULUM VITAE SOL MARY VALENCIA ACEVEDO
ALCALDÍA DE MEDELLÍN
• Instructora del programa educación para la convivencia pacífica en Medellín
1993

EN DIFERENTES INSTITUCIONES DE TRABAJO EN REHABILITACIÓN EN FARMACODEPENDENCIA COMO:
• Trabajadora social
• Miembro directivo de departamentos de reinserción y seguimiento a usuarios
• Miembro equipos de familias
• Miembro fundador departamento de gestión humana
• Asesora de practicantes de trabajo social y psicología
• Asesora y gestora de programas y departamentos (elaboración propuesta para el modelo de Tratamiento)
1994-1995 1996

UNIVERSIDAD PONTIFICIA BOLIVARIANA
• Tallerista escuela de padres de familia sección de bachillerato.
1996
• FUNADACION UNIVERSITARIA LUIS AMIGO.
• Docente de cátedra facultad de desarrollo humano familiar
• Asesora de cinco agencias de practica de la facultad de desarrollo familiar.
• Gestora de currículo de cátedra.

UNIVERSIDADA DE ANTIOQUIA
• Docente facultad de medicina en especialización de pediatría
• Asesora de prácticas comunitarias de noveno semestre de medicina
• Trabajo familiar en servicio de adolescente en el hospital universitario san Vicente paúl en convenio de la facultad de Antioquia facultad de medicina.
1997-1998

UNIVERSIDAD MARIA CANO
• Docente de cátedra en la facultad de fisioterapia
• Asesora de proyectos de practica en el área social
1995

CENTRO DE CAPACITACION CRUZ ROJA DE ANTIOQUIA
• Miembro del voluntariado de las cruz roja en capacitación, conferencista programa de extensión de la cruz roja
1998

SEMED LTDA: EN EL AREA DE SERVICIOS MEDICOS DOMICILIARIOS INTEGRALES.
• Miembro del equipo directo de la entidad en Medellín, empresa con labor en la comunidad miembro de la policía metropolitana.
Seccional Antioquia,
• Trabajadora social de campo en visitas domiciliarias
Para trabajo familiar a población crónica y terminal en
en los sectores y comunas de vulnerabilidad y pobreza de
Medellín
1998-1999.

CONSULTORIO PARTICULAR.
• Aseria individual,
• Parejas
• Familias a diferentes instituciones para proyectos en el área social y
humana
Desde 1995 hasta la fecha

SERIENTER.
• Fundadora y gerente
1998-2002

FUNDACION EL SOL
• Fundadora, Representante Legal y Directora General
2001 hasta la fecha

CONFERENCISTA Y TALLERISTA.
Empresas, colegios, universidades, centros comunitarios
en eventos varios en temas sociales y humanitarios
Desde 1995 hasta la fecha.
• CREADORA, GESTORA Y ASESORA DE PROYECTO
• Intervención social comunitaria para la población des adaptativa y de alto riesgo por el Impacto del conflicto social, entre los cuales se destacan:
• Proyecto para el trabajo preventivo con menores infractores y contraventores en responsabilidad del instituto de bienestar familiar.2001
• Proyecto para el trabajo preventivo y de intervención con el habitante de la calle indigente.2002
• Modelo de intervención socio familiar en instituciones irregulares y de riesgo en responsabilidad del instituto de bienestar familiar.2002
• Proyectos para el trabajo preventivo de las funciones socio-familiares y farmacodependencia.2002
• Proyecto de paz en la atención de desmovilizados de milicias urbanas que se presentó y desarrollo desde la Fundación El Sol y sirvió de Base para el trabajo que se hizo con la desmovilización del bloque cacique nutibara en la ciudad de Medellín.2003
• Proyecto para la alcaldía de Medellín con el programa de reincorporación a la vida civil de las personas y grupos alzados en armas de las milicias urbanas de la ciudad de Medellin.2003
• Proyecto para el programa presidencial de paz con personas y grupos alzados en armas del Ministerio de defensa Nacional de la presidencia de la Republica de Colombia. 2003
• Proyecto para el programa presidencial de paz con personas y grupos alzados en armas del Ministerio del Interior y de Justicia de la presidencia de la Republica de Colombia. 2003

 
---
CONTACT INFO
For more information please contact:

FUNDACIÓN EL SOL Administrative headquarters

Kra 35 N 8A72 of 202-203 Barrio El Poblado, Medellín. Ant. Colombia

Tels 3119791- 3119872 Cel 3113427410
e-mail: fundacionelsol.org@gmail.com

http://www.fundacionelsol.org/

 
---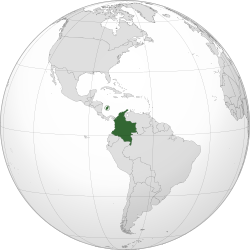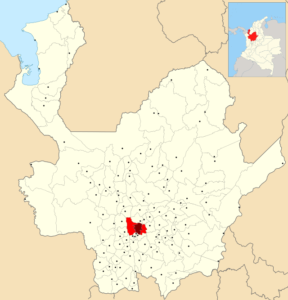 ABOUT MEDELLIN, COLOMBIA (excerpted from Wikipedia)
Colombia (/kəˈlʌmbiə/ kə-LUM-biə, or /kəˈlɒmbiə/ kə-LOM-biə), officially the Republic of Colombia (Spanish: República de Colombia [reˈpuβlika ðe koˈlombja]), is a country situated in the northwest of South America, bordered to the northwest by Panama; to the east by Venezuela and Brazil; to the south by Ecuador and Peru; and it shares maritime limits with Costa Rica, Nicaragua, Honduras, Jamaica, Dominican Republic and Haiti. It is a unitary, constitutional republic comprising thirty-two departments.

Medellín (Spanish pronunciation: [meðeˈʝin]), officially the Municipality of Medellín (Spanish: Municipio de Medellín), is the second-largest city in Colombia and the capital of the department of Antioquia. It is located in the Aburrá Valley, a central region of the Andes Mountains in South America. According to the National Administrative Department of Statistics, the city has an estimated population of 2.44 million as of 2014. With its surrounding area that includes nine other cities, the metropolitan area of Medellín is the second-largest urban agglomeration in Colombia in terms of population and economy, with more than 3.5 million people.

In 1616 the Spaniard Francisco Herrera Campuzano erected a small indigenous village ("poblado") known as "Saint Lawrence of Aburrá" (San Lorenzo de Aburrá), located in the present-day El Poblado commune. On 2 November 1675, the queen consort Mariana of Austria founded the "Town of Our Lady of Candelaria of Medellín" (Villa de Nuestra Señora de la Candelaria de Medellín) in the Aná region, which today corresponds to the center of the city (east-central zone) and first describes the region as "Medellín". In 1826, the city was named the capital of the Department of Antioquia by the National Congress of the nascent Republic of Gran Colombia, comprised by present day Colombia, Venezuela, Ecuador and Panama. After Colombia won its independence from Spain, Medellín became the capital of the Federal State of Antioquia until 1888, with the proclamation of the Colombian Constitution of 1886. During the 19th century, Medellín was a dynamic commercial center, first exporting gold, then producing and exporting coffee.
The Medellín Metropolitan Area produces 67% of the Department of Antioquia's GDP and 11% of the economy of Colombia. Medellín is important to the region for its universities, academies, commerce, industry, science, health services, flower-growing, festivals and nightlife.

In February 2013, the Urban Land Institute chose Medellín as the most innovative city in the world due to its recent advances in politics, education and social development. In the same year, Medellín was announced as the preferred corporate business destination in South America, and won the Verónica Rudge Urbanism Award conferred by Harvard University to the Urban Development Enterprise, mainly due to the North-Western Integral Development Project in the city. In September 2013, the United Nations ratified Colombia's petition to host UN-Habitat's 7th World Urban Forum[8] in Medellín, from April 5–11, 2014.

 
DO YOU THINK YOUR COMMUNITY CAN BE A CITY OF PEACE? SEND AN EMAIL!
Note: If information or photos used here are copyrighted, please contact us and we will immediately delete the copyrighted material.