ICP SKILLS DEVELOPMENT PROGRAM™
This program from International Cities of Peace is provided for leaders and team members of Cities of Peace around the world. This page includes a description of the ICP Valued Provider™ program as well as a listing of Free Online Courses that offer certificates of completion for résumé purposes.

---
The ICP Skills Development Program™ is intended to provide free opportunities for the Liaisons and Team Members of Cities of Peace to acquire training in specialized areas. Training, workshops, classes, etc. are to be provided free of charge and a Certificate of Completion must be issued to the attendee.
An ICP Value Provider™ (VP) designation is for those consultants and organizations who wish to become an important part of the Cities of Peace Movement toward a culture of peace. Valued Providers (VPs) are acknowledge by the Executive Director of International Cities of Peace for their expertise in a range of skills training.
How to Become a Valued Provider
Potential suppliers and trainers must submit credentials and program specifics to International Cities of Peace in order to earn the title of Valued Provider (VP). Usually, a Provider provides a successful history of skills training in regards to City of Peace members. As an altruistic effort, VPs receive no compensation from International Cities of Peace or individual Cities of Peace.
The Official Valued Provider (VP) Logo
The skills provider can use the official VP logo on promotional materials and social media for one year, renewable through the Executive Director. However the VP is not authorized to use the official International Cities of Peace Logo. This ensures a distance between the Association and the Skills Provider in terms of liability.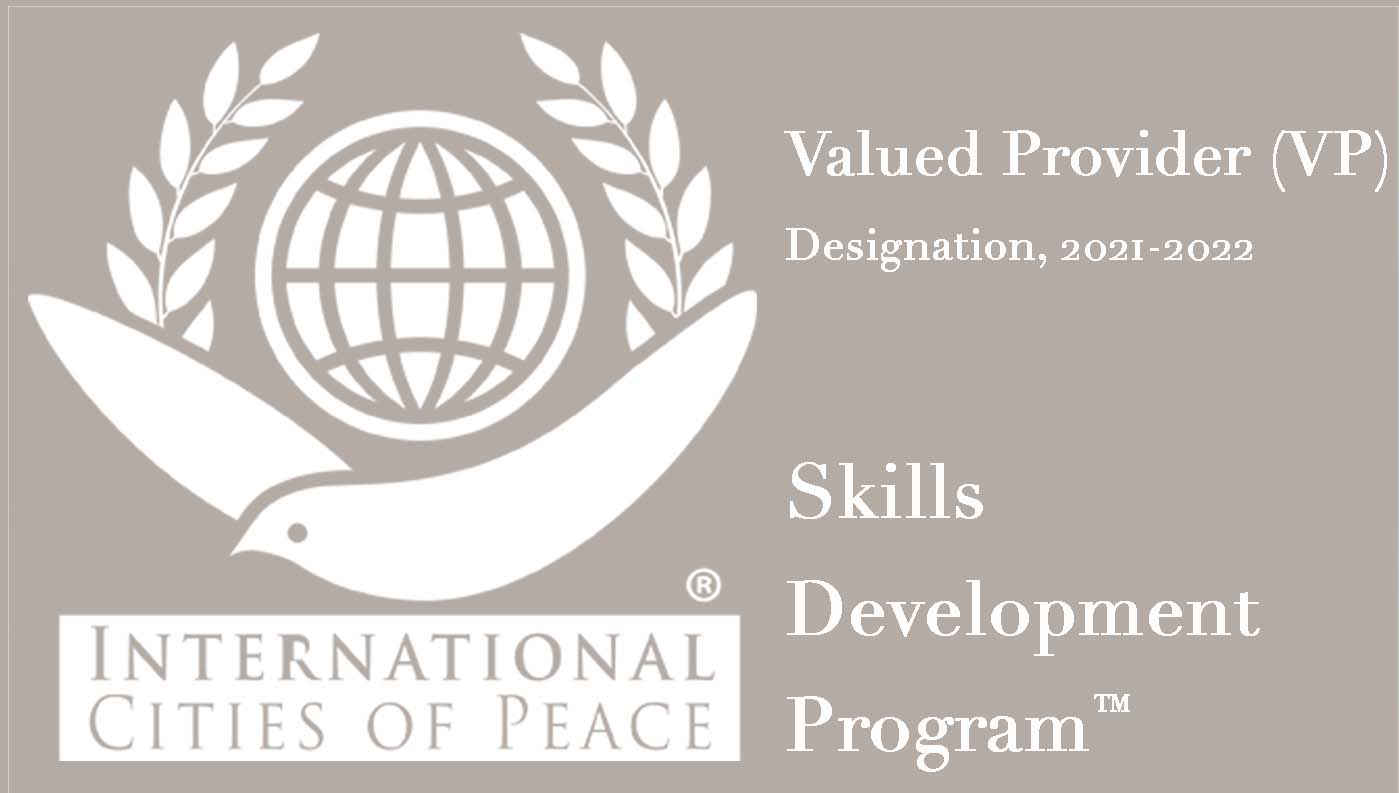 Example of Valued Providers (VPs) associated with ICP:
Brian and Lisa Berman, Liaisons for the City of Peace in Ojai, California offer free workshops and conferences as an outgrowth of their organization Awakening Peace.
A sampling of free skills training possibilities:
Entrepreneurial skills • Skills in Conflict Resolution • Community safety • Agile Framework teams • Other skills relating to safety, prosperity, and quality of life issues
For more information, contact info@internationalcitiesofpeace.org at: info@InternationalCitiesOfPeace.org
---
FREE ONLINE COURSES
CHECK TO ENSURE THEY OFFER CERTIFICATES OF COMPLETION
---
Free courses from the United Nations:
5 free United Nations online courses you can take anywhere, anytime
---
Free courses from OPEN UNIVERSITIES AUSTRALIA: Open Universities Australia
• Leadership: Identity, Influence and Power (LEAD) https://www.open2study.com/courses/leadership-identity-influence-power
• Entrepreneurship and Family Business https://www.open2study.com/courses/entrepreneurship-and-family-business
• Negotiation and Conflict Resolution https://www.open2study.com/courses/negotiation-and-conflict-resolution
---
Free help for learning English by AGENDA WEB. Hundreds of free exercises in English grammar, pronunciation, vocabulary, verbs. Includes videos, MP3 files, songs, worksheets and tests. No certificate available, only help.
Listening conversations and exercises by level.
Free Courses From the UNITED STATES INSTITUTE OF PEACE: U.S. Institute of Peace
• General course list: http://www.usip.org/online-courses
• Glossary of Conflict Management: Peace Terms: Glossary of Terms for Conflict Management and Peacebuilding
• Conflict Analysis: Certificate in Conflict Analysis
• Conflict Resolution: Certificate in Interfaith Conflict Resolution
• Conflict Management: Certificate in Negotiation and Conflict Management
• European focus: Certificate in Organizaiton for Security and Cooperation in Europe
---
Free Courses from the KHAN ACADEMY: Khan Academy
• Entrepreneurship: https://www.khanacademy.org/economics-finance-domain/entrepreneurship2
---
Free Courses from the METTA CENTER FOR NONVIOLENCE: http://mettacenter.org/research-education/self-study/
I. Introducing Nonviolence
II. Peace and Conflict Studies: Webcasts
PACS 164 C (taught by Michael Nagler at Metta Center)

III. Nonviolent Action
IV. The Spirituality of Nonviolence
V. Data & Strategy
---
Free Coursework from the CENTER FOR GLOBAL NONKILLING: http://www.nonkilling.org/node/11
Certificate program not yet available.
---
™ The ICP Skills Development Program is a trademark of Cities of Peace, Inc.