Bradford, England: City of Peace
The Peace Museum in Bradford is the only accredited museum of its kind in the UK and is a member of the International Network of Museums for Peace. With a collection of over 7000 items, there is much to explore! Find out more about our history.
Instrumental in the founding of the Bradford Peace Museum was Dr. Peter vanden Dungen. Peter has variously served as a member of the ICP Advisory Board and Board of Directors. He is a scholar on cities of peace and serves as General Secretary of the International Network of Museums for Peace.
The University of Bradford, which has over 10,000 students, received its Royal Charter in 1966, but traces its history to the 1860s when it was founded as the Bradford Schools of Weaving, Design and Building. Its Peace Studies department, founded with Quaker support in 1973, was for a long time the only such institution in the UK.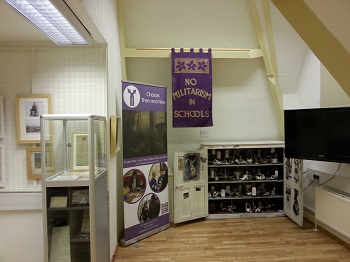 Note: Introduction page with information primarily at the time of joining International Cities of Peace. For updates, please contact the liaison.
---
Bradford Peace Museum:
http://www.peacemuseum.org.uk/about/
The Peace Museum explores the events and history of people and organisations that have worked to promote peace, non-violence and conflict resolution.  It is the only museum in the UK dedicated to the collection, conservation, and interpretation of material relating to the history and development of peace, nonviolence and conflict resolution. Through exhibitions and learning activities, The Peace Museum aims to help build a 'culture of peace' in the here and now.
The Peace Museum offers an interesting programme of travelling exhibitions and permanent exhibitions.  Travelling exhibitions are available to any interested organisation and are have been on display at diverse venues in the UK, Europe, Asia and North America.
The Peace Museum welcome welcomes individual and group visits and offers a tailored programme of school visits.
The Peace Museum has a unique collection of over 5,000 items, including posters, banners, badges, leaflets, booklets, photographs, memorabilia, film, oral history, and audio.  One-of-a-kind artefacts help bring the stories of peace and justice movements and individual peacemakers to life and inspire museum audiences.
About Bradford:
A metropolitan borough of West Yorkshire in Northern England, Bradford is situated in the foothills of the Pennines, 8.6 miles (13.8 km) west of Leeds, and 16 miles (25.7 km) northwest of Wakefield. Bradford became a municipal borough in 1847, and received its charter as a city in 1897. Following local government reform in 1974, city status was bestowed upon the wider metropolitan borough.
Bradford has a population of 293,717, making it the fourteenth-most populous settlement in the United Kingdom. Bradford forms part of the West Yorkshire Urban Area conurbation which in 2001 had a population of 1.5 million[2] and is part of the Leeds-Bradford Larger Urban Zone (LUZ), the third largest in the UK after London and Manchester, with an estimated population in the 2004 Urban Audit of 2.4 million.
Historically a part of the West Riding of Yorkshire, Bradford rose to prominence during the 19th century as an international centre of textile manufacture, particularly wool.
DO YOU THINK YOUR COMMUNITY CAN BE A CITY OF PEACE? SEND AN EMAIL!
Note: If information or photos used here are copyrighted, please contact us and we will immediately delete the copyrighted material.