Is your community a City of Peace?

Nearly 400 Cities of Peace in 70 Countries on all 6 Continents!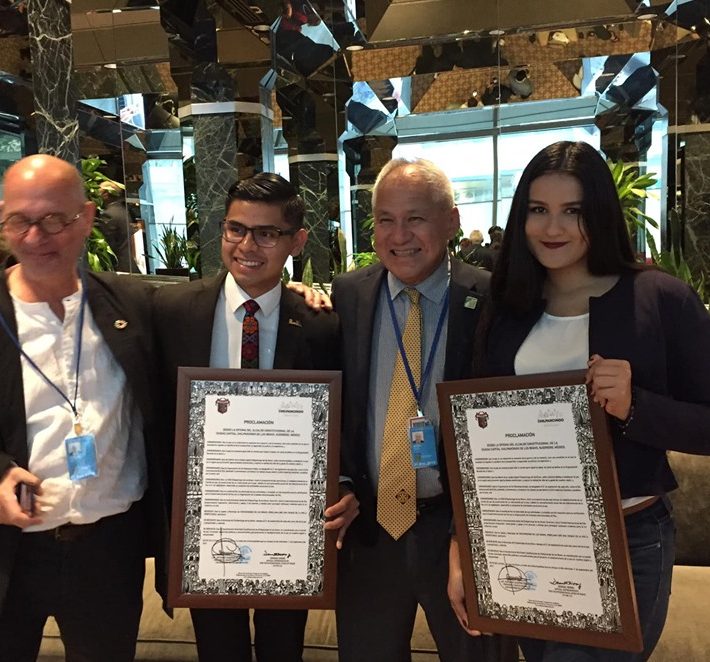 It's happening all over the world! Shown above is CHILPANCINGO, GUERRERO, MEXICO, the delegation of which traveled to the United Nations to sign the Proclamation to self-establish one of the many International Cities of Peace in Mexico.  Though Proclamations are not required, grassroots organizations working with civic authorities is a great way to ensure the unity by which a community ensures safety, prosperity, and quality of life for all. It starts with one person and builds with collaboration and creativity. How about your city this year?
IMAGINE a world of cities dedicated to expanding their local peace economy and encouraging a global culture of peace. Safety, prosperity, and quality of life are universal values that bring peace to our lives.
First and foremost in this global adventure is to reject violence and define ourselves as people of peace. International Cities of Peace is a formal Association of communities that by history or proclamation, or by concerted community peacebuilding are doing just that — by self-defining their large or small city, town, village, or neighborhood as an official City of Peace. That redefinition requires building a consensus network of business, government and community leaders who value safety, prosperity and quality of life. Then the work begins with a vision, mission, and goals and objectives that deliver on the promise of a deep and empowering culture of peace.
Celebrations by Cities of Peace around the World!
PEACE, INDEED, IS BECOMING THE ZEITGEIST, OR SPIRIT OF OUR TIMES. Join the celebration! Get involved in the global transformation. Let the world know — and more importantly, the children who are our future — that our communities can become true Cities of Peace. Get involved today!
International Cities of Peace YouTube Channel!
Check back soon. For information, contact the Director at this Email
Donations are needed and appreciated. Thank you.

Donate by CQR scan on your cell phone!