Wakiso, Uganda: City of Peace
Welcome to Henry Kibalama and his colleagues who have created Wakiso, Uganda: City of Peace. Kisobokka Click of Hope Initiative Limited 'Ugandan based innovation' is a humanitarian arm of young Alliance in Motion Global Entrepreneurs based in Uganda, WAKISO DISTRICT.

Note: Introduction page with information primarily at the time of joining International Cities of Peace. For updates, please contact the liaison.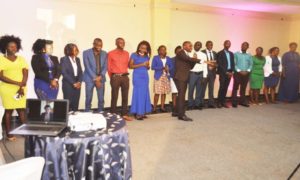 KISOBOKKA CLICK OF HOPE FOUNDING DIRECTOR HENRY KIBALAMA introducing his entire team at the KISOBOKKA GRAND LAUNCH MAY – 13TH -2017 At Silver Springs Hotel IN Wakiso distric

t.
---
MISSION
To restore financial hope both to the old and new generation
VISION
To be a York of a transformed generation of young AIM GLOBAL Entrepreneurs working alongside communities developing and navigating solutions that can solve World economic challenges.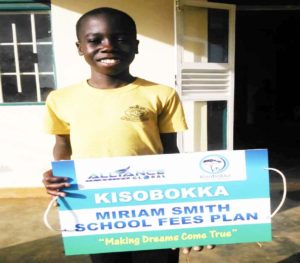 CORE VALUES
The Initiative and its Members shall operate and abide by the following core values:
1. MUTUAL RESPECT, requiring them to recognize the innate worth of all people and the value of diversity;
2. EQUITY AND JUSTICE, requiring them to work to ensure equal opportunity for everyone, irrespective of race, age, gender, sexual orientation, HIV status, color, class, ethnicity, disability, location or religion;
3. HONESTY AND TRANSPARENCY, being accountable at all levels for the effectiveness of their actions and open in their judgments and communications with others;
4. SOLIDARITY WITH THE POOR, POWERLESS AND EXCLUDED shall be the only bias in their commitment to the fight against poverty;
5. COURAGE OF CONVICTION, requiring them to be creative and radical, bold and innovative – without fear of failure – in pursuit of making the greatest possible impact on the causes of poverty, illiteracy, and direct them toward the greatest of achievements; success, education, and personal growth;
6. INDEPENDENCE from any religious or party-political affiliation;
7. HUMILITY in their presentation and behavior, recognizing that they are part of a wider alliance against thirst for human achievement.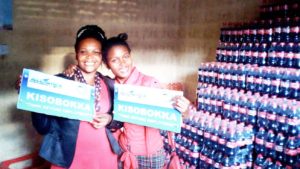 OBJECTIVES OF THE INITIATIVE
1. To create self- sustaining mechanism of income generation and wealth creation.
2. To eradicate illiteracy through education throughout the country, the region and the world at large;
3. To educate and engage the public concerning the causes, effects and means of eradication of such poverty illiteracy, unemployment and social injustice toward a peaceful and productive society;
4. To educate the younger generation through developmental programs either in school settings, outside schools or in their fields of expertise and create a future generation of educated and productive citizens for the continuity of the human race.
5. To further give each child an education, majoring on the greatly marginalized girl-child who is more vulnerable to the upheavals of a more fragile society. Creating social awareness and protection of such a sex and ensure it's respected as the Mothers of a generation, past, present and future.
6. To strengthen the capacity and action of poor and exclude peoples' organizations and movements particularly the youths and young population to assert their rights and overcome causes and symptoms of poverty, illiteracy, unemployment and injustice.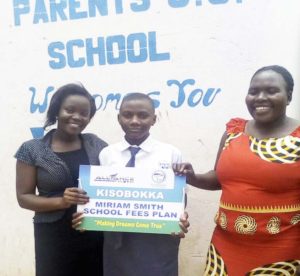 THE KISOBOKKA CLICK OF HOPE INITIATIVE
The Initiative is currently running projects that are addressing the daily challenges of every household. i.e. School fees under the Miriam Smith School Fees Plan and "Entaandikwa" referred to as Kisobokka Start-up Capital Fund addressing the main social problem of unemployment and majoring on low school enrollment. With this the Initiative went ahead to create a socio-economic project which was named "KISOBOKKA", literally meaning "It's possible."
In this project, we are addressing the social challenge of school fees and thus embarking on giving hope to the population that they can earn a descent but yet affordable education- and that's under "The Miriam Smith School Fees Plan" Society cannot reform without a social transformation of the populace, and going by that, KISOBOKKA Click of Hope Initiative Ltd., under "KISOBOKKA" created another Initiative package entitled "Entaandikwa/ Startup Capital" Fund of giving a little monetary unit to individuals so they can empower themselves financially via job creation.
---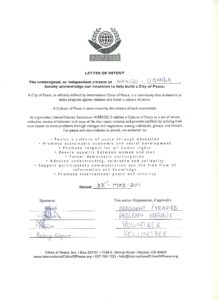 Letter of Intent
---
THE MIRIAM SMITH SCHOOL FEES PLAN
Kisobokka click of hope is committed to making the lives of ordinary Ugandans better. One of our core projects, The Miriam Smith School Fees Plan, seeks to provide quality education to children from under privileged families.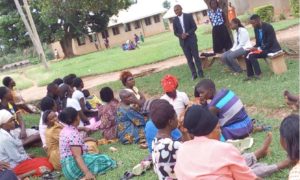 To ensure development, our next generation of leaders must be well equipped with the right skills which will help them face the challenges of a fast changing world. That is why it is important to help children, especially the girls, access quality education.
This educational aid has uplifted the lives of very many parents (and Children) who would otherwise fail to send their children to school or send them to those that are run down; offering a half-baked education.
The Kisobokka Click of Hope Initiative Ltd has made proper arrangements by signing Memorandums of Understanding with various school heads and local governments in the districts of Wakiso, Bugiri and Kamuli. This we do in partnership with the communities.
In our time of running this project we have received touching testimonies. They have inspired us to move forward.
---
ENTAANDIKWA
Entaandikwa is a Luganda word for 'start up'. At Kisobokka we offer our clients startup capital. Our members can use this sum to start up a new business or use it to expand their existing businesses.
At Kisobokka we also acknowledge that our members face a multitude of daily financial needs. So, they can get the loan and divert the money to meet these needs. The other fact is, those who intend to start new businesses may have no prior experience in starting and running one. Therefore, our service goes beyond funding. We journey with our members all the way by offering business guidance. The Kisobokka fund is not given in cash but it is given in form of whatever business good or service our client may need. Our guiding principle with the Entaandikwa fund is to turn ideas into reality. This is what makes us exceptional.
This project has uplifted the financial status of many families and we have just started. Kisobokka (originally Ugandan ingenuity) triggers a wavelike movement of life changing and job multiplier projects such as the Entaandikwa Start-up capital fund. This package enables an individual to access capital limited to a sum of 2,000,000/- for upgrading and starting-up their small businesses. The company is also creating jobs and employing people both indirectly and directly, as one researcher, "the only realistic way of fighting poverty is creating more and more jobs".
---
ABOUT HENRY KIBALAMA
Henry Kibalama is the founder and acting President of YEAFRD (YOUTH EMPOWERED ACTION FOR FREEDOM AND RURAL DEVELOPMENT). Henry was born on the 11th-May-1989 and was raised in the slums in Wakiso districts. He is now a student in a Criminal Justice program.

---
CONTACT INFO
For More Information Please Contact Henry Kibalama at:
yeafrd@gmail.com

FOR MORE UPDATES YOU CAN CONNECT WITH US ON
http://www.clickofhope.org

 
---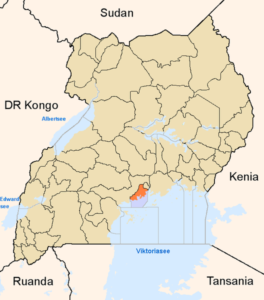 ABOUT WAKISO, UGANDA (from Wikipedia)
Wakiso District is a district in Central Uganda that encircles Kampala, Uganda's capital city. The district is named after the town of Wakiso, where the district headquarters are located. Wakiso Town is a metropolitan area in Central Uganda. It is the headquarters of Wakiso District, an administrative unit under the Uganda Ministry of Local Government. The district is named after the town.

Uganda, is a landlocked country in East Africa. It is bordered on the east by Kenya, on the north by South Sudan, on the west by the Democratic Republic of the Congo, on the southwest by Rwanda, and on the south by Tanzania. Uganda is the second most populous landlocked country. The southern part of the country includes a substantial portion of Lake Victoria, shared with Kenya and Tanzania, situating the country in the African Great Lakes region. Uganda also lies within the Nile basin, and has a varied but generally equatorial climate.

Uganda takes its name from the Buganda kingdom, which encompasses a large portion of the south of the country including the capital Kampala. The people of Uganda were hunter-gatherers until 1,700 to 2,300 years ago, when Bantu-speaking populations migrated to the southern parts of the country.

Beginning in the late 1800s, the area was ruled as a colony by the British, who established administrative law across the territory. Uganda gained independence from Britain on 9 October 1962. The period since then has been marked by intermittent conflicts, most recently a lengthy civil war against the Lord's Resistance Army, which has caused tens of thousands of casualties and displaced more than a million people.

The official language is English. Luganda, a central language, is widely spoken across the country, and multiple other languages are also spoken including Swahili. The current President of Uganda is Yoweri Kaguta Museveni, who came to power in a coup in 1986.

Lake Victoria is the largest lake in Africa and the second largest fresh-water lake in the world. The lake is a prime spot for leisure activities. Water sports available on the lake include: (a) Sport Fishing (b) Water Rafting (c) Canoeing (d) Cruising and (e) Sailing.
DO YOU THINK YOUR COMMUNITY CAN BE A CITY OF PEACE? SEND AN EMAIL!
 Note: If information or photos used here are copyrighted, please contact us and we will immediately delete the copyrighted material.