On April 27, 2017, Cities of Peace, Inc., was granted the privileges and benefits of Special Consultative Status with the U.N.'s Economic and Social Council (ECOSOC).
Cities of Peace, Inc., was established in 2009 for the purpose of creating an associated network of cities dedicated to fostering a culture of peace for their citizens. The International Cities of Peace network has grown to over 160 cities in forty-three countries on six continents.
Consultative Status was established in 1948 and has been granted to those non-governmental organizations (NGOs) that provide the U.N. with information and advice in areas of special competence. Cities of Peace, Inc., is unique in its approach to peace building, with an emphasis on "in situ" leadership. Programs are developed by the citizens of each city of peace rather than the standard NGO model of prescribing solutions from outside the community.
With an estimated 10 million NGOs in the world, less than .0005%, or 4500, have achieved Consultative Status. As stated by U.N, resolution 1996/31: "Consultative arrangements are to be made, on the one hand, for the purpose of enabling the Council or one of its bodies to secure expert information or advice from organizations having special competence in the subjects for which consultative arrangements are made, and, on the other hand, to enable international, regional, sub-regional and national organizations that represent important elements of public opinion to express their views".
Privileges of Special Consultative Status:
Cities of Peace, Inc. will now be able to deliver oral statements and submit written statements on areas of expertise to the United Nations to be circulated by the Secretary-General. Other privileges include:
• Provide expert analysis on issues directly from experience in the field;
• Serve as an early warning agent;
• Help monitor and implement international agreements;
• Help raise public awareness of relevant issues;
• Play a major role in advancing United Nations goals and objectives;
• Attend international conferences and events;
• Organize side events;
• Hold up to seven United Nations grounds passes;
• Have opportunities to network and lobby.
Representatives from Cities of Peace, Inc., will have grounds passes at the New York headquarters in order to participate in U.N. work as well as in Geneva for the Human Rights Council. Arrangements are being made for Cities of Peace delegates to participate on the Committee for Sustainable Development, the Commission on the Status of Women, and the Permanent Forum on Indigenous Issues.
For representatives and delegates to the United Nations Councils and Forums, see the Board of Directors page.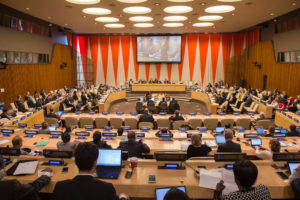 Credit: UN Photo/Eskinder Debebe
NGOs interested in applying for ECOSOC consultative status should submit their application and required documents before 1 June 2017. The following link provides background information, some of the benefits and the instructions how to apply: http://csonet.org/index.php?page=view&nr=377&type=230&menu=14