Aba, Abia State, Nigeria: City of Peace
We welcome Evang. Chidi Anuduchukwu to the ICP Advisory Council as leader of Aba, Nigeria: City of Peace. Abia State is a state in southeastern Nigeria. The capital is Umuahia, allthough the major commercial city is Alba, formerly a British colonial government outpost. The state was created in 1991 from part of Imo State and its citizens are predominantly Igbo people (95% of population). It is one of the nine constituent states of the Niger Delta Region.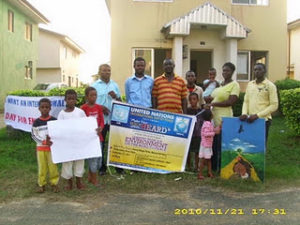 Note: Introduction page with information primarily at the time of joining International Cities of Peace. For updates, please contact the liaison.
Chidil and his colleagues lay out a practical vision for their community:
THE SWITCH OF NATURE CAMPAIGN
Motto:…bringing nations nearer to peace.
VISION
We are committed to building an empathic society where men and nations will be free from all timely negative changes affecting universal peace building.
MISSION STATEMENT
We are an artistic non-governmental, not-for-profit organization working in the area of peace, ceasefire, conflict-resolution, non-violence and sustainable development.
We aim to enhance humanities' empathic tendency by: 
Organizing art exhibitions, man-power development workshops, conferences, education programs and seminars for all conflict areas.
Using pictures founded on the switch-of-nature theory to portray empathy as a cultural preservative toward sustainable global peace; and 
Calling on United Nations to set out a day to be celebrated as an International Day of Empathy. At www.change.org/afrydef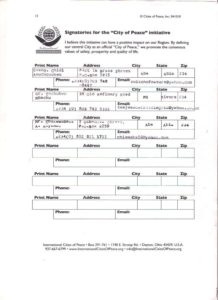 Letter of Intent
OVERALL GOAL
We identified a picture of an earth in total mess, and the coming of a new global community that now tasked man with so many details to contend with. Through research, we found that historically and currently many societies don't live for each other. This, therefore, produces a negative effect toward the building of sustainable global peace.
Thus, our overall goal is:
By 2020, 80% of the world's population will learn to be empathic and consciously participate in the building of a better society for all.
PROJECTS KEY ACTIVITIES
1. An online petition (located at www.change.org/afrdef) to UN Secretary-General calling for an International Day of Empathy.
2. Press Briefing on our call for partnership towards celebrating the successful emergence of the new South Sudan state and the relevance of a new global peace architecture: the switch-of-nature theory. Held on June 23, 2011.
3. United Nations International Day of Peace 2011.
About Evang. Chidi Anuduchukwu and his work.
Chidi Anuduchukwu is an evangelist, an artist, and a peace advocate working in his native Nigeria. His artwork shows his dedication and peaceful nature, the truth in it benefitting the children of his city.
Start quote:
As wonderful as many things in life may seem to us, not too many of us have an adequate knowledge of their purposes and how to make proper use of them. Therefore, when the purpose of something is not known, abuse is inevitable.
From the earliest technological tools of the primitive man to the (July 29, 2011) successful landing of the modern man's space shuttle in Florida, United States of America; the world has continued to experience numerous challenges in her development until now.
Sometimes it will seem as though "a thick dark cloud" is falling down upon us; while in some other times the introduction of new ideas and information in the midst of these global challenges gradually help us with new strength toward dominating our environment.
This natural phenomenon, in my own personal observation, is what I have theorized as "SWITCH OF NATURE"; which can be literally defined as the natural constant cycle of the emergence of the morning from the shadow of death (i.e. night).
In this context, the experience of problems and the ability of finding their solutions are all part of the same adventure of living a life in a changing world. So all we need is to re-orient our thinking so that we can be more responsive to change as a healthy and important part of our life.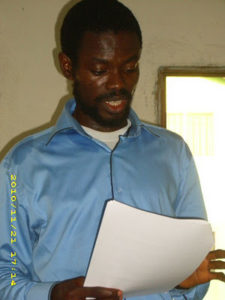 Contact Person: Evang. Chidi Anuduchukwu
Executive Director/CEO
The Switch of Nature Campaign
Webpage:http://seatedchristianarts.blogspot.com/r
Office address:Plot 16 Brass Street,P.O.Box 5915, Aba-450001,Abia State,Nigeria. Tel: +234(0)703 748 8447,+2345(0)802 656 5959 E-mail: switchofnature@yahoo.com
History of Nigeria (from Factbook):
British influence and control over what would become Nigeria and Africa's most populous country grew through the 19th century. A series of constitutions after World War II granted Nigeria greater autonomy; independence came in 1960. Following nearly 16 years of military rule, a new constitution was adopted in 1999, and a peaceful transition to civilian government was completed. The government continues to face the daunting task of reforming a petroleum-based economy, whose revenues have been squandered through corruption and mismanagement, and institutionalizing democracy. In addition, Nigeria continues to experience longstanding ethnic and religious tensions. Although both the 2003 and 2007 presidential elections were marred by significant irregularities and violence, Nigeria is currently experiencing its longest period of civilian rule since independence. The general elections of April 2007 marked the first civilian-to-civilian transfer of power in the country's history. In January 2010, Nigeria assumed a nonpermanent seat on the UN Security Council for the 2010-11 term.
DO YOU THINK YOUR COMMUNITY CAN BE A CITY OF PEACE? SEND AN EMAIL!
Note: If information or photos used here are copyrighted, please contact us and we will immediately delete the copyrighted material.