ABUJA, UYO, AND BENIN CITY, NIGERIA: Cities Of Peace
Welcome to Ekan Ekanem, Prince Ekpo, and Eseosa Ohenhen of Nigeria as they continue and expand peacebuilding efforts in Nigeria. Abuja is in the Federal Capital Territory. Uyo is in Akwa Ibom and Benin City is in Edo State.
Note: Introduction page with information primarily at the time of joining International Cities of Peace. For updates, please contact the liaison.
1. ABUJA – Federal Capital Territory
Organization: Lacewood Global Consult
Leader: Ekan Ekanem
2. UYO – Akwa Ibom State
Organization: Nurture Capital Investment (NCI)
Coordinator: Prince Ekpo
3. BENIN CITY – Edo State
Organization: Empire Royal Academy of Excellence
Cordinator: Eseosa Ohenhen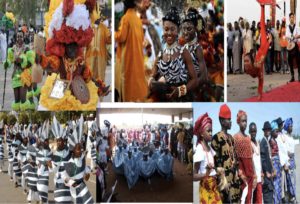 An annual cultural display showcasing the rich cultural heritage of Akwa ibom state in Uyo, NIGERIA.
VISION STATEMENT
Our vision is to make the world know Peace as the essence of human existence.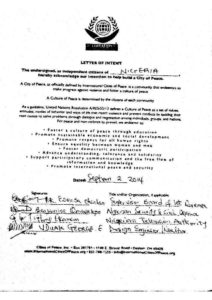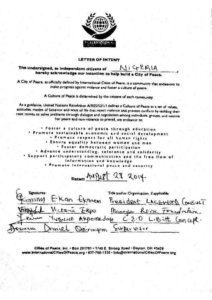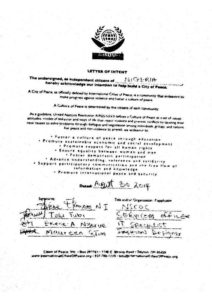 Letters of Intent from all three cities
MISSION STATEMENT
Our mission is to create the most enabling society suitable for growth and development, with a high sense of value for human life and coexistence by interpreting the message of peace through the vehicle of Education, Art and Economic empowerment programs.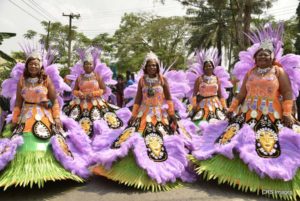 GOALS
1. Reintroduce peace in our various unique cultures, from the family unit, communities and cities at large,

2. Ensure that peace become the way of life in our various cities before 2020,

3. To constantly organize empowerment programs including Talks, exhibition, Training and seminar programs as well as Entertainment that would better lives, and use our in-house expert in various professions to reach out to respective group.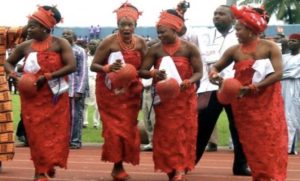 ---
ABOUT THE LEADERS
Ekan Ekanem
President, LACEWOOD GLOBAL CONSULT.

Brand Management Consultant with years of experience as a Business Development Executive and with 8 years of comprehensive Research on Business Growth & Strategy, He has the capacity to have an immediate impact on new business revenue while increasing profitability. He is known for his ability to translate organization's goals to its staff and has a vast knowledge on both Local and international Business. He is also a motivational speaker/strategy coach and one that inspires people to make impact in their chosen field as well as their organization. He was the president of Winners Fellowship- a non governmental Organization agency for youth empower and advancement, where he had a fulfill experience.

Recently Branded and manage a football Academy Brand, and this had a 100% impact on client's Expectation. He Consults for EXCEL WEST AFRICAN ENERGY LTD an Oil and Gas firm, as Business Development Consultant and was solely responsible for the Branding of the Firm. Ekan holds a Bachelor of Science degree in Banking & Finance, a Master Class Certificate in Management, and he is also a member of the Nigerian Institute of Management (Chartered). In addition to his Entrepreneurial strength, he Has greatly contributed to several company's strategic marketing plan that increased sales and revenue, and has a great strategy in maximizing opportunities in Emerging Market. Because of his passion for helping people to become better in life, he organizes a free coaching class monthly, as part of is contribution to the society

The work I do presently apart from running my company gives me the opportunity to get people to be productive, so far I run a free coaching class monthly in three states,

The classes are on identifying opportunities and maximizing it, also help participants with strategies to reaching and attaining their goals, in their various Endeavour. I can say for sure that am happy because I keep getting some positive feedback and that matters to me a lot, to keep affecting people positively as this would further make the world a better place.

Prince Ekpo – City of Peace Uyo

A focused, Dynamic personality with great sense of ethical conduct, Prince has a background in Information Technology as well as Organisational management, He has worked with several private Firms where he contributed to the advancement through innovation. He is a good team player with the ability to inspire and motivate team members.

As a result of his strong Organisational management skill he was recently made a Manager at Nurture Capital Investment , a financial Service company. He is also on a degree program at the university of Uyo, Akwa Ibom State, He has passion for reaching out to the youth in is community, educating and advising them on the act of being product so as to boost their confidence and for them to engage themselves in more productive activity. When the City of peace was introduced in Uyo – Akwa Ibom state, He was the first to show interest with enthusiasm and was ready to join the Nobel initiative to promote peace.

HENHEN ESEOSA – City of Peace Benin City

studied banking and finance In Ambrose Alli university Ekpoma Edo state. After his service year he worked with Aims Asset Management company where he played the role of Administrator . He went further to do a Master program in Business Administration and worked with Edo State Internal Revenue. He is presently partnering and Overseeing Empire Royal Academy of Excellence, Benin Region.
Ohenhen Eseosa Is determined and carries out his assignment with great passion picking up new challenges and growing thereby. Function effectively as a team player and embracing change in a dynamic environment.

He has partnered with RECAO a group known for promoting cultural norms and values within a community, foremost of all was a program organized for some secondary school teenagers on the essence of upholding the cultural norms and values of a people.
He also sensitises the people in different community on in the state on the need to avoid communal clash on lands dispute and boundary issues.
Ohenhen Eseosa is Presently Co-ordinating Benin City- City of Peace, and has taken it as a mandate from the moment the The Cities of Peace initiative was introduced in Benin City, to promote peace through various medium within communities where issues that may distort the peace in the community is eminent.

 
---
CONTACT INFO
For more information please contact

Ekan Ekanem <ekanemekan@yahoo.com>

 
---
ABOUT ABUJU, NIGERIA (from Wikipedia)
Abuja is the capital city of Nigeria. It is located in the centre of Nigeria, within the Federal Capital Territory (FCT). Abuja is a planned city, and was built mainly in the 1980s. It officially became Nigeria's capital on 12 December 1991, replacing Lagos, though the latter remains the country's most populous city. At the 2006 census, the city of Abuja had a population of 776,298, making it one of the ten most populous cities in Nigeria. Abuja has witnessed a huge influx of people into the city; the growth has led to the emergence of satellite towns such as Karu Urban Area, Suleja, Gwagwalada, Lugbe, Kuje and smaller settlements to which the planned city is sprawling. The unofficial metropolitan area of Abuja has a population of well over three million and comprises the fourth largest urban area in Nigeria, surpassed only by Lagos, Kano and Ibadan.
Abuja's geography is defined by Aso Rock, a 400-metre monolith left by water erosion. The Presidential Complex, National Assembly, Supreme Court and much of the town extend to the south of the rock. Zuma Rock, a 792-metre monolith, lies just north of the city on the road to Kaduna.
Significant sights include the Nigerian National Mosque and the Nigerian National Christian Centre. The city is served by the Nnamdi Azikiwe International Airport. Abuja is known for being one of the few purpose-built capital cities in Africa as well as being one of the wealthiest and most expensive. However, some people living on the edges of the city live in semi-developed rural areas such as Nyanya and Durumi.
ABOUT UYO, NIGERIA (from Wikipedia)
Uyo is a city in south-eastern Nigeria and is the capital of Akwa Ibom State, a major oil pro, ANducing state of Nigeria. The city became the capital of Akwa Ibom State on September 23, 1987 following the creation of Akwa Ibom State from erstwhile Cross River State. The University of Uyo resides in this city. The population of Uyo, according to the 2006 Nigerian Census which comprises Uyo and Itu, is 436,606.[2] while the urban Area, including Uruan, is 554,906.
Uyo is home to the University of Uyo, formerly known as the University of Cross River State. Its name was changed when, in 1991, the government of Nigeria established it as a federal university. Uyo is also home to a campus of the National Open University of Nigeria and the Uyo City Polytechnic.
ABOUT BENIN CITY, NIGERIA (from Wikipedia)
Benin City, is a city (2006 est. pop. 1,147,188) and the capital of Edo State in southern Nigeria. It is a city approximately 25 miles north of the Benin River. It is situated 200 miles by road east of Lagos. Benin is the centre of Nigeria's rubber industry, but processing palm nuts for oil is also an important traditional industry.
Benin City is home to some of Nigeria's institutions of higher learning, namely, the University of Benin located at Ugbowo, the College of Education Ekiadolor, Igbinedion University, the Benson Idahosa University and wellspring university – renowned for its advancement in information technology, entrepreneurship and leadership development.
Since Adams Oshiomole assumed office in August 2008, the city has embarked on construction of new roads, ringroad beautification and job creation. A bustling commercial centre has developed. Economic and efficient buses were bought by the current administration to ease traffic congestion.
DO YOU THINK YOUR COMMUNITY CAN BE A CITY OF PEACE? SEND AN EMAIL!
Note: If information or photos used here are copyrighted, please contact us and we will immediately delete the copyrighted material.