Accra, Ghana: City of Peace
Welcome to Dr. Donald Agumenu, president of the Direct Leadership Institute, and his many colleagues for creating the peace city initiative in Accra, Ghana. "The need for civil society organizations," Dr. Agumenu said, "in the promotion of peace and conflict resolutions thus becomes key to not only consolidating the democratic gains over the years, but also maintaining the peace and stability is presently enjoys remains intact and serve as motivation for the surrounding nations experimenting with democratic rule."
Note: Introduction page with information primarily at the time of joining International Cities of Peace. For updates, please contact the liaison.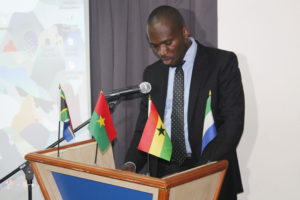 Dr.Donald Agumenu Presenting a Peace Ambassador Award to Mathias Alagbo the Volta Economic Forum organized by Volta Youth Network.
MOTTO: Carrying the touch for international peace and harmony.
VISION: We are dedicated to fostering Peace as a cherished value that must be at the heart of institutions of state and in the hearts and minds of humankind towards achieving a stable, sustainable and harmonious global coexistence.
MISSION: To ensure Ghana become a shining example and an oasis of peace, freedom and justice with a positive spillover effect globally. This shall be done through networking with organizations in peace and development.
Through research publications, human capital development workshops, advocacy, conferences and direct community engagements, Cities of Peace shall promote peace and share experiences with all stakeholders in the promotion of peace and security and development with harmonious living as the hallmark of the movement.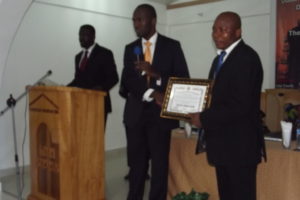 Dr.Agumenu receiving a special plaque and leadership excellence award for his contributions towards leadership education in Africa.
OBJECTIVES
We identified a world caught up in quagmires of wars and civil strife. Research reveals the pursuit of selfish considerations and quest to conquer be it at societal or international level as the chief cause of instabilities that has besieged the world. It is further worrying to note that, even at global forums like the UN where dedication to world peace and harmony are the hallmarks, national interest of key stakeholders most often becomes the stumbling blocks with negative consequences.
Our overall objective thus is to:
Actively prick the conscience of humankind to see the need for the promotion and preservation of peace and security as the key ingredients in building a harmonious society for all.
ACTION PLAN:
1.     Research and publications on issues pertaining to peace and security
2.     Sharing our perspective on threats to peace and security with partners and international forums
3.     Celebrating and highlighting international days of peace
4.     Having dialogue with governments and institutions to tackle issues of poverty, corruption and youth employments as threats to peace and security.
5.     Petitioning the UN and AU on the need to adopt pragmatic measures to end conflicts in Africa .
6.     Lleadership awards, international peace awards and Peace Festival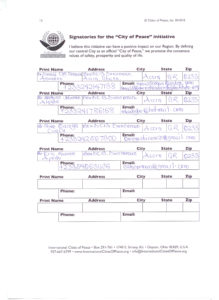 Letter of Intent
ABOUT THE LEADERS
Below is the list of Chapter Executives:
1. President- Dr.Donald Cog Senanu Agumenu
2. Director of Communication and PR- Mathias Johnson Alagbo
3. Operations and Logistics Officer- Eric Apedo
4. Administrative Officer-Shine Dogbey
5.Torgbi Adela Datey(Traditional Leader)-Advisor
6.Torgbi Adzovia 1V(Traditional Leader)-Advisor
7.Mr.Nutifafa Kuenyehia-Advisor
8.LT.Gen Arnold Quainoo(RTD)-Advisor
9.Frank Owusu-Webmaster
10.Judith Sitsofe Augustina Aborhor- Operations Officer
Members of the board of directors: Bishop Stephen Adukpo, Rev Jonathan Mensah Adzorgenu,Rev,Dr. Daniel Gomado
Dr. Donald Cog Senanu Agumenu was born in Ghana, West Africa, to Mr. and Mrs. Gertrude and Churchill Simon Agumenu, both citizens of Ghana. He is an award winning motivational speaker, trainer, an entrepreneur, leadership and management consultant, certified programme planner, editor ,peace ambassador, youth empowerment specialist, and currently the Director and CEO of Direct Leadership Institute-a leadership and management training institute, Direct Selling and Marketing Association, Ghana and the Regional Editor, Culture Digest International. Donald is also the Executive Director of African Project and Program management Board(APPMB),African Project and Program Management Conference and the former Managing Director for Goldfield Access International (GAI).In charge of African Market. Donald has extensively travelled for training, consultancy and seminar facilitations. His spirit of dedication and core leadership accorded him a lot of respect through his numerous awards he won both in the corporate sector and non-governmental circles. He won many gold medals from GNLD international, awarded as a Peace Ambassador by the Universal Peace Federation (UN).He recently received Leadership Excellence Award from Rotary International for his contributions towards leadership education in Africa..

Dr. Donald Agumenu delivering a keynote address at the APPMC held in Accra, Ghana.

Above all, he has received many professional, managerial and leadership training to be highly effective and competitive in the 21st century. Donald has cultivated through his years of experience, the culture of teamwork, intercultural communication, and personal motivation, spirit of structural adaptation, flexibility, agility, and speed. He is a member of many professional and non-governmental organizations. He holds PhD in Leadership and Management, Master of Business Administration-MBA, Certified Manager Certification, Master Project Manager and Certified International Project Manager Certification and also a designation as A Certified Program Planner, Trainer of Trainer in Quality Export Marketing Management and A Fellow to the Institute of Sales and Marketing Management, UK and and Honourary Global Advisor and Chartered Fellow to the American Academy of Project Management. He received other trainings in the area of conflict management, labour and employment law and many others. Coupled with that, he is the Secretary General of Youth Federation of World Peace, Ghana Chapter, representative and an instructor for Certified Manager Certification Program for the Institute of Professional Managers, James Madison University, USA for West Africa.

CONTACT INFO
E-mail: Donald Agumenu <donaldcogan@yahoo.com>

Or, donald@directleadershipinstitute.org

Organization: Direct Leadership Institute
Address: Box 13 DC Dansoman Accra, Greater Accra Ghana
---
ABOUT ACCRA, GHANA
Accra is the capital of Ghana, with an estimated urban population of 2,291,352 as of 2012. Accra is also the capital of the Greater Accra Region and of the Accra Metropolitan District, with which it is coterminous. Accra is furthermore the anchor of a larger metropolitan area, the Greater Accra Metropolitan Area (GAMA), which is home to about 4 million people, making it the second largest metropolitan conglomeration in Ghana by population, and the eleventh-largest metropolitan area in Africa.
Ghana is a beautiful nation Country located on the West Coast of Africa. Formed from the merger of the British colony of the Gold Coast and the Togoland trust territory, Ghana in 1957 became the first country in colonial Africa to gain its independence from Britain.
A long series of coups beginning from 1966 which saw the overthrow of the country's founder and President, Dr. Kwame Nkrumah resulted in the eventual suspension of the constitution in 1981 and the banning of political parties. A new constitution, restoring multiparty politics, was approved in 1992 and Flt. Jerry John Rawlings, head of state since 1981, won presidential elections in 1992 and 1996. Ghana has since consolidated its multiparty rule with successive change of political power from one party to the other since 2000.
With her relative success in consolidating democratic rule, Ghana managed to win for herself the accolade of beacon of hope, an oasis of peace, freedom and stability in a region noted for wars and civil conflicts. (Some information dubbed from CIA fact book).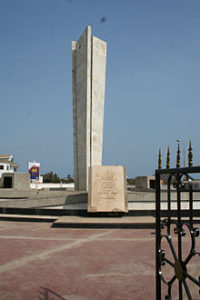 Liberation Monument
GHANA'S QUEST FOR WORLD PEACE
From http://kaiptc.org/
The Ghana Armed Forces has proudly served in peacekeeping operations globally since its participation in the United Nations Operation in the Congo in the early 1960s. Through many UN and regional deployments in the 1970s, 1980s and 1990s, to ongoing UN peace missions in Liberia, La Côte d'Ivoire, the Democratic Republic of Congo, and Lebanon, thousands of men and women of the Ghana Armed Forces and Ghana Police Service have proudly served as United Nations and Economic Community of West African States (ECOWAS) peacekeepers.
To build and share Ghana's five decades of experience and competence in peace support operations, the Ministry of Defence, in May 1998, approved plans for the establishment of an International Peacekeeping Training Centre. The Centre was envisaged to address not only Ghana's needs for training men and women to meet the changing demands of complex and multidimensional peacekeeping activities, but also to help meet the peacekeeping training requirements of the West African sub region and indeed, the continent. On August 02, 2000, UN Secretary-General H.E. Kofi Annan 'cut the sod' for work to start on the building of the KAIPTC at its present location in Teshie, Accra. After the inauguration of the Centre, Mr. Kofi Annan presented personal mementos to the Centre including a number of plaques he had received from troop-contributing countries during his tenure as Under-Secretary-General for Peacekeeping, which are today proudly displayed at the KAIPTC. H.E. Kofi Annan expressed the following during the commissioning of the centre:
"The United Nations is deeply grateful to the Government of Ghana, Armed Forces and Police for their four-decade long commitment to UN peacekeeping operations around the world. The record of service and achievement has laid the foundation for the commission of the International Peacekeeping Training Centre that we mark today. The Ghana Armed Forces' remarkable knowledge base, expertise and experience must be placed at the disposal of as many national armed forces, sub-regionally and continent-wide, as possible. Africa needs well-trained and well-equipped peacekeepers to meet the challenge of the crises facing our continent. Other Governments are increasingly reluctant to solve our problems for us. Instead they have sought to explore ways to help Africans to improve their peacekeeping capacity. I believe this Centre can play an important role in facilitating such assistance. I trust that representatives of donor countries here present will seize this opportunity to provide the necessary support, so that Ghana's vast experience in peacekeeping is used to the benefit of Africa and ultimately to the cause of world peace."
Ghana has also named one of its military barracks in Accra as Burma Camp in honour and recognition of the tremendous role Ghana arm forces played in UK peacekeeping in Burma' civil war.
Accra also play host to a lot of organizations dedicated to promoting world peace hence its pride to be known as an International City of Peace.
DO YOU THINK YOUR COMMUNITY CAN BE A CITY OF PEACE? SEND AN EMAIL!
Note: If information or photos used here are copyrighted, please contact us and we will immediately delete the copyrighted material.