Addis Ababa, Ethiopia: City of Peace (MEKANE SELAM)
Welcome Frezer Bekele Assefa, Desalegn Habtewold Berhane, and their colleagues who have created an International Cities of Peace organization in Addis Ababa, Ethiopia. Frezer was born in a small town in Ethiopia, Mekaneselam, which in his language means "place of peace", while Desalegn was born in Addis Ababa.
Note: Introduction page with information primarily at the time of joining International Cities of Peace. For updates, please contact the liaison.
VISION: To foster peace as a consensus value in Cities of Peace around the world.

MISSION: To network, encourage, document, and provide resources and information regarding my city for leaders and organizations working to make peace a consensus value through global Cities of Peace initiatives.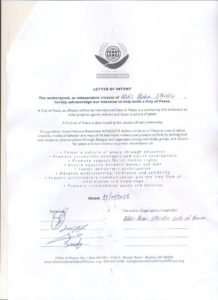 Letter of Intent
OBJECTIVES
Endeavors to involve all citizens who are working to self define themselves as official Cities of Peace (in my language "Mekane Selam")
.
The City of Peace is being implemented in areas with these general activities:

– Fight against all forms of violence
– Working for peace
– Sharing our peace values for others.
About Frezer Bekele Assefa:
Frezer Bekele Assefa born on April 5, 1985 in Ethiopia (small town called Mekaneselam (in his language place of peace).

Elementary and secondary school: – (Kemisse elementary and preparatory school)
University:-I able to study Bachelor of Tourism Management in the University of Gondar from 2004 till 2007. Fetzer graduated with Tourism Management (BA) in the Year 2007. He worked in a Tour operation company till 2010. During this period he was able to meet different people from all over the world (from Africa, US, Europe Asia and Australia). He was able to participate also ITB Berlin /Travel Fair in the year 2011. Now he is working for one US originated company As I&L S. Executive.
Fezer is involved in the following activities and sports: running, cycling, soccer and traveling. "I like the activity of traveling which will gives me a lot of experience to share a lot of values with different community," he says.
For more information, contact: FREZER BEKELE <frezgi@hotmail.com>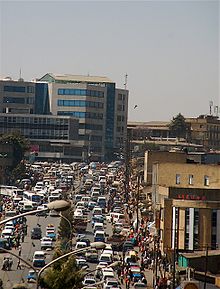 About Desalegn Habtewold Berhane:
Desalegn Habatewold Berhane was born in 1980 and graduated from elementary and secondary schools in Addis Ababa. Higher education has included:

• From 2003 – 2004 G.C. has completed from Unity University College 10 + 1 T.V.E.T. (Technical Vocational Educational Training) Program in Computer Operator with Certificate Level One.
• From 2004– 2005 G.C. has completed from Unity University College 10 + 2 T.V.E.T. (Technical Vocational Educational Training) Program in Computer Assistant Technician with Certificate Level Two
• From 2003 – 2006 G.C. has completed from Unity University College 10 + 3 T.V.E.T. (Technical Vocational Educational Training) Program with Diploma in Information Technology.

Desalegn is currently a Logistics and Procurement Officer at Ethiopian Electronics, P.L.C.
---
About Addis Ababa, Ethiopia (from Wikipedia):
Addis Ababa, or "new flower"—sometimes spelled Addis Abeba (the spelling used by the official Ethiopian Mapping Authority)—is the capital city of Ethiopia. It is the largest city in Ethiopia, with a population of 3,384,569 according to the 2007 population census. This datum has been increased from the originally published 2,738,248 figure and appears possibly largely underestimated still.
As a chartered city (ras gez astedader), Addis Ababa has the status of both a city and a state. It is where the African Union and its predecessor the OAU are based. It also hosts the headquarters of the United Nations Economic Commission for Africa (UNECA) and numerous other continental and international organizations. Addis Ababa is therefore often referred to as "the political capital of Africa", due to its historical, diplomatic and political significance for the continent. The city is populated by people from different regions of Ethiopia – the country has as many as 80 nationalities speaking 80 languages and belonging to a wide variety of religious communities. It is home to Addis Ababa University. The Federation of African Societies of Chemistry (FASC) and Horn of Africa Press Institute (HAPI) are also headquartered in Addis Ababa.
DO YOU THINK YOUR COMMUNITY CAN BE A CITY OF PEACE? SEND AN EMAIL!
Note: If information or photos used here are copyrighted, please contact us and we will immediately delete the copyrighted material.