Akwa Ibom State, Nigeria: International Cities of Peace

We welcome Facilitator Walter Utibe, Secretary Udoh Ubokobong who are working to unify the Akwa Ibom Province by establishing multiple communities as International Cities of Peace. The mentor for this initiative is Bishop Dr. Joseph Rankin, Ambassador for the International Human Rights Protection Services out of Naples, Florida in the United States.
The ultimate goal of the group is to facilitate representative in all thirty-one (31) local governments that are in the Akwa Ibom Province then begin to plan events and programs as the representatives in the 31 cities come together
CURRENT CITIES OF PEACE IN AKWA IBOM, NIGERIA
(Scroll down to view the Liaisons for each City)
UYO, NIGERIA, Representative Walter Utibe
ORON, Nigeria, Representative Kristen Okon
ABAK, Nigeria, Representative Emediong Iboro Daniel
NSIT IBOM, Nigeria: Representative Idongesit Michael Umoh
IBESIKPO-ASUTAN, Nigeria: Representative Ufababasu Eyo
IBIONO IBOM, Nigeria: Representative Edet Edem Akpane
---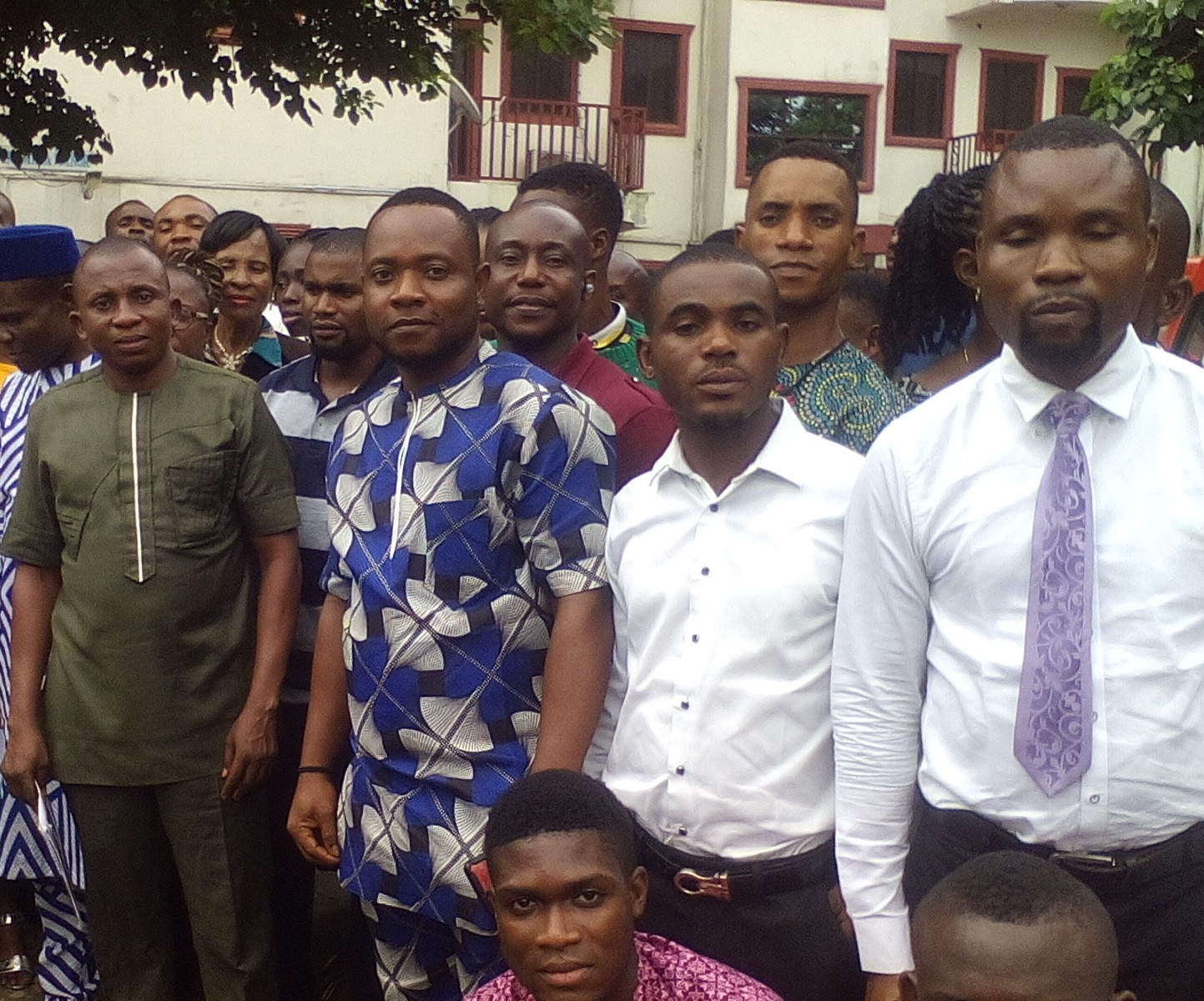 Note: Introduction page with information primarily at the time of joining International Cities of Peace. For updates, please contact the liaison.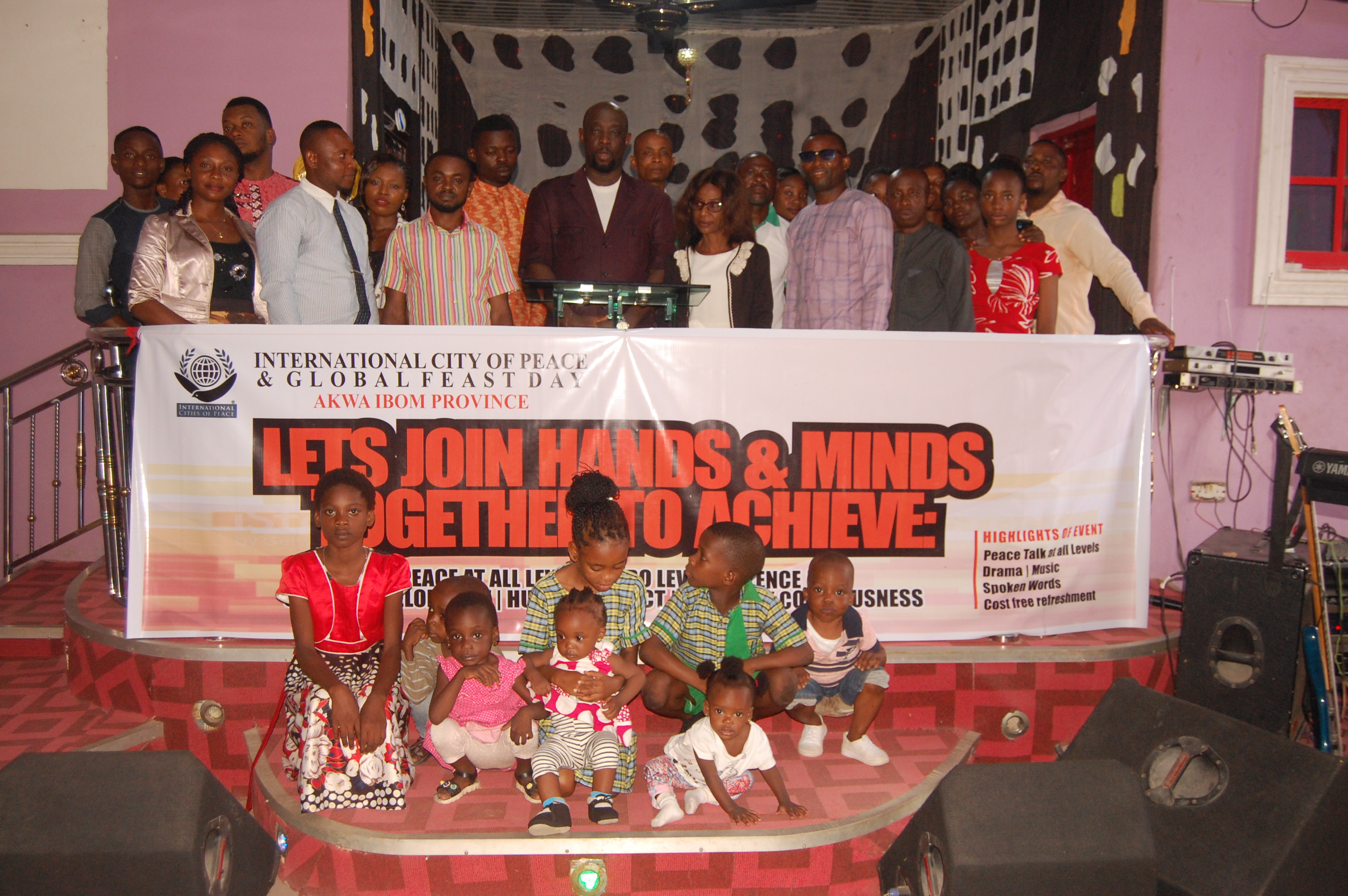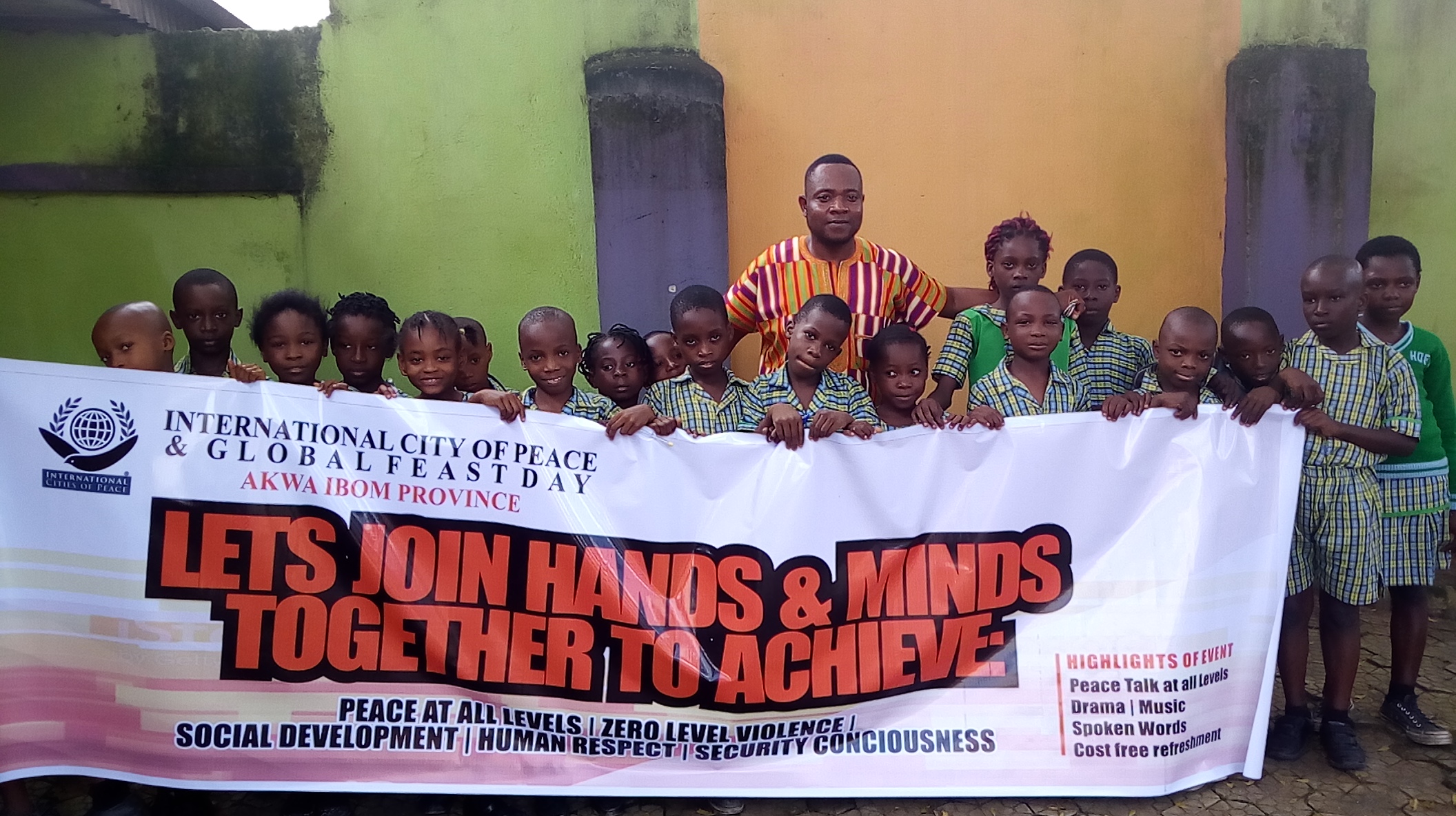 For International Day of Peace, 2019, the group organized a Peace Study Event at the House Hold Hall Uyo.
---
VISION STATEMENT
1) to build a sophisticated community that promotes peace at all level.
2)  To advocate zero level violence and create social development in the communities.
3) To teach the people on human respect, security consciousness and self creativity.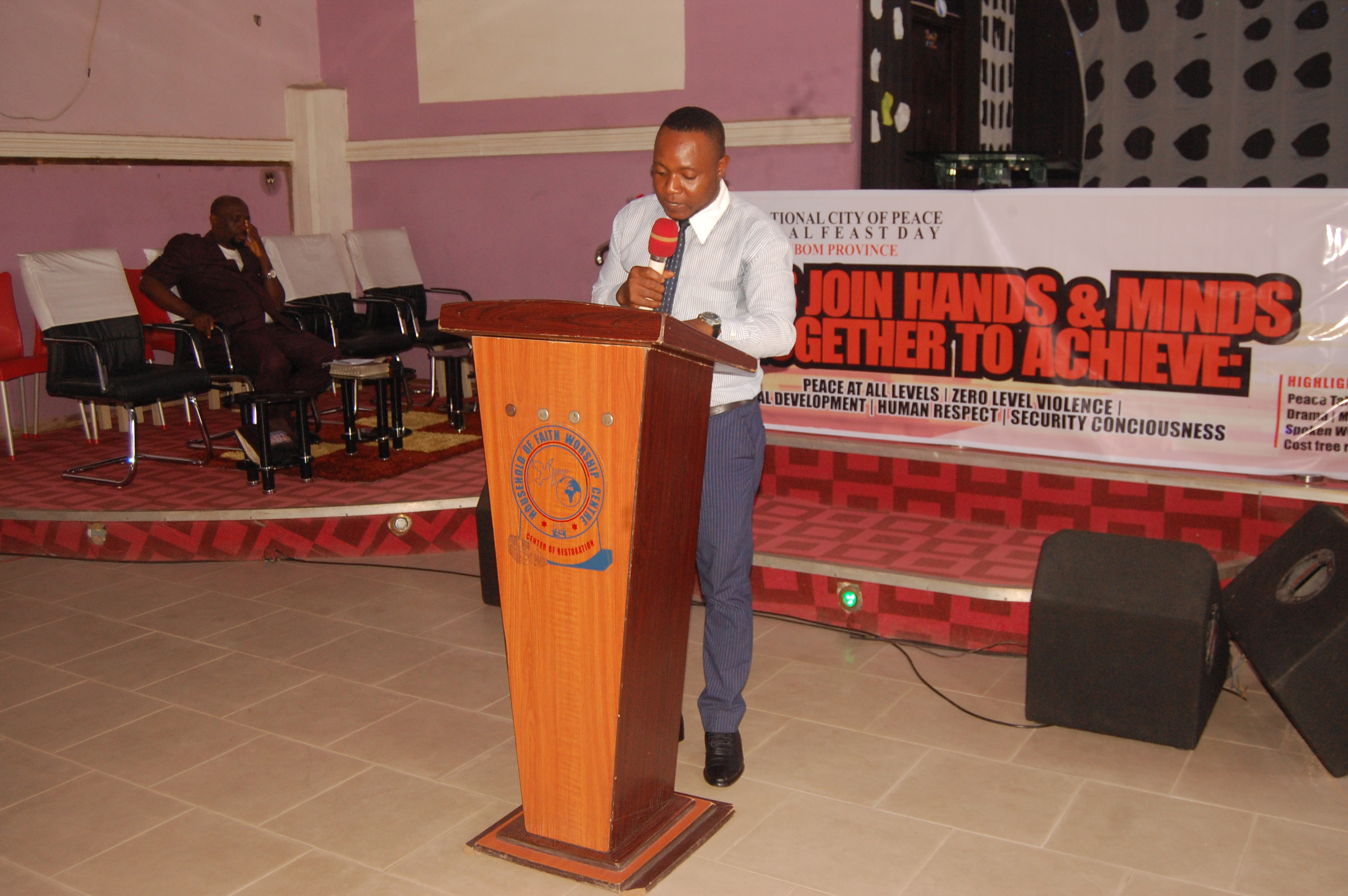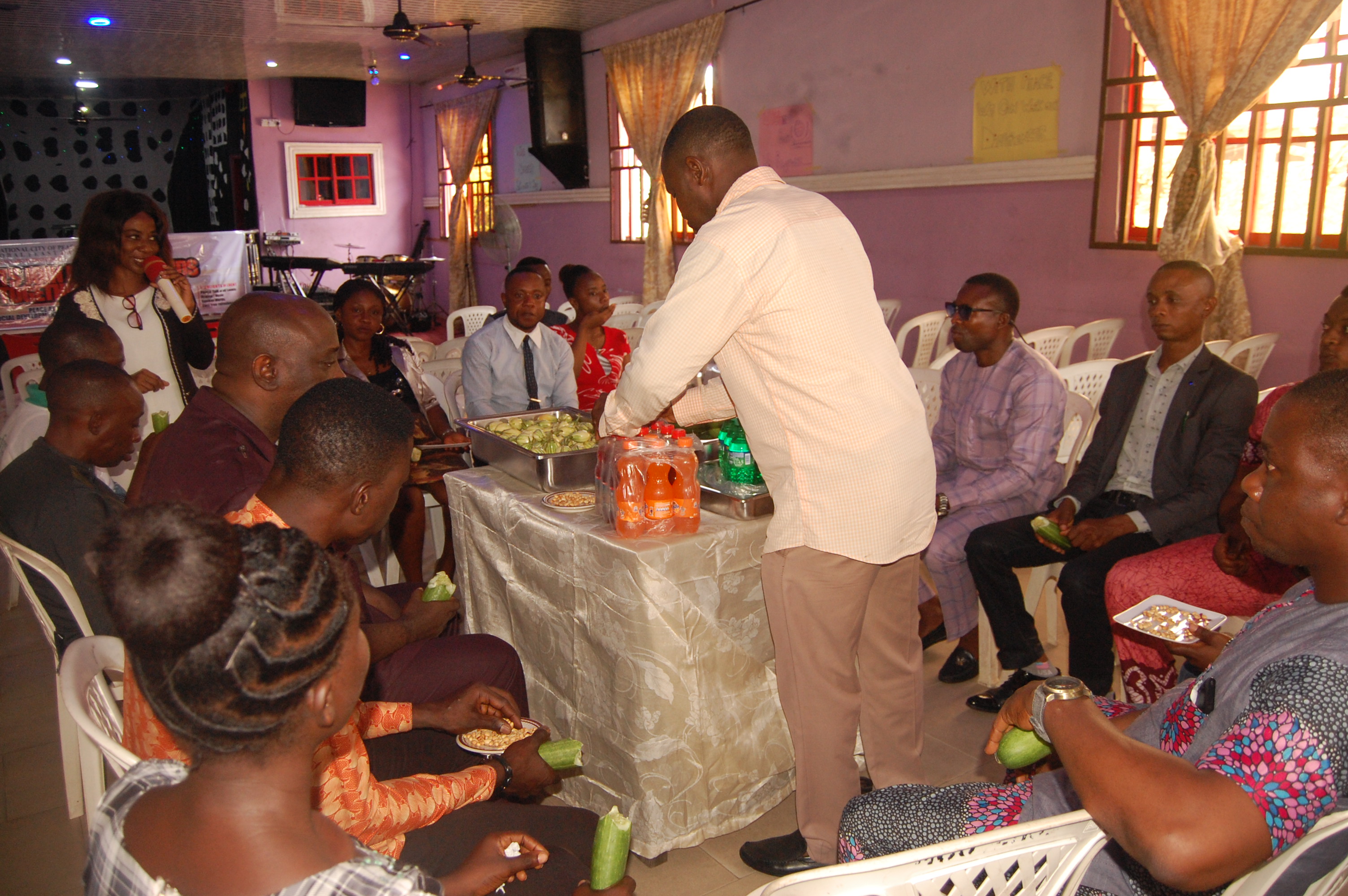 ---
MISSION STATEMENT
1) To wiped out every causes that generate violence facing our community as well as affecting the world in general.
2) To bring the people to a *No*, through peace talk, practical event, safety, knowledge sharing, effect in environmental cleaning and understanding peaceful living.
3) To create awareness for self development and building a better life for the people in the community.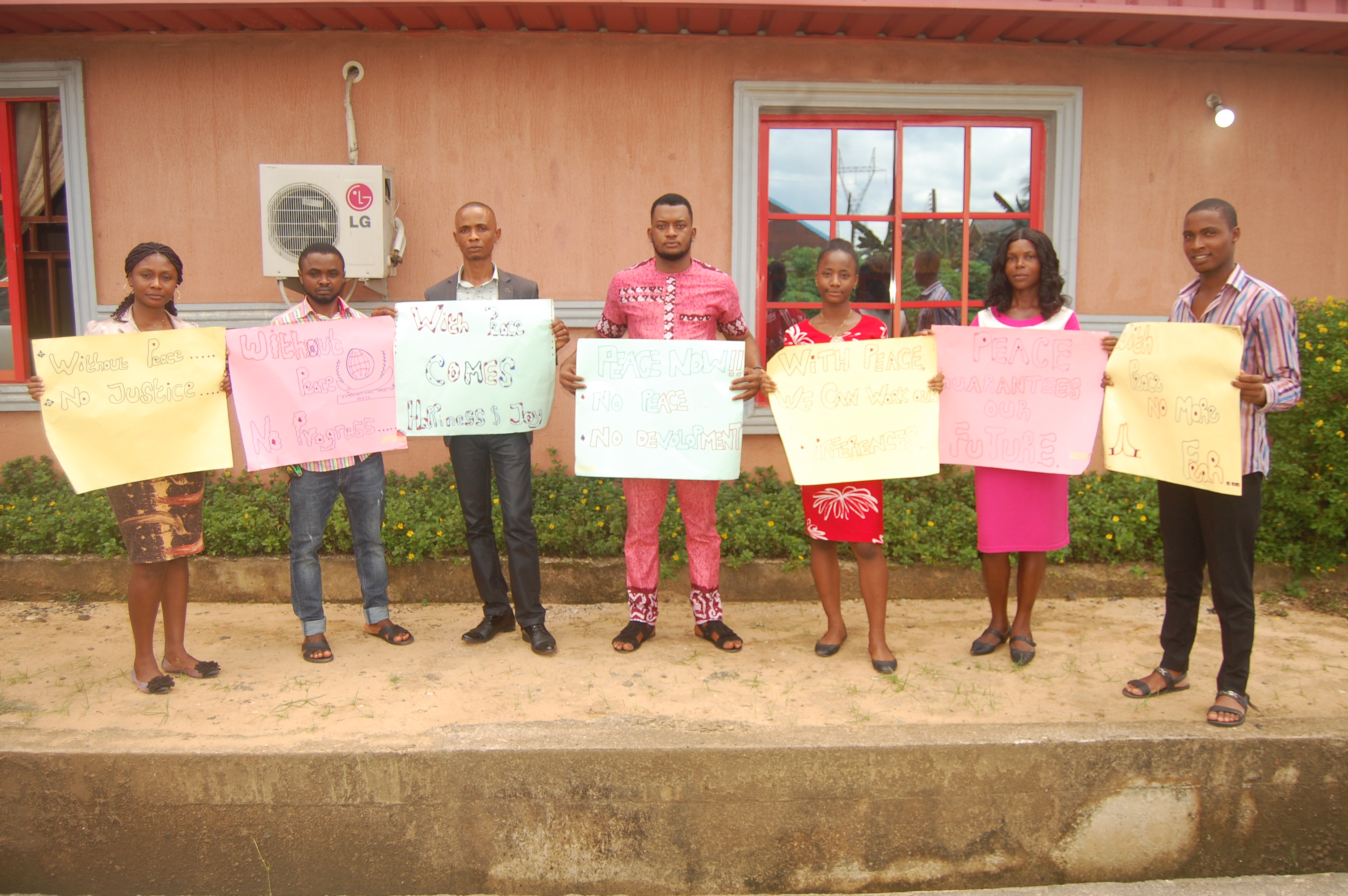 ---
GOALS
1) To enjoy sustained levels of Peace, security and prosperity in the community through our local and international resource based approach.
2) To promote and ensure healthy lives and well-being by creating maternal and general health awareness ,on malaria and other ailments.
3) To assist parents with no financial strength in achieving exclusive and quality child education and  interpersonal skills  to the youth.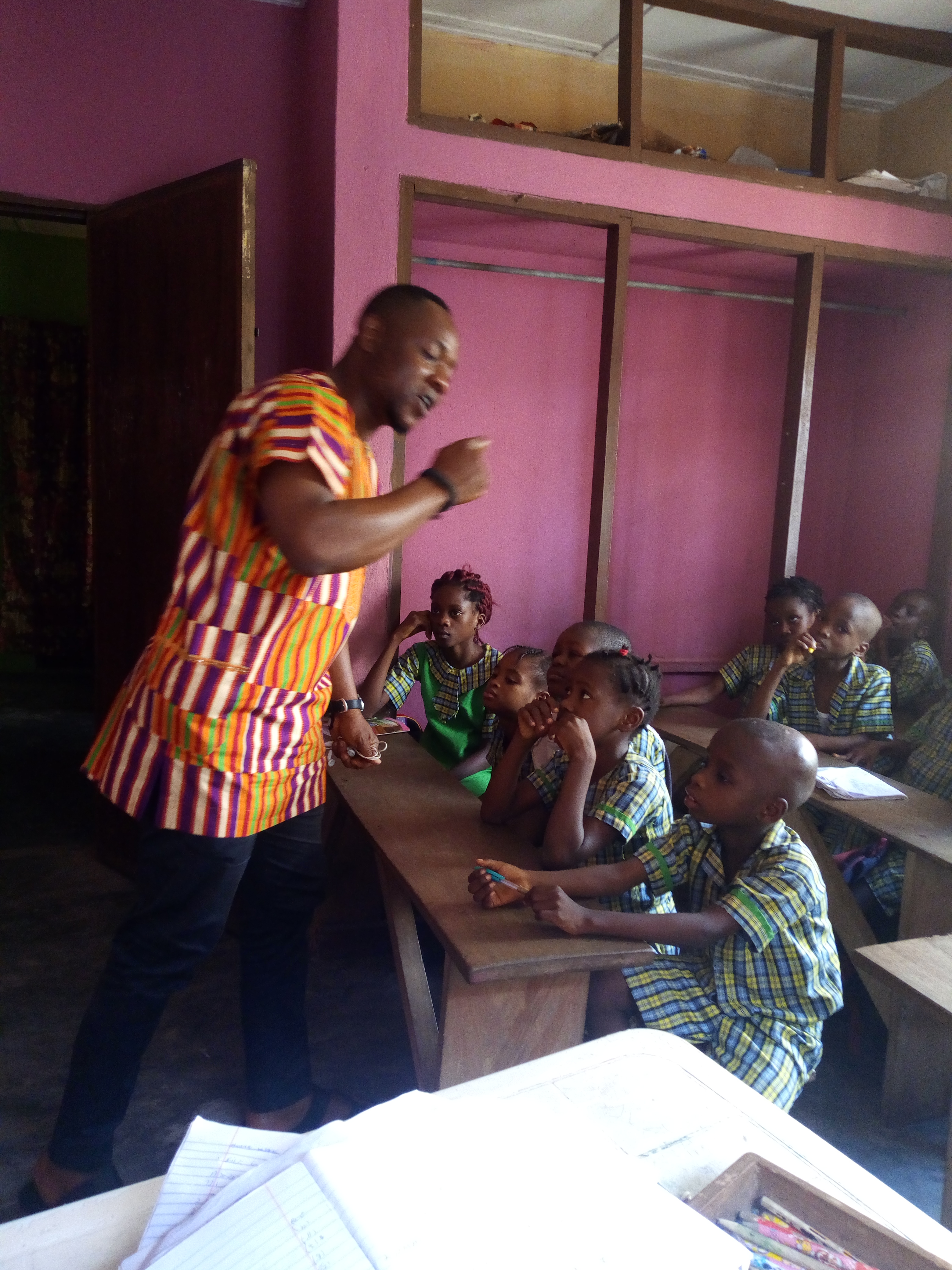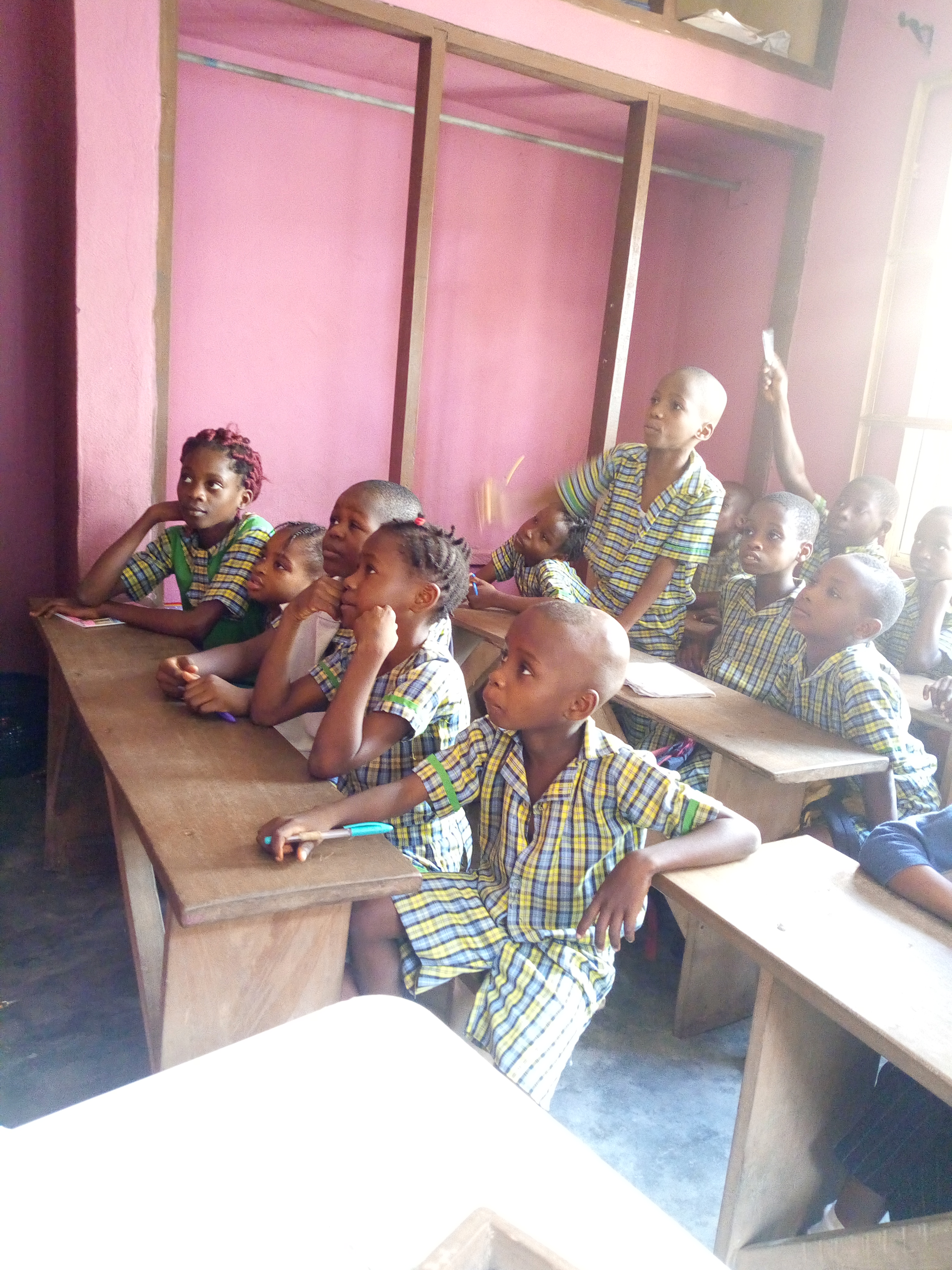 ---
OBJECTIVES
1)  understanding and practising peaceful community living.
2)Fostering and Implementation of education,health and safety in a peaceful community, based on a  platform of  awareness, research and infrastructure.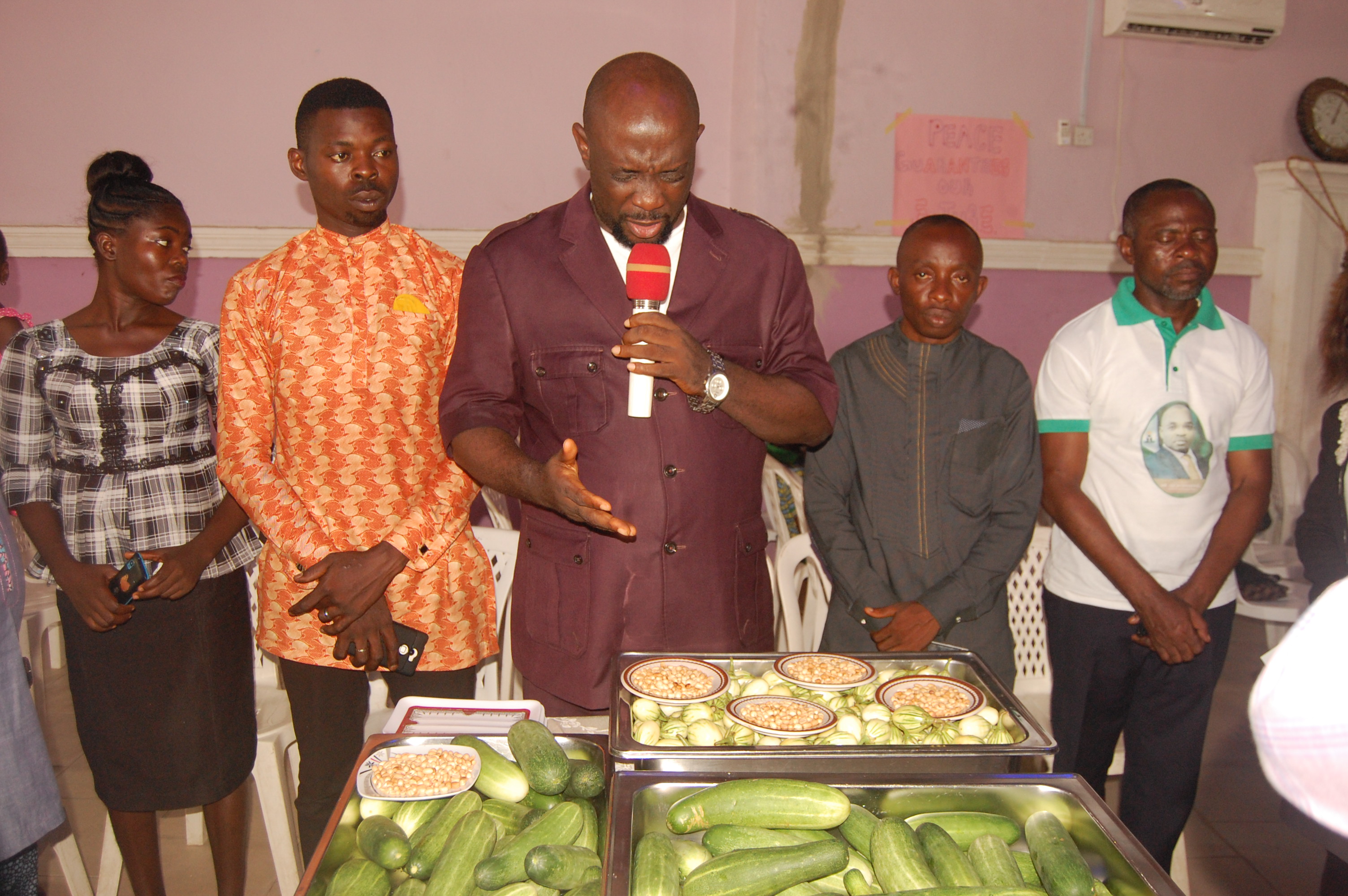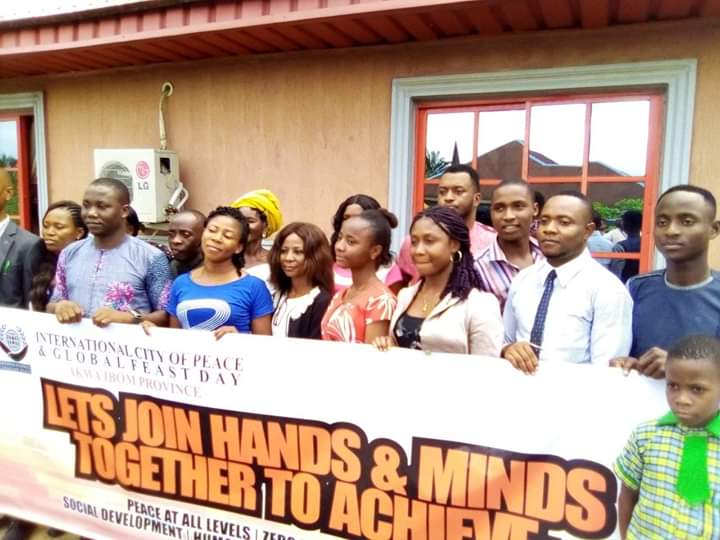 ---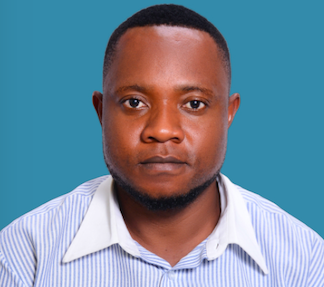 WALTER UTIBE, COORDINATOR
LIAISON FOR UYO, NIGERIA: CITY OF PEACE
Walter, Utibe was born on the 21st May 1985 in Lagos State, part of his up bringing was in Lagos while part in Akwa Ibom which is his Land of Origin. He is a graduate/Bsc holder of Computer Science, University of Calabar, Cross River State. Walter, Utibe is also a certified Safety Officer and a member of Nigeria Safety Council. He has work with Royal Exchange Insurance Company Cross River State. Akwa Saving and Loan Limited and Currently working with Coquina Software Company in Akwa Ibom State.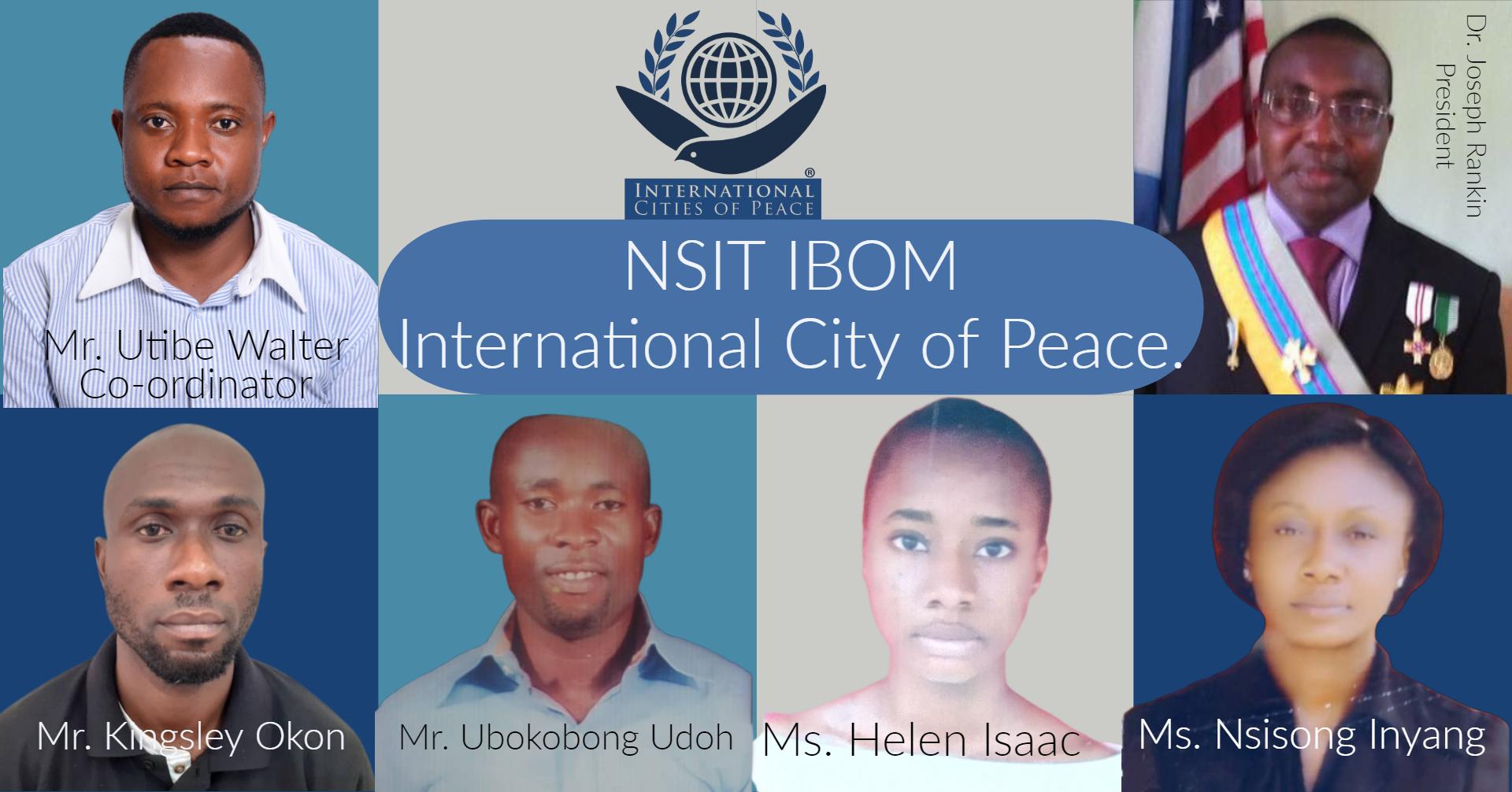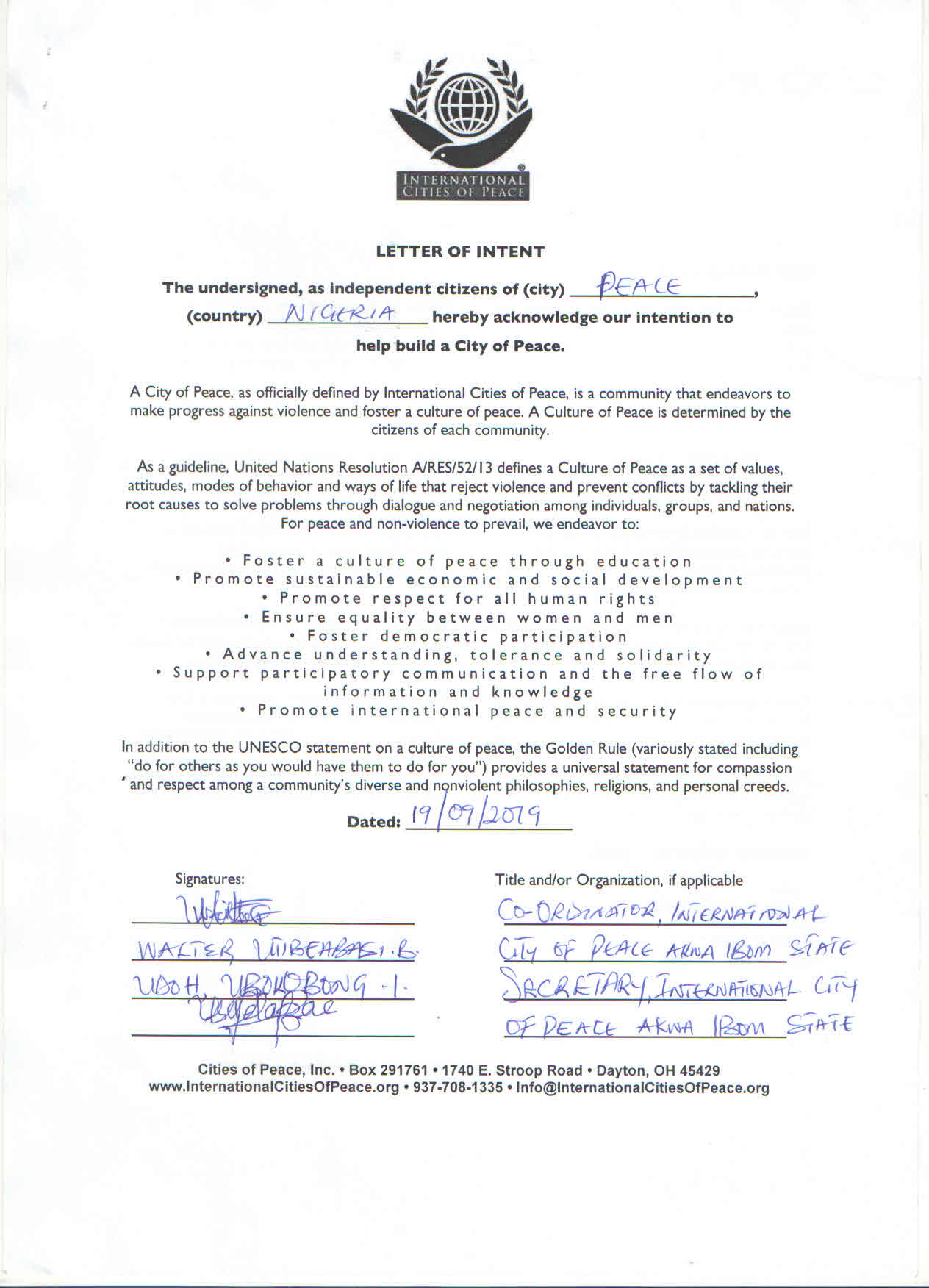 ---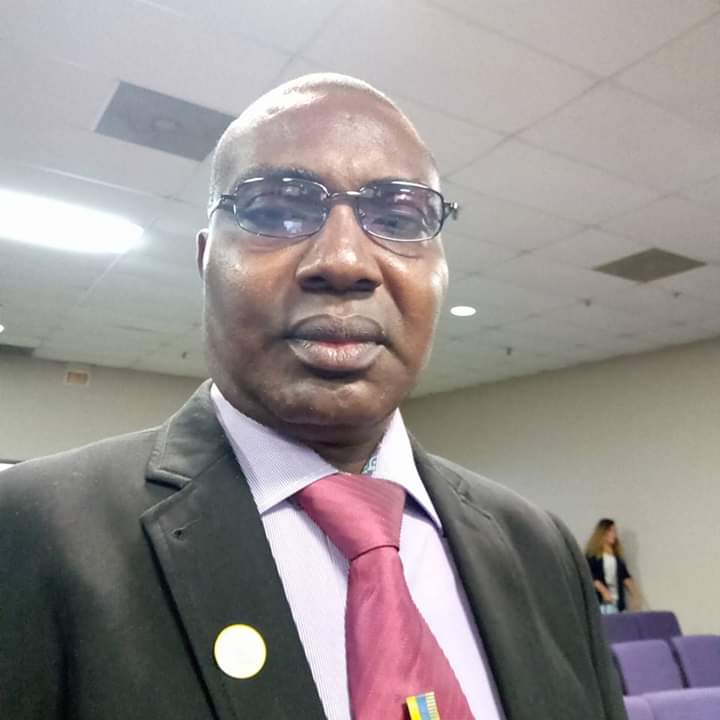 BISHOP JOSEPH RANKIN
MENTOR FOR AKWA IBOM STATE, NIGERIA

Bishop Joseph Rankin was born into THE PRIESTLY HOUSE OF RANKIN, an Ecclesiastical Royal Family in Akwa Ibom State of Nigeria. Bishop Joseph Rankin is a Chaplain and member of the Emergency Medical Chaplains Association, Virginia, USA. He is also a Member of The Nigerian Red Cross Society, Senior Pastor of New Nation Temple International in Abuja, Nigeria. Bishop Rankin holds his Doctorate of Sacred Theology from CCC University & Seminary and Doctor of Divinity from Zoe Life Theological Seminary, Pennsylvania, USA.
---
THE CITY OF ORON, NIGERIA: CITY OF PEACE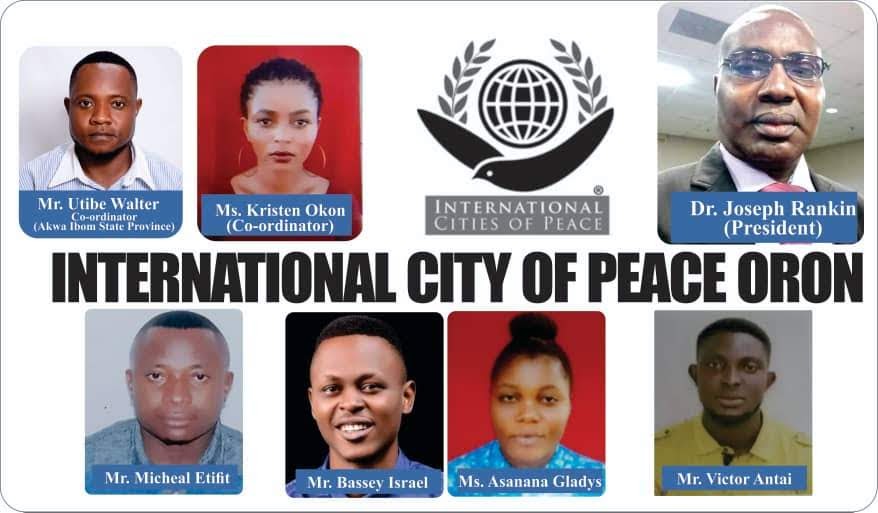 KRISTEN OKON
LIAISON, ORON, NIGERIA: CITY OF PEACE
Kristen Okon was born in the Oron, Nigeria. She graduated from Aguda Senior Grammar school in Surulere, Logos State. She also graduated in computer science studies from the University of Uyo in Akwa Ibom State. Kristen established a business importing goods and selling them offline and online.
Thoughts on Peace Making in Oron:
"For every community there is a fair share of conflict and the Oron people are not exempt from this ugly reality. Communities in Oron suffer from misunderstanding and poor communication among individuals with different people having different expectations on how things should be done, and this can be attributed to lack of proper formal education.
"Another factor that triggers conflict in Oron is inheritance. Most individuals raised in the community feel some sort of entitlement on the family inheritance and this always results in disagreement. This brings us back to making education of the people about peaceful coexistence a priority. This will not only bring to the resolution that conflict is not the answer to settling disputes but also improves their social life."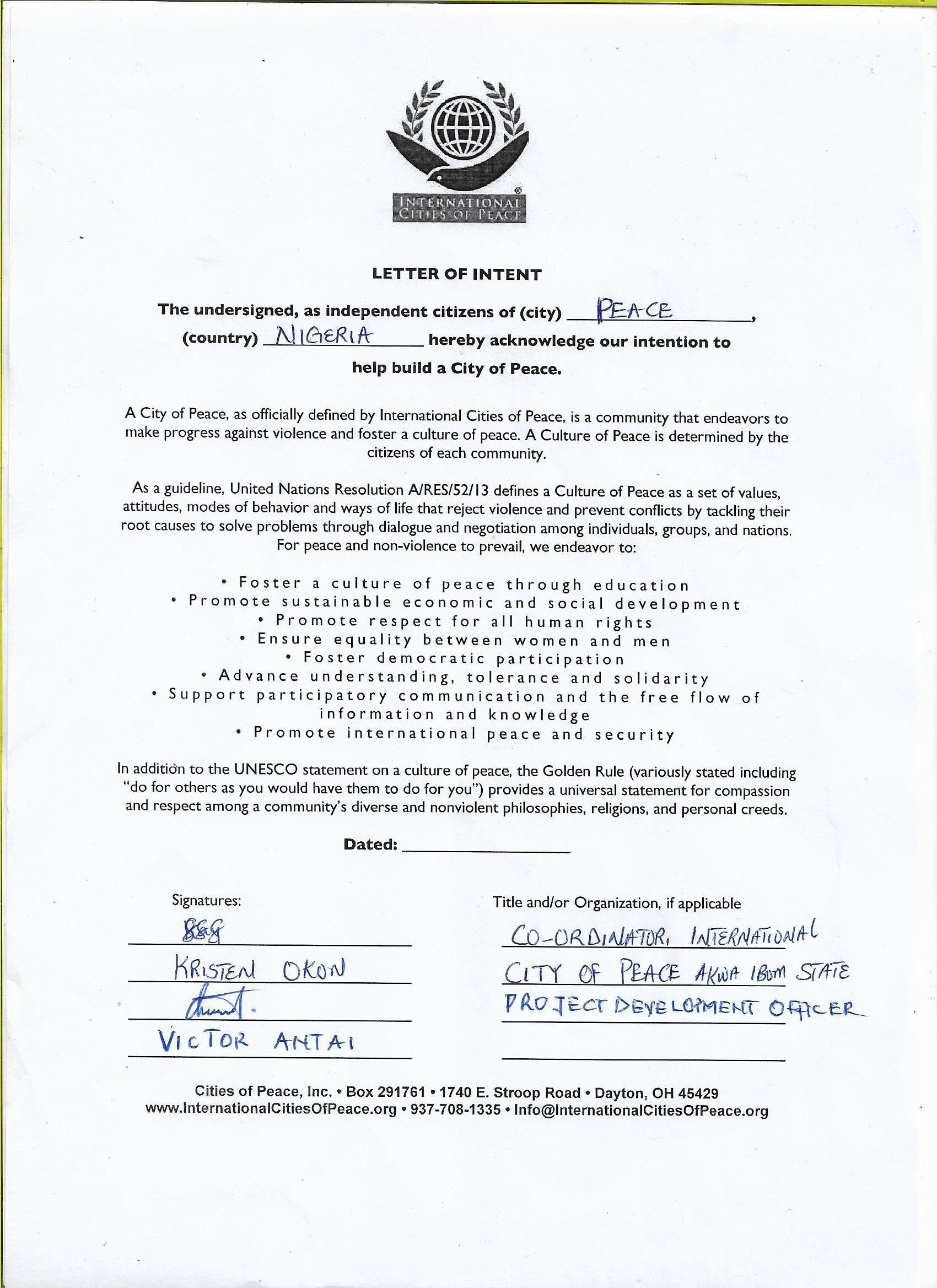 ---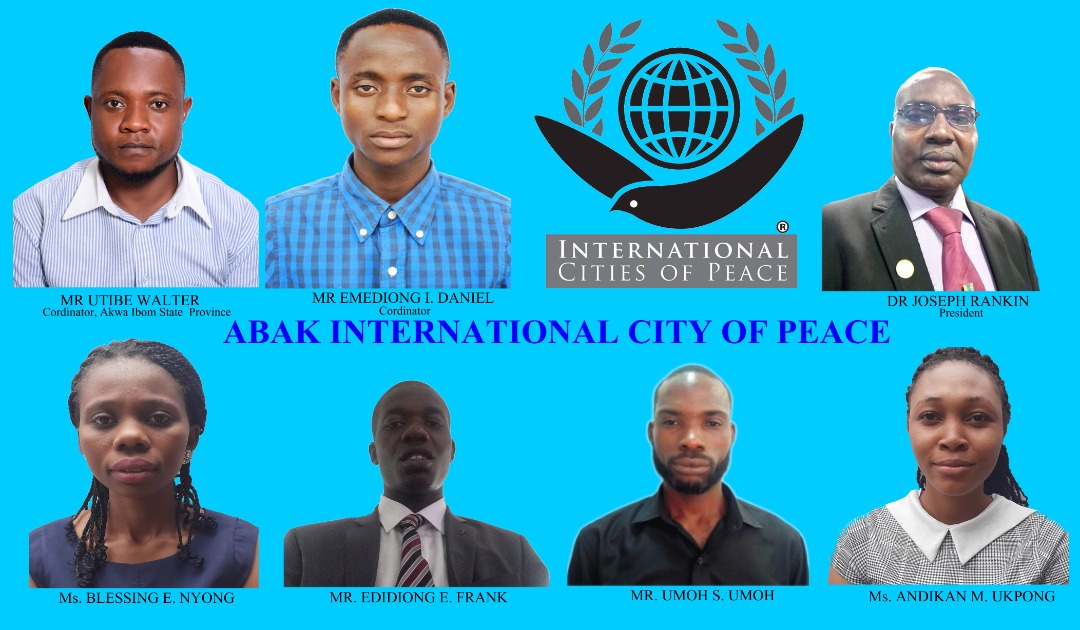 EMEDIONG IBORO DANIEL
LIAISON, ABAK, NIGERIA: CITY OF PEACE
EMEDIONG IBORO DANIEL is a native of Abak Local government area in Akwa Ibom state, Nigeria. He is an entrepreneur, precisely a sound engineer. Also, he is an office assistant in Eniac Data Services, Akwa Ibom state. He worked in Surulere, Ojueleba Lagos state as a supervisor in Belus Table water.
Daniel attended Community Comprehension Secondary School (C.C.S.S.), four towns in Akwa Ibom state. Class of 2015. One year after, I gained admission to study Electrical/ Electronic Engineering in Akwa Ibom State Polytechnic, Ikot Osurua, Ikot Ekpene, Akwa Ibom State, where I obtained my National Diploma (N.D.).
Thoughts on Peace Making in Abak
Peace is not just absence of war but also a state of mind, individual or collective social cultural, political and economic harmony. Hence, to build a culture of peace, we need to develop justice and respects of human rights to fight against poverty. Abak community is not an exemption in the ugly reality of different conflicts arising as a result of land dispute/ inheritance, poor communication amongst individual, lack of youth empowerments, lack of basic social amenities such as good drinking water, electricity supply in rural areas etc, poor state and lack of formal education, poor health facilities etc.
In building peace in Abak, campaigns about the culture of peace should be exercised, creating a relationship amongst communities, create or plan peaceful events or walk such as sports, cleans ups etc. This will improve peaceful existence and also social life of people.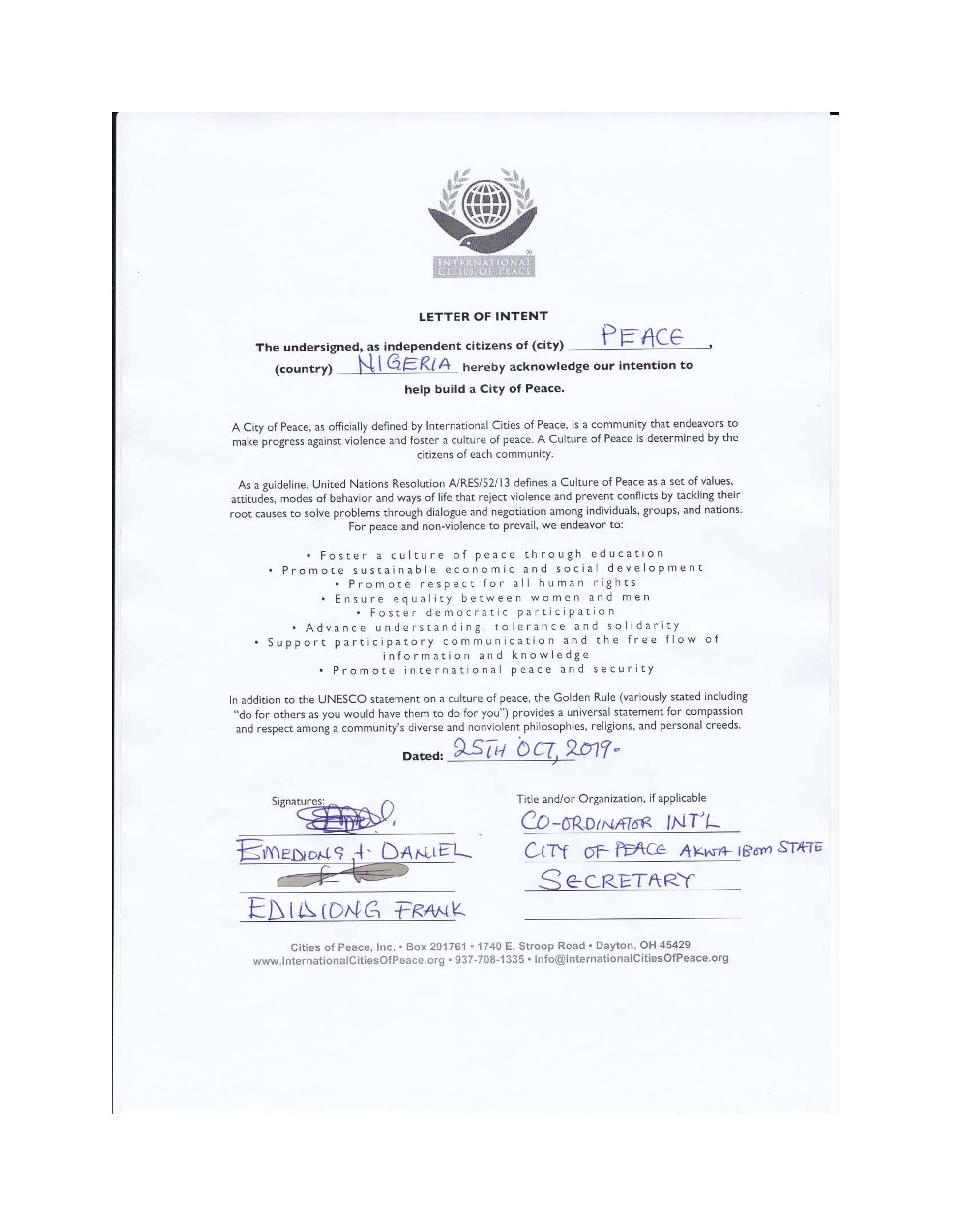 ---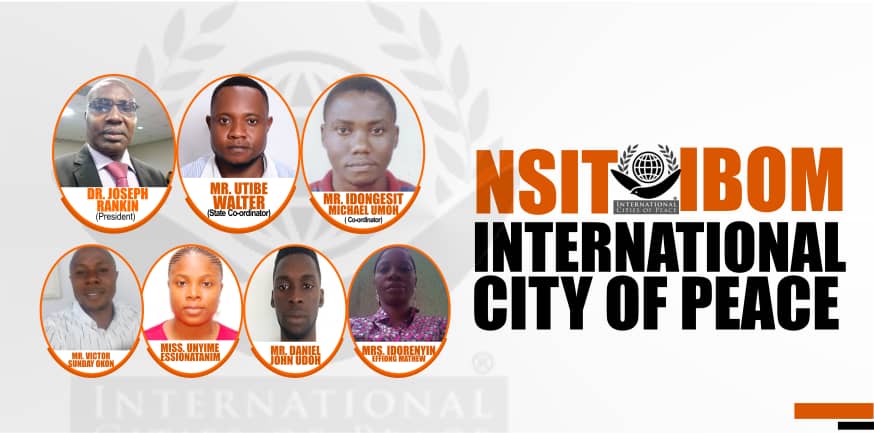 IDONGESIT MICHAEL UMOH
LIAISON, NSIT IBOM, NIGERIA: CITY OF PEACE
Idongesit Michael Umoh hails from Edeobom 1, Nsit Ibom Local Government Area of Akwa Ibom State. As the first and eldest son of the family, it became necessary for him to embrace a peaceful, jovial but much focused life style in order to better equip and prepare myself for the family headship/leadership tasks ahead. Michael obtained a Bachelor of Agriculture (B.Agric.) degree in Agricultural Economics and Extension from the University of Uyo, Uyo in 2009, a Master of Education (M.Ed.) degree in Extension Programmes and Educational Evaluation from the University of Ibadan, Ibadan, Nigeria in 2012 and a Post Graduate Diploma in Education (PGDE) from the National Teachers' Institute in 2015. Today, Michael is an Agricultural Science instructor in Redemption Academy, a high school located in the city of Uyo.
Thoughts on Peace Making in Nsit Ibom Local Government
"Peacelessness, which refers to the situations, especially in developing countries, where, in spite of the absence of war, human beings are suffering just as much from poverty, malnutrition, disease, illiteracy, discrimination, oppression and so on, as from war have also plagued the people of Nsit Ibom LGA. But with Peace, our communities and individual lives will be enriched, as it will direct us to embrace diversity and support one another to the fullest extent possible. Through peace and interfaith collaborations, events, campaigns, rallies, anti-bullying and other violence prevention initiatives in schools as well as restorative justice programs in schools and community settings that focus on healing rather than punishment, we intend to promote and provide a cornerstone for attaining a sustainable, just, meaningful, vibrant, and fulfilling personal and community life among the people of Nsit Ibom."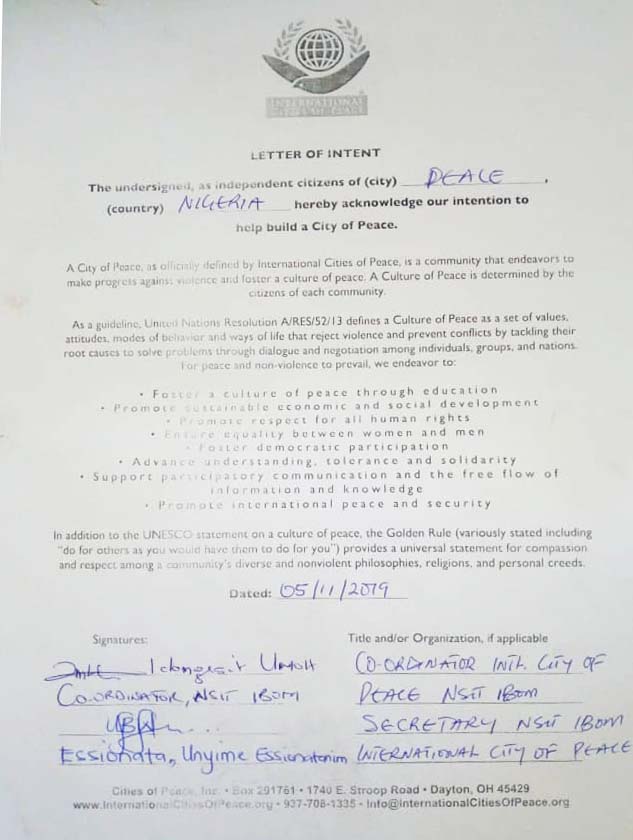 ---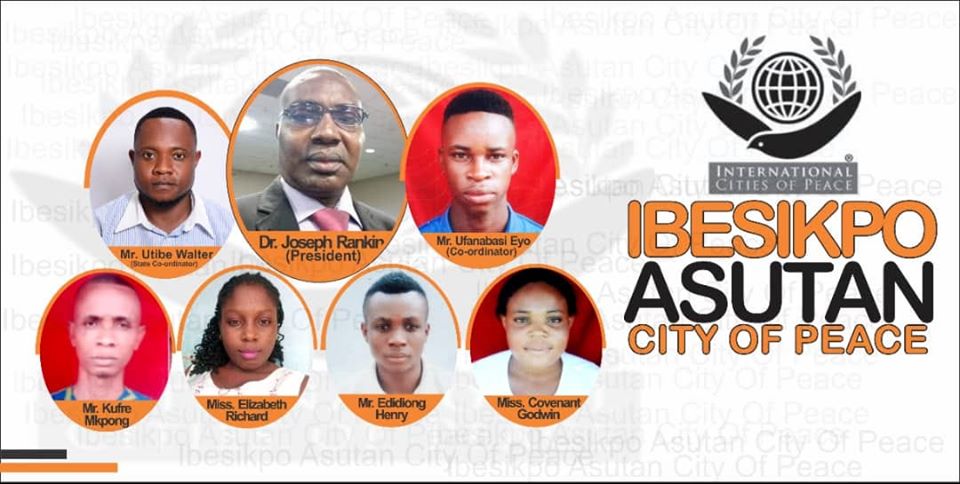 UFABABASU EYOU
LIAISON, IBESIKPO-ASUTAN, NIGERIA: CITY OF PEACE
I am Ufanabasi Eyo, an indigene of Mbierebe Akpwat in Ibesikpo-Asutan Local Government Area of Akwa Ibom State, Nigeria. I'm 22 years old and my Qualification is FSLC/NECO. I am an entrepreneur and I work as a writer, blogger, online media practitioner, Event Influencer and a web developer.
Being a peace lover, I believed that becoming a member of International Cities of Peace will help to promote Peace at all level. Political, domestic violence, hatred, low level of education, and poverty has been an important factor effecting my community. As a peace ambassador, with the support of this NGO, peacemaking will be of great benefit to my community, most important my aim is to create a  proper peace awareness, self development, organized training on skill acquisition, preach love among one another and as well as medical awareness.
I will endeavor to work in my community, schools, for youths, orphanage, homes and develop the community into a technology community and also develop in agricultural standard.
---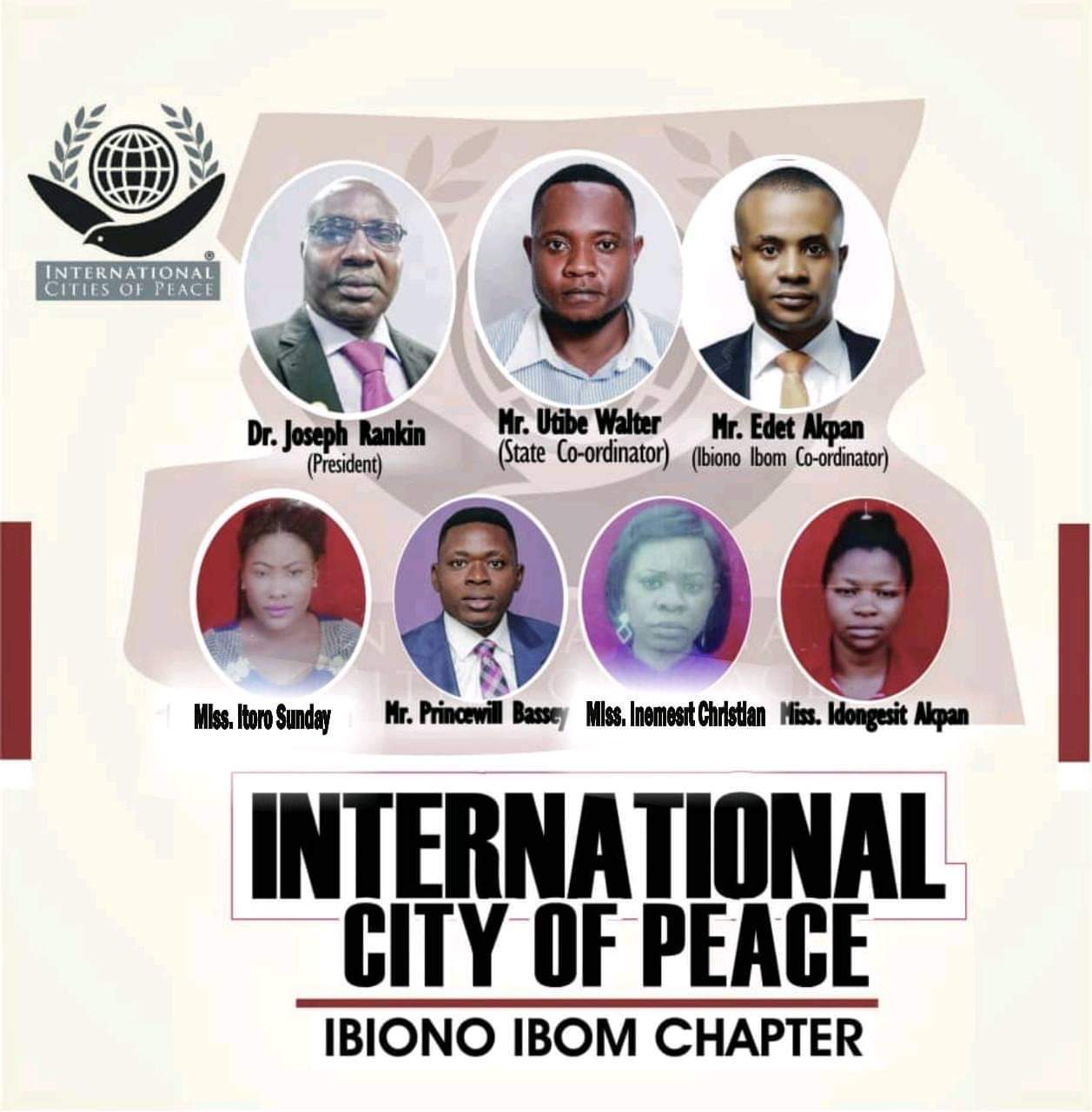 EDET EDEM AKPANE
LIAISON, IBIONO IBOM, NIGERIA: CITY OF PEACE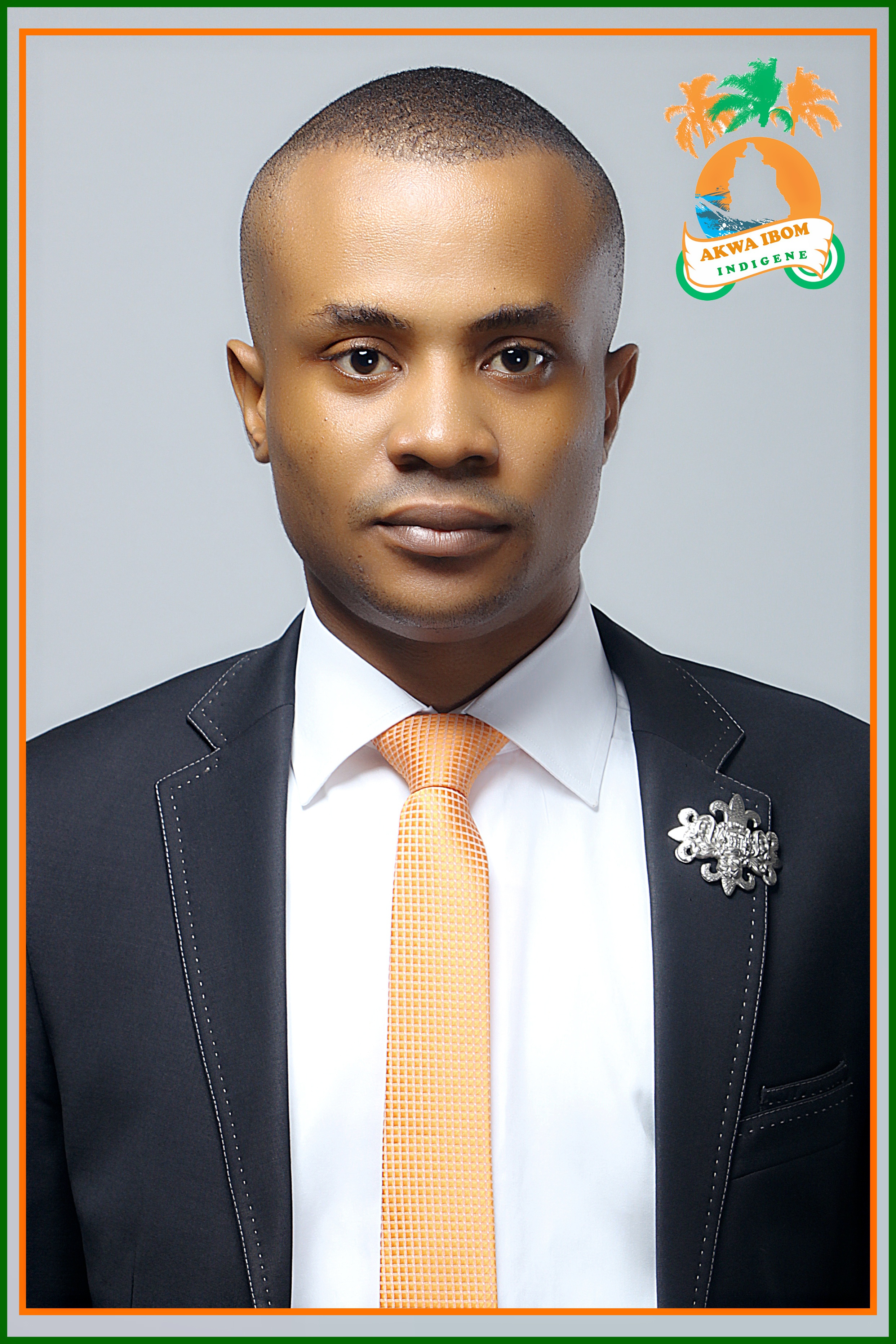 Edet Edem Akpan is a native of Ikot Ambit in Ibiono Ibom and attended saint Patrick's Primary School Uyo and Community Comprehensive Secondary School Four Towns Uyo Akwa Ibom State. Edet studied Public Administration at the University of Uyo where he graduated with merit and also he bag Bachelor of science degree in Sociology and Anthropology at the same university. Edet Akpan holds a professional certificate in Human Resources Management from Rahn Wesley Institute of management United Kingdom.
He is an advertising agent, brand promoter and events consultant, notably Edet Akpan has worked with Procter and Gamble Nigeria Limited, Paxson Nigeria Company Limited, GDM Groups Nigeria, RichBrands Group Nigeria and BTL Solutions Limited Nigeria as a supervisor. Presently he is undergoing a one year compulsory National Service in Kogi State Nigeria.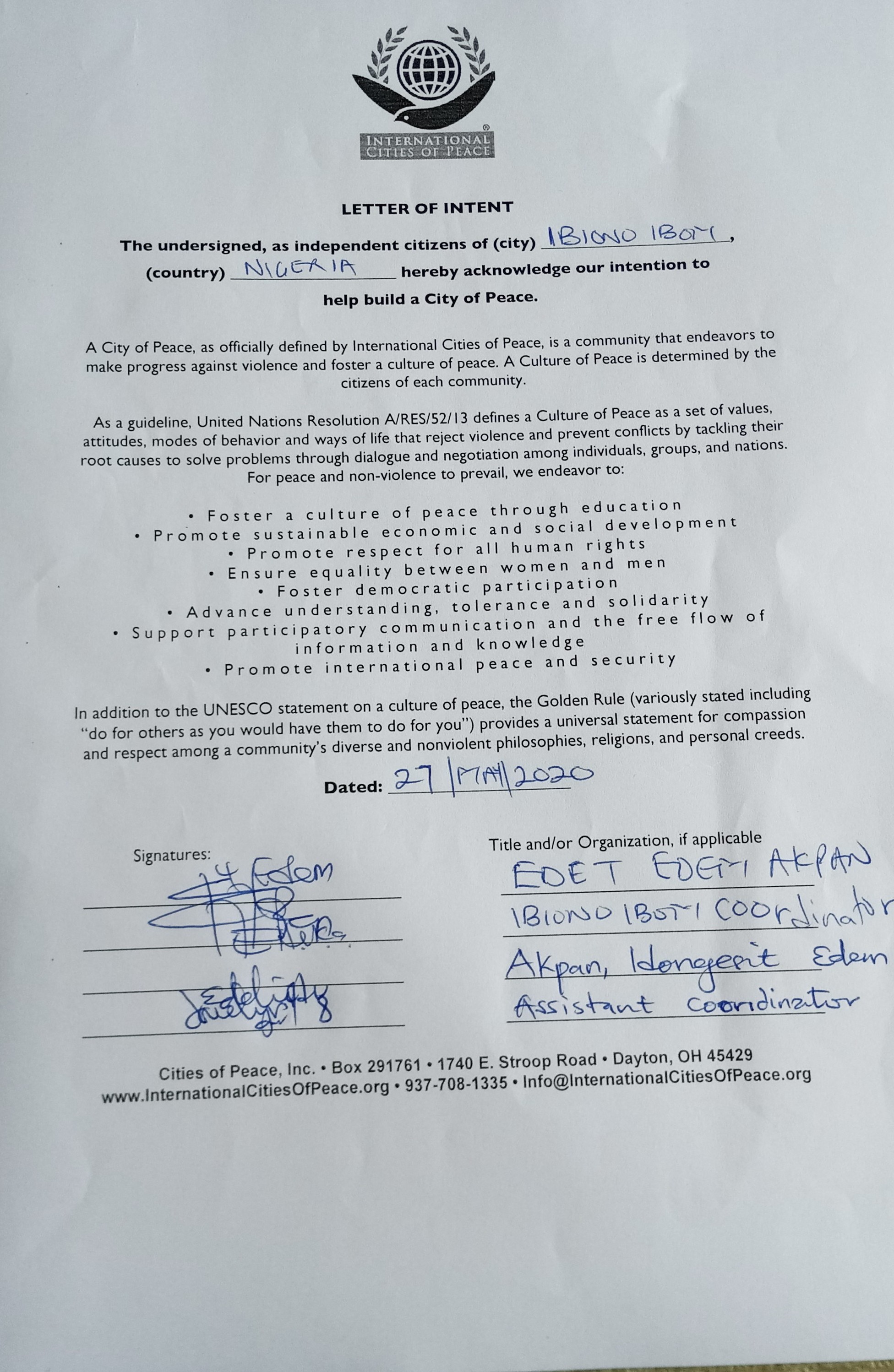 "My Ideas about peace," writes Edet, "and how I intend to work: I believe that best way to preserve peace is by organizing peace symposium in ibiono Ibom and I believe that this event is the key to increasing understanding and communication between communities, the main ingredients for peace. I advocate for the creation of ICP office; The mission of this office is to promote dialogue, understanding and peace and convey transnational core values through education. Considering education as a main tool for peace, I believe in a reevaluation of the international education system based on the creation of a "Resolution on the principles of education". Finally, inequality always leads to conflict, I therefore propose open access to communities and information in order to ensure equality and transparency and avoid conflict."
---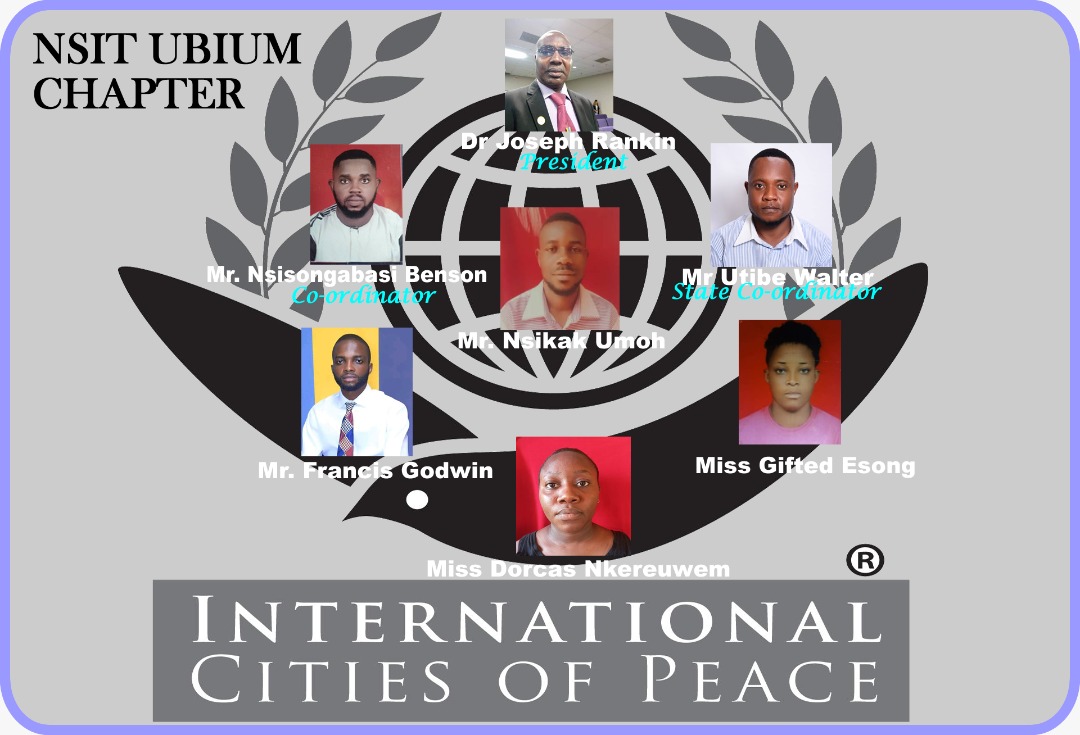 NSISONGABASI BENSON
LIAISON, NSIT UBIUM: CITY OF PEACE

CONTACT INFORMATION BELOW
Nsit Ubium consists of two Clans — Nsit andUbium; with 31 villages in Nsit clan and 33 in Ubium clan. Traditionally, the two clans, Nsit and Ubium, identify themselves along ethnic lineage. Ubium has three groups — Ise, Afaha and Ukat, while Nsit is divided into Ibiakpan, Obotim, Nduo Eduo and Afia Nsit groups. The people are generally very hospitable, knowledgeable and industrious.
Nsisongabasi Benson is an electrical engineering graduate. "I intend to organize security summit in my community and also go around primary and secondary schools in my community to sensitize them about the importance of security and protecting of the community based projects. In recent times, they has been cult activities in my community, and they have been destroying lives and properties. I intend to bring in security patrol team to stabilize peace in the community."
---
FOR INFORMATION ON THESE INITIATIVES, CONTACT:
Walter Utibe
Emediong Iboro Daniel
Idongesit Michael Umoh
Ufanabasi Eyo
Nsisongabasi Benson
---
ABOUT  PROVINCE, NIGERIA (from Wikipedia)

Akwa Ibom is a state in Nigeria name after the Que Iboe river. It is located in the coastal south – southern  part of the Country, lying between latitude 4°321 and 5°331 North and longitude 7°251 and 8°251 East. The state is bordered on the east by Cross River State, on the west by River State and Abia State, and on the south by the Atlantic Ocean and the southernmost tip of Cross River State. Akwa Ibom is one of the Nigeria's 36 State with a population of over 5 million people and more than 10 million people in the diaspora.
It was created in the 23rd of September 1987 from the former Cross River State by the then military administration of General Ibrahim Badamosi Babangida, it official motto proclaim that it is ' The Land of Promise'. The State itself is now divided into thirty one smaller communities ( Local Government Areas).
The creation of the state brought to fruition years of prolong struggle by the people that occupied the mainland part of the former Cross River State. Akwa Ibom have a foremost Socio-Cultural Organization called Ibibio Union which served as a unifying platform for the people of this part of Nigeria and was transformed in 1928 from a mere cultural association to a goal driven institution which promoted and championed the cause of State creation in Nigeria.
Akwa Ibom State cover a total land area of 7,249 square kilometers, it is the 10th largest State in Nigeria in terms of landmass. About 13.4 percent of the 960km of Nigeria's Atlantic Ocean coastline runs through the State. Town include: the Capital Uyo and other like Eket, Ikot Ekpene, Nsit Ibom, Ikot Abasi, Iron, Abak, ITU, Etinan, Ibeno etc. The three major dialectal groups are Ibibio, Annang and Iron other sub groups include Eket, Ibeno, Itu Mbonuso and the Andonis. Akwa Ibom fall within the tropical zone with a dominant vegetation of green foliage of trees and shrubs and it contributes a major chunk of the Nation's Oil palm belt.
The State also has three distinct vegetation zone which are the saline water swamp forest, the fresh water swamp forest and the rain forest. Akwa Ibom is often described as a uni-cultural State where norms, taboos, customs and traditions are the same. The folkways may vary from one ethnic grouping to another but the operation cultural norms are basically the same all over the State.
Uyo is the state capital of Akwa Ibom, in South South Nigeria. The city became the capital of the state on September 23, 1987 following the creation of Akwa Ibom State from erstwhile Cross River State. The University of Uyo Main campus is located at Nwaniba, While the Town campus and Annex campus are located along Ikpa road. The population of Uyo, according to the 2006 Nigerian Census which comprises Uyo and Itu, is 427,873.[2] while the urban area, including Uruan, is 554,906.
Nigeria, officially the Federal Republic of Nigeria, is a country in West Africa, bordering Niger in the north, Chad in the northeast, Cameroon in the east, and Benin in the west. Its coast in the south is located on the Gulf of Guinea in the Atlantic Ocean. The federation comprises 36 states and 1 Federal Capital Territory, where the capital, Abuja, is located. The constitution defines Nigeria as a democratic secular state
Note: If information or photos used here are copyrighted, please contact us and we will immediately delete the copyrighted material.