Asheville, North Carolina, U.S.A.: City of Peace
Welcome to Celeste Lauren Filbert and the members of the Peace Committee as they proclaim Asheville, North Carolina a city of peace. The group has many partner organizations as the Mayor's Proclamation attests.
Note: Introduction page with information primarily at the time of joining International Cities of Peace. For updates, please contact the liaison.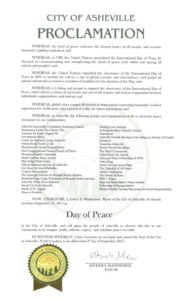 Peace Day Proclamation for Ashville, North Carolina.
VISION
Foster Peace and Compassion as community values to facilitate building a local community and world where all nurture and are nurtured by Peace.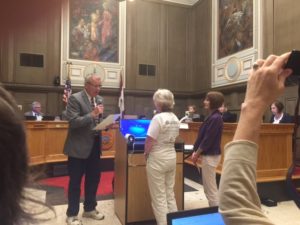 MISSION
As a partnership of peace makers, we promote peace and justice locally and globally among all cultures and creatures and within our hearts, through collaboration, celebration and daily re-creating communities of Compassion and Peace throughout Western North Carolina and beyond.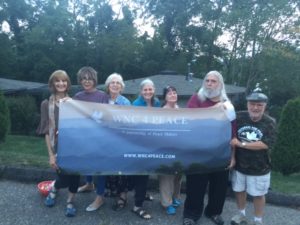 Members of the Ashville peace committee holding up their WNC4Peace banner.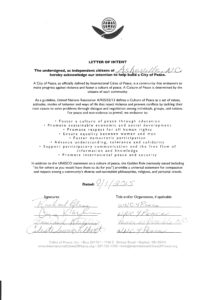 Letter of Intent
OBJECTIVES

1. Collaborate with other peace, justice and environmental groups in celebrating and honoring International Day of Peace in Western North Carolina yearly.

2. Promote peace and justice in relationships locally and globally among people, with nature, and within ourselves.

3. Nurture a culture of peace and nonviolence in Asheville, culminating in the city's designation as an International City of Peace and Compassion.

4. Foster collaboration between all sectors of our community (Academic, Law Enforcement, Commerce, Wellness, Arts, Faith-Based, Environmental, Civic Sectors, etc) to promote a Culture of Peace and compassion.
---
ABOUT CELESTE LAUREN FILBERT
Celeste manages vacation rentals in the popular tourism destination of Asheville, NC, is a licensed Spiritual Practitioner with Centers for Spiritual Living, and in her free time works to promote Peace and Compassion along with many other dedicated and committed individuals in Asheville.

Short video of Celeste Lauren Filbert outside the City Hall before we went in for the reading of the proclamation at city council meeting.
---
CONTACT INFO
For more information please contact:

Celeste Lauren Filbert <heartsong2@charter.net>

 
---
ABOUT ASHVILLE, NORTH CAROLINA (from Wikipedia)
Asheville is a city in and the county seat of Buncombe County, North Carolina, United States. It is the largest city in Western North Carolina, and the 11th largest city in North Carolina. The city's population was 83,393 according to the 2010 United States census. It is the principal city in the four-county Asheville metropolitan area, with a population of 424,858 in 2010. Asheville is home to the United States National Climatic Data Center (NCDC), the world's largest active archive of weather data.


Asheville is the larger principal city of the Asheville-Brevard CSA, a Combined Statistical Area that includes the Asheville metropolitan area (Buncombe, Haywood, Henderson, and Madison counties) and the Brevard micropolitan area (Transylvania County), which had a combined population of 398,505 at the 2000 census.

Asheville pops up on national rankings for a variety of things: "a New Age Mecca" (CBS News' Eye On America, 1996), the "New Freak Capital of the U.S." (Rolling Stone, 2000), one of "The 50 Most Alive Places To Be" (Modern Maturity, 2000), the "Happiest City for Women" (Self, 2002), one of the "Best Places to Reinvent Your Life" (AARP Magazine, 2003), one of the "Best Outside Towns" (Outside Magazine, 2006), one of the "Top Seven Places to Live in the U.S." (Frommer's, 2007), one of the "10 Most Beautiful Places in America" (Good Morning America, 2011), one of the "25 Best Places for Business and Careers" (Forbes, 2012), and one of "20 Great Cities For Writers" (Flavorwire, 2013). Asheville has been listed as one of the "Top 25 Small Cities for Art" in AmericanStyle magazine's annual list from 2000 to 2012 and has reigned the champion "Beer City USA" each year from 2009 to 2012. Dozens of micro breweries dot the downtown and major producers, including New Belgium Brewing Company (opening 2015) are in the process of building in or near the city.

In his 2008 book, The Geography of Bliss, author Eric Weiner cited Asheville as one of the happiest places in the United States.
DO YOU THINK YOUR COMMUNITY CAN BE A CITY OF PEACE? SEND AN EMAIL!
 Note: If information or photos used here are copyrighted, please contact us and we will immediately delete the copyrighted material.