Atlanta, Georgia, U.S.A.: International City of Peace

John R. Naugle has been working since 2003 to re-brand Atlanta, Georgia, U.S.A. as an International City of Peace when he created the brand-term ©Atlanta: City of Peace™ and in 2006 founded an organization whose mission, vision and goals are quite extensive since they celebrate the legacy and birthplace of Dr. Martin Luther King Jr, and also Mahatma Gandhi (a major inspiration of Dr. King).  It is anticipated that in 2022 this city will host "The World Summit of Nobel Peace Prize Laureates."  [ Note: The 2020 World Summit was to be hosted by SEOUL, South Korea but they had to cancel due to Covid-19 ].  "ATLANTA: City of Peace" has been a longtime proponent of the International Cities of Peace (ICP) Network and was one of the earliest Cities of Peace since they incorporated as a formal organization, ATLANTA: City of Peace Inc. (ACP), in November 2006. However, due to the challenges of establishing their grassroots group, they delayed joining as an ICP-Member City (becoming #250).
John Naugle was quoted: "Dr. King once proclaimed 'I HAVE A DREAM' and many activist-citizens worldwide are proving themselves as indirect peace-builders of his wholesome DREAM.  Citizens like Mr. J. Frederick Arment, ICP-Founder, is one of many wonderful examples.  Our collective future grows brighter.  Let's remember that the Notre-Dame Cathedral in Paris France took 200 years to complete.  We must all remember that DREAMS take time to transform into completed REALITY, so do not be discouraged with delays or setbacks. Let's unite to celebrate the journey and leave the destination for those of the future."
Note: Introduction page with information primarily at the time of joining International Cities of Peace. For updates, please contact the liaison.

---
MISSION: Atlanta: City of Peace, Inc. (ACP) is 'gifting' a global capital of peace to our global family.
---
VISION: We have a DREAM and *PLAN. We feel that the true destiny of Atlanta, Dr. King's birthplace, is in being formalized into a global capital of peace.
---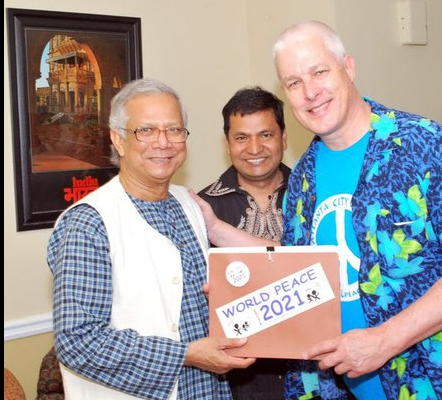 INVITATION: Welcoming all participants: YOU & everyone, young & old – from anywhere & everywhere – worldwide, to assist us in Atlanta's transformation. We are confident that Atlanta has the capability of growing into this global position of inspiration and we uniting volunteers from around the world who believe Atlanta can SERVE in this capacity.
---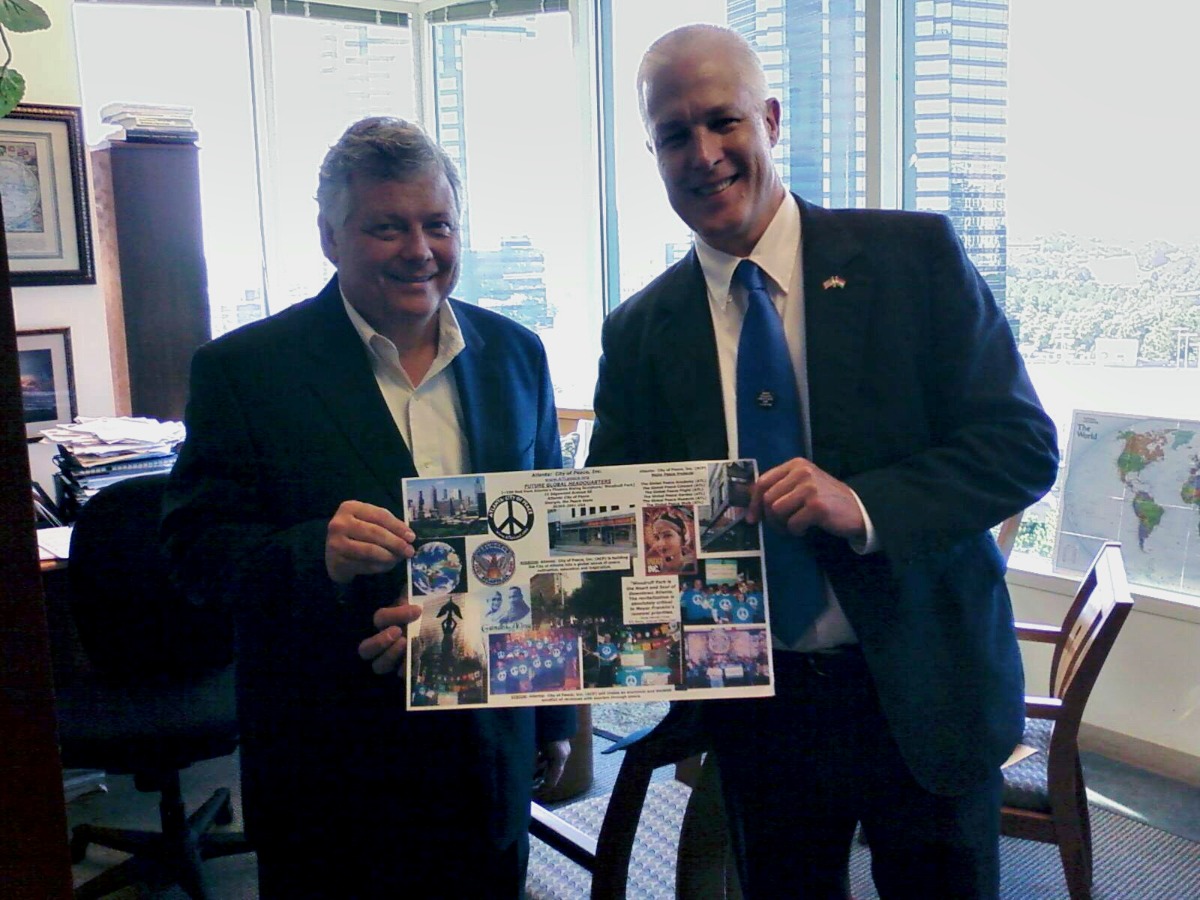 Kenneth A. Cutshaw, Esq, (above left) delivered a speech in 2004 for the Gandhi Foundation USA (GFUSA) that went on to inspire John Naugle to establish Atlanta: City of Peace, Inc. (ACP) in 2006. Ken became one of ACP's earliest co-founders, plus still serves as their Senior Adviser. Cutshaw is a former Honorary Consul for the country of India in the United States and was Deputy Assistant Secretary of Commerce Department serving in the Administration of President George H. W. Bush. Additionally, he was Chief of Staff in Commerce Department for the Administration of President Ronald Reagan, and was a partner of Atlanta's Holland & Knight law firm where his practice focused on international transactions. Cutshaw was the legal counsel for the 1982 World Exposition, and a founder of a post-Soviet private university (Georgian American University) in the Country of Georgia where he served as its first Law Dean. He has been an Adjunct Professor at Emory University, Georgia Tech, Duke University and Georgia State University teaching law and global business. Cutshaw is also a member of the legal bars in Washington D.C., North Carolina, Georgia and Tennessee. He is a member of the International Bar Association, American Bar Association, Inter-Pacific Bar Association and Indian National Bar Association. At present, Kenneth is Managing Director Cutshaw Consulting LLC and also chairman of FBE Ventures, a holding company for hospitality / restaurant brands located in Kuala Lumpur, Malaysia – Southeast Asia and the USA.
SUCCESS: At some special time in the future, when "Atlanta: City of Peace" becomes formalized into a global capital of peace, these particular benefits will flow into our global family:
Our city will inspire other cities worldwide to propel the ideals of 'Peace On Earth'
Our city will inspire cities worldwide to promote "Tourism: World's Biggest Peace Industry"
Our city will inspire other cities worldwide to educate about peace & nonviolence which will MITIGATE & HALT much future VIOLENCE
Our city will inspire other cities worldwide to become beacons of HOPE, HEALING and HARMONY for ALL, and for many generations into the future – even as Humanity adventures further out into Space: The Final Frontier.
---
JACKPOT: Our Global Family has a figurative 'GOLDMINE' of a resource, but it is relatively unknown still. Atlanta: City of Peace has committed to locating dynamic leaders (from everywhere and anywhere) who will enjoy creating the process of 'mining' this huge asset with us… and for the well-being of ALL. Since late 2006, at our launch-party in the Sundial Restaurant (on top of the Westin Peachtree Plaza- "Tallest Hotel in the Western Hemisphere") we have formally invited numerous civic, government and business leaders (local-global) to become ACP key official co-founders. For example, in early 2007 we hand-delivered two of 8 original ACP Business Plans and invited participation from Mr. Andrew Young, former ATL Mayor & USA-Ambassador, and A.J. Robinson, President of Central Atlanta Progress (CAP). WE HAVE A DREAM and welcome / invite all.
---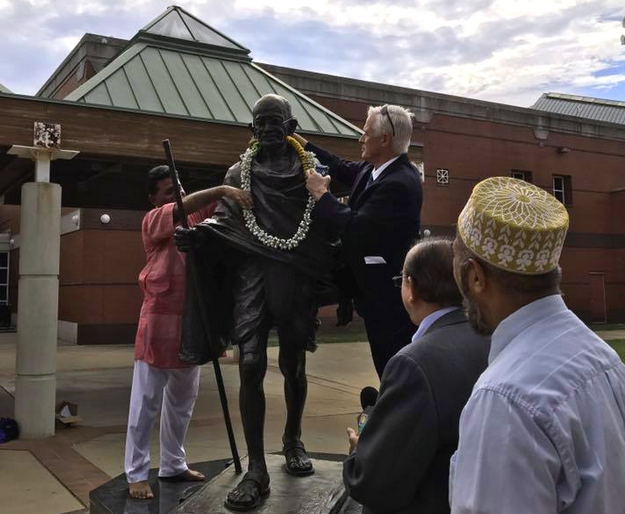 DREAMS TO REALITY:  With courage and action, our DREAM can accelerate and scale-up quickly. The eventual 'Gifting' of a global capital of peace to our global family is a worthy goal that invites your participation and the help of everyone. At present, we are re-vamping our Board and seek a few nationally-ranked leaders in consulting, tech, philanthropy, fundraising, project management and/or capacity building. The ability to envision and emphasize our organization's and our city's historic possibilities (rather than focus on the common developmental circumstances that all organizations experience) is a PLUS!
---
SPECIFIC PLAN: Transforming & formalizing Dr. King's birthplace into a global capital of peace is our DREAM that will eventually become REALITY. At some time, in the not too-distant future we will be able to succeed in our mission by connecting with courageous leaders and establishing great collaborations with dynamic consulting groups like Bain, Accenture or Bridgespan. We know they can help to effectively connect with the many Nobel Peace Prize Laureates, the 1000+ peace organizations of the world, plus many civic service organizations and corporations. Great News!
Future collaborations with many leaders (local to global) will propel development of several major peace projects and many smaller peace projects. Securing great tech & web design, we will be able to network with many individual peace-builders (from everywhere). They will  represent many types of organizations and corporations. Development of our many projects, large & small, will occur and we will also establish many collaborations to produce numerous inspiring events. With the professional oversight of a nationally-ranked major accounting firm and CFO we will be able to provide assurances to dynamic philanthropists who will eventually fill a huge development fund for our Mission and projects. It is appropriate that we dream BIG in the birthplace of Dr. King.
---


SHAPE HUMAN HISTORY: Will you be a key official co-founder and co-creator for Atlanta: City of Peace… a future global capital of peace? Are you saddened with all the violence in the world? Do you want to propel hope and the dream of Peace on Earth? Then develop our legacy project with us. We are an early-stage secular and interfaith organization that is a new Think Tank. Our "Think Tank" welcomes all; young & old, local or international. Through all our projects, large or small, we help everyone to celebrate the life they've been given and to excel in their responsibilities by promoting important virtues like courage, peace, love, health, hope and happiness. Each of our many peace initiatives are evaluated for organic fit among our three brand pillars:

---
The Global Peace Museum (GPM)
JOIN OUR HISTORIC GLOBAL PEACE INITIATIVE

MISSION
The Global Peace Museum celebrates the goodness of our Global Family.

VISION
The Global Peace Museum (GPM) is an Atlanta: City of Peace (ACP) project which will especially focus upon the many positive things going on around the world and within our Global Family. Fact: The majority (most) of the sisters & brothers of our Global Family are very nice. The GPM will propel Global Citizenship, Justice and Peace by educating us about our Global Family's advancements in teamwork, tourism, trade, and travel. It will also help all to celebrate and promote the great peace legacies of Gandhi & Dr. King, two of the world's most admired peace-builders.

NOTE: In advance of developing an actual GPM bricks-and-mortar institution, we are first developing the GPM into: "The World's Biggest Virtual Peace Museum." Nationally-ranked web design companies & consultancies are herein invited to contact us with proposals. We are in the process of planning/developing grand-scale and smaller GPM exhibit concepts. An integral component to all the concepts is promoting the idea that we are essentially one big & beautiful Global Family.

IDEAL LOCATION
Building the GPM bricks-and-mortar institution in Atlanta will propel forward our city's international peace legacy. Fact: "ATL: The World's Busiest Airport" (with 100+ million annual passengers) also propels tourism is the world's biggest peace industry. Our success probability is accentuated.

Our ideal location in Atlanta is 8-acres within this amazing new 165-acre development of Egbert Perry's Integral Group LLC, which is at the old GM Plant near 'Spaghetti Junction' near I-285 and Peachtree Industrial Boulevard. Verner Johnson. Inc., one of the world's top museum design firms, is an interested contender in designing the museum, but we need a visionary philanthropist to make our DREAM become reality and claim naming rights. "Gates Global Peace Museum" is an example.
---
ABOUT THE LIAISON
John R. Naugle enjoys connecting with peace builders everywhere. He completed his formal education at the University of Houston where he received a Bachelor of Science Degree. The past position that most opened his eyes about the challenges facing our Global Family was with the Information Resources Management Office of the Centers for Disease Control (CDC). While there, he managed the Chamblee Information Center which is the CDC's largest branch library of 11 national libraries. In his youth, his mother gifted him with an inspiring example and uplifting perspective.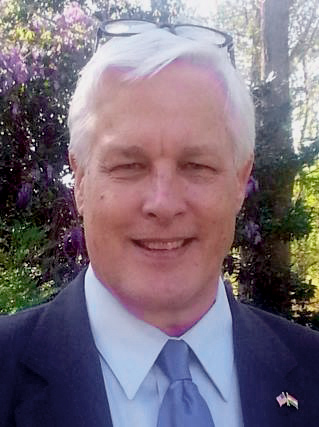 "As we learn to see all of those around us as important sisters & brothers in our huge & beautiful family, our Global Family, then we can celebrate life with them better."
It was through the inspiration of his parents and many, many siblings (from his immediate, and our extended Global Family) that he authored 'The Declaration of Peace Millennium' on 08/08/08. It represents a 1000-year vision for our Global Family to cultivate Peace on Earth in this new millennium of human history (Years 2000-3000). In January 2006, after John had been living in Atlanta for 22 years, Coretta Scott King had died. At her memorial service, attended by four US Presidents and over 200 statewide and national government leaders, John recognized the huge void created in 'the Beloved Community' from Mrs. King's death. In this same year, and as an attempt to help others fill the void from Mrs. King's passing plus help the community heal, John established Atlanta: City of Peace, Inc. (ACP) where he serves as President & CEO.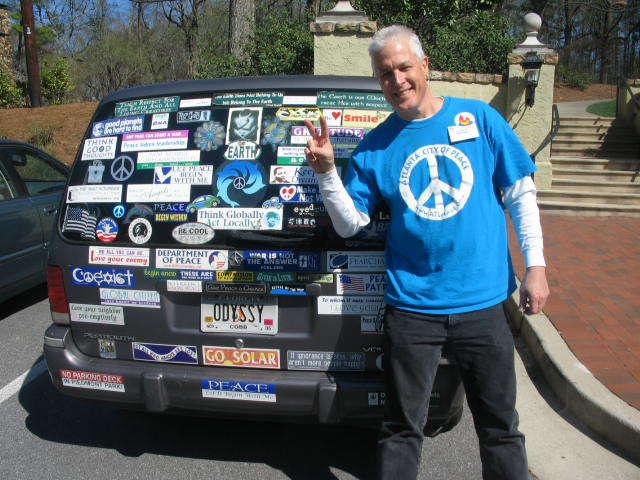 John also serves on the Board of Directors for the GANDHI Foundation USA (GFUSA) and as Chairman for the GANDHI Center (ATL) Feasibility Project. They dream of developing the future GANDHI Center in the same neighborhood as the KING Center & CARTER Center which would create an international peace cultivation district. Everyone is invited and welcomed to be co-founders for ACP & GFUSA. We have a dream to unite many worldwide and transform Dr. King's birthplace into an international capital of peace.
---
CONTACT INFORMATION
To contact or support this initiative:
info@ATLANTAcityofpeace.org
www.atlantacityofpeace.org
---
ABOUT ATLANTA, GEORGIA, U.S.A. (from Wikipedia)

Atlanta is the capital and most populous city in the U.S. state of Georgia. With an estimated 2018 population of 498,044, it is also the 37th most-populous city in the United States. The city serves as the cultural and economic center of the Atlanta metropolitan area, home to 5.9 million people and the ninth-largest metropolitan area in the nation.[7] Atlanta is the seat of Fulton County, the most populous county in Georgia. Portions of the city extend eastward into neighboring DeKalb County.
Atlanta was originally founded as the terminus of a major state-sponsored railroad. With rapid expansion, however, it soon became the convergence point among multiple railroads, spurring its rapid growth. The city's name derives from that of the Western and Atlantic Railroad's local depot, signifying the town's growing reputation as a transportation hub. During the American Civil War, the city was almost entirely burned to the ground in General William T. Sherman's famous March to the Sea. However, the city rose from its ashes and quickly became a national center of commerce and the unofficial capital of the "New South". During the 1950s and 1960s, Atlanta became a major organizing center of the civil rights movement, with Dr. Martin Luther King Jr., Ralph David Abernathy, and many other locals playing major roles in the movement's leadership. During the modern era, Atlanta has attained international prominence as a major air transportation hub, with Hartsfield–Jackson Atlanta International Airport being the world's busiest airport by passenger traffic since 1998.
Atlanta is rated as a "beta+" world city that exerts a moderate impact on global commerce, finance, research, technology, education, media, art, and entertainment.[19] It ranks in the top twenty among world cities and 10th in the nation with a gross domestic product (GDP) of $385 billion. Atlanta's economy is considered diverse, with dominant sectors that include aerospace, transportation, logistics, professional and business services, media operations, medical services, and information technology. Atlanta has topographic features that include rolling hills and dense tree coverage, earning it the nickname of "the city in a forest." Revitalization of Atlanta's neighborhoods, initially spurred by the 1996 Summer Olympics, has intensified in the 21st century, altering the city's demographics, politics, aesthetics, and culture.
Note: If information or photos used here are copyrighted, please contact us and we will immediately delete the copyrighted material.