Bern, Switzerland: City of Peace
Welcome to John David Lash, Barbara Salaam Wegmüller, and colleagues who are working to create a culture of peace in Bern, Switzerland: City of Peace. As noted below it is in Bern that the Swiss ideas of peace and aid are formulated and acted upon including the granting of permission for Switzerland to be the center for UN agencies in Europe. John Lash is the Grandmaster of the Feng Liu Taoists at the Harmonious Dragon Tai chi School and Tao Center in Bern, Switzerland.
Note: Introduction page with information primarily at the time of joining International Cities of Peace. For updates, please contact the liaison.
Bern: One Love-One Heart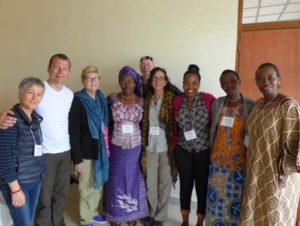 Barbara Salaam Wegmüller in Ruanda on a project to bring a healing peace to the victims of the genocide.
MISSION STATEMENT
To honor the traditions of Swiss neutrality and peace established by the Swiss government in the capitol city of Bern, to unite the people of Bern into being One Love-One Heart and to keep the forests clean for our children and the animals.
PROJECTS
The Hopi Indians say that Switzerland is the Flame Keeper for the European peoples. Bern was always the most sacred site in Switzerland. The Feng Liu Taoists of the Harmonious Dragon Tai Chi School and Tao Center has been working for 32 years to raise the love and peace energy of Bern which we hope will lift the love and peace energy of Switzerland, and through Switzerland, all of Europe.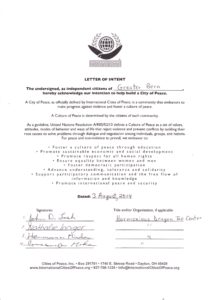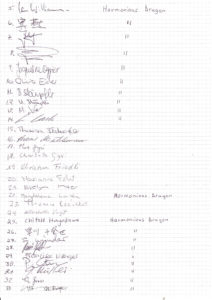 Letter of Intent
OBJECTIVES
The Zen Peacemakers joined with us in 2013 to bring love through Bern
1. For the past 6 years, our Tao center has been sending men to the main train station in Bern on Friday nights to escort women who are afraid to walk home late at night. Women who are being stalked can contact us for refuge and escort. We received the Rose Award from Swiss Illustriert.
2. Every year, we have cleaned at least one forest around Bern because of our love for nature and because the children of Bern should not grow up thinking trash in the forest is normal. In 2013, we cleaned 17 forests in one day and received the Golden Broom Award from the city of Bern.
3. In February 2014, we founded Spirituelles Bern (Spiritual Bern) uniting spiritual groups in Canton Bern to work together for raising the spiritual awareness of the city.
4. At the request of the Thirteen Tribal Grandmothers, we lit a sacred fire on the banks of the Aare for the Venus Passage.
5. Every year we do Tai Chi demonstrations in the center of Bern to raise money for the Frauenhaus (Women's Shelter).
6. The Zen Peacemakers take people to Auschwitz Birkenau every year to meditate in the WW11 concentration camp in order to heal the souls of the victims and today's society.
7. They have spent weeks of living on the streets with the homeless in various cities in order to be witnesses to the suffering.
8. They support Syrian refugees and go to Ruanda to heal the gynocide that occurred there.
 

John Lash and students at the main train station in Bern on Friday night to escort women afraid to walk across the city at night.
---
ABOUT JOHN DAVID LASH
I was born in Arizona in 1948 and grew up on cattle ranches in Texas. At Texas A&M University, I met my spiritual teacher, Dr. Betty Unterberger, who brought me onto the spiritual journey. I attained my master's degree in philosophy from the University of New Mexico and did 2 years of post master's work. I began studying Tai Chi when I decided to follow Taoist philosophy in 1969 with Grand Master Chang-wei Lin who is still my teacher. In my world travels, I lived and studied with Jews, Sikhs and Hindus and visited the sacred sites of these religions and Islam and Christianity.

I married a Swiss woman from Bern and we moved to a farm near Bern in 1982. The Harmonious Dragon Tai Chi School and Tao Center was opened in the same year. I became a Grand Master in 2006.

About Barbara Salaam Wegmüller:
The European head of the Zen Peacemakers, she was born in Bern in 1952. Barbara is married to Roland Wegmüller and they have 5 grown children.

After years of studying meditation, she met her teacher, Zen Master Bernie Glassman in 1999 and became a Sensei in 2011. She does much work with refugees in Switzerland and belongs to Peacemaker Gemeinschaft Switzerland and networks with peace activists around the world.
---
CONTACT INFO
For more information please contact John David Lash and the group at:

Runihubel 2
3043 Uettligen
Tel. 031/829 17 45
john.lash@gmx.ch
www.tai-chi.ch

 
---
ABOUT BERN, SWITZERLAND (from Wikipedia)

Bern is the capital of the Swiss Confederation and sits on a peninsula of the Aare river. It was founded in 1191 though evidence of settlement goes back to pre-celtic times. The old city was declared a Unesco World Heritage Site in 1983. Gaining freedom from the Holy Roman Empire, Bern declared its doctrine of neutrality in 1499 followed by the rest of Switzerland in 1515. Switzerland's last battle against another country was in 1798 resisting the French invasion. The county's neutrality was officially recognized by European Great Powers in 1815. The constitution of 1848 prohibited a standing army.
As the capitol, it is in Bern that the Swiss ideas of peace and aid are formulated and acted upon including the granting of permission for Switzerland to be the center for UN agencies in Europe. It was from Bern that Swiss peace keeping/observing missions were sent to Kosovo, Bosnia, Burundi, Nepal, Korea, Darfur, the Ivory Coast, Haiti, Macedonia, Mali, Ghana, Somalia and other places.
Bern is also the home of international agencies seeking to provide aid to areas of the world in need and the environment. These agencies include:
1. Unite—helping disadvantaged nations of the South
2. The Foundation for Environmental Switzerland
3. The Swiss section of Transparency International
4.Sygenta Foundation for Sustainable Agriculture—to improve livelihoods in semiarid parts ot the world in sustainable ways.
5. Swisspeace
6.Bread for All—with 400 development projects and programs in 57 countries in Africa, Asia and Latin America.
7.International Cultural Youth Exchange
8. Amnesty International

 
DO YOU THINK YOUR COMMUNITY CAN BE A CITY OF PEACE? SEND AN EMAIL!
 Note: If information or photos used here are copyrighted, please contact us and we will immediately delete the copyrighted material.