Buea, Cameroon: City of Peace
Welcome to Linus Ayangwoh Embe, Zita Andig and the citizens of Buea, Cameroon: City of Peace. Linus is founder of the Association for Community Awareness (ASCOA). The group focuses on reducing the stigma of HIV/AIDS, the environment, peace building, child support and women empowerment.
Note: Introduction page with information primarily at the time of joining International Cities of Peace. For updates, please contact the liaison.
The organization gained its legal existence following the 1992 Law of Liberty in Cameroon, and structured under the Divisional. Ref: 047/G.37/D14/VOLII/SAAJP as a not-for-profit, non-racial and apolitical association.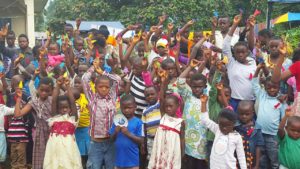 ---
VISION
Our vision is a world with zero Hiv, zero discrimination, gender equality; a community where peace reigns.

---

UPDATE, 2020
UPDATE! Buea, Cameroon became a City of Peace four years ago in 2016. Leader Linus Ayangwoh Embe sent photos of progress by their organization Association for Community Awareness. "Happy new year," writes Linus, "I have attached reports of ASCOA peace activities in 2019 in Cameroon. The pictures with white T-shirt are from the Peace Crane Project; the orange are from the Peace Day, 2019 in the City of Buea." These peacemakers are finding the courage and foresight to stand for peace when Cameroon is deep in a crisis called the Anglophone Crisis, in which war between the English speaking separatists and French speaking majority have caused 3000 deaths and many are fleeing the country. There are six Cities of Peace in Cameroon. Be safe and may your efforts succeed in building a new generation that demands a world beyond war.
---
MISSION
Since 2013, ASCOA has been dedicated to improving the awareness of the local community on HIV/AIDS and its related stigma, promoting peace building in the society, fostering environmental protection and the fight against climate change, supporting children, and empowering women and girls in order to improve their socio-economic participation and boost their wellbeing. We envision a world free of HIV/AIDS, where people are neither stigmatized nor discriminated upon due to their HIV status; a world where women are empowered and children are protected; a world where peace reigns and people live in an environment free of pollution and global warming.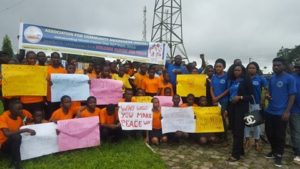 OBJECTIVES
ASCOA is committed to achieving the United Nations sustainable development goals of combating HIV/AIDS, malaria and other diseases; promote gender equality and empower women; and ensure environmental sustainability. In addition, we promote peace building in the society and support vulnerable children in the society.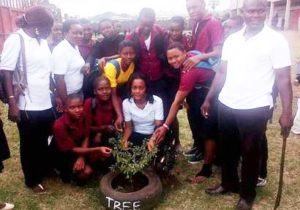 Our core strengths into programs shaped to assist local communities as they make their journey to a world free HIV/AIDs, discrimination, and better health; for we believe together we can save more lives. Our deliverables include:
• HIV/AIDS ad Related Stigma
• Promoting Peace building
• Women Empowerment
• Child Support
• Environmental Protection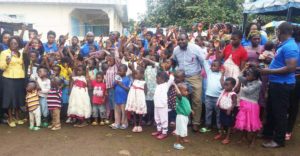 INTERNATIONAL DAY OF PEACE, 2016
---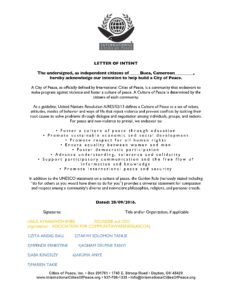 Letter of Intent
ABOUT THE LEADERSHIP
Founder and President
Mr Linus Ayangwoh Embe founded Association for Community Awareness in 2013 in Equatorial Guinea during his study as a social worker. This dream was later realized when he returned to his home country, Cameroon, to contribute to the pressing needs of his community. Linus Ayangwoh Embe worked as an Ambassador for SAVE THE CHILDREN during his time in Equatorial Guinea where he got his inspiration.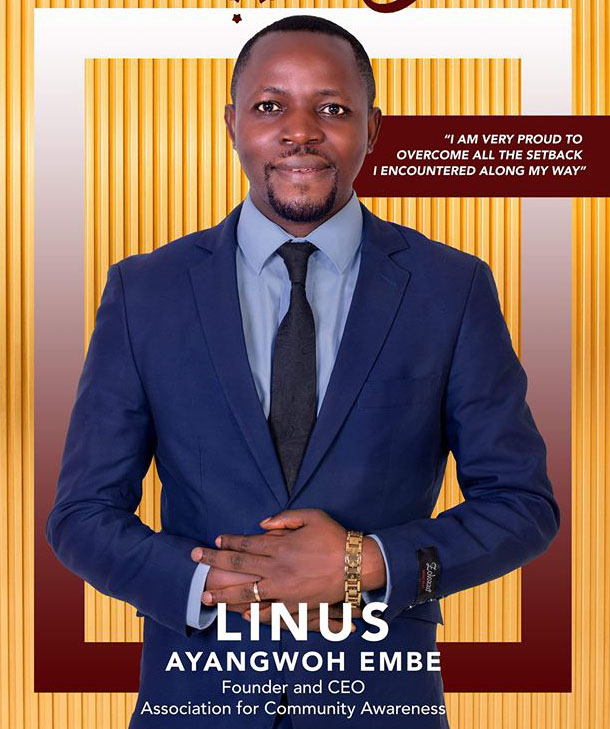 Linus is an active member of the Media Outreach and Advertisement Committee of the Coalition for the Elimination of Aids-related Stigma at Howard University, Washington DC.
Vice President and Executive Director
Zita Andig has led Association for Community Awareness since its creation. She has overseen and managed the organisation in conducting its tasks and activities in line with the mission and vision of the organisation. Miss Zita Andig coordinated the expansion of the organisation to other regions of the country.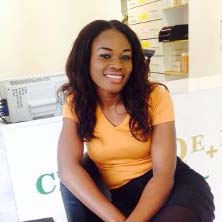 Zita has also served as the Finance and Administrative Officer with International Medical Corps Cameroon, worked with the branch office in London during her time there. She is also a member of African Millennium Development Network (AFRINET) and a partner with Forest Economics Ltd, an International Investment Consultancy Group.
---
CONTACT INFO
For more information please contact:
---
ABOUT BUEA, CAMEROON (from Wikipedia)

Buea is the capital of the Southwest Region of Cameroon. The town is located on the eastern slopes of Mount Cameroon and has a population of 90,088 (at the 2005 Census). About 150,000 people live in Buea (including the towns of Bokwaongo, Muea; Bomaka; Tole; Mile 16 (Bolifamba); Mile 17; Mile 15; Mile 14 (Dibanda); Bova; Bonjongo; Likombe; Buasa; and surrounding villages).
Cameroon, officially the Republic of Cameroon (French: République du Cameroun), is a country in West Africa. It is bordered by Nigeria to the west; Chad to the northeast; the Central African Republic to the east; and Equatorial Guinea, Gabon, and the Republic of the Congo to the south. Cameroon's coastline lies on the Bight of Bonny, part of the Gulf of Guinea and the Atlantic Ocean.
Buea, originally spelled "Gbea," was founded by Chief Kuv'a Likenye, whose clashes with German troops during the Bakweri resistance remain popular folklore; currently ruled by the Endeleys. Tea growing is an important local industry, especially in Tole. Buea was the colonial capital of German Kamerun from 1901 to 1919, the capital of the Southern Cameroons from 1949 until 1961 and the capital of West Cameroon until 1972, when Ahmadou Ahidjo abolished the Federation of Cameroon. The German colonial administration in Buea was temporarily suspended during the eruption of Mount Cameroon from 28 April – June 1909. Originally, Buea's population consisted mainly of the Bakweri people. However, due to its position as a university town and the regional capital, there are significant numbers of other ethnic groups.
Buea hosts the University of Buea, Cameroon's first anglophone university. It is the site of several other higher institutes of learning including St Francis schools of Nursing and Midwifery presently known as Biaka University Institute of Buea (BUIB) and one of Cameroon's three Catholic universities.
DO YOU THINK YOUR COMMUNITY CAN BE A CITY OF PEACE? SEND AN EMAIL!
 Note: If information or photos used here are copyrighted, please contact us and we will immediately delete the copyrighted material.