School children celebrating for getting water tank from Bungoma International City of Peace.
Bungoma, Kenya: International City of Peace

We welcome JOSEPH WANJALA OKUMU and his colleagues in the Bungoma City of Peace and Reconciliation group , which was started on 2nd February 2017 with eleven members who came together for the purpose of promoting peace in the city.
As a result for recurrent post-election violence activities in the county, which also led to death, suffering of children and women, loss of property, mentally and psychological torture within the community and families in the city, the group aims at promoting peace and reconciliation. They work from house to house, meeting in the public gatherings and visiting churches with the message of living in peace and harmony with others.
Note: Introduction page with information primarily at the time of joining International Cities of Peace. For updates, please contact the liaison.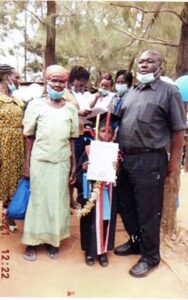 ---
VISION:
To promote peace hope and reconciliation within families and members of the city
---
MISSION:
To equip members with necessary skills, knowledge and values and attitudes to live in peace promote good health, education and poverty eradication within the city.
---
GOAL:
To nurture citizen who are law abiding, peaceful, reading to network and collaborate with others globally.
---
Bungoma City of Peace has the following needs and challenges:
Many inhabitants of the city live below the poverty line due limited job opportunities leading them to engage in many unlawful activities that compromise peace and stability of the city.
Secondly, a result of increasing population there is a strain in social amenities like hospitals and schools. Children walk for long distance to access education which similar to expectant mothers and the aged who walk for long distance to access medical facilities. These social amenities are few and as a result those who struggle to access these services scramble and differ compromising the social cohesion in the city majorly because of favourisim and discrimination along tribal lives.
In addition, many school age children absent themselves from drop out of school and others do not complete access education and this is because especially the girl child waste a lot of time in search of water, others engage in child labor to earn a living and others are forced into early marriages which compromise their survival and development. This makes them engage in diligent behavior such as drug abuse, prostitution, thuggery, abortion, while others who are overwhelmed commit suicide.
Furthermore, many families separate divorce this brings suffering to those affected leading to disruption of peace. This comes as a result of poverty because of many of them do not have a micro enterprises that make them survive and earn a living.
The HIV/AIDS pandemic has claimed lives of parents who leave behind orphans who are not able to sustain themselves. As a result there is an increase in street families who are in need of support. This compromise the peace and stability of the city.
The COVID-19 pandemic has also left many people jobless and therefore they are struggling to earn a living. Many families now go without basic needs such as food, shelter and clothing. For their breadwinners have been dismissed from work. This has led to insecurity in the city for most people cannot stay peacefully and when others are suffering.
In conclusion, Bungoma City of Peace faces a number of challenges and our initiative is call upon well-wishers who can partner with to help us support the dwellers to encourage them to stay peacefully.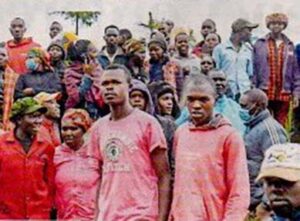 Youth campaigning for peace in rural areas.
---
UPDATED MISSION

To promote peace in the community through:-
EDUCATION
WOMEN EMPOWER MENT
TO BUILD RESOURCE CENTER FOR YOUTH
HEALTH EDUCATION
POVERTY ERADICATION
COUNSSELLING
Many girls around the world face many unique barriers to brighter future,
First: girls face constant discrimination from being denied an education to being forced into early marriage- that puts their lives and futures at risk.
Then the covid-19 pandemic caused schools closure around the world disrupting the education of tens of millions of children around the world
Now we are helping girl child to have peace to build resource center in Bungoma as from next year 2021
Second: this year we have launched helping "corner" we call it Samaritan corner we donate clothes, shoes, blankets to the homeless people and poverty struck children and doomed people here in our city from 20/11/2020 to 31/12/2020
Thanks,
Our contact
BUNGOMA CITY OF PEACE INITIATIVE
P.o Box 307 -50200 Bungoma
Mobile +254789368616
+25445504334
---
LETTER OF INTENT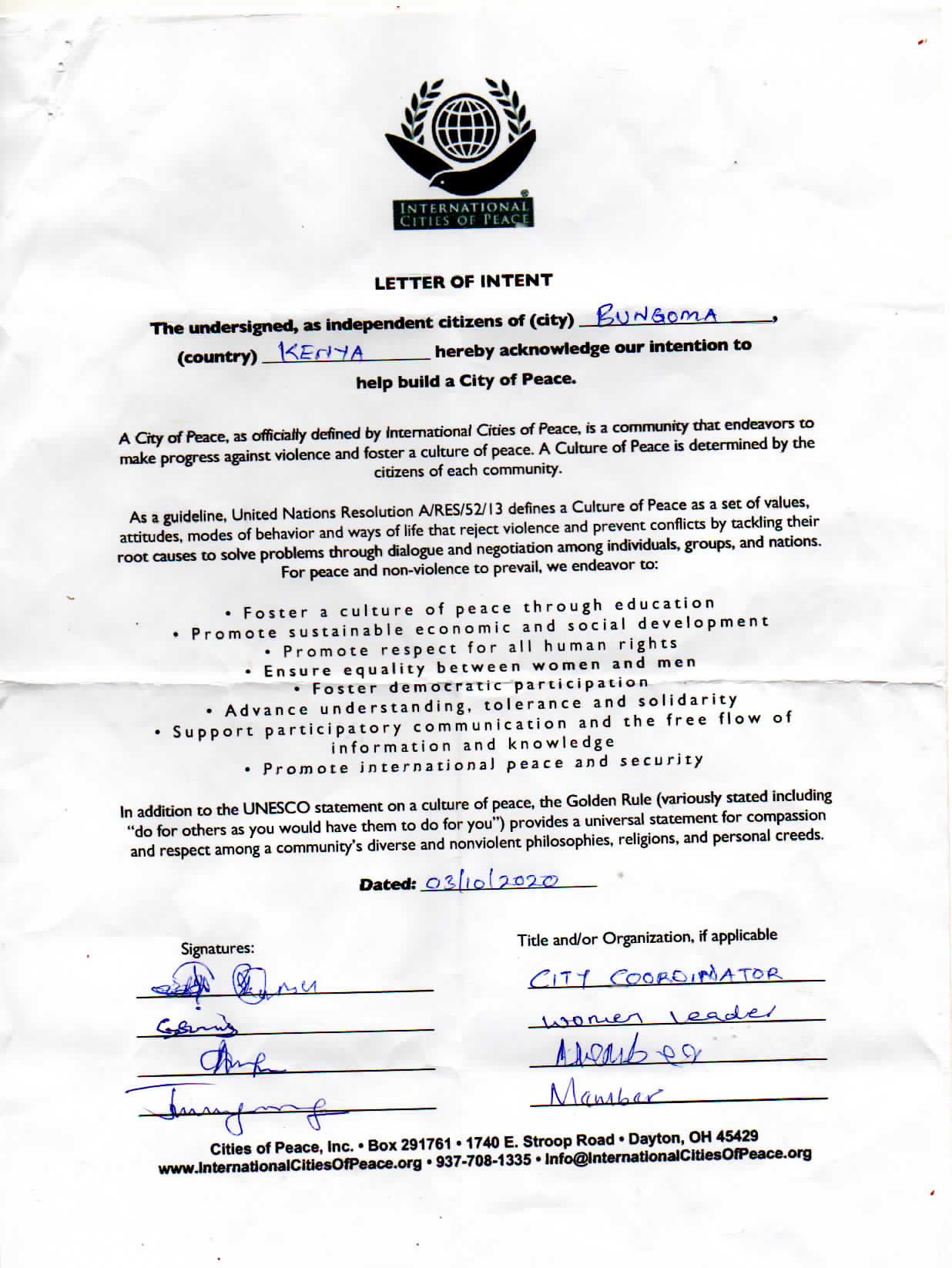 ---
ABOUT THE LIAISON
JOSEPH WANJALA OKUMU of Lwakhakha and Sironko Towns.
"I was born in western Kenya 6th may, 1974 in Mukhweya Village, Nalondo location, Kabuchai Division, Chwele sub county, Bungoma in D.R. Congo.  I am the first born in our family and the only child to my father and mother.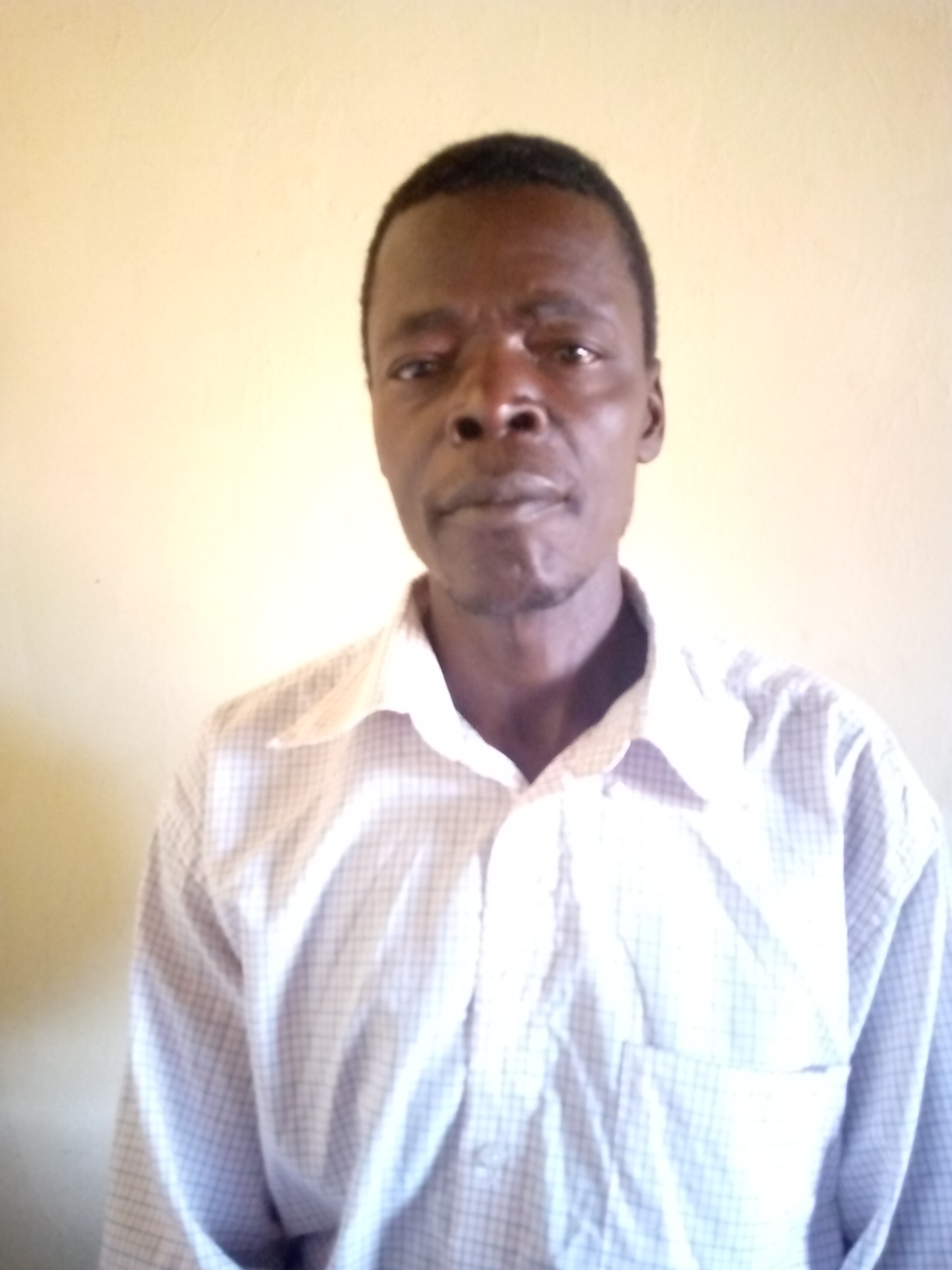 I joined Mukhweya primary school in 1981 and left in 1988 after completing my primary education level and attaining the K.C.P.E certificate. I proceeded to Sikusi secondary from 1989 to 1992 having completed  my secondary education in 1998 up to 2000
I  joined  Uganda community health education centre where I obtained  a certificate in community health. I further obtained a pastoral counseling international Diploma from Addullam education center under the University of Adullam in 2007-2008.
I am a peasant farmer, small business entrepreneur and a volunteer community social worker. Through this I obtained an appreciation certificate from SAVE. I am married to one wife and am the blessed father of four children, two boys and girls respectively. I am a Christian and attend service at Kenya Assemblies of God church.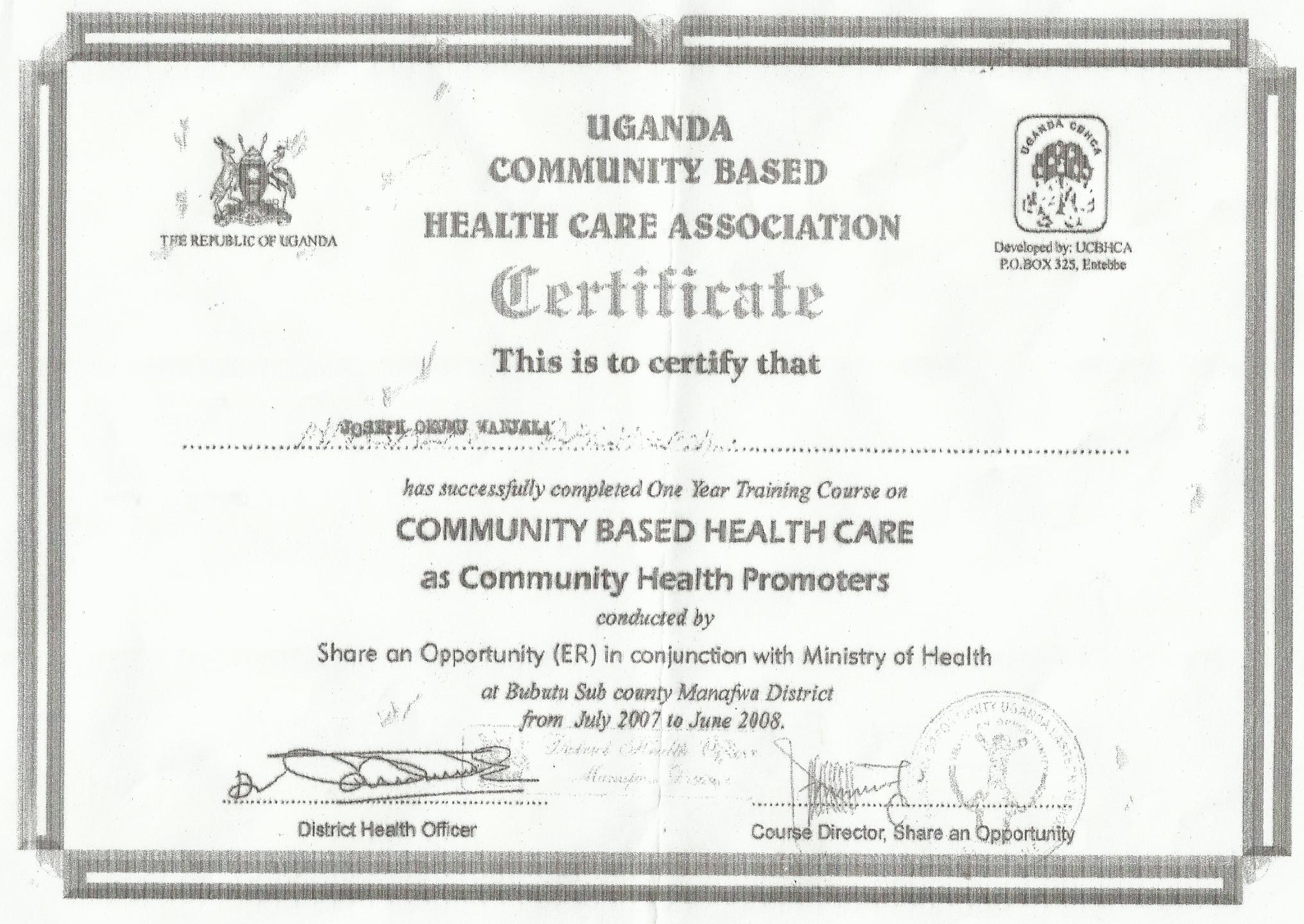 MY DREAM LEGACY
My dream and vision is to see that we reach out t9o communities to promote peace and cohesion for a better living in the city, country and the world at large I admire to attach my professional certificate and appreciation certificate for verification
My intention as a leader:
Bungoma City of Peace and Reconciliation leader is to "call upon well-wishers who can partner with to help us support the dwellers to encourage them to stay peacefully"
---
CONTACT INFORMATION
To contact or support this initiative:
Cellphone: +254789368616/+254745504334
P.o Box 307 -50200 Bungoma, Kenya
---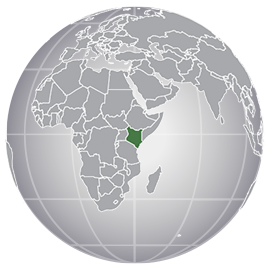 ABOUT BUNGOMA, KENYA (from Wikipedia)

Bungoma is a town in Bungoma County of Kenya, bordered by Uganda in the west. Bungoma town was established as a trading centre in the early 20th century. The town is the headquarters of Kenya's Bungoma County.
The major economic activity in the area is sugarcane farming. This is because more than 67000 farmers directly depend on Nzoia Sugar Company Ltd.[3] Early businesses were supported by the Kenya-Uganda Railway which passes through the town. The collapse of Webuye paper mills and the struggling of nzoia sugar company has led to an economic nightmare in the county. Most of the people previously employed there have looked for other jobs while some have totally relocated to other counties.
Major tertiary educational institutions include the Sang'alo Institute of Science and Technology, Mabanga Farmer's training center, SACRED Training Institute, Kibabii University College and Bungoma High school.
Note: If information or photos used here are copyrighted, please contact us and we will immediately delete the copyrighted material.