BUTEMBO, DEMOCRATIC REPUBLIC OF CONGO: CITY OF PEACE
We welcome Mrs. AWACANG'O Justine Felicitee and her colleagues Mr. JUVENAL Muhindo Machozi and coordinator Mr. KATALIKO James as leaders of International Cities of Peace. Through their work and organization, they have established Butembo, D.R. Congo as a City of Peace. Their organization, Kijiji Cha Amani, literally means "Village of Peace" in their language.
The focus of Kijili Cha Amani is to displace rumors with truth so that peace can be maintained. They work in the area of Goma where there are tribal conflicts between the Hutu, Nande, Hundi, Tutsi and Nyanga. There are also armed groups such as the FDLR, Maimai, in Rutshuru, South Lubero and Masisi-Walkiale.
Note: Introduction page with information primarily at the time of joining International Cities of Peace. For updates, please contact the liaison.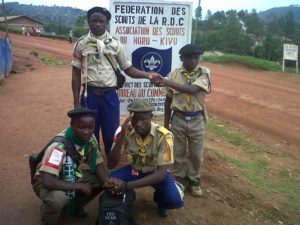 These are very courageous individuals and with other in D.R. Congo, they are making a difference for peace. Their vision, mission, and goals will continue over the years to strive for safety, prosperity, and a higher quality of life.
---
ABOUT KIJIJI CHA AMANI
Article 1: It is created, this 04 January 2017 in Butembo City,
Province of North Kivu / Democratic Republic of Congo, between the undersigned non-profit and non-denominational association called Kijiji Cha Amani (KCA).
AREA OF ACTION
Article 2: The operating area of Kijiji Cha Amani is the African Great Lakes sub region. Its registered office is located in Butembo city, and may be transferred to any other place in the Democratic Republic of Congo by decision of the General Assembly.

Article 3:
GLOBAL VISION
The purpose of Kijiji Cha Amani is to contextualize and mitigate misinformation through community participation, conflict / conflict moderation, and transparency.
SPECIFIC OBJECTIVES and KCA STRATEGIES
– Youth Education for Peace and Responsible Citizenship.
– Continuous training and coaching of Community Ambassadors (CA)
– Creation of a pacifist communication system by communication technology (website, social network, short number, toll-free number)
– Creation of Peace Space with 10-12 Volunteers of Peace (VP) by each community ambassador.
– Lead the lobbying for the opening of a Radio Station and TV
–  Youth people are introduced to entrepreneurship with a view to encouraging activities that allow their autonomy in the community.
– Denunciation of violations of the rights of children, women and human rights.
– Creation of youth-friendly centers for peace education, psychosocial skills, responsible sexuality and reproductive health, and protection
of the environment.
– Creation of Adult School Recovery and Literacy Centers.
Section 4: Kijiji Cha Amani is established for an indefinite period of time from signature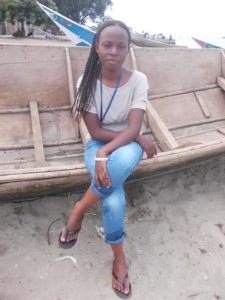 Justine Felicitee in D.R. Congo
Section 4: Kijiji Cha Amani is established for an indefinite period of
time from signature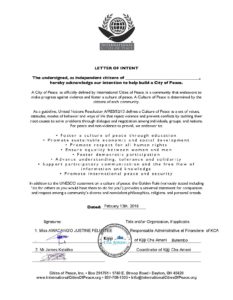 Letter of Intent for Butembo with signatures of Leaders
---
LIAISON: JUSTINE FELICITEE AWACANG'O
"In the year 2003, Ituri was plunged into a tribal war
between the Lendu and Hema tribes. This war was the source of many
human rights violations. At that time I was a 12-year-old girl, and my little
sisters, my older sisters and brothers and my parents ran out of food,
clothing, and medical care.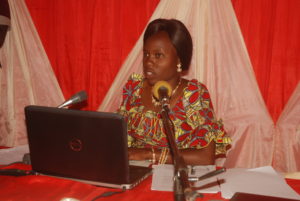 "We spent nights in the bush; other times at home and all together on the floor as the mattress and sheets were looted. We even stopped studying. After a while the violence became intense, the men were tortured, the women were raped and the children were whipped. The two tribes broke in with machetes and set fire to the houses. My parents had decided to flee with us to Uganda where we spent a year in a refugee camp without studying.
"This long moment of war hurt us both morally and physically and taught me that "Peace is the source of all good life". I joined the Living Youth group, as a 'Future Leader', we made Peace Theaters, Peace Debates, and Peace and HIV / AIDS training. My teenage life I was in this group but also in the Scout group.
"Having arrived at the university level in Butembo for five years now, I was a member of the human rights NGO called International Training Network in Human Rights and Assistance to Girl with Children (RFIDH) where I was in charge of animating the "Peace and Sexual Violence in Universities", then member of UREPORT-Unieleze with my Peace Club as Community and now Financial Administrative Manager of Kijiji Cha Amani in Butembo. All of these groups I have joined because they are based on peace and the denunciation of the evils that eat away at our country and my current city. We will know Butembo, a better city if we commit positively.
"Here is the purpose of my commitment to Peace. 'MY LIFE WILL BE BETTER, IF IS ONLY IF I HAVE PEACE'"
---
CONTACT
Mrs. AWACANG'O Justine Felicitee
---
ABOUT BUTEMBO, D.R. CONGO (from Wikipedia)

Butembo is a city in North Kivu, in the north eastern Democratic Republic of Congo, lying west of the Virunga National Park. The city is an important commercial centre with large markets, a cathedral, multiple large hospitals, and an airport. The city is located in a region known for tea and coffee growing. As of 2013 it had an estimated population of 670,285, making it the second largest city in North Kivu.
The Democratic Republic of the Congo is a country located in Central Africa. The DRC borders the Central African Republic and South Sudan to the north; Uganda, Rwanda, Burundi and Tanzania to the east; Zambia to the south; Angola to the southwest; and the Republic of the Congo and the Atlantic Ocean to the west. It is the second-largest country in Africa (largest in Sub-Saharan Africa) by area and 11th largest in the world. With a population of over 78 million,[2] the Democratic Republic of the Congo is the most populated officially Francophone country, the fourth most-populated nation in Africa and the 17th most populated country in the world.
The city is home to the 2nd Integrated Brigade of the Armed Forces of the Democratic Republic of the Congo. The Université Catholique du Graben (UCG) is located in Butembo. It was founded in 1989. The Adventist University of Lukanga (UNILUK) founded in 1979 is located in Butembo.
In 2006 Hotel de Butembo was finished. An expensive hotel when compared to the living standards, but a very safe place to stay for foreigners. As of 2007, Butembo (and surroundings) can be seen in detail in Google Maps.
Butembo is 90% populated by the Nande tribe,[4] a tribe fueled by ethnic solidarity, conservative moral standards and influential leaders.
Note: If information or photos used here are copyrighted, please contact us and we will immediately delete the copyrighted material.