Calgary, Canada: City of Peace
Welcome Kerry and Howard Parsons and their colleagues who are creating an International Cities of Peace organization in Calgary, Alberta, Canada. They have created an initiative with compassion and connection at the core of a citywide effort.
Note: Introduction page with information primarily at the time of joining International Cities of Peace. For updates, please contact the liaison.
MISSION 
Let Peace Be the Way.
Imagine a city where every citizen is engaged in acts of compassion and connection every day. Imagine a city where peace flows in the hearts, homes, schools, places of work and worship, community gatherings and beyond. A city where social justice is served with grace to every citizen. A city united in its desire to create opportunities for acts of peace in every walk of life. A city where peace is embedded in the municipal infrastructure with the same attention as sewers and roads and community design.
This is the time. This is the place. This is the mission of the Summer of Peace Calgary 2012.
Let Peace Be the Way.
VISION
Summer of Peace Calgary 2012 is a local grassroots movement whose aim is to catalyze positive
action towards peace, to inspire a shift in our collective efforts to create a culture where peace
is the cornerstone of our individual and community endeavours to build a more caring, kind and
compassionate world.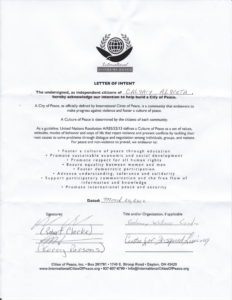 Letter of Intent
GOALS
Our goals are to:
1. Have our Mayor designate this year as Summer of Peace Calgary.
2. To inspire every Calgarian to engage in acts of peace and compassion in their homes, schools, communities, workplaces, and for the environment.
3. To collect the stories of what and how and where individuals and groups and communities acted out in peace and share them on our website to inspire others to engage in creating peace in every small and big act they undertake.
4. To inspire A Million Acts of Peace.
LATEST PROJECT
"Drumming Up Peace" will kick-off Summer of Peace Calgary 2012 at the Circles of Ryhthm Community Drum Circle — Inglewood Community Hall (1740 – 24th Avenue SE. Calgary). For information on this and other events, contact the Parsons.
---
About The Parsons:
Kerry and Howard Parsons, Co-Founders of the Calgary Centre for Conscious Living, are dedicated to activating the promise of humanity. They are creating a thriving local community of people connected to the deepest aspirations of their hearts, generating conversations that transform relationships and evolve new personal and planetary possibilities in the emerging global movement toward a compassionate, peaceful, sustainable way of life on earth.
Authors, teachers and speakers, their work has supported men and women in times of change for 25 years and is now launching the Summer of Peace Calgary 2012. The Summer of Peace Calgary 2012 is a grassroots movement whose ambitious aim is to catalyze positive actions towards peace. Inspired by a global celebration of and call to action for inner and outer peace, it is connected through the collaborative efforts of numerous visionary leaders and partner organizations whose overarching goal is to activate the largest global commitment to peace in one season in the history of humankind.
Email: howard@howardparsons.com
---
About Calgary, Alberta, Canada (from Wikipedia):
Calgary is a city in the province of Alberta, Canada. It is located in the south of the province, in an area of foothills and prairie, approximately 80 km (50 mi) east of the front ranges of the Canadian Rockies. The city is located in the grassland and parkland natural regions of Alberta.
As of 2011, the City of Calgary had a population of 1,096,833 and a metropolitan population of 1,214,839, making it the largest city in Alberta, and the third-largest municipality and fifth-largest metropolitan area in Canada.
Located 294 km (183 mi) south of Edmonton, Statistics Canada defines the narrowly populated area between these cities as the "Calgary–Edmonton Corridor."
Economic activity in Calgary is mostly centred on the petroleum industry, agriculture, and tourism. In 1988, Calgary became the first Canadian city to host the Olympic Winter Games.
DO YOU THINK YOUR COMMUNITY CAN BE A CITY OF PEACE? SEND AN EMAIL!
 Note: If information or photos used here are copyrighted, please contact us and we will immediately delete the copyrighted material.