The Global Youth Peace Fest is organized annually since 2006, by young people, for young people, to represent and unite all young voices regardless of
background. The objective is to crowdsource their demands and aspirations so as to ensure that young people have a voice in shaping new peaceful and sustainable world. For information on each year's Fest, go to: www.peacefestindia.in
Chandigarh, India: City of Peace
Welcome to Pramod Sharma, Coordinator for the Youth for Peace (Yuvsatta), and his colleagues in Chandigarh, India: City of Peace. The NGO Yuvsatta works toward a future where the Gandhian principles of nonviolence result in positive community action. The group has been forming over 100 peace clubs in schools around the city since 2004.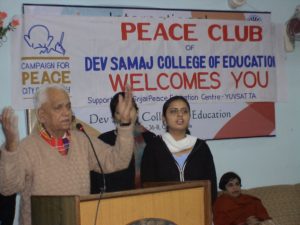 Veteran Gandhian activist SN Subba Rao addressing Peace Club students

 
ABOUT YUVSATTA
Since 1990, Yuvsatta (youth for peace)-an NGO, working in a variety of areas to steer the people towards implementing Gandhian ideals of Constructive Programme based on voluntary effort and individual & community action.

Volunteers of Yuvsatta actively engaged young people to promote programmes from rights & dignity of girls, ideas of green living to empowering the marginalized and inculcating seeds of global citizenship. With their efforts over 100 Peace Clubs are formed in various Schools, where Principals and teachers in charge of respective Schools re dedicating their time and resources to the task of making these clubs vibrant and result oriented.

10th GLOBAL Youth Peace Fest

And to bring those leaders together to inspire change Yuvsatta also organizes an annual Global Youth Peace Fest-GYPF at Chandigarh, India. These projects of Yuvsatta indicate the breadth of vision that guides it. It also shows that Yuvsatta's outlook is holistic, recognizing that the economic, the social, and the personal are inextricably linked and simultaneously interventions at the individual and mass levels are likely to bring in far more collective results than either of them alone. As a result, the intervention strategies adopted have been wide ranging.

DAY 4 OF 10th GLOBAL Youth Peace Fest at Chandigarh – International Day of Nonviolence: Friday, October 2, 2015 from Open Hand Monument to Parade Ground, Chandigarh. 'Be the Change Walkathon', from Open hand to Parade Ground, Sector 17, Chandigarh
Photo: BALISH AHUJA

Yuvsatta's activities have earned the unalloyed support of the community and the media. The support has a reason. It is Yuvsatta's commitment and its willingness to share its expertise with others. It has been our belief that knowledge, if shared, grows. As more minds get involved, time taken to devise and implement solutions is shortened. As more creative ideas are available, new strategies can be devised.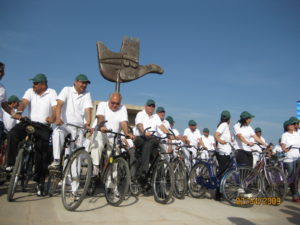 Promoting the Culture of Cycling at Peace-city Chandigarh
VISION
A world where all people are equally respected, fully protected and universally realized. Included in this vision is a world where all young people – regardless of nationality, ethnicity, religion, class, gender or other differences – are encouraged and empowered to non-violently claim their own rights and serve as advocates for the rights of others.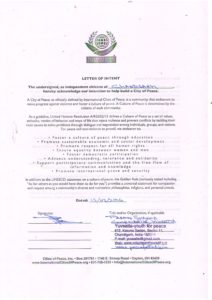 Letter of Intent
MISSION
We believe there are capable young leaders in every global community, who can become catalyst or 'Agents of Change' for a peaceful and more humane world. Bringing those leaders together to inspire youth leadership and transformative change is the mission of Peace-city Chandigarh at India.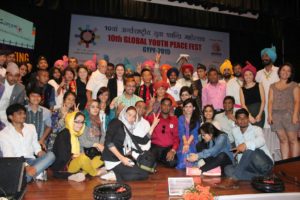 10th GLOBAL Youth Peace Fest -GYPF 2015
OBJECTIVES

• Bring about a thorough social change for the establishment of a nonviolent social order as Mahatma Gandhi dreamt.

• Encourage youngsters and members of their families to experience the creative aspects of nonviolence in their daily life.

• Promote interpersonal dialogue and human warmth.

• Orient students, teachers and members of the family to be tolerant and respectful to each other.

• Profess nonviolent dispute settling methods with friends, neighbours and colleagues.

• Expose the evil intentions of the antisocial elements that prosper very often on violence, death and destruction.

• Create effective propaganda to recognize violence and tension dangerous to progress and well being of the society.

• Motivate students, teachers and members of families to explore and study the experiences, experiments and legacy of great souls like Jesus, Mohamed, Buddha, Mahaveer, Gandhi, Martin Luther King, Khan Abdul Ghaffar Khan and others.

 
Promoting International School Exchange Programs

 
---
ABOUT PRAMOD SHARMA
A firm believer in Gandhian ideas of Constructive Programme based on voluntary efforts, individual & community action, Pramod Sharma is founder & coordinator of Yuvsatta (youth for peace-an NGO) working to empower young people nationally and internationally for promoting culture of nonviolence, rights & dignity of girls, empowerment of the marginalized and spirit of global citizenship.

Pramod Sharma has also edited two books on the theme of 'Millenium without Violence' and 'Need for Afro-Asian Dialogue'. Pramod has done Master and later M. Phil. from Department of Gandhian & Peace Studies, Panjab University, Chandigarh, India and is having a soul satisfying experience of 30 years of active volunteer work."

 
---
CONTACT INFO
For more information please contact:

"Yuvsatta (youth for peace)" <yuvsatta@gmail.com>

For more information on Yuvsatta:
---
ABOUT CHANDIGARH, INDIA (from Wikipedia)

Ooccasionally called as "The City Beautiful", the Union territory of Chandigarh serves as the capital city of two states of Punjab and Haryana. Planned by Le Corbusier, the well known French architect, Chandigarh is located in the shivalik foothills.

Chandigarh was the first planned city in India. The partition of British India left the country divided into India and Pakistan 1n the year 1947, with Punjab also being split up. The state of Punjab belonging to India needed a capital city. Chandigarh was by this time already in the list of new towns to be developed in India.

Chandigarh hosts the largest of Le Corbusier's many Open Hand sculptures, standing 26 metres high. The Open Hand (La Main Ouverte) is a recurring motif in Le Corbusier's architecture, a sign for him of "peace and reconciliation. It is open to give and open to receive."


However, the need for a capital city for Punjab gave momentous to the Chandigarh project mainly for its strategic location. Chandigarh is also the first city in India that went smoke free on July 15th, 2007. Smoking in any of the public places is prohibited strictly here. The civic administration of the city of Chandigarh is controlled by the Administrator appointed by the provisions of the Indian Constitution. The Ministry of Home Affairs is in charge of the city's administrative control.
DO YOU THINK YOUR COMMUNITY CAN BE A CITY OF PEACE? SEND AN EMAIL!
 Note: If information or photos used here are copyrighted, please contact us and we will immediately delete the copyrighted material.