Chikwawa, Malawi: City of Peace
Welcome to Joe Malunga and his colleagues from the Development Initiative Network who have created Chikwawa: City of Peace in the country of Malawi.
Note: Introduction page with information primarily at the time of joining International Cities of Peace. For updates, please contact the liaison.
Chikwawa district has already made a lot of progress on its road to Peace. Education on gender equality has led to a better quality of life for many women and cases of gender-based violence have decreased in the last decade. Stigmatization towards HIV and AIDS has declined and community members are more accepting of people living with HIV and AIDS. DIN hopes to continue to see the situation improve as it becomes an advocate for peace.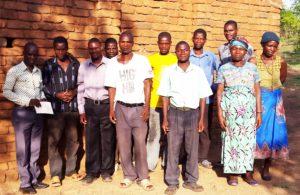 Above: Meeting with members who are taking care orphans and vulnerable children at Muyaya village.

Promoting peace through school Readmission among the under 17 girls and boys.
Development Initiative Network
The Development Initiative Network is a member of local and international organisations such as Malawi Scotland Partnership, Girls Not Brides, Malawi Network for Elderly People Organisation (MANEPO), District Health Office in the Ministry of Health, District Agricultural Development Office, Water for All Africa, Department of Education in the Ministry of Education and Youth Department in the Ministry of Youth, Sports and Culture and Community members.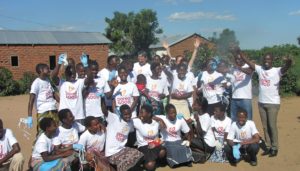 Doing Good to promote youth engagement in health.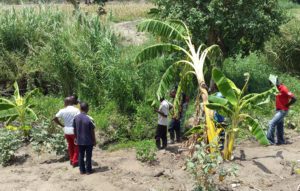 Development Initiative Network group discussions with girls at Mfera primary school regarding girls' education in order to reduce early marriage.
VISION
Development Initiative Network vision is to see a community that promotes peace, respect, solidarity and encourages equality on all fronts.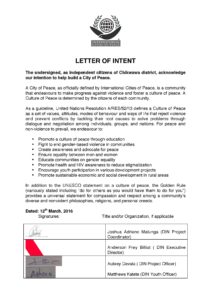 Letter of Intent
MISSION
DINs mission is to become advocates for peace, through education on gender equality, gender-based violence and health awareness and by promoting sustainable economic and social development in rural areas.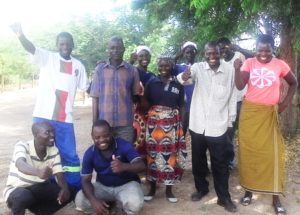 Above: Being happy once hearing that will receive funding to start agri-business project at Katunga Traditional in March 2016.

Supporting HIV/AIDS people to promote peace of mind in rural community in Chikwawa.
GOALS

DINs goals for our city of peace are to:
• Promote a culture of peace through education

• Fight to end gender-based violence in communities

• Create awareness and advocate for peace

• Ensure equality between men and women

• Educate communities on gender equality

• Promote health and HIV awareness to reduce stigmatization

• Encourage youth participation in various development projects

• Promote sustainable economic and social development in rural areas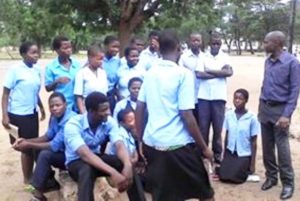 Above: Visiting local farmer where they want to have irrigation scheme near Mtumba River at Maseya Community.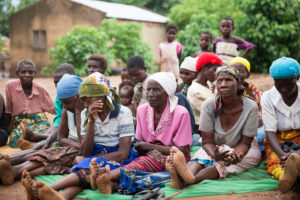 Promoting peace through sharing experience with elder person and disabled people.
---
ABOUT JOSHUA ADRIANO MALUNGA
Joshua is Project Coordinator for Development Initiative Network: "I am currently pursuing a Bachelor of Arts in Health Systems Management at Exploits University, and have Advanced Diploma in Public Health and Diploma in Rural and Community Development obtained from Skyway University. He has over seven years' experience in the management of NGO projects and programmes. He has considerable knowledge and experience in organisation and community development as well as project management, monitoring and evaluation.

"I am furthering my education by attending seminars and conferences on such subject as: gender equality, social media and communication, proposal development, behavior change, HIV/AIDS counseling, monitoring and evaluation, microfinance, psychosocial support, nutritional screening, palliative care, home base care, eco-tourism and community tourism. I want to use these skills to share the successful stories about how the programs of DIN are positively impacting our community.

"I have an interest in ICT and I am competent on a number of computer programmes including all aspects of Microsoft Windows and Office as well as Word, Excel, Access, Publisher, PowerPoint, and Internet Explorer. I would like to go back into class for my studies to advance my knowledge of development studies."

"If you want to change the fruits, you will first have to change the roots. If you want to change the visible, you must first change the invisible."
---
CONTACT INFO
For more information please contact:

Joshua Malunga | Program Manager | Development Initiative Network (DIN)

P. O. Box 198 | Chikwawa | Cell: +265 888 451 874/ +265 999 451 874

+265 8815 791 98

Email: dinorg2012@gmail.com OR developmentinitiativenetwork@gmail.com

Skype : joshuamalunga |
Facebook: https://www.facebook.com/pages/Development-Initiative-Network/838828749480900
Twitter: @DinOrganisation

 
---
ABOUT CHIKWAWA, MALAWI (from Wikipedia)

Chikwawa is a town with a population of approximately 12,000 located in the Southern Region of Malawi on the west bank of the Shire River. It is the administrative capital of the Chikwawa District. Chikwawa lies about 30 miles south of Blantyre, the commercial capital of Malawi.

Chikwawa was the first town in Malawi to be seen by European explorers when David Livingstone's Zambezi Expedition steamed up the Shire River in 1859. The surrounding region was ravaged by Portuguese slave traders in the nineteenth century, and one member of the expedition called the Shire valley "a river of death."

Today Chikwawa is the gateway to the Majete Game Reserve, the Mwabvi Wildlife Reserve and Lengwe National Park. Large numbers of hippopotamus and crocodiles inhabit the river and swamps in the District, which is low-lying and extremely hot in the summer. Temperatures routinely exceed 100 degrees Fahrenheit, and malaria and Tsete flies are rife.

Malawi, officially the Republic of Malawi, is a landlocked country in southeast Africa that was formerly known as Nyasaland. It is bordered by Zambia to the northwest, Tanzania to the northeast, and Mozambique on the east, south and west. The country is separated from Tanzania and Mozambique by Lake Malawi.

Malawi is among the smallest countries in Africa. Lake Malawi takes about a third of Malawi's area.

Malawi is over 118,000 km2 (45,560 sq mi) with an estimated population of 16,777,547 (July 2013 est.). Its capital is Lilongwe, which is also Malawi's largest city; the second largest is Blantyre and the third is Mzuzu. The name Malawi comes from the Maravi, an old name of the Nyanja people that inhabit the area. The country is also nicknamed "The Warm Heart of Africa".
DO YOU THINK YOUR COMMUNITY CAN BE A CITY OF PEACE? SEND AN EMAIL!
 Note: If information or photos used here are copyrighted, please contact us and we will immediately delete the copyrighted material.