CHILPANCINGO, GUERRERO, MEXICO: International City of Peace

We welcome Gisela Valenzo Rodriguez, with mentor Wendy Carbajal Sotelo and the citizens of Chilpancingo, Guerrero as they establish their community as an International City of Peace. The group presented the Proclamation from the City to representatives of ICP at United Nations headquarters in September, 2019 on International Day of Peace. The Chilpancingo for Peace Committee has an extensive mission, vision, and goals for increasing the safety, prosperity, and quality of life of their community.
Note: Introduction page with information primarily at the time of joining International Cities of Peace. For updates, please contact the liaison.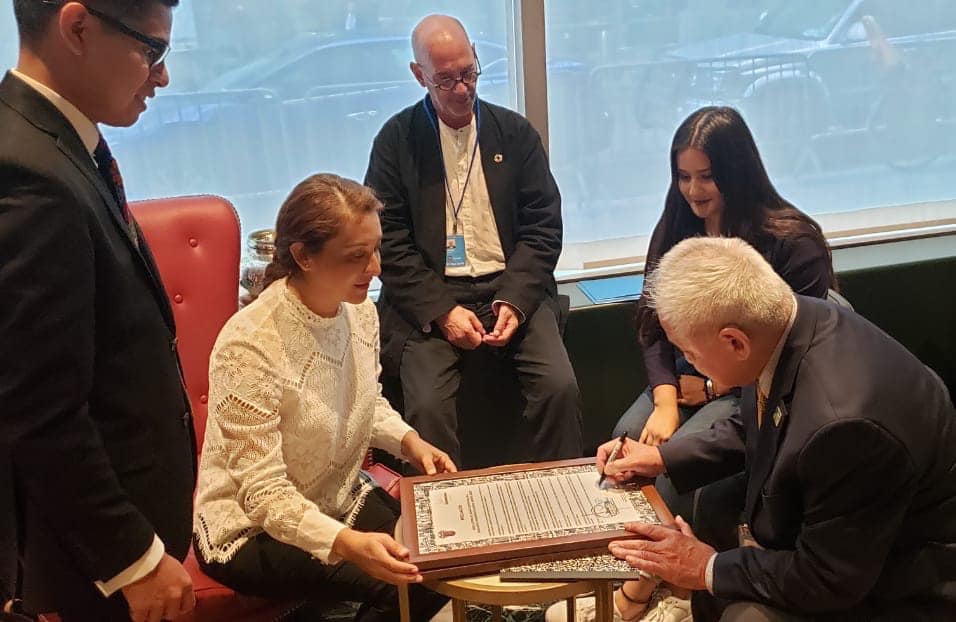 At the United Nations, September, 2019, the Proclamation for Chilpancingo  as an International City of Peace was presented by Wendy Carbajal Sotel and Giesla Valenzo Rodriguez and signed by ICP U.N. Representative Dennis Wong. Others at the signing were Maximiliano Miranda Carbajal, Rodolfo Ladron de Guovora Rodriguez, Eric Fernandez Carbajal, and ICP U.N. Representative Jean Trudel.
---
ABOUT THE INITIATIVE
Civil society associations and groups play an increasingly important role in our context. It is evident the commitment of many of them in the various social causes and their effectiveness in the action, an important amount of resources comes year after year to their hands, coming from both public institutions and international cooperation agencies and a large number of individuals They trust their management capacity and their sense of mission.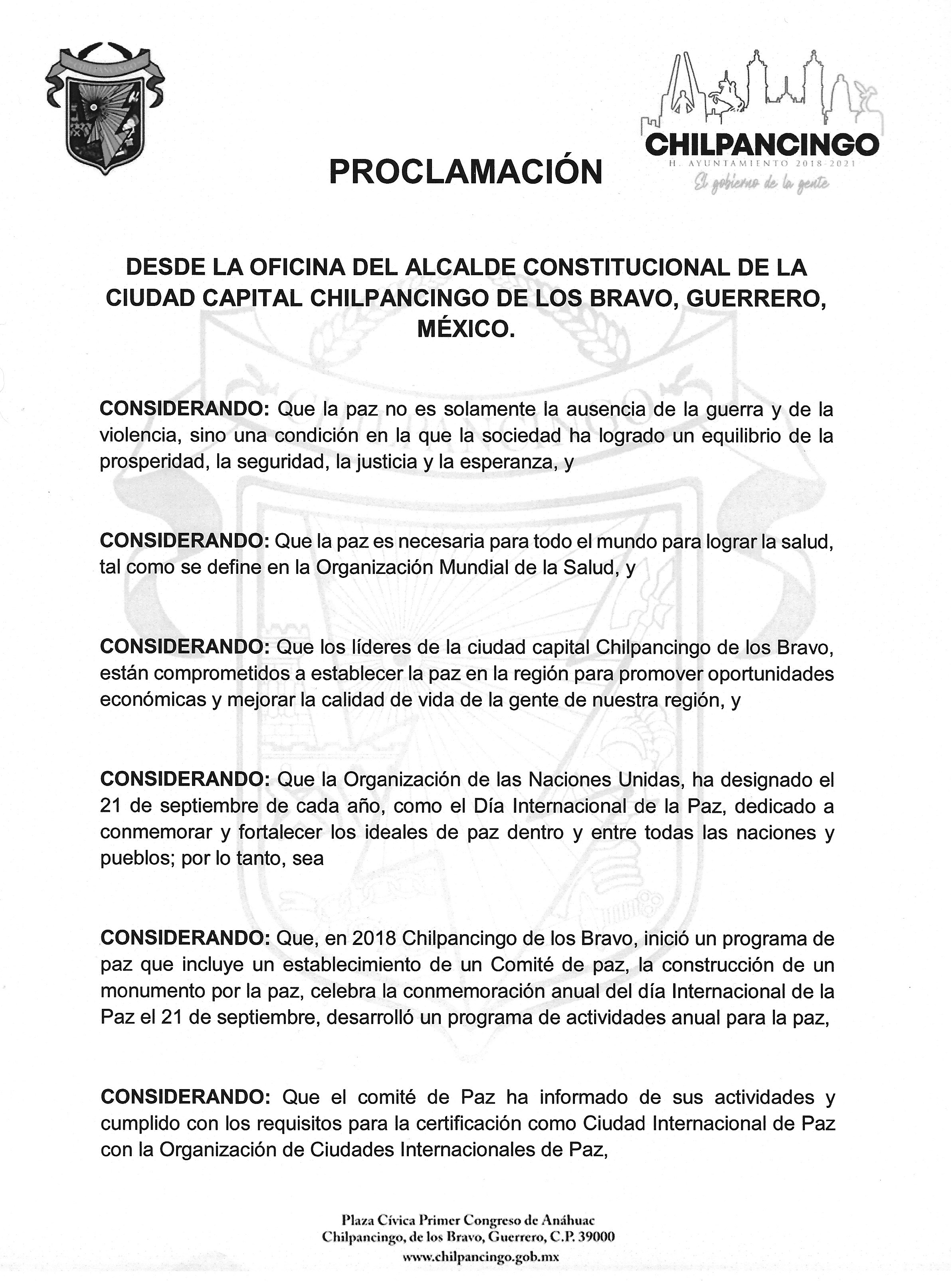 International Cities of Peace is an association of citizens, governments and organizations that, by proclamation, resolution or citizen defense, have established their communities as official cities of peace. Each community has legacies of peace, either for a historical event or for a local peace hero or groups that have contributed to the security, prosperity and quality of life of its citizens.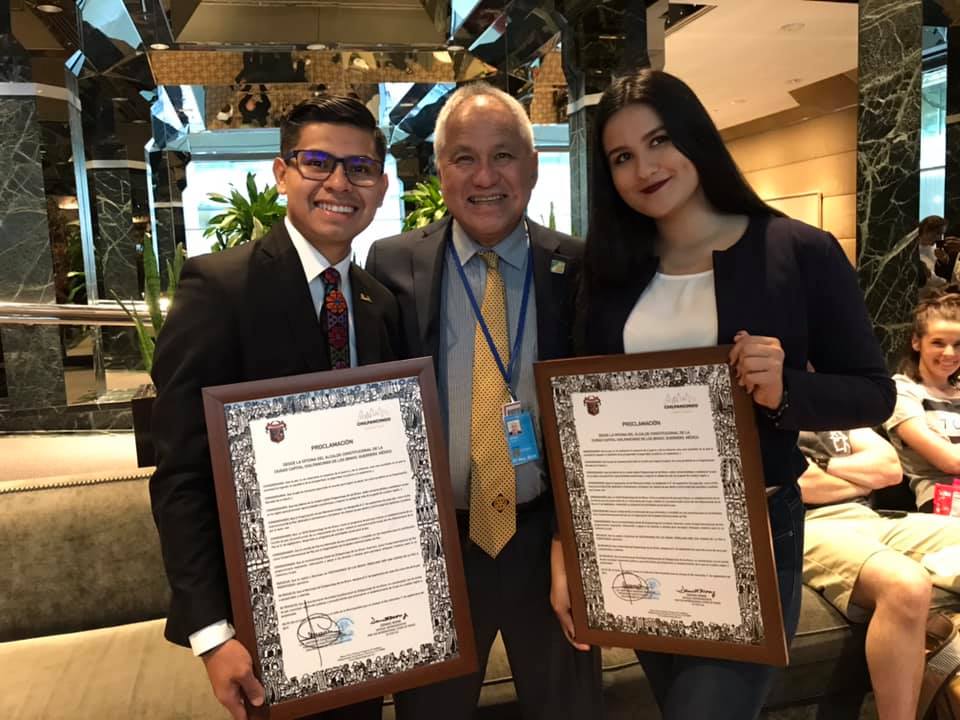 CHILPANCINGO FOR PEACE
It is based on the principles established in the 2030 goals agenda:
Chilpancingo Por la Paz is a plural and inclusive group of young people engaged in social causes that afflict our capital and Municipality of Chilpancingo de los Bravo; In coordination with government secretariats and institutions as well as civil associations and members of society, we have carried out projects for the promotion of a culture of peace, focusing mainly on the child and youth population sector.
The lines of work that preside over the activities of the Municipal Peace
Committee are:
Human rights

Gender equality

Sexual diversity

Discrimination

Education and strengthening in peace culture


Youth and Citizen Participation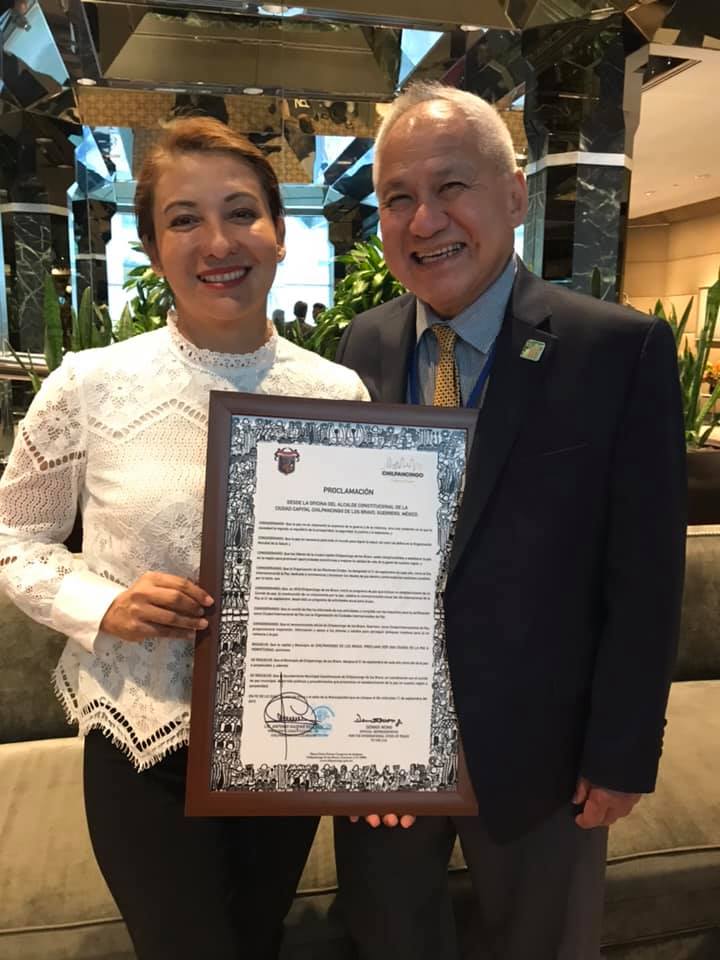 ---
Contribute, from young civil society, with the institutional efforts of governments and integration institutions to make our capital city a region of peace, freedom and development.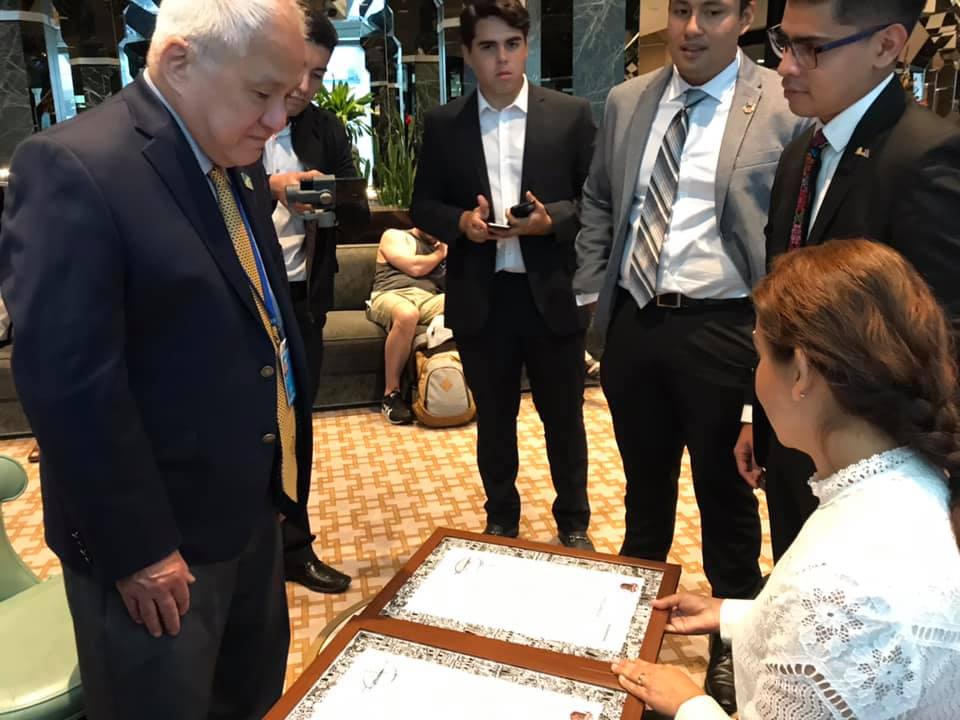 Consolidate Chilpancingo for peace as a plural committee that manages to influence social development and transformation for the benefit of our city and communities.
---
REASONS AND OBJECTIVES
As it is in the public domain, Chilpancingo, capital of the State of Guerrero, Mexico, is perceived by various national and foreign information sources and by the same inhabitants, as one of the most violent and insecure cities at national and international level, positioning itself as a of the protagonists in terms of places with the highest crime rate; In addition to presenting a high index in matters of gender violence and discrimination based on sexual preferences, ethnicity, etc.
Under this context, we consider the creation of the Chilpancingo committee for peace relevant in 2018.
The Committee (Chilpancingo for peace) has launched a comprehensive and strategic work agenda with 12 specific projects, some in commemorative date frames.
The full text for the Chilpancingo for Peace Strategy is included in the PDF below. It is in Spanish only.
Plan Operativo Anual 2020

---
ABOUT THE LIAISON
Gisela Valenzo Rodriguez was born in the city and port of Zihuatanejo de Azueta on October 8, 1999.
She has been participating in political-electoral issues since the age of 14, and is passionate about public life and motivated to venture into the democracy of her Municipality and State. Gisela began to study for a degree in Government and Public Management at the Autonomous University of Guerrero in the capital city of Chilpancingo in 2017.
She has trained in leadership workshops, gender parity courses, human rights and responsible citizen participation.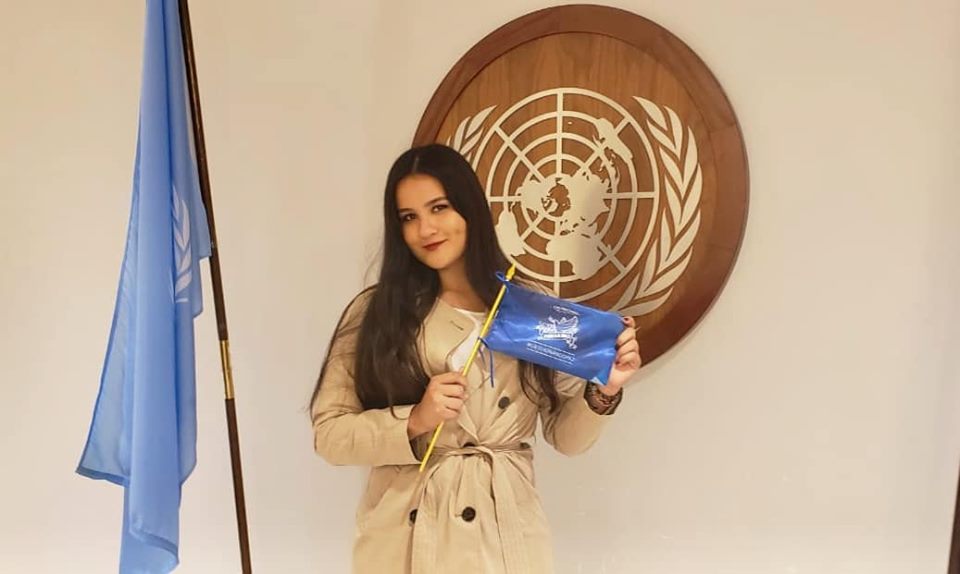 Gisela has attended various events and projects in democratic and political fields, as well as in social assistance volunteers and training for other young people from vulnerable groups.
Guerrerense of heart and citizen of action, she is committed to the well-being of her Municipality, State and Country that "has given me so much, convinced that young people and women have the capacity to change what we do not like, beyond ideologies and partisan colors."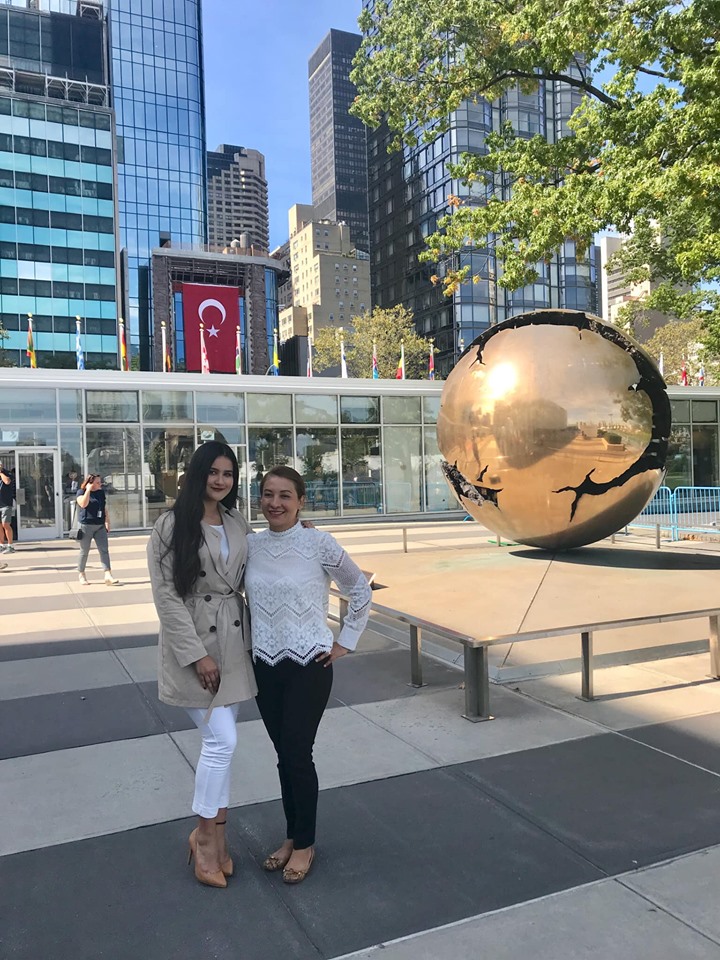 ---
LETTER OF INTENT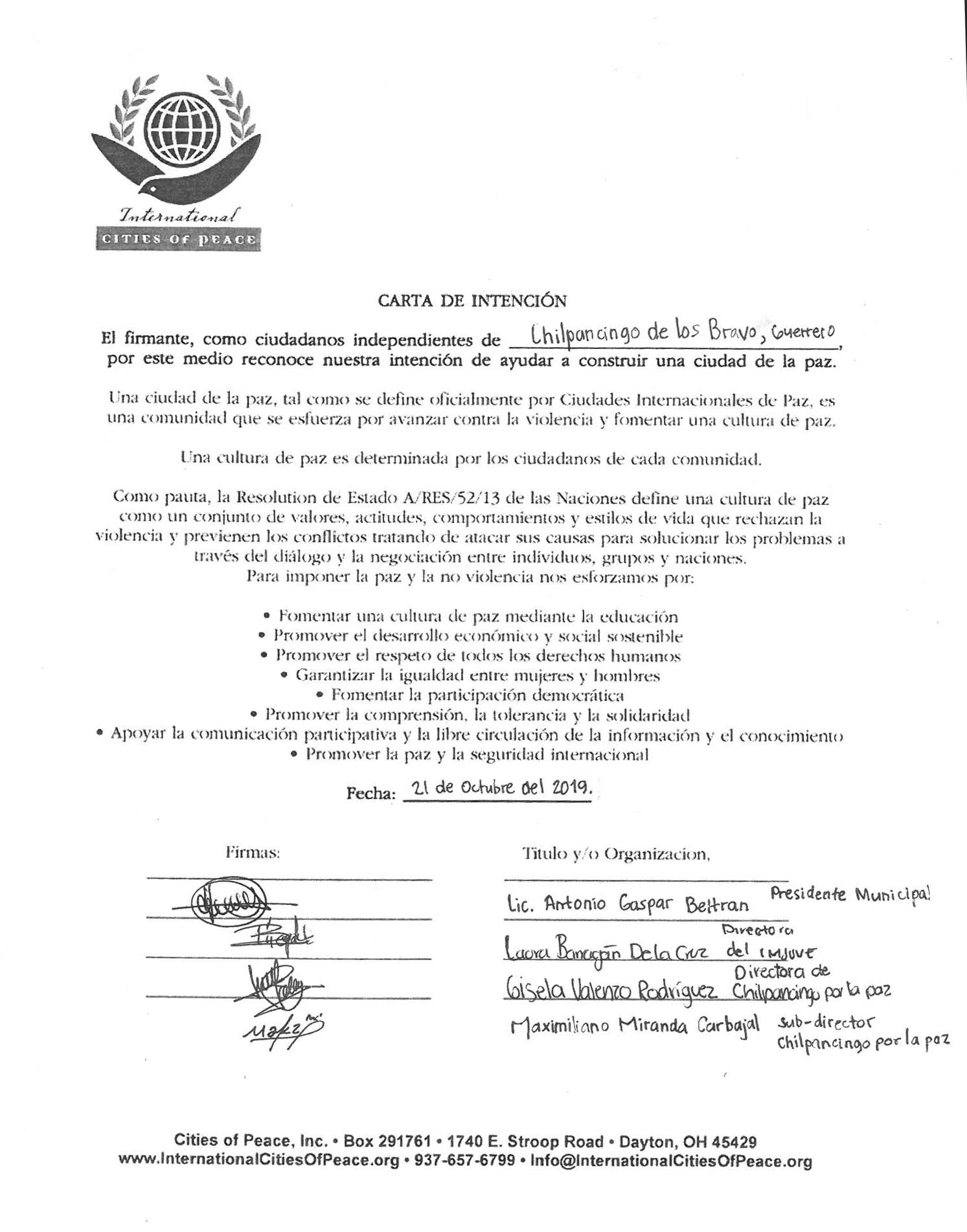 ---
CONTACT INFORMATION
To contact or support this initiative:
Calle Mar Caspio #5, colonia centro, Zihuatanejo de Azueta, Guerrero.CP: 40880
7551085027
---
ABOUT CHILPANCINGO, GUERRERO, MEXICO (from Wikipedia)

Chilpancingo de los Bravo is the capital and second-largest city of the state of Guerrero, Mexico. In 2010 it had a population of 187,251 people. The municipality has an area of 2,338.4 km2 (902.9 sq mi) in the south-central part of the state, situated in the Sierra Madre del Sur, on the bank of the Huacapa River. The city is on Mexican Federal Highway 95 which connects Acapulco to Mexico City. It is served by Chilpancingo National Airport, which is one of the five airports in the state.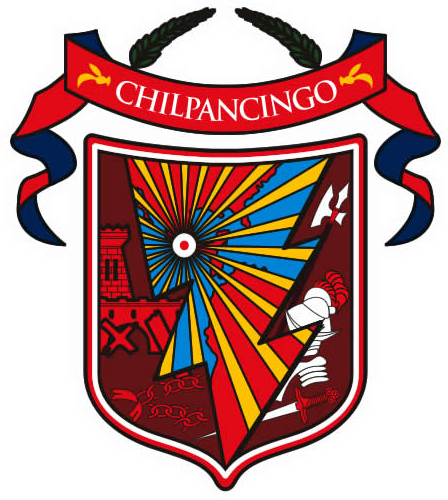 Guerrero is one of the 31 states which, with Mexico City, comprise the 32 Federal Entities of Mexico. It is divided in 81 municipalities and its capital city is Chilpancingo and its largest city is Acapulco.
It is located in Southwestern Mexico. It is bordered by the states of Michoacán to the north and west, México and Morelos to the north, Puebla to the northeast and Oaxaca to the east.
The state was named after Vicente Guerrero, one of the most prominent leaders in the Mexican War of Independence and the second President of Mexico. It is the only Mexican state named after a president. The modern entity did not exist until 1849, when it was carved out of territories from the states of Mexico, Puebla and Michoacán.
Note: If information or photos used here are copyrighted, please contact us and we will immediately delete the copyrighted material.