Conakry, Guinea: City of Peace
Welcome to Joseph Samura and his colleagues in Conakry, Guinea: City of Peace. Joseph has been working to foster a culture of peace in the largest city of Guinea, which has experienced many challenges. Human rights, abuse of women and children, as well as disease and corruption need to be addressed by those desiring peace. Joseph and his colleagues are reaching out to increase safety, prosperity and quality of life in Guinea.
Note: Introduction page with information primarily at the time of joining International Cities of Peace. For updates, please contact the liaison.
"For the past two years," said Joseph, "I have been involved in a peace promoting foundation like masterpeace (MP) and world peace is possible (WPIP,) which we normally go around the city and the country to promote peace through local music and open air events across the country.

"My City (Conakry) have been full of troubles like political problems, armed rubbers and other groups of gangs that disturb peace in the city and the country as whole. But with the help of these peace promoting groups we are getting more peace across the country."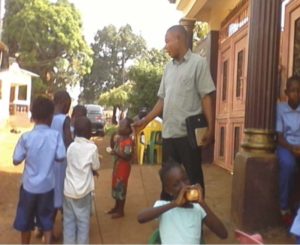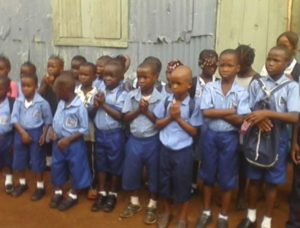 Destiny Center For Destitute is a non-governmental organization that is primarily focused on improving the lives of children by reducing suffering especially by social reforms through humanitarian work, orphanages schools, and medical centres.

Letter of Intent

VISION

Our Vision is to spread peace across the country and to see that all citizen live in total peace in the country.

 

 
MISSION
Our mission and plans is to creat install total peace across the country in the following years by forming a groups in the city and across the country that we can sensitize the population about peace.

Orphans in the streets without shelter and no hope for the future, and widows dying without help from anyone else, sometimes obliged to remarry to a brother (younger or elder) in the same family of the late husband perhaps her children will get support from that brother which is not always obvious. And that brother maybe is having two or three wives and with so many children, from each of these wife, no food, education shelter, clothing. Plus the widows and children under this one umbrella they are not taken care of. Children are suffering in this part of the world and need grate attention.

These sets of people do not merit to be abandoned, they also have their places in the society so should be taken care of considering harmonious development of the society, and this is obviously why the Non-Governmental Organization; Destiny Center For Destitute (DCD) is established wishing to partner with others who wish to contribute a support in partnership with any other organization with this same goals and objectives for humanity
---
ABOUT JOSEPH SAMURA (YUSUF SAMURA)
"My Name is Joseph (Yusuf Samura), a Sierra Leonean in Conakry, Guinea. I'm a founder of an orphanage project foundation call Destiny Center for Destitute. Also, I founded a school for the destitute children call Destiny English Academy.

"Meanwhile, there are many other children in the community whose parent are interested in learning English as we are living in a Francophone country which made the school to grow with many children."
---
CONTACT INFO
For more information please contact:

Samura Joseph <josephsamura@gmail.com>

 
---
ABOUT CONAKRY, GUINEA (from Wikipedia)

Conakry is the capital and largest city of Guinea. Conakry is a port city on the Atlantic Ocean and serves as the economic, financial and cultural centre of Guinea. Its population was estimated in 2009 at 1,667,864. Originally situated on Tombo Island, one of the Îles de Los, it has since spread up the neighboring Kaloum Peninsula.

Guinea, officially the Republic of Guinea (French: République de Guinée), is a country in West Africa. Formerly known as French Guinea (French: Guinée française), the modern country is sometimes referred to as Guinea-Conakry in order to distinguish it from other parts of the wider region of the same name, such as Guinea-Bissau and Equatorial Guinea. Guinea has a population of 10.5 million and an area of 245,860 square kilometres (94,927 sq mi).

Guinea is a republic. The president is directly elected by the people and is head of state and head of government. The unicameral Guinean National Assembly is the legislative body of the country, and its members are also directly elected by the people. The judicial branch is led by the Guinea Supreme Court, the highest and final court of appeal in the country.

The current population of Conakry is difficult to ascertain, although the U.S. Bureau of African Affairs has estimated it at 2 million. Conakry is thought to contain almost a quarter of the population of Guinea.
DO YOU THINK YOUR COMMUNITY CAN BE A CITY OF PEACE? SEND AN EMAIL!
 Note: If information or photos used here are copyrighted, please contact us and we will immediately delete the copyrighted material.