Dandora, Phase 5, Nairobi, Kenya: International City of Peace

We welcome Dinah Atieno Arwa, an educator and peace worker in Dandora, Phase 5. Dinah has established, based on the needs of the community and the educational progress, this area as an International City of Peace.
Dandora is the largest dump in Kenya yet there are many good initiatives to give hope. Dinah Atieno Arwa and four other Liaisons for International Cities of Peace will be working together, collaborating, and making progress as a unity proposition in Dandora.
Note: Introduction page with information primarily at the time of joining International Cities of Peace. For updates, please contact the liaison.
---
 VISION
To Provide basic education to less fortunate children to enable them grow and develop holistically.
---
MISSION
To give vulnerable children in Dandora opportunity to acquire education and nutrition for basic quality of life.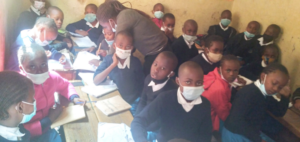 ---
CORE VALUES
Integrity.
Team work.
Professionalism.
---
DONNA HILLS EDUCATIONAL CENTRE
In the year 2000 deaths due to HIV and AIDS were at the Peak in Kenya and many children were left orphans. The responsibility of taking care of these children was then left for their relatives. In Dandora phase 5 such children suffered a double tragedy because their care givers/guardians were extremely poor to an extend that could not afford three meals a day, good housing, proper medication or good clothes.
Simple breakfast, missing lunch and getting a simple super was common in these families.During the day grown up children could roam about in streets of Dandora begging for food, or go to the dumpsite to look for the rotting leftovers- the only harsh way they could fight for their survival. Infant mortality due to Malnutrition was very common. Some children were HIV positive and due to little knowledge by their families and care givers faced a lot of stigma and were left to die.
Dinah Atieno Arwa learned about the predicament of these children from the community empowerment workshops she was participating in. She then Established Donna hills Education centre as a day time nutrition centre (feeding program for children) and an empowerment centre to give knowlegde to the community about HIV/AIDS as well as entrepreneurial skills.
The centre is registered by the government of Kenya as a community based organisation and now operates a full day time primary school also registered by the ministry of education.
---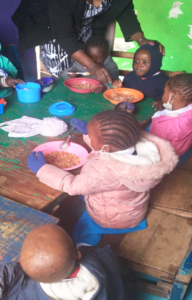 ---
OBJECTIVES OF DONNA HILLS EDUCATION CENTRE
Feed the starving children in Dandora phase 5.
Offer nutrition education to families especially those living with children with chronic illnesses.
Campaign for peace through community workshops.
Connect children with well wishers for support.
Enable less fortunate children access quality primary education.
Offer guiding and counseling to both children in the centre and families in need of such services.
Nurture talents of children.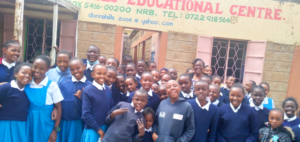 ---
PEACE STATEMENT
A child at peace translates to a peaceful generation.
Letter of Intent with Signatures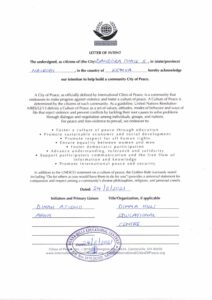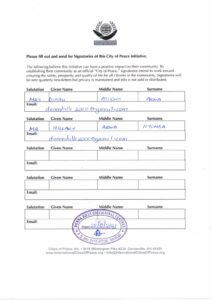 ---
ABOUT THE LIAISON
Dinah Atieno Arwa
Born, raised and educated in western Kenya Dinah came to Nairobi in 1995 after completing her secondary Education and passionately started volunteering in various community work including community health work commonly known as C.H.W.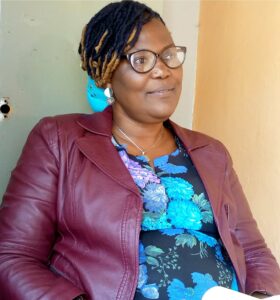 During her work as a community health worker she came face to face with terrible challenges children were facing due to poverty, diseases and lack of knowledge/basic skills. The bleeding challenges led Dinah to start a nutrition program in Dandora phase five.
After doing a diploma course in education, Dinah then upgraded the centre to a fully fledged primary school besides the nutrition program in the year2002. Since then Dinah has become a pillar of hope for the needy children and families in Dandora phase 5.
---
CONTACT INFORMATION
To contact or support this initiative:
Dinah Atieno Arwa
---
ABOUT DANDORA, KENYA (from Wikipedia)
Dandora is an eastern suburb in Nairobi, Kenya. It is part of the Embakasi division. Surrounding neighbourhoods called estates include Kariobangi, Baba Dogo, Gitare Marigo and Korogocho. Dandora was established in 1977, with partial financing by the World Bank in order to offer a higher standard of housing.
Nairobi's principal dumping site is situated in Dandora. The Dandora Oxygenation Ponds, a prominent feature on satellite imagery of the area, is Nairobi's main sewage treatment works, and discharges processed water into the Nairobi River. Dandora is divided into 5 phases. Crime thrives here due to high rate of school drop out and the city's dumpsite. The dumpsite is an environmental hazard. The burning of the waste during the night can cause choking. Houses nearing the site are filled with smoke making it hard to breathe. Dandora is commonly attributed with flying toilets during the night which cause people sleepless nights at night.
At the dumping site, many people experience health risks. For example, skin diseases are common for a big part of the people living there.  Moreover, there are many resources of toxic waste. Inhabitants could experience health effects of this because the toxic substances that are in for example e-waste could end up in the air. Due to this, air pollution can emerge.  Behind of this, people without access to a job collect waste to sell. Through this, there is a possibility of income
Note: If information or photos used here are copyrighted, please contact us and we will immediately delete the copyrighted material.