In November 1995, the Dayton area hosted the mediation process for ending the War in Bosnia, which resulted in the December signing of the General Framework Agreement for Peace in Bosnia and Herzegovina, also known as the Dayton Agreement, Dayton Accords, Paris Protocol or Dayton-Paris Agreement, (in Serbo-Croatian: Dejtonski mirovni sporazum).
Globally, the word "Dayton" means "Peace" — A huge opportunity!

The Dayton Peace Accords negotiated in Dayton during 1995 was profound in two ways. First, it stopped the Bosnian War that had caused the death of over 100,000 people and displaced millions from their homes. Second, it created a legacy for Dayton as the city where the peace was negotiated. Today, Dayton means "peace" to millions of people around the world.
Note: Introduction page at the time of joining International Cities of Peace. For updates, see contact information below.

As a result of this legacy, the "Dayton: City of Peace" initiative is not owned by any one organization or group but comprises a diverse, regional, cross-culture of citizens intending to bring the promise of peace home to the Dayton region. Since 1995, an array of peace initiatives have made Dayton a true international hub of peace.
The Peace Bridge, 1988-
Dayton Peace Accords, 1995
Dayton Peace Prize, 2000-
Dayton: A Peace Process, 2005
Dayton: City of Peace initiative, 2005-
Dayton International Day of Peace celebrations, 2005-
Dayton Peace Accords 5K Run/Walk, 2006-
Dayton Literary Peace Prize, 2006-
Dayton ScreenPeace Film Festival, 2006-2009
Dayton "Anchored in Peace" Churches, 2009-
Unitarian Fellowship of World Peace, 2009-
Missing Peace Art Space, 2009-
Dayton Urban Youth "streetpeace" initiative, 2009-
The Salem Avenue Peace Corridor, 2010-
Peace on Fifth retail store, 2011-
Peace Dayton Collaborative Group, 2013-
The Dayton Peace Trail, 2013-
The Compassionary, 2013-
The Dayton Peace Heroes Walk, 2015-
The Dayon Rotary Peace Committee, 2016-
The 21st Century Peace Literacy Foundation, 2016-
Plus many, many other initiatives and events that foster peace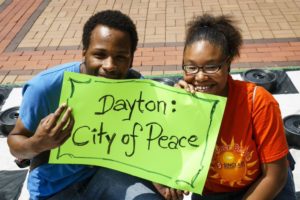 PEACE DAYton Collaborative Group
Welcome to the home of Dayton: City of Peace and the PEACE DAYton Collaborative Group, which is an initiative of over 100 organizations that are contributing to a culture of peace in Dayton and the Miami Valley. It's a great opportunity for people and groups in the Region to connect with family, friends, neighbors and colleagues. Send an email and ask how!
Facilitator: arment@fredarment.com
For nearly a decade, Peace Month in the Miami Valley has been extremely successful with over 100 organizations participating, over 40 peace events held during the months of September, and increasing energy for peace throughout the Region. Thanks to all who participated. Thousands of people, including children who need positive messages in their lives, were impacted by these events and inspired to action.
Click here to check out our Facebook page!
The PEACE DAYton Annual Report for 2017/2018.  View online or download a pdf.
PD2018report

PARTICIPANT LISTING
• Alicia Titus Memorial Foundation
• Bahá'i Center of Dayton
• City of Beavercreek
• Miami Valley Ohioans To Stop Executions (MVOTSE)
• Mayor's Office, City of Dayton
• Dayton Art Institute
• Dayton Human Relations Council
• Dayton International Peace Museum
• Dayton Job Corp
• Dayton Mediation Center
• Dayton Metro Library
• Dayton Performing Arts Alliance
• Dayton Police Department
• Five Rivers Chautauqua
• First Baptist Church of Dayton
• Food Not Bombs
• Golden Rule Institute
• Greater Dayton Christian Connection
• Heartfulness Center, Beavercreek
• Interfaith Forum of Greater Dayton
• International Cities of Peace
• Miami Valley Crime Prevention Association
• Miami Valley Ohioans to Stop Executions
• Missing Peace Art Space
• Montgomery County Commission
• MV Council for Native Americans
• Rotary Club of Dayton
• Salem Avenue Peace Corridor
• Sisters of the Precious Blood
• Sinclair Department of Diversity
• Springfield City of Peace
• Summit Christian Church
• Teens Inventing Peaceful Solutions (TIPS)
• Twenty-first Century Peace Literacy Foundation
• United Against Violence of Greater Dayton
• University of Dayton Music Department
• Westminster Presbyterian Church
• World House Choir
• Wright Patterson 88th Air Base Wing
• Wright Patterson AFB 445th Humanitarian Missions
• Wright State University, Theater Department
If you would like to make a donation, please donate online:
Or send a check, payable to "Cities of Peace" to the following address. We are a 501(c)3 and all donations are tax exempt.
Cities of Peace, Inc.
5818 Wilmington Pike, #234
Dayton, Ohio, 43459
On International Day of Peace, September 21, 2010, the Mayor of Dayton, Gary Leitzell, and the City Commission officially recognized Dayton, Ohio: City of Peace. The Proclamation was read at the Missing Peace Art Space to an audience of mostly young people by then City Commissioner Nan Whaley.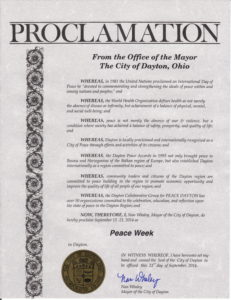 ---
These photo collages are an astounding display of UNITY and peace-building in Dayton, Ohio for Peace Month. 100 participating organizations; thousands of kids and adults; 35-50 events the whole month of September honoring the U.N.'s International Day of Peace. When those who gather in the streets for peace overwhelm those who lurk in the shadows of anger, we will emerge from the ignorance of violence.
Note: If information or photos used here are copyrighted, please contact us and we will immediately delete the copyrighted material.