Douala, Cameroon: City of Peace
Welcome to Clement Awanfe Ngueto and Christelle Ngameni Timeu and the leaders of the peace cities movement in Douala Town in Cameroon. Mr. Ngueto is Founder/Direct and Ms. Timeu is public relations officer of Global Compassion. Together and with colleagues they have created an organization based in compassion that can lead the peace efforts in the Republic of Cameroon.
Note: Introduction page with information primarily at the time of joining International Cities of Peace. For updates, please contact the liaison.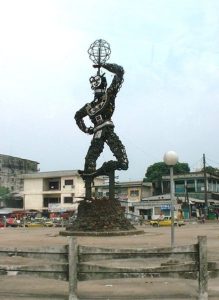 The monument of freedom in Deido neighborhood (Ront point Deido). the symbol of Douala town.
VISION
In a community where drug use is high and leads necessarily has violence and the insecurit; in a city where religions cannot live together and limits the guarantee of a lasting peace; with a population that lives in permanence with many endemic diseases without peace of heart — it is therefore important to set up a team of messengers of peace to ensure a sustainable peace by sensitizing different audiences and giving assistance.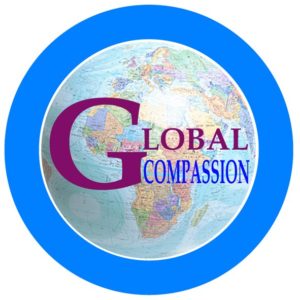 GLOBAL COMPASSION
"Together we can change the World"
Statement for Douala city of Peace
MISSION
Our mission is to create a healthy environment without drugs, violence and good religious cohabitation through education.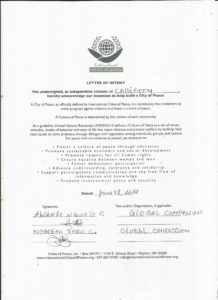 Letter of Intent
GOALS
Achieve and eradicate the maximum consumption of drugs, gain success toward solidifying the living between religious, and limit the most diseases in our community in order to provide a sustainability of peace in the hearts and minds.
1. Promote the sharing for a lasting peace between communities
2. Build a unique and vital arts and culture space for the communities living in the city of Douala
3. Workshops for sharing and education to instill democratic practice and the promotion of freedom.
4. Educate and assist the populations of pests such as HIV AIDS, Malaria, cholera, hepatitis and other diseases
5. Create an outreach campaign to reach the largest possible number of people about peaceful living
6. Make the most of a campaign to reduce the rate to consumption of drugs and other dangerous drugs for safety
7. Create a space for interfaith dialogue to bring different religions to live together.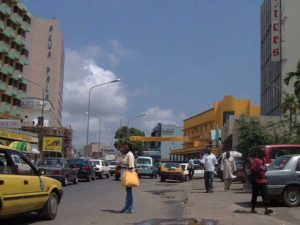 Street of freedom (Boulevard de la liberté) in Akwa neighborhood.
---
OUR DIVERSITY MATTERS
On April 12, 2019, in Santchou as announced, we successfully trained 15 young peace builders from five (05) different regions of Cameroon.
From the knowledge acquired by our participants during the "Conflict Analysis" session as well as the "Effective Civil Engagement" training lead by Clement Awanfe Ngueto, our fellow participants were able to learn know how to effectively fight against extremism and radicalization in their various communities. And how exciting it was for our participants to learn the concepts set forth by Sophie Ngassa during her powerful session, "Storytelling for Peace".The seminar was successful, powerful and inspiring. Everyone agreed that the best part of the program was the way the trainers and participants interacted; everyone was invested in the mutual goal of making Cameroon safer and better place to live.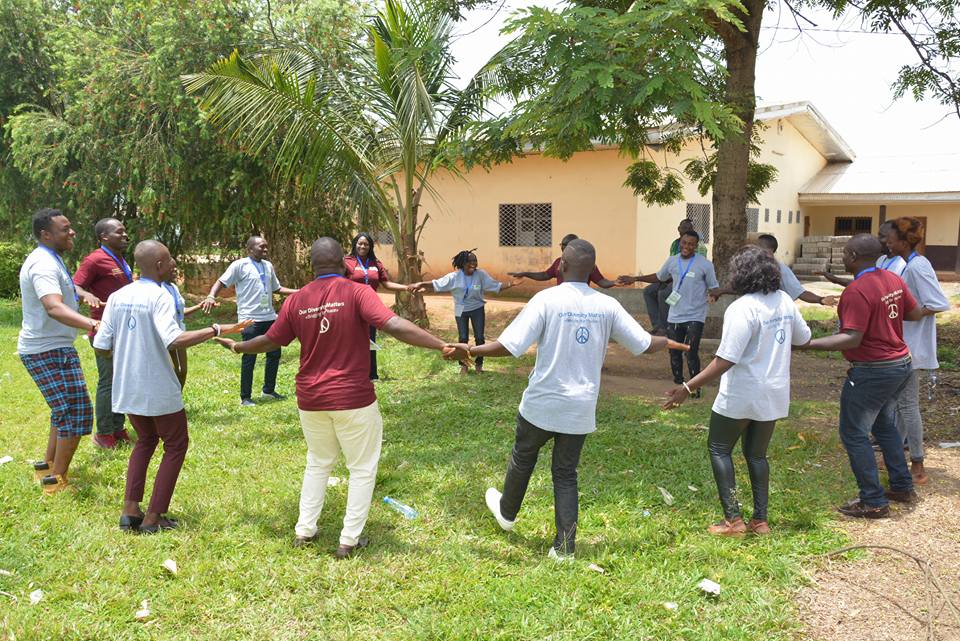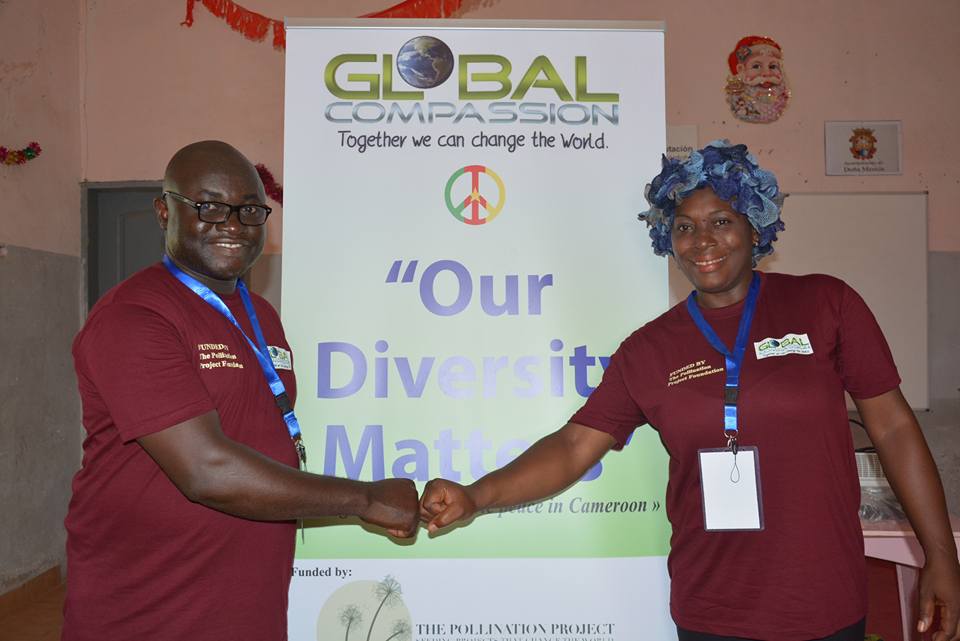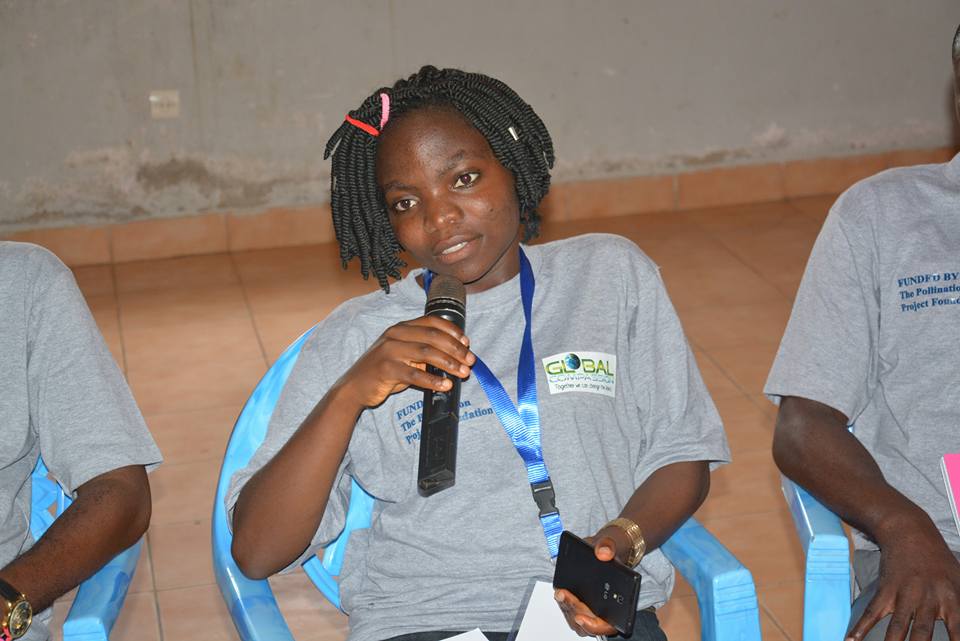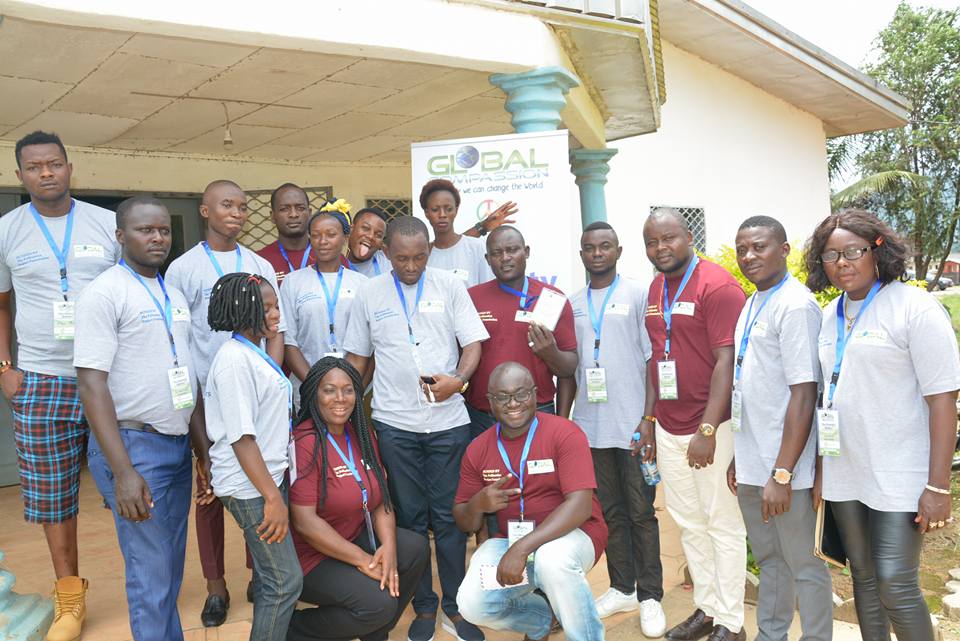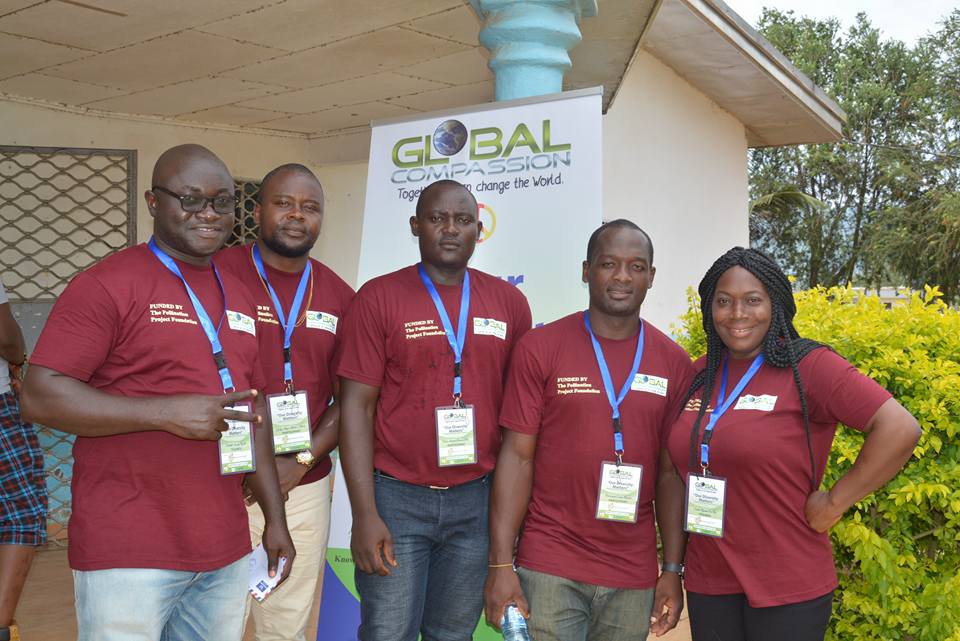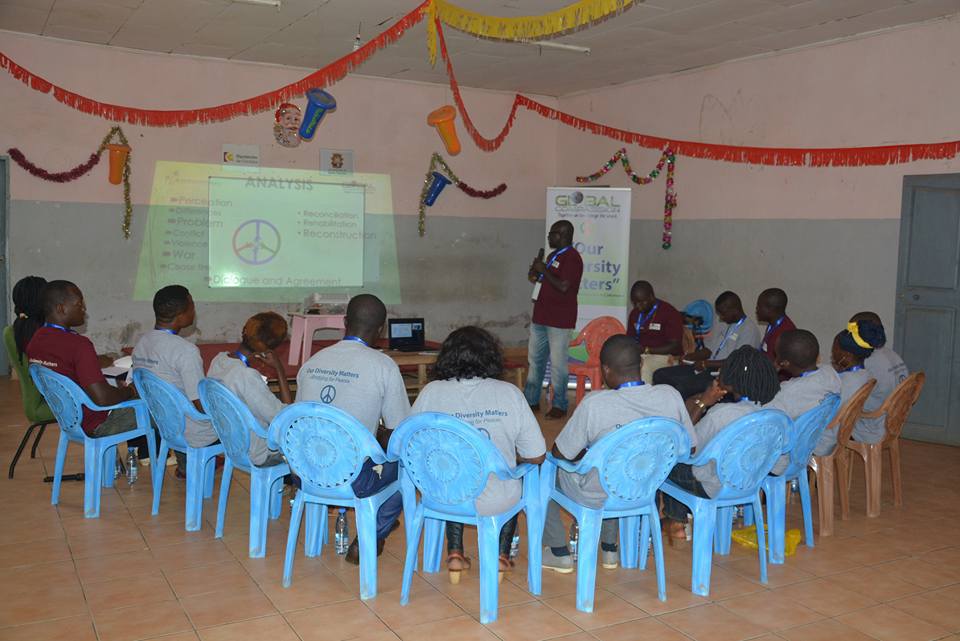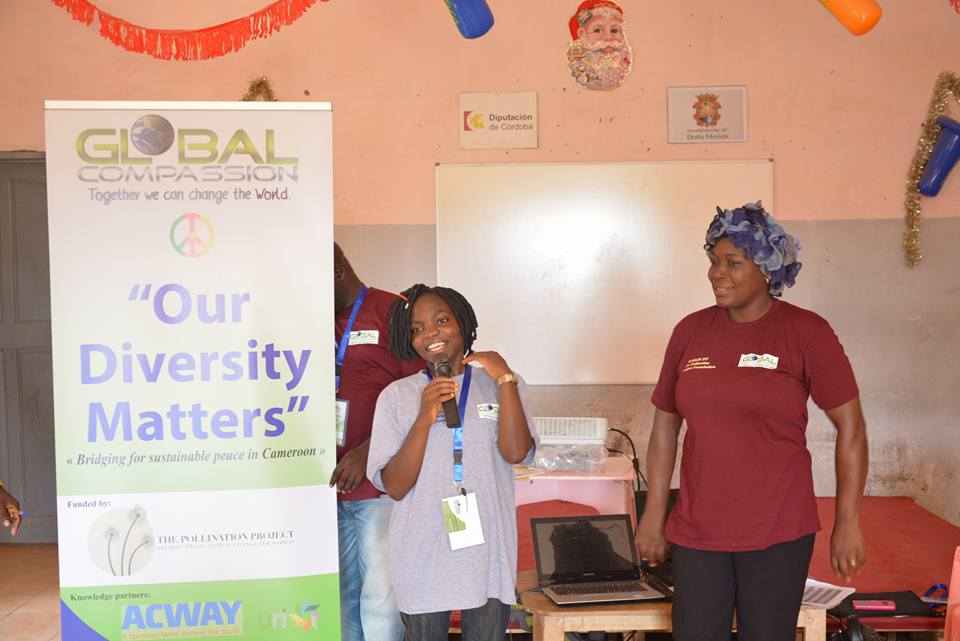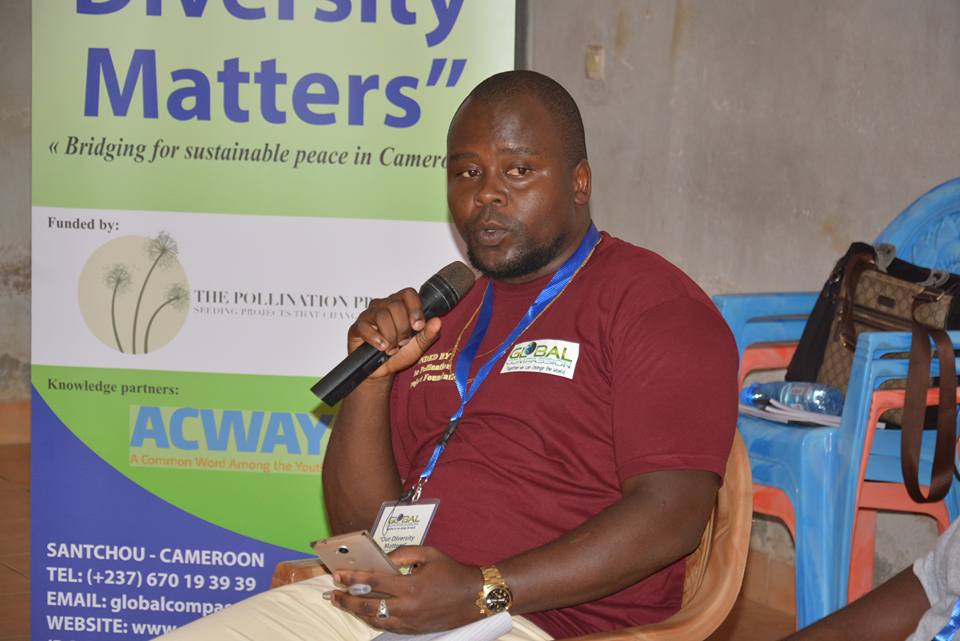 ---
ABOUT THE LEADERS
CLEMENT AWANFE NGUETO is a Conflict Management Officer. He was born on 17th March 1985 in Santchou, West region of Cameroon. Clement is Founder/President of Global Compassion.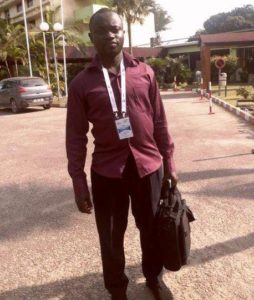 • Peacebuilding study with the United States Institute of Peace.• Humanitarian assistant and trainer of nonviolence and outreach community building.• Previous member of commonwealth youth program in Douala.• Leader and peacemaker, organizer of Global March for Peace and Unity in Cameroon
CHRISTELLE NGAMENI TIMEU, public relations officer at Global Compassion.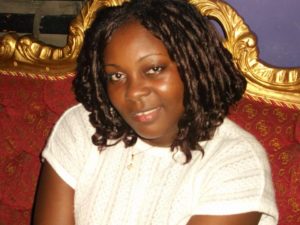 GAEL EWANE NKEM
Vice president of Global Compassion
Language studies , German, French, English
EVARIST MOUYA
University of Douala, Master's graduation of Economical law
In charge of law and training in Global Compassion
VANESSA NAHAN NJOPTCHOUANG
Catholic University of Douala, Marketing study
In charge of cultural affairs in Global Compassion
RACHEL EBOUDOU MELEUK
Social builder of women network ( Global Compassion)
BERNARD EPIE
Liaison officer in South West Region, Cameroon
MAX JOURDIN EBUWEP ELANGOUM
University of Douala , Master's graduation in Trade Marketing and Sales
Secretary General of Global Compassion
THERESE TABE
University of Buea, South West Cameroon
CONTACT INFO
E-mail: awanfeclement@yahoo.frPhone: +237 70193939 Skype: awanfeclement
---
ABOUT DOUALA, CAMEROON (from Wikipedia)
Douala is the largest city in Cameroon, the capital of Cameroon's Littoral Region and the richest city in the whole CEMAC region of six countries. Home to Cameroon's largest port and its major international airport, Douala International Airport, it is the commercial capital of the country. Consequently, it handles most of the country's major exports, such as oil, cocoa and coffee, timber, metals and fruits. As of 2010 the city and its surrounding area had an estimated population that surpassed 3,000,000 inhabitants.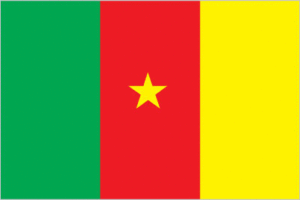 The city sits on the estuary of the Wouri River and its climate is tropical. Settlements had already existed on present-day Douala prior to the arrival of the Portuguese, British, and Germans; however, it was during the German colonization that the city began to develop rapidly as a commercial and political hub of the German colonial administration. During World War I bitter battles were fought for control of Douala. By the time the war ended the British and the French had seized the city from the Germans. A joint Anglo-French condominium governed the city until a comprehensive agreement ceded it (and much of Cameroon) to the French.
After the independence of Cameroon, Douala has grown rapidly. Local industries, trade, and other opportunities have attracted an unprecedented influx of migrants, especially from the western region of Cameroon. People from other countries in the region have also permanently settled in the city; they include Nigerians, Chadians, and Malians. In recent times city authorities have been overwhelmed by rapidly increasing population; services are stretched and there is an urgent need to enhance the city's ability to cope with the rapid growth. Douala is the 27th most expensive city in the world and the most expensive in Africa, overtaking Lagos, Nigeria at 32nd.
DO YOU THINK YOUR COMMUNITY CAN BE A CITY OF PEACE? SEND AN EMAIL!
 Note: If information or photos used here are copyrighted, please contact us and we will immediately delete the copyrighted material.