Durango, Mexico: City of Peace
Welcome to Francis Francisca Fernandez and her colleagues who have established through their good works and vision Durango City, Mexico: City of Peace. Francis is President at Federacion De Mujeres Trabajadoras De Oficios Varios Ac, an organization that works with older adults, single mothers, people with disabilities, girls, teenage boys and vulnerable regions.
Note: Introduction page with information primarily at the time of joining International Cities of Peace. For updates, please contact the liaison.
FEDERATION OF WOMEN WORKERS OF VARIOUS OFFICES. THEIR MOTTO IS FOR THE DEFENSE OF THE RIGHTS OF WOMEN AND THEIR FAMILY
TRAINING FOR WORK AND HUMAN DEVELOPMENT.

Attention to single mothers, older, adults, minors People with disabilities, and vulnerable regions

Letter of Intent

VISION AND MISSION
The Association provides care to vulnerable groups, in terms of food, providing breakfast and food to single mothers, seniors, people with disabilities, children and adolescents. In health care (ADHD) epilepsy as well as hypertension, obesity chronic degenerative diseases, cognitive impairment diabetes. In Education they attend minors in support of internships in mathematics, English, reading comprehension, computing …. The values are fostered, the Bulling theme is avoided thereby avoiding so much violence, thereby avoiding delinquency, prevention of Suicide among other factors helping to change.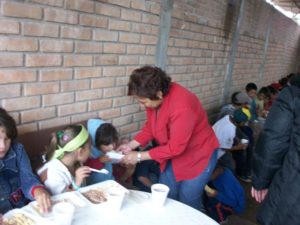 GENERAL OBJECTIVE

Reduce food and nutritional vulnerability through food and timely medical attention to people in socially disadvantaged situations, through a community dining room, at the organization's facilities in Durango.

This has undoubtedly been achieved, since they have been carried out, each and every one of the activities described in the project.

Our beneficiaries receive daily breakfast, and food. We have also been able to provide medical care to each of them. A doctor visits our facilities every week, and keeps track of each beneficiary of this project. Also we have a psychologist who gives attention, and talks that promote the good emotional state of the individuals.

BACKGROUND

The social dining room grew out of the need for prepared foods, and try to do something for society, especially for those who have less, and live in poverty. My greatest wish was that all people, in need, had some food to carry to their mouths every day. In the organization one of the priorities is to seek the empowerment of women and we have achieved by supporting single mothers by teaching them a trade and encouraging them to finish their primary and secondary education by promoting employment and self-employment, with the project through a nutritious diet and In addition motivational talks that seek to inspire them to live a fuller life and to change those negative mental models that already had ingrained.

Dining Room

Six years ago, due to the needs of people in situations of vulnerability, the idea arose of providing food to those who did not even have a plate of soup; In the beginning he was "wearing a taco", a few, but as the voice spread, many more came to ask for help… this was the Community Dining Room.

The Medical Service

As time goes by, new needs arise, the increasing number of elderly people on our beneficiary lists obliges us to seek medical support from other foundations, and this is how Dr Simi's Best Foundation supports us. With a doctor to value our beneficiaries, and with the donations we receive from individuals and some dependencies, is that we can provide basic medical treatment for those who require it and periodic reviews of our seniors. And treat and prevent Chronic Degenerative diseases such as Diabetes, Hypertension, is also addressed the issue of (ADHD)
Epilepsy, Obesity control, among others, are supported with diapers for people with disabilities, with wheelchairs, walking sticks, crutches, walkers, etc.

Education and Training

The federation was created to support women, and their family, given the socio-economic problems that predominate, it was essential to support them in primary, secondary, or training in some office that could help them to have success with their families. However, today, in the Women's Federation, we support men, women, children, the elderly, those with disability and all persons in a situation of vulnerability. And we support those who want to continue preparing themselves so that they can access better job opportunities, and a better quality of life.

Children and adolescents

We work with Child and Adolescent Girls, through workshops on the prevention of violence, addictions, suicide, and early pregnancy. Workshops of Values, Ethics and behavior, prevention is important for us.

Human Rights

It seeks, that every person is aware of the rights that he has, so that they are prepared to defend themselves in case of abuse, and also that they are aware of where to turn if they feel aggression. Workshops, talks, brochures and triptychs are given on this subject.

Group of the Third Age

We work with this group, with all the vocation, love and patience that can be had, for these people, who, for the most part, do not have the attention they require. The best thing we can do for them, is to give them, affection, attention and activities according to their physical abilities. It is a pleasure to work with this group, because the teachings are many and the satisfactions enormous.

OUR DAILY TASK

It provides nutritious food with quality and warmth through a dining room.
It is medically evaluated to people in situation of social lag to prevent and / or control diseases. Motivational talks are given to the beneficiaries, strengthening their emotional and psychological state.




 
---
ABOUT THE LIAISON
Francis Francisca Fernandez is Presidenta at Federacion De Mujeres Trabajadoras De Oficios Varios Ac

 

 
---
CONTACT INFO
For more information please contact:

Phone: +52 618 267 1664

mujeres.oficiosvarios@hotmail.com

 

https://www.facebook.com/Federacion-De-Mujeres-Trabajadoras-De-Oficios-Varios-Ac-677719002281434/

 
---
ABOUT DURANGO CITY, MEXICO (from Wikipedia)
Durango, officially Victoria de Durango and also known as Ciudad de Durango, is the capital and largest city of the Mexican state of Durango. It stands at an altitude of 1,880 metres (6,168 feet) above sea level.

Mexico, officially the United Mexican States, is a federal republic in the southern half of North America. It is bordered to the north by the United States; to the south and west by the Pacific Ocean; to the southeast by Guatemala, Belize, and the Caribbean Sea; and to the east by the Gulf of Mexico. Covering almost two million square kilometers (over 760,000 sq mi), Mexico is the sixth largest country in the Americas by total area and the 13th largest independent nation in the world. With an estimated population of over 120 million, it is the eleventh most populous country and the most populous Spanish-speaking country in the world while being the second most populous country in Latin America. Mexico is a federation comprising 31 states and a federal district that is also its capital and most populous city.

Durango City was founded on July 8, 1563 by Spanish Basque explorer Francisco de Ibarra. During the Spanish colonial era the city was the capital of the Nueva Vizcaya province of New Spain, which consisted mostly of the present day states of Durango and Chihuahua.

As of 2010, the city had a total population of 518,709, up from 463,830 as of 2005. It serves as municipal seat of Durango Municipality which had a population of 582,267 in 2010. The municipality has a relatively large land area of 10,041 square kilometres (3,877 square miles) and includes such outlying communities as El Nayar and Cinco de Mayo.
DO YOU THINK YOUR COMMUNITY CAN BE A CITY OF PEACE? SEND AN EMAIL!
 Note: If information or photos used here are copyrighted, please contact us and we will immediately delete the copyrighted material.