Eastern Freetown, Sierra Leone: City of Peace
Welcome to Mohamed Sheriff and colleagues from Students/Pupils Forum for Peace and Development who have created a city of peace initiative in Eastern Freetown, Sierra Leone. Their motto is ""Changing Our Attitudes for a Brighter Future"!
Note: Introduction page with information primarily at the time of joining International Cities of Peace. For updates, please contact the liaison.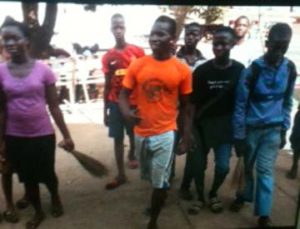 AN OVERVIEW
The Students /Pupils Forum for Peace and Development is a non political, campus based Peace organization formed to serve as AMBASSADORS OF PEACE in learning institutions.
It is a school/campus based violent prevention organization created in respond to the high level of antisocial behavior and school/campus disorder or violent orchestrated especially during school activities. Development in educational issues and other relevant issues towards national development are also among the numerous reasons for the formation of the organization.
As Ambassadors of peace, we serve as school/campus based peace activists focusing on changing the behaviors and attitudes of students/pupils that will influence the nation and its development.
Illegal acts of behavior, student's aggression, and drug abuse, deviance of authorities, lawlessness, and direct confrontation with police and students vandalism are becoming epidemic in learning institutions.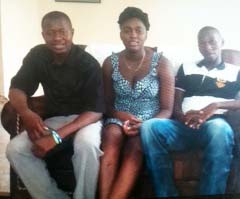 The drastic and punitive methods often taken by school authorities and the reactive measure used by police in curbing antisocial behavior have not brought an end to it neither has it brought a good image in the mind of citizens.
Therefore, instituting a school/campus based peer leaders who would serve proactively as school/campus based partnership in violent or crime prevention in school or on campus can help prevent these antisocial acts.
The students/pupils Forum for Peace and Development [Peace Ambassadors] would target primary, secondary and tertiary institutions nationally.
Creating a national peace ambassadors group for students/pupils in learning institutions would help compliment the effort of school authorities, the police and even the government in minimizing if not eradicating violent acts especially during school or campus activities.
Letter of Intent with Signatures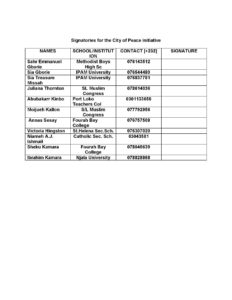 VISION:
The vision of the students/pupils Forum for Peace and Development is to have peaceful students/pupils through our peace education Forum
MISSION:
The mission statement is to create student unionism in which the mind and soul of every students/pupils is fully prepared to be respecter of the law.
GOAL
• Our aim is to have violent free students/pupils and their mind set on issue of national development.
OUR OBJECTIVES
• To promote the teachings of civic right and responsibilities
• To promote gender issues by working with advocacy organisations
• To promote the rule of law, fundamental human right, social justice, constitutional and democratic rule values in Sierra as fundamental requirement for good governance.
• To establish and develop link with other organisation and society towards developmental issue
• To promote tolerance between schooling going pupils/students
• To promote national unity, mutual understanding, tolerance and respect across ethnic and religious divide amongst the people of Sierra Leone.
• To institute school/university based violent prevention method
• To create school/university based partnership in crime prevention
• To have a formidable peace ambassador clubs in all learning institutions across the nation with interconnectivity of students/pupils unionism
• To have peer leaders who would provide peer group intervention in reducing the risk of delinquent behaviors and fast track development.
• To reduce early childhood aggression
• To reduce fear in school activities like sports, inter school matches
• To institute proactive and preventive approach to school/campus based violence and vandalism.
• To prevent school failure, drug abuse and delinquency among school children
• To reduce the incident of adolescent problems through preventive intervention
• To foster the spirit of understanding and appreciating diversity among students
• To promote political tolerance among students
• To legally and lawfully pursue students' problems
• To prevent students/pupils taking the laws into their hands
• To create nationalistic spirit and developmentally oriented society
• To prevent students/pupils direct confrontation with law enforcing agencies like the police etc
OUR PRINCIPLES
• Principle of the rule of law and democracy
• Principle of accountability and transparency
• Principles of diversity and political tolerance
• Principles of patriotism and dynamism
OUR CORE VALUES/OUR BELIEFS
• Love and respect for one another and for authorities
• Comportment and self discipline
• Friendliness and partnership
• Unity in diversity
• Peaceful coexistence
OUR OPERATIONAL AREAS
• Learning institutions across Sierra Leone
• Primary schools
• Secondary schools both junior and senior secondary schools
• Universities and colleges/institute etc
OUR WORK PLAN
• School to school peace visitation on peace education
• Formation of peace ambassador group in learning institutions
• Establishing Students/Pupils Forum for Peace and Development nation wide
• Training of our peer leaders/referral agents
• Creating partnership with other student body, Government Agencies, INGOs, NGOs, CBOs etc.
Necessity for action
Necessity for action shall arise in the following circumstances:
• Violent acts, unlawful conducts and so on
• Disobedience to authorities with an aim of creating chaos
• Damage to any public property
• Fighting, violent or destructive protest/strike as oppose to peaceful one
• Any action taken or ought to be taken which serves as a recipe for chaos
SOURCE OF FUNDING
• Individual or group contributions
• Donation by individuals, N.G.O's, C.B.O's and Government agencies and so on
• Bobby/ voluntary jobs like environmental sanitation/ cleaning
• Project proposals etc
ORGANIZATIONAL STRUCTURE
National Executive
National coordinator [National head of peace ambassadors]
Deputy National coordinator
National President for pupils only [National head of peace ambassadors]
National Vice president for pupils only
National Secretary General
Secretary for pupils
Assistant Secretary (s)
Organising Secretary
Public Relations Officer
Financial Secretary
Treasurer
Chief Whip
Adviser
Welfare officer
Peace ambassador group
School/Campus ambassadors
Regional Executive
Regional representative for students [Head of peace ambassadors]
Regional representative for pupils [Head of peace ambassadors]
Regional secretary
Assistant regional Secretary
Financial Secretary
Public Relations Officer (s)
Organising Secretary and
School/University Ambassadors
Schools/campus Peace ambassador group
---
ABOUT MOHAMED SHERIFF
• BORN ON 8TH MAY, 1985 IN KENEMA TOWN EASTERN SIERRA LEONE. FROM 2001 T0 2003 SAT TO THE BESIC EDUCATION CERTIFICATE EXAMINATION [BECE] FROM THE COLLEGE PRACTICING SCHOOL KENEMA
• FROM 2006 TO 2009, SAT TO THE West Africa SENIOR SCHOOL CERTIFICATE EXAMINATION [WASSCE] AT THE AHMADIYYA SECONDARY SCHOOL, FREETOWN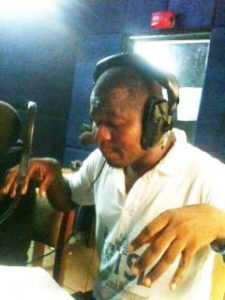 • FROM 2009 TO 2011 GOT DPLOMA IN MASS COMMUNICATION AT THE UNIVERSITY OF SIERRA LEONE, FOURAH BAY COLLEGE
ON 20TH JULY, 2011, AWARDED CERTIFICATE IN BUSINESS PRINCIPLES FROM THE SIGIAY GROUP OF COMPANY
• ON 22ND MAY 2013, AWARDED CERTIFICATE ON FINANCIAL MANAGEMENT AND RECORD KEEPING BY THE USAID, BLUE STAR HEALTH CARE NETWORK AND MARIE STOPES INTERNATIONAL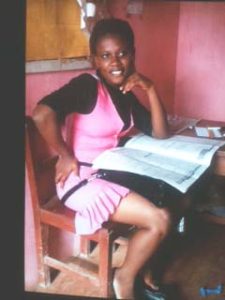 WORK EXPERIENCE
• 2005 TO 2010 WORKED AS SALES MANAGER AT LUCHRIST PHARMACY LOCATED AT CALABA TOWN, 543B BAI BUREH ROAD.
• SERVED AS A SOCIAL WORKER AND PUBLIC RELATIONS OFFICER AT ART RESOURCEFUL TOURISM SIERRA LEONE, A HUMAN RIGHTS AND DEVELOPMENT ORGANISATION
• PRESENTLY SERVING AS A VOLUNTEER FOR NATIONAL CAMPAIGN AGAINST LAWLESSNESS SIERRA LEONE
• HEAD OF THE STUDENTS/PUUPILS FORUM FOR PEACE AND DEVELOPMENT SIERRA LEONE
• PRESENTLY PURSUING MY BA HONOURS DEGREE IN MASS COMMUNICATIONS DEPARTMENT AT FOURAH BAY COLLEGE
---
(above) Regional Cordinator( Regional Ambassador) SIA GBORIECross section of our executive members: President for pupils section, Sahr Emmanuel Gborie, Western Regional Cordinator, Sia Gborie and the National Cordinator, Mohamed Sheriff. (below) Our National Secretary General, Sia Treasure Annie Missah at our head office reviewing the concord times newspaper for our story.
CONTACT INFO
For More Information Please Contact Henry Kibalama at:
552 Bai Bureh Road, Calaba Town, Freetown
Tel: 078550397/025321472/076143512
"Changing Our Attitudes for a Brighter Future"
EMAIL: sfpdsl@gmail.com or pffpad@gmail.com
---
ABOUT FREETOWN, SIERRA LEONE (from Wikipedia)
About Freetown, Sierra Leone (from Wikipedia):
Freetown is the capital and largest city of Sierra Leone, a country in West Africa. It is a major port city on the Atlantic Ocean located in the Western Area of the country, and had a city proper population of 772,873 at the 2004 census. The city is the economic, financial, and cultural center of Sierra Leone. The city's economy revolves largely around its harbor – occupying a part of the estuary of the Sierra Leone River in one the world's largest natural deep water harbours. Queen Elizabeth II Quay is capable of receiving oceangoing vessels and handles Sierra Leone's main exports.
The population of Freetown is ethnically and culturally diverse. The city is home to significant numbers of all of the country's ethnic groups, although it is the primary home of the Sierra Leone Creole people, known as Krios (descendant of freed Liberated Africans, African-Americans and West Indians). The city is politically dominated by the Krio. Many of the Freetown local city council city are held by ethnic Krios, including the mayor of Freetown, a position mainly held by Krios or Europeans since the city was founded.[citation needed] As in virtually all parts of Sierra Leone, the Krio language (a native language of the Krio people who only make up 5% of country's population) is by far the most widely spoken language in the city. The population of Freetown is almost equally divided between Muslims and Christians.
DO YOU THINK YOUR COMMUNITY CAN BE A CITY OF PEACE? SEND AN EMAIL!
Note: If information or photos used here are copyrighted, please contact us and we will immediately delete the copyrighted material.