Eastlands, Nairobe, Kenya: City of Peace

Welcome to Jared Akama Onyari, leader of the city of peace group with networking in Eastlands/Southlands, Nairobi, Kenya: City of Peace. The Eastlands area of Nairobi is to the south-east of Nairobi province. The organization, Peace Society of Kenya, is working to empower Kenyans through education and implementation of a wide range of peace building projects.
Note: Introduction page with information primarily at the time of joining International Cities of Peace. For updates, please contact the liaison.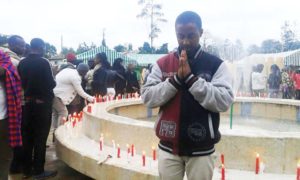 OVERVIEW
Peace society of Kenya as the name implies is a charitable, voluntary, non-religious, non-political and non-governmental organization born out of our desire and passion of some personalities who were victims and had witnessed the result of Post-election violence in Kenya in 2007 and crisis and made up their mind to help the Kenya and continent to provide solution to the unpleasant and unbearable agonies of conflict here and there in Africa. Peace society of Kenya is organized and governed by a fifteen man Board of Trustees with a Chairman and Joint Chairman respectively and a five man international advisory council with an eight man standard management and administrative structure headed by a President General, Vice-President and the Secretary General with well trained and experienced workforce having currently five local offices in Kenya and working to spread its scope to the East regional within a short while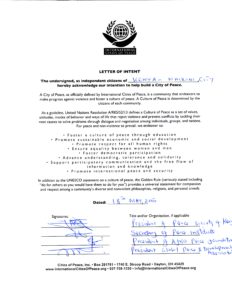 Letter of Intent
As the world is increasingly becoming a global village, it has become very crucial that its people work together to ensure peaceful co-existence and respect for each other irrespective of religious, racial, ethnic, and cultural backgrounds. A peaceful world will be possible only if citizens around the world seek to understand one another in a globalized manner, with the skills to resolve conflicts and seeking freedom and justice for mankind,

 
VISION
To promote peaceful coexistence and respect for all.
---
MISSION
The PSK works locally, regionally, internationally to promote sustainable peace, social cohesion, and compassionate development at all levels of society, guided by the vision of one family under God.

To empower the citizenry through education and skills building in nonviolence, human rights and advocacy for social change in schools, communities and cities.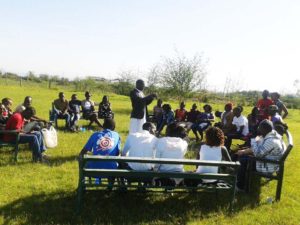 The 3rd Annual Youth Leadership Camp for the Peace Ambassadors, Kenya.
OBJECTIVES

To provide the citizens with the necessary skills in peace building, leadership and nonviolence.

To promote and propagate the teachings of peace and justice to develop young people and women ' understanding and commitments to these concepts

To increase knowledge about different aspects of conflict and to develop lifestyles that promotes conflict resolution

To provide a platform for youth in service to their communities around human right issues.

Builds broad awareness of the central importance of universal principles and shared values as the basis for social cohesion and peacebuilding.

Develops a multi-sector movement of moral and innovative leaders who work in partnership to address the critical issues of conflict and underdevelopment in communities, nations, and regions.

Empowers families as the primary means of instilling values and promotes an education culture that fosters character and creativity, to guide youth to become ethical global citizens.

Builds comprehensive, collaborative models of sustainable community and national development that enable all to achieve fulfillment and material well-being.

 
A STATEMENT ABOUT THE PEACE LEGACY OF COMMUNITY

by Jared Onyari

The elements of peace are the various ideas, concepts, facilities, tools, and so on that need to be in place to create genuine peace that will last over the centuries and millennia as our legacy to future generations.

One of the hallmarks of the modern world is impatience. "Power grows from the barrel of a gun" said Mao. It remains to be seen if Mao's empire will last as long as Gautama Buddha's has; it certainly has not made people as happy, and it certainly has squandered far more lives.

The problem with non-violence is it takes time. Changing hearts one at a time is slow, and simply grabbing power and enforcing one's ideas seems so much more attractive. The arguments for force and violence are obvious and sometimes strangely beguiling, whilst the arguments for non-violence and dialog are subtle and sometimes hard to accept.

1st April 2015 Peace Ambassadors Kenya shall be carrying out its 2nd Phase of official Membership Registration countrywide. The exercise is open for both its members and those wishing/willing to join the PAK family #TeamRed

One of the driving visions behind this site is to confront our real problems. All too often it is assumed that if we would only all get along, and all put our differences behind us, we could have peace. That puts the cart before the horse. The first thing we need to do is be realistic about human capacity, the human condition, and the world we live in. Then we can honestly assess where we need to make changes if peace is to be a reality; or, if we can't change something (for example, something we don't admire in human nature), how we can make allowances so that we can have non-violence and peace in spite of it.
Let us uphold the best and finest ideals our species has produced – and non-violence is one of them. But let us also ask the hardest possible questions about our beliefs, subject them to the test of fire and see how they cope.

It is a sad fact, I suspect, that we are in a very tiny minority, those of us who love truth and are prepared to seek it no matter how it disturbs our comfort zone.

Most people want affirmation from their social group more than they want truth. I think we have a very dangerous situation here. Social affirmation probably does benefit the individual more, on the whole, than knowing the real facts. Some facts are profoundly discomforting, whilst the consequences for disagreeing with the group (and especially those in power) can be immediate and catastrophic. But humanity now has the collective ability to destroy the potential for our planet to support human and a great deal of other life.

The preference for social acceptance over truth is a mortal danger to humanity and even to life on Earth. Let those of us who are willing to put truth first, to love it and accept it no matter the cost in terms of social ostracism and hatred from those who must live in their comfort zone, let us stand firm as the true upholders and protectors of humanity and of all life on our planet.
---
ABOUT THE LEADER
H.E AMB PROF JARED AKAMA ONYARI
As Brian Tracy, Treasurer of Zonta Board of Directors Leadership, observes, "One of the qualities of leaders and high achievers in every area seems to be a commitment to ongoing personal and professional development". Absolutely this reflects my live experience and interest in seeking the position of Board of Director. A graduate of BA, Economics and Geography of Egerton University; MBA, University of Nairobi and MA, Development studies at St Pauls University. Currently PHD candidate at Kisii University doing Peace and conflict studies.

After graduating in 1994 I started my professional career at Hilton International Hotel where I worked for four years before being elected in 1998 the first Secretary General of Kenya Hotels and Allied Workers Union where I led for six years. During these years I learnt that domestic workers continue to face major challenges in Kenya: Physical, emotional, and sexual abuse and manipulation and lack of occupational health and safety among others and I was able to address them accordingly. In addition, I have over two years' experience in senior positions which have exposed me to global experiences as I have interacted with people of diverse ethnic, religious and racial backgrounds. For example Ambassador for Peace by Universal Peace Federation since 2012 and since 2014 Ambassador of World Film Institute and Olympia Arts, President Africa Institute of peace, President Peace Society of Kenya, President and founder East Africa peace federation. To date, I can be able to view problems from multiple viewpoints, emotional stability and develop a good working relationship with colleagues.

In 2014 Appointed International Professor by United Graduate College and seminary international in the field of peace.
---
CONTACT INFO
For more information please contact:

 

 
---
ABOUT EASTLANDS, NAIROBI, KENYA (from Wikipedia)
The Eastlands area of Nairobi is to the south-east of Nairobi province

Nairobi is the capital and largest city of Kenya. The city and its surrounding area also form Nairobi County. The placename "Nairobi" comes from the Maasai phrase Enkare Nairobi, which translates to "cool water". The phrase is also the Maasai name of the Nairobi river, which in turn lent its name to the city. However, it is popularly known as the "Green City in the Sun", and is surrounded by several expanding villa suburbs. Inhabitants of Nairobi are known as Nairobians, and the city is governed by the County Government of Nairobi, whose current governor is Evans Kidero. 

Nairobi was founded in 1899 by the colonial authorities in British East Africa, as a rail depot on the Uganda Railway. The town quickly grew to replace Machakos as the capital of the colony in 1907. After independence in 1963, Nairobi became the capital of the Republic of Kenya.[4] During Kenya's colonial period, the city became a centre for the colony's coffee, tea and sisal industry. Nairobi is also a county in itself. The city lies on the Nairobi River in the southern part of country, and has an elevation of 1,795 metres (5,889 ft) above sea level.

With a population of about 3.36 million estimated in 2011, Nairobi is the second-largest city by population in the African Great Lakes region after Dar es Salaam, Tanzania. According to the 2009 census, in the administrative area of Nairobi, 3,138,295 inhabitants lived within 696 km2 (269 sq mi).[8] Nairobi is the 14th-largest city in Africa, including the population of its suburbs.
DO YOU THINK YOUR COMMUNITY CAN BE A CITY OF PEACE? SEND AN EMAIL!
 Note: If information or photos used here are copyrighted, please contact us and we will immediately delete the copyrighted material.