Freetown, Sierra Leone: City of Peace
Welcome Andrew Benson Greene, of B-Gifted Foundation, to our Advisory Council. Andrew as well as Abass Victor Osman Kamara, Board and Human Rights Director of the Foundation, are creating an International Cities of Peace organization in Sierre Leone.
Note: Introduction page with information primarily at the time of joining International Cities of Peace. For updates, please contact the liaison.
MISSION
Our mission at Freetown City of Peace is to foster lasting peace through education, creativity in Freetown around the world and enable the people in Freetown city of peace to gain the gift of hope that reaches beyond limitation and inspires limited possibilities for them.

VISION
Our vision to foster peace, through creativity, technology and
innovative approaches. We envision taking bold strides to ensure that this vision and our initiatives scores very high points in the
Freetown communities where we work. Our present and future projects will have a dramatic ripple effect on our host communities. At Freetown City of Peace, we envision that the labor of our hands and the dreams of our hearts are the peaceful seeds we plant to reap a new dawn.

GOALS
Our goals are to make Freetown city of peace maintain and consolidate the peace through a variety of creative and educational programs that serve as ample proof that in spite of the war that the city Freetown can be transformed into the most peaceful city in the world.

LATEST PROJECT
This powerful and creative initiative is committed to a tireless global campaign of making the issue of children's rights known. Using rap music and social activism-B-Gifted Foundation and Global Peace Partners Inc targets politicians and world leaders and encourage them about the need to restore the dignity of children, the rights of the child and the rights of humanity as a whole. In the process, participants are empowered to make a difference in the lives of others. Under the title 'Rising Artist, Rising Artist, Rap for Rights' a number of 'rising' Sierra Leonean and US rappers travel to other parts of Africa, Asia and Latin America, to make contact with children living in extreme circumstances. The rappers' tour includes, among other countries, Indonesia, Honduras, Liberia, and Guinea where they meet child workers, child miners, war affected youth, former child soldiers, and youth gangs.

 
About Andrew Benson Greene:
Andrew Benson Greene has set himself apart from others in his field. He is Founder and CEO of B-Gifted foundation of Sierra Leone. Andrew Greene has 10+ years experience in the non-profit sector, youth and technology and the issues of child soldiers and human rights of children in areas of conflict. He has traveled world-wide, from Beijing to Moscow, to Washington, to share his vision of using information technology amongst children and war scarred youth. A referee once noted that: 'Mr. Greene's efforts have had a profound effect on the minds of young people around the world, from Sierra Leone to Cambodia to Afghanistan. His efforts attracted the United Nations to his project as a model to be used in countries affected bywar".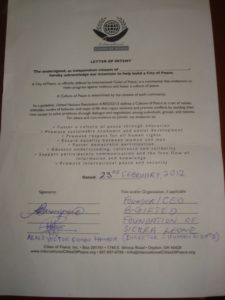 Letter of Intent
Mr. Greene contributed enormously as a Guest Speaker to the CIDA in 2004 during the International Corporation Days Millennium Development Goals: Moving from Consensus to Momentum. Mr. Greene has gathered multiple awards, citations, and bursaries for his peace building efforts and Internet-based innovations. For several years in Sierra Leone, he has overseen and coordinated the successfully implementation of War Child Canada DFAIT funded project No War Zone.
Andrew was a distinguished Sauvé scholar at McGill University, Montreal Canada. Mr. Greene was contracted twice by the World Bank in DC to produce video documentaries for the World Development Report 2007 focusing on youth unemployment in Sierra Leone and the 'Next Generation. In 2005, he made a significant contribution to the book, 'Raise Your Voice, Lend A Hand, Change The World' written by Susan Hughes and produced by Scholastic Canada. He holds a BA in English Civil Law and International Relations and is currently a double Masters Candidate for an MA Program in Coexistence and Conflict in US. Andrew is a real trailblazer. Another referee noted: "It's not just that Andrew Greene is mold breaking. What's most important is that he is a powerful model for other young African leaders".

Email: Andrew Benson Greene Jr <b.giftedfoundation@gmail.com>
---
About Freetown, Sierra Leone (from Wikipedia):
Freetown is the capital and largest city of Sierra Leone, a country in West Africa. It is a major port city on the Atlantic Ocean located in the Western Area of the country, and had a city proper population of 772,873 at the 2004 census. The city is the economic, financial, and cultural center of Sierra Leone. The city's economy revolves largely around its harbor – occupying a part of the estuary of the Sierra Leone River in one the world's largest natural deep water harbours. Queen Elizabeth II Quay is capable of receiving oceangoing vessels and handles Sierra Leone's main exports.
The population of Freetown is ethnically and culturally diverse. The city is home to significant numbers of all of the country's ethnic groups, although it is the primary home of the Sierra Leone Creole people, known as Krios (descendant of freed Liberated Africans, African-Americans and West Indians). The city is politically dominated by the Krio. Many of the Freetown local city council city are held by ethnic Krios, including the mayor of Freetown, a position mainly held by Krios or Europeans since the city was founded.[citation needed] As in virtually all parts of Sierra Leone, the Krio language (a native language of the Krio people who only make up 5% of country's population) is by far the most widely spoken language in the city. The population of Freetown is almost equally divided between Muslims and Christians.
DO YOU THINK YOUR COMMUNITY CAN BE A CITY OF PEACE? SEND AN EMAIL!
Note: If information or photos used here are copyrighted, please contact us and we will immediately delete the copyrighted material.