Goma, Democratic Republic of Congo: City of Peace
Welcome to Leon Simweragi and his colleagues who have created an initiative for Goma, D.R. Congo: City of Peace. The group has formed the Association de Jeunes Visionnaires pour le Développement du Congo (AJVDC), founded since 2011. As Leon says, "We believe that youth can play a great role for peace and development in our country DRCongo. Nowadays youth are playing double role, as victims and actors, in the disasters if war and conflicts in Eastern Congo.
Note: Introduction page with information primarily at the time of joining International Cities of Peace. For updates, please contact the liaison.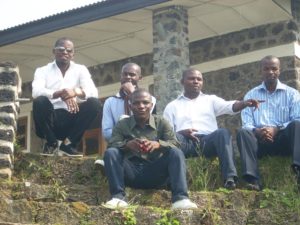 The AJVDC group has started initiatives of peacebuilding in Goma and around Goma in IDPs camps ( Interiors Displaces peoples) and in other villages in masisi rural territory of North Kivu province Eastern of Congo.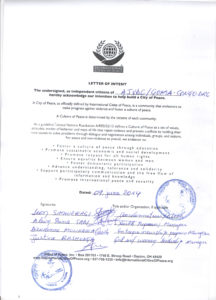 Letter of Intent
OVERVIEW
Goma city is the capital of eastern of Congo the area that has suffered from wars for 2 decades now. This is instability has caused many people to move from the villages and cities , most of people are living in Camps, Around Goma there is 4 big camps with more than 50.000 persons, there is other camps in rural, where poor people are living difficulty. However, since last year 2013, the end of big rebelion M23 there is a small calm that has started coming. People are willing to return to their villages, some youth are withdrawing from Armed groups.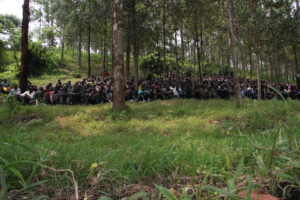 Rebels in Goma awaiting reentry into society.
The AJVDC is more concerned on how to support this movement of peace reconstruction.
We are planning to conduct a peace education initiatives and social and economic integration program, focusing on disadvanteged people, displaces, women victims of rape, children former soldiers, youth ex-rebels. returnee refugee.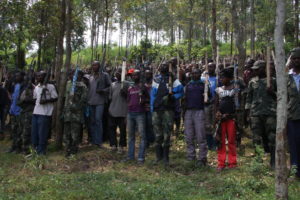 Through the efforts of UN mission to end this long war, and reorganization of DRC government army FARDC, they have putted end to a big rebellion movement called M23, and ADF, they still fighting other groups, such MAI MAI, FDLR a Rwandan rebellion group that are extend in many villages in eastern party of Country DRC. All of these are the cause of many violations, sexual violence, looting, killing and many human right abuses to children and all the population. This situation has caused 89per cent of people to live in under poverty, less than $1 per day, a high level of youth unemployment 94%, and this has made this party of the world to be called Cities of Sexual violence.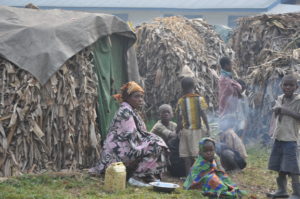 Refugee camps in Goma.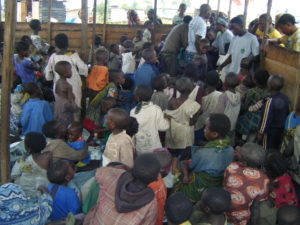 Nowdays many youth are abandoning these armed groups and others are still willing to quit, but they don't have jobs even any other program to get involve in. We have already listed more than 756 ex rebels who don't have any support. Others have fled from the villages to the cities (Goma, Bukavu, Beni, Butembo…), and they are causing many exaction, criminality in Cities.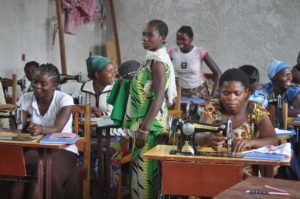 Photos of AJVDC activities: Peace campaign with UN peacekeepers, volunteer with orphans, youth trainig, masisi village, displaced children, IDPs, vulnerable family in camp.
VISION
Our vision is to see the eastern of Congo, a peaceful land, environmental safety, startup region.
MISSION STATEMENT
Our Mission is to identify and promote youth initiatives for peace and development reconstruction of our region, through Entrepreneurship, Leadership youth program, Social and Economic integration of disadvantaged youth (children former soldiers, ex-rebels) and women victims of rape. and cultural and sporting exchange program.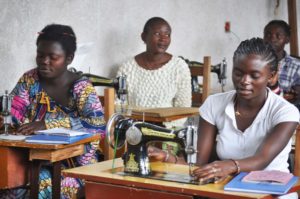 THE GOALS
We would like to establish a multipurpose youth center here in Goma, eastern of Congo, for a social and economic integration of disadvantaged youth, specifically those who have willingly abandoned armed groups, ( EX rebels) and would like to integrate civil life. Our main purpose is to support peace and development in our cities and villages .

We as a youth association, called AJVDC (Association de Jeunes Visionnaires pour le Développement Communautaire) are very concerned, and we would like to bring change in our communities, cities and villages, to fight against poverty. And work for peace and development rehabilitation in our country.




We have started some programs (youth entrepreneurship and leadership) to promote peace and development in this region.

We are planning to establish a multipurpose youth center that will host some entrepreneurship, leadership, sporting and cultural programs, for the benefit of many disadvantaged youth, children ex-rebels, and for the favor of peace rehabilitation in Goma and in other cities of North Kivu province.

This youth center will be called CITY OF PEACE, we would like to purchase a safe land, to build classes and rooms for conferences, cultural exchanges , build sporting centers and implementing programs for youth,




We request for your support to raise funds and get technical support for the achievement of this huge programs for peace.

Please get us contacts, corporations, foundations and agencies that are involved in peace rehabilitation around the world to support us. We would also like to get volunteers, mentors, donors, sponsors and integrate the City of peace International network.
---
ABOUT LEON SIMWERAGI
I am Leon Simweragi, the first born of my lovely family of 7 children, I was born in 1985 may 25th, in village called Minova in a banana farm. I grew up in the same village. At the age of 5 years I have started helping my mum to get water from Kiata river at 4 km from our house. At the age of 6 years I have started my primary school that is at 7 km from our home. I have completed difficulty the 6 forms of primary school. I have done my secondary school at the College St Charles Lwanga at Bobandana Catholic parish in Minova rural territory of Kalehe South Kivu province in Eastern of Congo, Where I have studied science, chemistry, biology, elementary technology, Agricultural. I was going by foot and was doing 20 km of foot walking per day to go and back from home to school. This was painful. When finished I moved to Goma City, that is located at 50 km from Minova. I have started University studies at UNIC Goma, in Management and Business administration faculty, unfortunately I didn't finish this studies because of instability and war that happened in the City. Then we fled to Uganda as refugee.

I spent more than 2 years in Uganda, Kampala, in refugee-hood. I worked as a volunteer with GTZ and UNHCR, as Social worker, Environmental and sanitation agent. After a long time of refugee -hood I have returned back to my country DRCongo. I have looked for a job, I have started working as a Hotel Manager at Bird Hotel at Goma, where I have got experiences in customers care, Relationship, Business management.

After that I have took time to concentrate the effort for our Youth group called AJVDC ( Association de Jeunes Visionnaires pour le Développement Communautaire). Where I assume the position of Coordinator of programs.
In brief, Since my secondary school, I have been member of many youth associations, International Scout movement, Caritas Youth volunteer group, Peace and Justice Movement Bobandana catholic Parish. Founder and Executive member of AJCDP (Association de Jeunes Chretiens pour le Développement et le Progres).

EDUCATION and SKILLS

– Diploma in Social enterprise and Business management at UNIC – ISEGEA University /Goma
– Certificated in ICT at Infos Services Center/ Kampala Uganda
– Diploma in Science at College Lwanga/ Bobanda Parish, Minova
– Certificated in Logistic, Driving, Customer Care …. At INPP ( Institut National de Préparation Professionnel) Goma, Nord Kivu
– Certificated in Community organization and Rural Development
– Certificated in Environmental Project management
– Certificated in Conflicts resolution,
– Certificated in Youth leadership,

WORK EXPERIENCES

– Coordinator of AJVDC youth entrepreneurship program, 2011 – 2014
– Consultant at PAEDE, Community resilience, Youth social and economic program , 2013-2014
– Consultant at UEFA asbl, Environmental and Food security program, 2010 -2012
– Hotel Manager at Bird Hotel/ Goma DRC , From 2006 to 2010
– Founder and CEO of the Youth development organisation AJVDC asbl, ( Youth Entrepreneurship and Leadership program) from 2011 up to now, Goma/ DRC
– Trainer at Le Genial youth vocational and Computer science Center, 2003 -2006
– Youth Development Monitor at Caritas ( International development organisation) Goma, DRC
– Social Assistant at KYAKA Refugees Camp in Uganda with GTZ and UNHCR, from 2005 to 2006
– Youth led development at Bobandana parish with Scout International youth movement , Caritas Peace and Justice program.
---
CONTACT INFO
For more information please contact Leon Simweragi at:

AJVDC Congo vision <ajvdccongovision@yahoo.fr>

skype: simweragi
twitter: @LeonSimweragi
Linkedin: Leon Simweragi

 
---
ABOUT GOMA, D.R. CONGO (excerpted from Wikipedia)
Goma is a city in the eastern Democratic Republic of the Congo. It is located on the northern shore of Lake Kivu, next to the Rwandan city of Gisenyi. The lake and the two cities are in the Albertine Rift, the western branch of the East African Rift system.
Goma lies only 13 to 18 km due south of the crater of the active Nyiragongo Volcano. The recent history of Goma has been dominated by the volcano and the Rwandan Genocide of 1994, which in turn fuelled the First and Second Congo Wars. The aftermath of these events was still having effects on the city and its surroundings in 2010. The city was captured by rebels during the M23 rebellion in late 2012, but has since been retaken by government forces.
Goma is capital of North Kivu province, ethnically and geographically similar to South Kivu (capital Bukavu); the two provinces are known as "the Kivus".
DO YOU THINK YOUR COMMUNITY CAN BE A CITY OF PEACE? SEND AN EMAIL!
 Note: If information or photos used here are copyrighted, please contact us and we will immediately delete the copyrighted material.