Gunjur, The Gambia: City of Peace
Welcome to Mr Abdoulie Jatta and his colleagues who have established Gunjur in The Gambia, West Africa, as a City of Peace. Jatta is studying early childhood education and has been involved in many agricultural and educational peace building efforts.
Note: Introduction page with information primarily at the time of joining International Cities of Peace. For updates, please contact the liaison.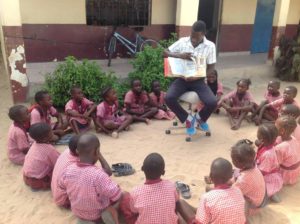 Abdoulie Jatta at work in the Anne Gerthe School.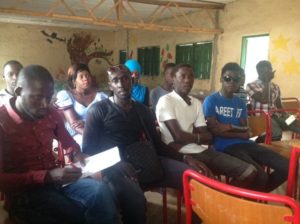 VISION
We envision culture of peace, education, human rights, democratic, social, economic development health and to linked with international peace and security. Resilient and empowered communities where people are connected and supported each other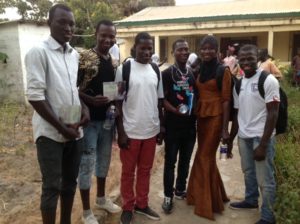 MISSION

1 To ensure that people living in our communities to have easy accessibility and to participated in to activities of city of peace in Gunjur Banjul The Gambia.
2 To provide perfect information and relevant resources so as to advocate the youth and to inrease the capacities of people in our communities in the areas of culture of peace, humans rights, Democratic, health, sustainable social and economic development.

3 To raise the awareness of people's in our communities .
about the importance culture of peace, activities and the programs of city of peace in
Gunjur.
4 To support and participated in to women vegetables garden in order to elevate poor reduction.
5 we would like to collaborate with local and international communities so as to promote International peace and security.
---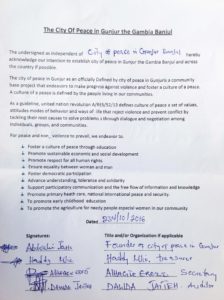 Letter of Intent
ABOUT ABDOULIE JATTA (in his own words)
My name is Mr Abdoulie Jatta. I am form the republic of The Gambia, West Africa. My home village is called Gunjur. I was born on 22 February 1981 and attended schools in the same place. I am young and able borne Gambian with potential in many fields including the community and other development programs.

In the year 2006, I have initiated a school project in a newly settled community for the children. In year 1997, I worked at the Gunjur linked committee as a volunteer and we have linked relationship with (MBG) Marlborough brand group in the Uk. I took part in the Polio campaign program, which was held at the end of 2014. I participated in the Locust training campaign held at village called Buyam in order to control a surge.

In 2004 to 2007, I was working with one of the EU funded international (NGO) concerning universal agriculture. As technical adviser of smile irrigation and technology project, I collaborated with our local (NGO) called TARUD. To enhance the community garden and refugees to have access to ensure an adequate water supply system.

I actually wanted to focus on education, community and the rural development, children, humans rights, and activism. I define human rights as the right to food, housing, education, health care, drinking good water, work and the opportunity to live and develop in a free society with peace and dignity. I wanted to work toward making these basic human rights accessible to all Gambians and to emphasize the right to life, personal freedom of press, association, assembly, and equality between man and women before the law.

The Gambian constitution prohibits discrimination on the basic of race, sex, religion, physical disability, language and social status. It is important to all religions have right to exist in Gambia. Marriage between people of different culture and religion are common.

About Agriculture, most of my community are dependent on farming, particularly women. I would like to invite the donor agencies both local and international to help these women to enhance their vegetables gardens and to grow perfectly and to enable them to have water supply system. Also to training the women and young people about new technology of gardening and production planing.

I was working as a voluntary teacher at the kindergarten in our local community. I had an opportunity to study early childhood education in The Gambia College at the nearby town of Brikama. It took thee years to complete program.

Professional experience.
Anne Grethe Nursery School. Sep. 2012 -October 2016 as teacher and supervisor in Gunjur.

Concern universal international (NGO) with trust agency for rural development (TARUD). September 2004 to June 2006. As technical adviser of smile irrigation and technology project.

EDUCATION.
The Gambia college at Brikama . Certificate. My field of study is early childhood education in The Gambia college and I am working on it actively. Jun 2011 to September 2014.

OTHER PROFESSIONAL TRAINING.
Gambian trade. In the field of studied Agriculture under the division of commerce.

COMMUNITY AND VOLUNTEERED WORK.
Gunjur liked committee (GLC) linked with Marlborough brand group (MBG) in UK England. In 1997 to 2007 I have worked with the linked committees as a volunteer for the amount of years started January 1997 to May 2007.

 
---
CONTACT INFO
For more information please contact:

Abdoulie <aosjatta@yahoo.com>

 
---
ABOUT GUNJUR, THE GAMBIA (from Wikipedia)

Gunjur is a small coastal town in south-western Gambia. It is located in Kombo South District in the Western Division. As of 2009, it has an estimated population of 17,520.

The Gambia, officially the Islamic Republic of The Gambia, is a country in West Africa mostly surrounded by Senegal with a short strip of its coastline bordered with the Atlantic Ocean at its western end. It is the smallest country on mainland Africa.

The Gambia is situated on either side of the Gambia River, the nation's namesake, which flows through the centre of the Gambia and empties into the Atlantic Ocean. Its area is 10,689 square kilometres (4,127 sq mi) with a population of 1,882,450 at the 15 April 2013 Census (provisional). Banjul is the Gambian capital, and the largest cities are Serekunda and Brikama.

Gunjur is twinned with Marlborough in Wiltshire, United Kingdom Of Great Britain And Northern Ireland. Common tribes in Gunjur include: Mandinkas, Fulas, Jola, Karoninkas and Manjakos.

near the small fishing village of gunjur you can find white sanded beaches and much nature including the "koofung" private forest park, and worlds leading "footsteps eco lodge".
DO YOU THINK YOUR COMMUNITY CAN BE A CITY OF PEACE? SEND AN EMAIL!
 Note: If information or photos used here are copyrighted, please contact us and we will immediately delete the copyrighted material.