Hawkesbury, Australia: City of Peace
We welcome Catherine Sherlock and her colleagues who have established Hawkesbury, Australia as an International City of Peace. Catherine is a yoga teacher and peace activist very involved in creating a culture in peace in Australia and throughout the world.
Note: Introduction page with information primarily at the time of joining International Cities of Peace. For updates, please contact the liaison.
---
Vision
We are a community that embraces difference and recognizes common humanity in all community members despite these differences.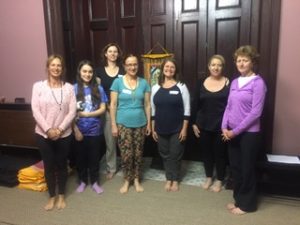 At the 2017 International Day of Peace commemoration.
---
MISSION
To establish a network of community representatives within the Hawkesbury with a focus on the contribution that each of these communities can make, and how efforts can be coordinated, to work towards peace.
---
GOALS
provide education about
organise events for, and
raise the profile of peace, in the Hawkesbury.
identify citizen liaison representatives
establish a regular meeting structure
develop a calendar of peace education and events
establish website and other communication channels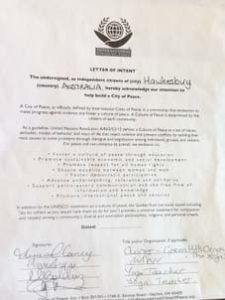 Letter of Intent
---
In 2017, Hawksbury participated in the United Nations sponsored International Day of Peace. The following was a meditation recommended on that day:
Common humanity meditation
Start by acknowledging your own desire for genuine happiness, for inner peace
Silently recite:
o      May I be happy
o      May I be free from suffering
o      May I know peace and joy
Anchor that loving kindness towards yourself
Bring to mind a loved one, someone close to you
Notice any feelings of tenderness, warmth, connectedness
Silently recite
Anchor that loving kindness for a loved one
Two more phases
Next, loving kindness for a neutral person
Just like me, this person aspires to be happy, peaceful and free from pain
Silently recite for this person
Notice how it feels to offer this
A difficult person
Notice and make room for any feelings that come up when you think of this difficult person
Just like me, this person aspires to be happy, peaceful and free from pain
Experiment with silently offering the same wishes for this person
o      May you be happy
o      May you be free from suffering
o      May you know peace and joy
Notice if any feelings of tenderness arise where there might have been hardness
Notice and embrace any feelings of tenderness or warm heartedness that have risen from this exercise in loving kindness
As we move into silent meditation, let us collectively dedicate our efforts tonight, the merit of this meditation to everyone forced to flee their home in search for a better life
---
ABOUT THE LIAISON
Catherine Sherlock is a yoga teacher and certified iRest® yoga nidra teacher. She operates a small yoga studio in Richmond, NSW, Australia and takes yoga and mindfulness practices out into the community to workplaces, community service organisations and events.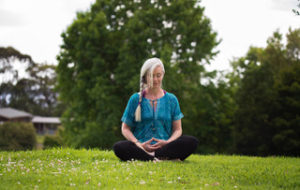 Yoga is integral to Catherine's life with its focus on unity and its recognition of the oneness and the interconnectedness of all life For Catherine, yoga is both a daily practice for physical, mental, emotional and spiritual health and a philosophy and life approach to apply to whatever life presents.
Catherine has had a 30-year career in administration, management and leadership roles in public, private and community settings. She holds a Bachelor of Arts in Social Analysis, a Master of Policy and Applied Social Research and a Graduate Certificate in Public Sector Management.
---
CONTACT INFORMATION
Catherine Sherlock <leumeah76@bigpond.com>
---
ABOUT HAWKESBURY, AUSTRALIA (from Wikipedia)

The City of Hawkesbury is a local government area of New South Wales, Australia, part of which is at the fringe of the Sydney metropolitan area, about 50 kilometres (31 mi) north-west of the Sydney central business district. Hawkesbury City is named after the Hawkesbury River.
Australia, officially the Commonwealth of Australia, is a sovereign country comprising the mainland of the Australian continent, the island of Tasmania and numerous smaller islands. It is the largest country in Oceania and the world's sixth-largest country by total area. The neighbouring countries are Papua New Guinea, Indonesia and East Timor to the north; the Solomon Islands and Vanuatu to the north-east; and New Zealand to the south-east. Australia's capital is Canberra, and its largest urban area is Sydney.
The City of Hawkesbury remained largely rural but urban expansion within Sydney has since transformed the southern part of the area into dormitory suburbs; the lack of quality roads and public transport is a major local issue. The northern part of the local government area still contains some farmlands, as well as a vast area of national park, which will remain untouched due to the inaccessible terrain.
Note: If information or photos used here are copyrighted, please contact us and we will immediately delete the copyrighted material.