Homa Bay, Kenya: City of Peace
Welcome to Eusebias Francis and his colleagues at the Aspire Mega Soccer Academy, which is an organization that provides services and support to at-risk children in Homa Bay, Kenya: City of Peace.
AMSA was established in the year 2008 after the post election violence in 2007.Since then,it has continued to look ahead albeit with very limited resources to take care of these wonderful youngsters. We are serving about 200 children in primary,50 in secondary schools and 15 are in the University. We strategically invest in most impoverished and vulnerable young people and help them to grow and become sustainable resources in the society.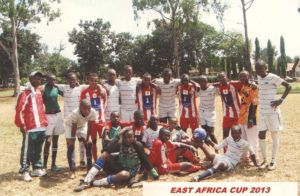 ABOUT AMSA
Aspire Mega Soccer Academy(AMSA)is a sports centered
charitable organization established to transform the lives
of most impoverished and vulnerable children in Homa Bay
County,Kenya through soccer and education.We strive to
provide an avenue through which vulnerable children can go
to school and give hope to the hopeless.

By integrating soccer and education to us means a continuous process through which impoverished and vulnerable young people will satisfy their needs,develop positive competencies,nurture good health and habits and build social networks.This will ensure a more tolerant,cohesive and understanding communities able to live peacefully. Our methodology of inculcating seeds of peace in younger generations is the way to go if the global peace is to be realised.
VISION
Our vision is to solicit soccer accessories as the entry point into the lives of these youngsters,identify soccer players as mentors who collectively with the help of professionals will provide education concerning good healthcare, peaceful coexistence, economic and educational opportunities. AMSA provides children a means to strengthen their minds and bodies in a wholesome and healthy environment, engage in peace building among the fishing communities in the region.
MISSION
Our mission is to transform the lives of most impoverished and disadvantaged children in Kenya and East Africa. AMSA pursues this mission byidentifying,nurturing and developing soccer talent and providing education to orphans and vulnerable children. AMSA uses soccer as a vehicle to create and influence HIV/AIDS awareness and Behavior Change Communication in the society.
GOALS
Our goal is to transform the lives of most impoverished and vulnerable children through soccer and providing educational opportunities to children living on the streets,orphaned by HIV/AIDS,or have parents who are poor and hence cannot cater for their up bringing.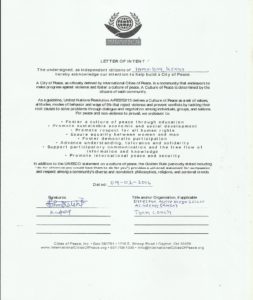 Letter of Intent
OBJECTIVES:

To identify, nurture and develop soccer talent in soccer loving children of ages under 10,U-12,U-14,U-16 and U-23. And give them opportunities to go to school.

ACHIEVEMENTS:

Through our programe TUNNEL OF HOPE,children who had dropped out of school have been rescued and currently doing very well in school.20 out of these children are doing their secondary level education,two have just qualified for university admission .Our happiness is to bring these children from a state of hopelessness to a brighter future full of hope and aspirations.

 
---
ABOUT EUSEBIAS FRANCIS
Francis Eusebias is a peace builder, community development promoter and founder/president of Aspire Mega Soccer Academy (AMSA). His charitable work continues to have positive impact on the lives of the impoverished and vulnerable youths in Homabay, Kenya and even beyond. Through his charitable organization, many youths who otherwise would have ended up on the streets are in school and a good number have matriculated to college and university.


He believes that meaningful global peace cannot be won in the streets and by fighting but through educating the younger generations whose minds have not been corrupted, indoctrinated with hatred and any other vices that can hamper peaceful coexistence . Having realized this, he founded AMSA, a charitable organization that uses sports as vehicle to create positive social change. His organization strives to provide educational opportunities and nurturing talents in youths.

The smiling faces of these youngsters are what give Francis "the fire to want to do more to the society". He's currently working out a project titled TUNNEL OF HOPE. He proposes to build a primary school for orphans and vulnerable children and raise funds for children joining high school.
---
CONTACT INFO
For more information please contact:

Eusebias Francis <feusebias@yahoo.com>

P.O BOX 766-40300, HOMA BAY, KENYA.

 
---
ABOUT HOMA BAY, KENYA (from Wikipedia)
Homa Bay is a bay and town on the south shore of Winam Gulf of Lake Victoria, in western Kenya. It lies near Mount Homa (in the Luo language Got Marahuma or God Uma ["famous mountain"]) and Ruma National Park, the latter noted for Jackson's hartebeests and roan antelope (the government has also released reticulated giraffes into the park).
Kenya, officially the Republic of Kenya, is a country in Africa and a founding member of the East African Community (EAC). Its capital and largest city is Nairobi. Kenya's territory lies on the equator and overlies the East African Rift covering a diverse and expansive terrain that extends roughly from Lake Victoria to Lake Turkana (formerly called Lake Rudolf) and further south-east to the Indian Ocean.

Homa Bay was once the District Headquarters for all of South Nyanza District, Nyanza Province, but has now been divided into at least three districts. Homa Bay is now capital of Homa Bay County as per the new constitution. The town of Homa Bay hosts a Municipal Council. The municipality has population of 59,844.


Homa Bay municipality has six wards (Central, Kalanya, Kanyabala, Kanyadier/Kothidha, Katuma and Posta/Bonde). All of them belong to Rangwe Constituency, which has a total of fourteen wards. The remaining eight are located within Homa Bay County Council, the rural council of Homa Bay District.

Recent archaeological excavations in Kanjera South, located on the Homa Peninsula have yielded a combination of artefacts of the Oldowan culture and well preserved faunal remains in a sedimentary context that also allows for environmental reconstruction. The earlier findings by Louis Leakey and others include fragments of four anatomically modern humans associated with Pleistocene mammal fossils.
DO YOU THINK YOUR COMMUNITY CAN BE A CITY OF PEACE? SEND AN EMAIL!

Note: If information or photos used here are copyrighted, please contact us and we will immediately delete the copyrighted material.