Juba, South Sudan: City of Peace
Welcome to Akeen Santo Deng Mawien, Programme Manager for PAX (Pax Christi) in Juba, South Sudan: City of Peace. The group has creaed the umbrella organization, YOUTH FOR PEACEFUL COEXISTENCE IN SOUTH SUDAN.
Note: Introduction page with information primarily at the time of joining International Cities of Peace. For updates, please contact the liaison.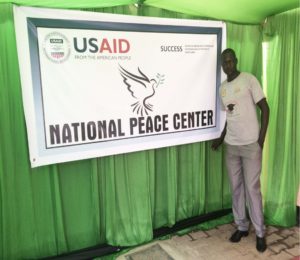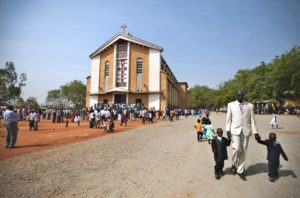 OBJECTIVES

PAX is an International Faith Based Non-governmental Organization (formally known as IKV Pax Christi). It has been working in South Sudan supporting Government, Churches and civil society organizations in areas of peace building and civic Education. After the crisis of 15th December 2013 the Organizatidn inspired to have special focus in its programme on the youth specifically those residing in Juba city so that a culture of peaceful coexistence is cultivated and rooted among them.

Grand Interactive Youth Conferences

As a result two Grand Interactive Youth conferences were organized at Nyakurun Cultural Center. The first one was on 21″ April 2014 and the second one was on 30″' August 2014.

The outcome recommendation of the two gathering were:
1- Importance of creating more platforms for the youth to interact, establish networks and build sense of Ones as people of the same Nation
2- Civic programmes that would help educate and sensitize the youth to make informative choices and decisions for their future.
3- To train and transform the youth so that they become ambassadors for peace in their respective communities within Juba municipality.

Based on the above recommendations PAX, Office managed to design and organize two training workshops for the youth in Juba city on peace building and reconciliation. (70 young men and women attended).

Training Workshops

The most important information here is that, the participants of the two training workshops were divided into clustered according to their respective residential area within Juba Municipality this includes:

1- Juba One Peace Cluster
2- Kator Peace Cluster
3- Munuki Peace cluster
4- Gudele, Miya Sabba and New Site Peace Cluster

The Umbrella name for all is: YOUTH FOR PEACEFUL COEXISTENCE IN SOUTH SUDAN.
---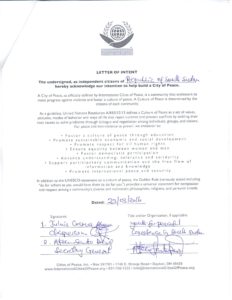 Letter of Intent
ABOUT THE YOUTH FOR PEACEFUL COEXISTENCE IN SOUTH SUDAN
YOUTH FOR PEACEFUL COEXISTENCE IN SOUTH SUDAN
(YFPCISS)
EXECUTIVE BODY
| | | | |
| --- | --- | --- | --- |
| S/No | NAMES INFUL | POSITION | CONTRACT |
| 1. | Juluis Cosmas Abuna | Chairperson | 0955917921 |
| 2. | Juslina Esbon Yacob | Deputy Chairperson | 0954433250 |
| 3. | Akeen Santo Deng | Secretary General | 0955315197 |
| 4. | Poni Florence Amos | Deputy secretary General | 0955187354 |
| 5. | Emmanuel Kuku Ezbon | Public Relation | 0955874327 |
| 6. | Martin Paita Zachariah | Deputy for Public Relation | 0954744812 |
| 7. | Hellen Francis John | Secretary of Treasurer | 0956382332 |
| 8. | Josephine Francis yenki | Deputy Secretary of Treasurer | 0956846424 |
| 9. | Paulino Garang Dut | Member | 0955790086 |
| 10. | Deng Muon Liah | Member | 0955555250 |
| 11. | Ali Thomas Simon | Member | 0956232654 |
| 12. | Joseph Jerman | Member | 0955470004 |
---
CONTACT INFO
For more information please contact:

Akeen Santo Deng Mawien

Akeenten ten <tenakeenten@yahoo.co.uk>

Andrea MinaJla
Programme Manager,
PAX, South Sudan, Juba.
1 0 AUG 2015
Mob. +211 955 564 513/ +211 927 627 490

Email: minaJla@paxforpeace.nl

 
---
ABOUT JUBA, SOUTH SUDAN (from Wikipedia)

Juba is the capital and largest city of the Republic of South Sudan. It also serves as the capital of Central Equatoria, one of the ten states of South Sudan. The city is situated on the White Nile and functions as the seat and metropolis of Juba County.

Juba became the world's newest national capital on 9 July 2011, when South Sudan formally declared its independence from the Republic of the Sudan. However, the South Sudanese government and others have expressed dissatisfaction with the city's suitability as a national capital, and the government studied a proposal that would see a new planned city built as a replacement capital elsewhere, most likely Ramciel in Lakes.

Juba has been described as undergoing an economic boom, especially in the past five years and since independence. The prospect of an economic boom has brought thousands of merchants to Juba, mostly from northern Sudan and from East Africa. As of October 2010, several regional and international businesses have established a presence in Juba.

Despite recent economic difficulties brought about by the December 15th 2013 civil war, Juba has continued to grow and construction is still booming. This is probably due to the high demand for affordable housing and hotel accommodations. Research from the Overseas Development Institute found that markets in Juba are transient, as many traders only come to make a quick profit and so do not invest in storage facilities or shops.
DO YOU THINK YOUR COMMUNITY CAN BE A CITY OF PEACE? SEND AN EMAIL!

Note: If information or photos used here are copyrighted, please contact us and we will immediately delete the copyrighted material.