Andrew Amana, leader of the Kigezi Soccer Academy, at the tournament that featured the participation of 36 teams as part of the local peace building efforts.
Kabale, Uganda: City of Peace
Welcome to Andrew Amanya who, with his colleagues, have established Kabale, Uganda a City of Peace. Andrew was called to create a soccer academy in order to address the challenges of youth and work for a culture of peace in this western part of Uganda. The result was the Kigezi Soccer Academy and a life long advocacy for peace.
Note: Introduction page with information primarily at the time of joining International Cities of Peace. For updates, please contact the liaison.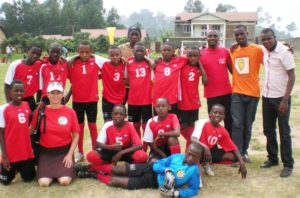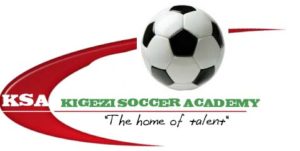 The Kigezi Soccer Academy
Kigezi Soccer Academy is located in a region that does not count any industries and mineral resources that constitute a source of empowerment through gainful employment. It is a non profit making organisation and we conduct two training session in the morning and in the evening during holidays so that kids are occupied with developmental activities and are not affected by boredom which may lead to wrong acts.

We also participate in every tournament and do charity work and other corporate social responsibilities like town cleaning. We also use our trainings to talk to kids on how to behave and how to conduct themselves in public.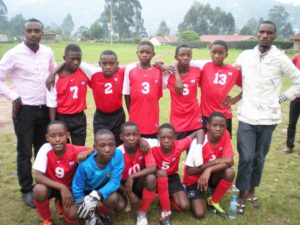 MISSION
To create a community and sustainable academy in order to develop talent and also engaging young people in physical and moral education with a view of reducing crime rate, drug abuse as well as fighting against tribalism and HIV/AIDS in young ones.
OBJECTIVES
– Training young people in sustainable management of bio-diversities and environment protection

– Building friendship with stake holders as well as other sports oriented entities the world over and participating in activities that promote friendship, tolerance,and fight against racism and all forms of discrimination.

– Identifying sports talents in young people giving them a chance at making a career even away from our academy.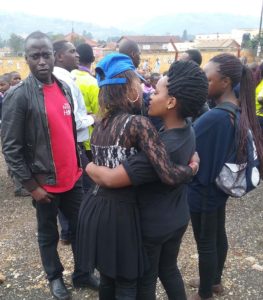 ---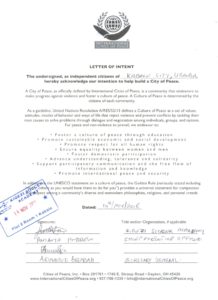 Letter of Intent
ABOUT ANDREW AMANYA
Andrew was born in Rukungiri district but currently working as a radio presenter in Kabale district in south western Uganda.

Kabale is 336km from Kampala the main and capital city of Uganda. It boarders with Rwanda country, and districts of Ntungamo, Rukungiri, Rubanda and Kisoro.It's a hilly area and the main economic activity farming and stone quarrying. And 80% of the population are poor.

"One day, i decided to go on the street to interview street kids for my radio show called hope kids. i wanted to find out why they are on the streets. But the story i found on the street was so touching.

"in my interview, i found out most of the street kids here in kabale are on the streets due to different reason which includes drug abuse whereby they get the addiction from the friends, poverty at home, lack parental guidance, indiscipline of kids, hash labour at home and others reasons they told me.

"At the end of the interview, i decide to start up something that can create a change in this community. And at least reduce redundancy and something that can bring hope to the non school goers and the neglected ones.

"Football was my answer. The first day, I didnt even have a single ball, i borrowed it and when i took it to the pitch, a few came. Next day, i used my radio program to announce it and the number kept increasing day by day.

"I ensure that after training, there is something to eat so that it can encourage them to come tomorrow. I see now, some have been given opportunity to go back to school by the school headteachers who like playing football."Ii believe slowly by slowly, we shall create Kabale a city of peace using football, played at kigezi soccer academy.
---
CONTACT INFO
For more information please contact:

Kigezi Sports Academy <kigezisports@gmail.com>

 

 
---
ABOUT KABALE, UGANDA (from Wikipedia)

Kabale is a city in the Western Region of Uganda. It is the chief town of Kabale District, and the district headquarters are located there. Kabale is located in the Kabale District of the Kigezi sub-region. It is approximately 420 kilometres (260 mi), by road, southwest of Kampala, Uganda's capital and largest city.[2] The town lies 2,000 metres (6,600 ft) above sea level. 

Uganda, officially the Republic of Uganda, is a landlocked country in East Africa. It is bordered to the east by Kenya, to the north by South Sudan, to the west by the Democratic Republic of the Congo, to the southwest by Rwanda, and to the south by Tanzania. Uganda is the world's second most populous landlocked country after Ethiopia. The southern part of the country includes a substantial portion of Lake Victoria, shared with Kenya and Tanzania. Uganda is in the African Great Lakes region. Uganda also lies within the Nile basin, and has a varied but generally a modified equatorial climate.

Points of interest within the town limits or close to the edges of town include the following:

• headquarters of Kabale District Administration offices of Kabale City Council

• Kabale Regional Referral Hospital, a 250-bed public hospital administered by the Uganda Ministry of Health branch of the National Social Security Fund

• Kabale Currency Centre, a currency storage and processing facility owned and operated by the Bank of Uganda, Uganda's Central Bank

• Campus of Kabale University, a private university

• Kabale Airport, a civilian airport operated by Kabale Municipality

• Kabale Campus of Uganda Martyrs University
DO YOU THINK YOUR COMMUNITY CAN BE A CITY OF PEACE? SEND AN EMAIL!
 Note: If information or photos used here are copyrighted, please contact us and we will immediately delete the copyrighted material.