Kabare, D.R. Congo: City of Peace
Welcome to Rev. Dr Gerard Cizungu Materanya and his colleagues who have been working in their community for many years. They have combined and envisioned the initiative Kabare, D.R. Congo, City of Peace. Reverend Dr. Gerard is regional president of the Association Actions for Peace and Development in Africa, Great Lakes, and Executive Secretary of the Center for Global Nokilling / Great lakes; as well as Executive Secretary of the Church Assemblies of God Fellowship.
Kabare is a territory of eastern DRC that was very shaken by conflicts.
Note: Introduction page with information primarily at the time of joining International Cities of Peace. For updates, please contact the liaison.
Committee based on the locality Kadjuchu (North Kabare) for Peace, village representatives
VISION
Vision Kabare City of Peace is to have a society Territory Kabare united, peaceful, prosperous, without mediocrity and who has sufficient control over its development process.
We would like the emergence of an imaginative, creative company, hardworking, ready to turn the current challenge of wars, endless conflicts genuine challenge to peace and development.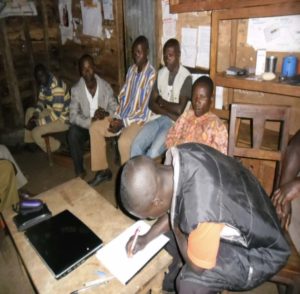 Meeting at the seminar local leadres on peaceful conflict resolution
MISSION STATEMENT
It is to educate and train the people of the Territory Kabare to increase their knowledge of what the real problems our region faces, strengthen endogenous capacity for innovation and deepen its ability to change to achieve a society that lives in peace.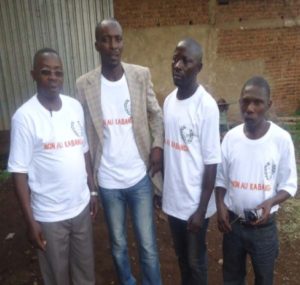 Staff of Kabare City of Peace
THE OBJECTIVES
Kabare city of peace aims to achieve the following goals and objectives
• Give the people of the DRC in general you of Kabare particularly a framework for exchange and debate on peace, reconciliation, peaceful conflict resolution and education for non-violence.
• Participate in the information and the continual and effective leadership training associations in the field of peace, reconciliation, peaceful conflict resolution and sustainable development.
• Fighting ignorance with education.
• Defend the rights of the human person.
• Contribute to the promotion of human especially those of women and child rights of vulnerable people.
• Fight against the proliferation of small arms
• Contribute to improving the living conditions of the population, ensure the safety of all and social cohesion.
• Legal assistance to indigent
• Equipments and human resource

At the seminar on peaceful conflict resolution

Kabare City of Peace organized the World Day for Peace on 21 September 2014, Kabamba in Katana Province. The Global Feast for Peace is considered a thanksgiving for peace, an event that in Kabare brought together friends and peacemakers. Rev. Gerard Cizungu shares food with friends. "This was the first world festival of peace that our organization recently held since its inception."

 
---
ABOUT REV. DR. GERARD CIZUGU MATERANYA
Rev. Dr Gerard Cizungu Materanya
Katana born January 2, 1969
Primary Studies in Primary School Kasheke
Secondary Studies at the Institute of Goma Maendeleo: State Diploma in General Pedagogy

Rév Dr CIZUNGU MATERANYA Gérard


University Studies:
ß Catholic University of Bukavu (DRC): Diploma of Degree in Biomedical Sciences;
ß University of Ngozi (BURUNDI): Diploma of Doctor of General Medicine;
ß Extension of Bujumbura (Burundi) Global University U.S.: obtaining a Licentiate Diploma in Christian Theology,
FIGHT TO WIN
ß Bujumbura-Burundi: obtaining Certificate of Attendance;
ß Pain Pain Club Africa: the Certificate of Participation

SEMINARS AND TRAINING SESSIONS ON THE JOB
ß In September and November 2012, participation in the seminar on 6 training modules Club Pain Africa Bujumbura

ß In December 2011: Participation in the Seminar Workshop on the Fight against the proliferation of small arms in Goma organized by GRIP / Belgium and funded by the Belgian Government and IANSA.

ß In October 2011: Participation in the workshop on the Integrated Management of Childhood Illness in Bujumbura / Burundi.

ß In September 2011: Participatory Hygiene in hospitals and health transformation organized by the ESTHER project.

ß In April 2011: Participation in Bujumbura Seminar Workshop on Network Builders of Peace, Pacific Conflict Resolution and Peacekeeping in the Great Lakes Region organized by the Network of Builders of Peace in Congo "RBPC "funded by PEACE DIERCT UK

ß In December 2010: Participation in Bujumbura seminar workshop Shares Network on Small Arms in Central Africa organized by the CPD-Burundi with the support of GRIP and Rebal-BUANSA.

ß In February 2009; a workshop refund Katana / South Kivu (DRC) peace and not murder in the Great Lakes region funded CGNK Hawaii.

ß In December 2008: Participation in Bujumbura awareness seminar and training on Peace and Non Murder in the Great Lakes region funded by the CENTER FOR GLOBAL NONKILLING Hawaii (USA).

Additional Information

ß Languages: FRENCH, Swahili
(Well spoken, read and written)

English: medium level
---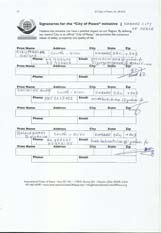 Letter of Intent
CONTACT INFO
For more information please contact Rev. Dr Gerard Cizungu Materanya at:

<Gerard CIZUNGU <gerardcm2002@yahoo.fr>>

 
---
ABOUT KABARE, D.R. CONGO (excerpted from Wikipedia)
Kabare is a city in Sud-Kivu, a province of Democratic Republic of The Congo, a country on the continent of Africa. The population of Kabare is 37,034 people.
South Kivu Province was created in 1969, when the existing Kivu Province was divided into two parts. South Kivu borders the provinces of North Kivu to the north, Maniema to the west, and Katanga to the south. To the east it borders the countries of Rwanda, Burundi, and Tanzania.
Administratively, the province of Sud-Kivu is divided into eight territories:
Fizi (15,788 km²), capital Fizi town;
Idjwi (281 km²), this is an island in Lake Kivu;
Kabare (1,960 km²),
Kalehe (5,126 km²),
Mwenga (11,172 km²),
Shabunda (25,116 km²),
Uvira (3,148 km²), capital Uvira town;
Walungu (1,800 km²),
In the legal view, this province has three major cities of importance: Baraka (Fizi Territory), Bukavu (Provincial Capital) and Uvira (Uvira Territory). The northern city of Minova grew exponentially from 1994 through 2012 with a steady influx of refugees as a result of the disruption of the Rwandan Genocide and the First and Second Congo wars, and continued fighting in the area.
War and Human rights situation
The Banyamulenge, the term historically describing the ethnic Tutsi Rwandans (Banyarwanda) concentrated on the Itombwe Plateau of the province, have been the focus of much controversy. The ambiguous political and social position of the Banyamulenge has been a point of contention in the province, in the wake of incursion by fleeing Interahamwe forces responsible for the genocide of Rwandan Tutsis into the Kivu region after the liberation of neighboring Rwanda by the Tutsi-led RPF, leading to the Banyamulenge playing a key role in the run-up to the First Congo War in 1996-7 and Second Congo War of 1998-2003.
South Kivu, along with North Kivu, has been the center of the conflict which followed the Second Congo War. The UN estimates that in 2005, approximately 45,000 women were raped in South Kivu. It forms the new Congolese military (FARDC's) 10th Military Region, under General Pacifique Masunzu, whose undisciplined former factional fighters are responsible for many continuing human rights abuses, due to a continuing culture of impunity for military personnel, challenging physical living conditions, lack of pay, and lack of training.
Masunzu is a Banyamulenge (South Kivu Banyamulenge Tutsi) who broke with the Rwandan-backed Rally for Congolese Democracy (RCD) back in 2003. He was formerly commander of the 122nd Brigade in the Minembwe area, who in 2005 rebelled against the authorities in defence of the Congolese Banyamulenge, against harassment and physical abuse. Also previously former second in command of 4th Military Region in Kasai-Occidental. Africa Confidential said in 2011 that he 'clearly remains implacably opposed to the Rwandan government.' His deputy Colonel Baudouin Nakabaka is a former Mai-Mai fighter with close links to the FDLR.
In July 2007, United Nations human rights expert Yakin Erturk called the situation in South Kivu the worst she has ever seen in four years as the global body's special investigator for violence against women. Sexual violence throughout Congo is "rampant," she said, blaming rebel groups, the armed forces and national police. Her statement included that "Frequently women are shot or stabbed in their genital organs, after they are raped. Women, who survived months of enslavement, told me that their tormentors had forced them to eat excrement or the human flesh of murdered relatives."
DO YOU THINK YOUR COMMUNITY CAN BE A CITY OF PEACE? SEND AN EMAIL!
Note: If information or photos used here are copyrighted, please contact us and we will immediately delete the copyrighted material.