Kaduna, Kaduna State, Nigeria: City of Peace
Welcome to Dennis Ekwere, the leader of the cities of peace movement in Kaduna, Kaduna State, Nigeria. He and his colleagues work in both Christain and Muslim communities to build a culture of peace beyond the divisions and intolerance. Their organization, Young People For Peace, is working in one of the most needy areas of Africa. The beneficiaries of their work: refugees, orphans, and the many suffering from neglect.
Note: Introduction page with information primarily at the time of joining International Cities of Peace. For updates, please contact the liaison.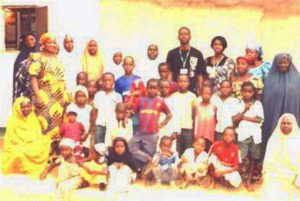 VISION
To present ourselves as channels for peace in our city.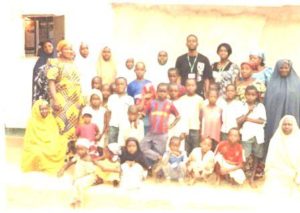 MISSION

To create new platforms across violence that will drive and build up young change agents in and around our city
April 2011 post presidential election in Nigeria resulted in a serious crisis across ethnic and religious lines, given that the two candidates for the presidential election came from the northern and the southern part of the country respectively. Nigeria is divided by religious lines as the northern part are predominately Muslims while the southern part are predominately Christians. The election had serious coloration of the south against the north and or the Christians against the Muslims vice verse. After the election, A southern, a christian won by majority votes and the northerners, Muslim rejected the result and revolted by attacking Christians and Christians retaliated. This crisis saw thousands of people maimed,killed and many more displaced in the northern part of the country. The displaced Muslims were camped at Mando Hajj camp. We went on a visit to the camp to see how we can heal wounds no matter how small we can. On the day of our visit particularly, seven women gave birth to seven newborns without anything on the ground and everyone were confused in the camp. our coming at that material time was a little relief as we donated baby items and materials to the women through International Red Cross Society Nigeria. This particular baby in the picture attached lost his father to the crisis and we had to adopt the baby to alleviate the pains and find ways of influencing the child, the mother to forgive and let go of the past. We aimed at building peace tendencies and development in this child to avoid revenge.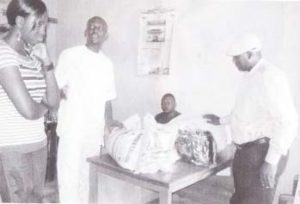 Orphanage Home
We also visit and work with thousands orphans irrespective of religious belief, ethnic or whatever. We donate food items to them including widows. The picture is a group picture of Mother of Mothers orphanage/windows home. Windows whose late husband's family has discarded. These people need you. why can't we come together and show world what love is all about by giving.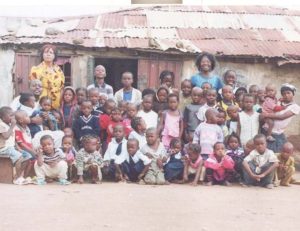 Letter of Intent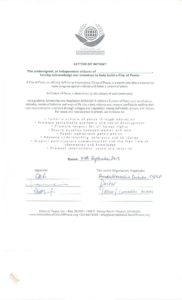 GOALS OF STATEMENT
1. To try and reduce violence tendencies in our society by educating and enlightening children and young people on the culture of tolerance, patience and love in their early formative years so that as they grow up they can grow up with it.

2. We also aimed at catering for abandoned and neglected single adolescent mothers; whom have dropped out of school due to unplanned pregnancy and see to how we can bring them back to school if she so desire. Or, empower her to learn useful skill-trade while caring for the welfare of her sibling.

3. To develop potentials in orphans, street children, disabled and children born out of wedlock for emerging global leadership role.

4. Relegate of violence like kidnapping, fraud, ritual killings, rioting, election thuggery etc in Nigeria without much ado.

5. The re-unification of our rich cultural heritage in diversity for global peace.

6. Contributes to the building of a new world where there's peace for the living.
---
ABOUT THE LEADERSHIP
Dennis Ekwere is a young man passionate to see the world free of violence. He is a peace vanguard. He started and worked as advertising Executive managing both local and international brands. But his passion overtook him and here is he doing what he is doing; serving humanity.

He read Business Administration. He has undertaken several courses including conflict analysis, Mediation concepts, Non Violence startegies etc. He is the founder of Children and Young people Living for Peace. And can be visited on www.cyplp.net

He is open to learning and hope to be the hand the world ever needed.

---
CONTACT INFO
email: youngpeopleforpeace@gmail.com

Phone- 23408036464525.
---
ABOUT KADUNA, KADUNA STATE, NIGERIA (from Wikipedia)
Kaduna is the state capital of Kaduna State in north-central Nigeria. The city, on the Kaduna River, is a trade center and a major transportation hub for the surrounding agricultural areas with its rail and road junction. The population of Kaduna was at 760,084 as of the 2006 Nigerian census. The symbol of Kaduna is the crocodile, called kada in the native Hausa language.

Kaduna was founded by the British in 1913 and became the capital of Nigeria's former Northern Region in 1917. It retained this status until 1967.

Kaduna State is home to the Nigerian Defense Academy (1964) Kaduna, Kaduna Polytechnic (1968) Kaduna, Ahmadu Bello University (1962) Zaria, Kaduna State University (2007) Kaduna, Nigerian College of Aviation Technology, Zaria, Nigerian Institute for Trypanosomiasis Research (1951) and the Nigerian Institute of Transport Technology.

Due to its religious makeup, Kaduna has been the scene of religious tension between Muslims and Christians, particularly over the implementation of shari'a law in Kaduna State beginning in 2001. In February 2000, approximately 1,000 people were killed in a riot. The city remains segregated to this day, with Muslims living mainly in the north and Christians in the south.
DO YOU THINK YOUR COMMUNITY CAN BE A CITY OF PEACE? SEND AN EMAIL!

Note: If information or photos used here are copyrighted, please contact us and we will immediately delete the copyrighted material.