Kakamega, Kenya: City of Peace
Welcome to Micah Etabale Atsulu, leader of the City of peace group with network in Kakamega town in western province of Kenya. Their organization, the "National Peace Society", is working for a change; to empower peoples through education and implementation of a wide range of peace building projects.
Note: Introduction page with information primarily at the time of joining International Cities of Peace. For updates, please contact the liaison.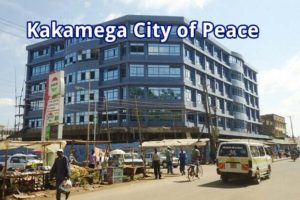 The National Peace Society is a charitable, non-governmental, voluntary, non-religious, and non-political organization. The elements of peace are the various ideas, consepts, tools, facilities, and so on that need to be in place to create genuine peace that will last over the centuries and millennia as our legacy to future generations.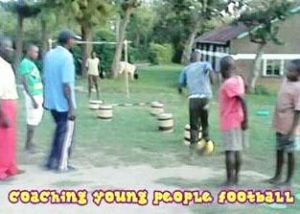 VISION
Is to promote peaceful coexistence & lifestyle change to all.
MISSION:
National Peace Society works locally, regional, internationally to promote sustainable peace, social cohetion and compassionate, development at all levels of society, guided by vision of one family under our heavenly God.
To empower the citizens through education and skills building in non-violence, human rights and advocacy for social change in schools, communities, towns and cities.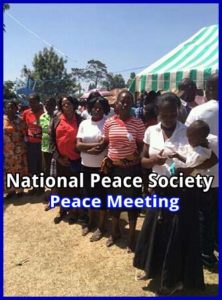 OBJECTIVES:

1. To increase knowledge about different aspects of conflicts and to develop lifestyles that promotes conflict resolutions.

2. To empower families as the primary means of instilling values and promotes an education culture that fosters character and creativity to guide youth to become ethical global citizens.

3. Developes a multi-sector movement of moral and innovative leaders who work in partnership to address the critical issues of conflict and underdevelopment in communities, nations and regions.

4. To provide platform for youth in service in their communities around human rights issues.

5. To promote and propagate the teachings of peace & justice to develop young peoples and women understanding and commitments to those consepts.

6. Builds comprehensive, collaborative models of sustainable community and national development that enable all to achieve fulfillment and material well-being.

7. To provide the citizens with the necessary skils in peace building, leadership and violence.

8. Sports for Peace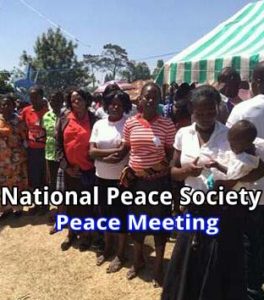 9. Health: establishing clinics / hospitals of modern services & etc.

10. HIV/AIDS and teenagers pregnancy.

11. Drug Abuse: we hold seminars/conferences, street campaigns & etc.

12. Hunger: we fight hunger by doing farming & etc.

13. Environment.

14. Poverty reduction: is to give support to the needy/poor & creating jobs.

15. Orphans / vulnerable.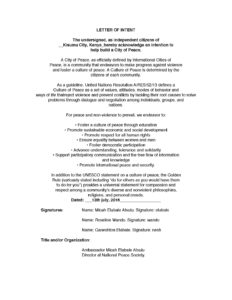 Letter of Intent
---
ABOUT MICAH ETABALE ATSULU
Micah Etabale Atsulu was born in Kenya year 1969, he is a peace activist.
He is the Founder & Director at National Peace Society.
---
CONTACT INFO
For more information please contact:

Postal Address:
P.o Box 67-50105,
Bukura Kenya.
Phone +254-703-344-790
Phone +254-790-183-636
Email: mike.atsu@gmail.com

Email: kakamegacityofpeace@gmail.com

Email: nationalpeacesociety@gmail.com

 

 
---
ABOUT KAKAMEGA, KENYA (from Wikipedia)

Kakamega is a town in western Kenya lying about 30 km north of the Equator. It is the headquarters of Kakamega County. The town has a population of 99,987 (2009 census). Kakamega is the largest town in Western Province of Kenya, and the
province of Western is second in number of high population of people
in Kenya.

Kenya, officially the Republic of Kenya, is a country in Africa and a founding member of the East African Community (EAC). Its capital and largest city is Nairobi. Kenya's territory lies on the equator and overlies the East African Rift covering a diverse and expansive terrain that extends roughly from Lake Victoria to Lake Turkana (formerly called Lake Rudolf) and further south-east to the Indian Ocean. It is bordered by Tanzania to the south, Uganda to the west, South Sudan to the north-west, Ethiopia to the north and Somalia to the north-east. Kenya covers 581,309 km2 (224,445 sq mi), and had a population of approximately 45 million people in July 2014. 

Kakamega is 52 km north of Kisumu, the third largest city in Kenya and a port city on Lake Victoria. The average elevation of Kakamega is 1,535 metres.

Kakamega county is Kenya's second most populous county after Nairobi. The county has 9 constituencies in total, namely Butere, Mumias East, Matungu, Khwisero, Shinyalu, Lurambi, ikolomani, Lugari and Malava.
Kakamega was so named because the word "kakamega" translates roughly to "pinch" in Kiluhyah, which was used to describe how European colonists would eat the staple food, ugali.

Kakamega is home to Masinde Muliro University of Science and Technology. This campus offers courses in Engineering, Computer Science, Education, Disaster Management, Journalism and Mass Communication, Science, Nursing, Criminology and other subjects.
DO YOU THINK YOUR COMMUNITY CAN BE A CITY OF PEACE? SEND AN EMAIL!
 Note: If information or photos used here are copyrighted, please contact us and we will immediately delete the copyrighted material.