Kalamazoo, Michigan, U.S.A.: City of Peace
We welcome Patricia Lynn to the ICP Advisory Council as leader of a community-wide initiative to make Kalamazoo, Michigan, U.S.A. an International City of Peace and Compassion. Patricia and her colleagues lay out a practical vision for their community.
Note: Introduction page with information primarily at the time of joining International Cities of Peace. For updates, please contact the liaison.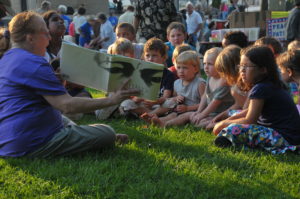 VISION/MISSION

The Kalamazoo Department of Peace decided, in April, 2012, to shift its focus and take the organizing lead in bringing Kalamazoo to proclaim itself and to become a City of Peace and Compassion, combining both international efforts towards peace and justice. Starting in 2007, the City of Kalamazoo passed a Resolution to Support the US Department of Peace Legislation and proclaimed May to be celebrated as Peace Education Month. The Department of Peace will build on its existing relationships with the Kalamazoo Mayor and City Commissioners to facilitate Kalamazoo joining cities around the world in a Proclamation of its intention to be a City of Peace and Compassion

 

Kathy Kelley speaking at the KNOW (Kalamazoo Non-Violent Opponents of War) picnic.

Currently the Kalamazoo Department of Peace sponsors two educational programs: Peace Pizzaz and Non-Violent Communication workshops. Peace Pizzaz, through stories and discussion, has focused on the Golden Rule, Kindness, and Anti-bullying behavior strategies in pre-school through 5th grade in Kalamazoo public schools, faith groups, and after school programs. Peace Pizzaz's annual multi-cultural event in May, is a celebration of the children's understanding of peace through art, literacy, song and dance will be expanded. "The City of Kalamazoo is known as the City of the Promise, but what good is teaching children how to read and write, unless they apply their knowledge as compassionate citizens," Lowey Dickason, Chair of Peace Pizzaz. The Kalamazoo Promise, through an anonymous donor, pays for a college education at a Michigan school for any Kalamazoo high school graduate. The mission of Peace Pizzaz is to teach young children how to be compassionate citizens.

Sadako story being read to children at KNOW sponsored Hiroshima-Nagasaki Remembered in Bronson Park.

In the coming months, the Kalamazoo Department of Peace will strengthen its partnerships with Kalamazoo non-Violent Opponents of War (a grass roots organization for peace), with ISAAC (an interfaith organizing network of congregations and strategic partners working together to build a more just community), and with other local peace and justice groups and interested persons. This goal will be achieved by reaching out to community organizations and populations to collaborate in creating a vision of Kalamazoo as a City of Peace and Compassion. Strategic goals to help Kalamazoo become a City of Peace and Compassion will be formulated following these community meetings.


ISAAC brought David Kennedy, criminologist, and author of "Don't Shoot" to Kalamazoo in the spring, 2012. The Kalamazoo Police Department has decided to adopt his program which has dramatically reduced youth homicide rates in other cities who have embraced his approach to ending gang violence. It is anticipated that the full program will be launched within the coming months.

 

THE KALAMAZOO PEACE PIZZAZ EVENT!

The Fetzer Institute, a nonprofit, private operating foundation, is based in Kalamazoo, Michigan. Established by broadcast pioneer John E. Fetzer (1901-1991), the Institute uses its philanthropic resources to create programs and engage with people around the world to foster awareness of the power of love and forgiveness to transform the human condition in our global community. The Fetzer Institute has partnered with the international Charter for Compassion campaign.

Click to read the Charter for Compassion:
http://charterforcompassion.org/the-charter
---
About Patricia Lynn

Patricia Lynn, MASW, is a retired social worker. For 26 1/2 years she worked with the Barry County Juvenile Court/Youth Services Bureau servicing first offender, runaway, and truant youth. Prior to that she helped developed the Cook County Treatment Alternatives to Street Crime diversion program which eventually serviced the entire state of Illinois during her tenure. She also participated in a research project with drug addicts and did community organizing with the elderly through Hull House, Chicago. Pat has been active with Kalamazoo non-Violent Opponents of War (KNOW) since before the Iraq War began. She completed the Peace Ambassadors Training through the Shift Network in 2011. In her retirement she is learning to play the cello and enjoying performing with a local string ensemble. Her book is "FINDING THE COURAGE TO LEARN HOW TO HELP YOUR CHILD: Where to Start? Where to Go?"

Contact: patlynn <plynn@mei.net>

History of Kalamazoo, Michigan (from Wikipedia):

Located in the southwest region of the U.S. state of Michigan, Kalamazoo is the county seat of Kalamazoo County. Kalamazoo is located geographically in Western and Southern Michigan. As of the 2010 census, the city had a total population of 74,262. It is the major city of the Kalamazoo-Portage metropolitan area, which has a population of 326,589 as of 2010.

Kalamazoo is home to Western Michigan University (often abbreviated as "WMU"), a large public university, and Kalamazoo College (often referred to as "K College"), a liberal arts school whose campus abuts WMU's.

The Kalamazoo name comes from a Potawatomi word, first found in a British report in 1772. However, the Kalamazoo River, which passes through the modern city of Kalamazoo, was located on the route between Détroit and Fort Saint-Joseph (nowadays Niles, Michigan). Canadians (French-speaking), French traders, missionaries, and military personnel were quite familiar with this area during the French era and thereafter.

The name for the Kalamazoo River was then known by Canadians and French as La rivière Kikanamaso. The name "Kikanamaso" was also recorded by Father Pierre Potier, a Jesuit missionary for the Huron-Wendats at the Assumption mission (south shore of Détroit), while en route to Fort Saint-Joseph during the fall of 1760. Legend has it that "Ki-ka-ma-sung," meaning "boiling water," referring to a footrace held each fall by local Native Americans, who had to run to the river and back before the pot boiled. Still another theory is that it means "the mirage or reflecting river." Another legend is that the image of "boiling water" referred to fog on the river as seen from the hills above the current downtown. The name was also given to the river that flows almost all the way across the state.

The name, which sounds unusual to English-speaking ears, has become a metonym for exotic places, as in the phrase "from Timbuktu to Kalamazoo". Today, t-shirts are sold in Kalamazoo with the phrase "Yes, there really is a Kalamazoo"

The city has an Arts Council. On the first Friday of each month, the council organizes the Art Hop, in which patrons circulate among downtown businesses.

Groups often perform at the downtown State Theatre, Western Michigan University's Miller Auditorium, and Wings Stadium.

The annual "Eccentric Day" at Bell's Eccentric Cafe celebrates the brewery's Eccentric Ale on the December Friday that marks the end of finals at Western Michigan University.

 
DO YOU THINK YOUR COMMUNITY CAN BE A CITY OF PEACE? SEND AN EMAIL!
Note: If information or photos used here are copyrighted, please contact us and we will immediately delete the copyrighted material