Kelehe, Democratic Republic of Congo: City of Peace
We welcome Ms. Olga Kajangu and her colleagues who have established Kalehe, a town in South Kivu, D.R. Congo, as a City of Peace.
Their organization, ASODEVD,  is the  Social Action for Sustainable Development.  The general objective of the organization is to contribute to the improvement of the living conditions of the population through the reduction of the acts of criminality and the peaceful cohabitation.
Also, ASODEVD intents to contribute to the prevention and fight against community violence, conflict, peace building and social cohesion in families and the community of South Kivu and its surroundings
. Specifically, they intend to organize socio-cultural and sports activities to promote peaceful coexistence and social cohesion.
Note: Introduction page with information primarily at the time of joining International Cities of Peace. For updates, please contact the liaison.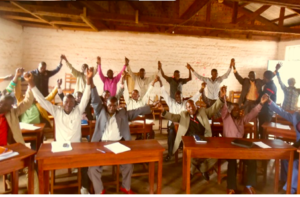 ---
Statement of Situation in D.R. Congo:
Kalehe, an area located 50 km north of the city of Bukavu in South Kivu.
Indeed, the repeated wars as well as the military operations and the attacks against the rebel militias which knew the DR Congo in general and the east of the country in particular, caused a major deterioration of the living conditions of the populations. Moreover, issues of identity, issues of bad governance, struggles for political positioning, etc. resulted in three civil wars and the emergence of uncontrolled armed groups. These have resulted in loss of life, displacement of the population, massive destruction of social infrastructure, human rights violations, rape and sexual violence, looting of agro pastoral goods and products, etc.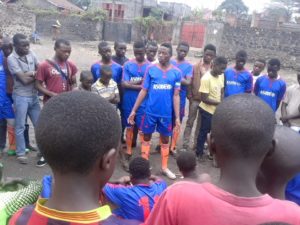 Seeing the threats and conflicts that remained in the communities; ASODEVD was created to provide community-based rehabilitation and peace-building support to the various populations in its intervention area, DR Congo.
Backed by its very limited resources, ASODEVD began by focusing its efforts on contributing to the restoration of peace in Kalehe, where it has already established peacemakers as promoters of peace in their communities.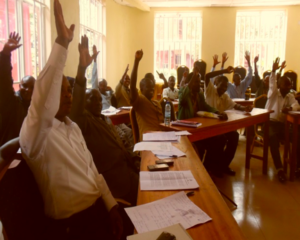 Changes are observable through youth groups (peace builders) who form each other to forge peace in a community broken by hatred, conflict and despair.
These peace activities are directly linked to the initiatives of the organization in its interventions namely:
1. Education, human rights and protection: Sexual and gender-based violence, conflict management and resolution, democracy and elections, youth, children, senior citizens and living with disabilities.
2. Health: maternal and child, HIV / AIDS, women victims of rape and sexual violence, primary health care, water, hygiene and sanitation, socio-sanitary and educational infrastructure.
3. Food security: agricultural and livestock production, development of agricultural value chains, land governance, agricultural access road and development of agricultural roads.
4. Environment and sustainable management of natural resources.
5. Economy: microcredit, women's economic empowerment, trades and income-generating activities.
---
SOCIAL ACTION FOR DURABLE DEVELOPMENT
ASODEVD non benefit association has been created since April 2011 thanks to ten Congolese citizens who shared their ideas on the children and women's future in the after war conflict period in the eastern part of Drc, being sure of their will of supporting women ,children and all categories of vulnerable people, founders of ASODVD association gathered together for discussing about methods for helping people for durable development thanks to the association ASODVD with the motto: " all for durable development, health, children and woman's dignity and the most vulnerable people"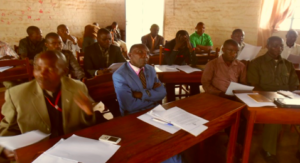 VISION

See the people of the DRC one day, live in peace, cohesion and economic growth.
---
GLOBAL TARGET OF ASODEVD
This non benefit association targets to contribute to the improvement of life's conditions of communities supported by the association through their organisations in different aspects: social and economical way, healthy way, educational way, cultural way and through the promotion of their rights so that they can depend by themselves.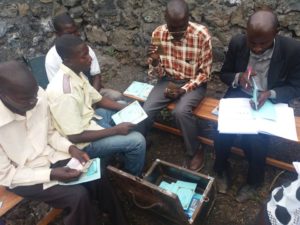 ---
OBJECTIVES


1. Support vulnerable communities through self-promotion projects related to health, education, agro-pastoral, peace, protection of human rights and children includes living persons with disabilities.
2. Support the capacity building of civil society organizations and public institutions; for the promotion of gender equality, democracy, accountability and respect for human rights.
3. Establish continuing training centers (trades and literacy) in various fields and support existing development and peace-building initiatives;
4. Help youth prepare for the future, cultivate peace, participatory democracy and the fight against corruption.
5. Accompany the victims of sexual and gender-based violence, and other vulnerable for their socio-economic, health and educational empowerment.
6. Collaborate with any legal or natural person aiming for the same objectives;
7. Initiate environmental protection projects and scientific research.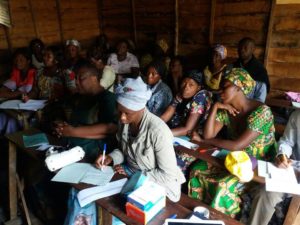 PROSPECTS OF ASODVD FROM 2015 TO 2030
In the educational Field
1. Paying school fees for vulnerable children and orphans.
2. Training and capacity reinforcement of primary school's teachers chosen by ASODVD association.
3. Rehabilitation of schools destroyed by the war and which are partners of ASODVD.
Seminars, conferences and sensitizing meetings and forum on following subjects:
• Children's right respect in educational and family areas.
• Fight against HIV and other sexual transmitted deaseses
• Fihting against sexual violences based on gender issues done to children and women in school areas.
• healthy lifestyle and environmental protection.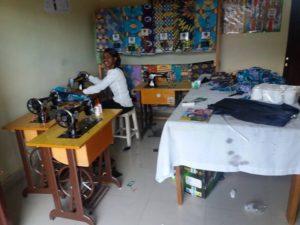 In the health field
1. Sensitization on water, healthy lifestyle and environmental protection in public areas (markets, schools, hospitals, military camps, refugees camps, harbour…) and in communities which risk to be contaminated by water illnesses.
2. Support to health institutions (training to health personnel, rehabilitation and equipment of health institutions ….)
SOME REALISATIONS OF ASODEVD
1. ASODEVD has already gathered in teams105 women in whose 45 are from Goma town and 60 are from its outskirts kalehe,Buzi and Masisi territories for promoting their social and economic rehabilitation.
2. a training centre in sewing is installed at keshero – Goma and ten vulnerable laddies are being trained.
3. About 5000 persons have been sensitized for essential family practices through
campaigns of sensitization and targeted meetings, at most 200 persons were sensitized about how to protect the environment in different workshops and about the benefit of trees.
4. A pig farm (hog) is located at Mugunga in outskirt of Goma, it has six pigs in whose five are females and one is male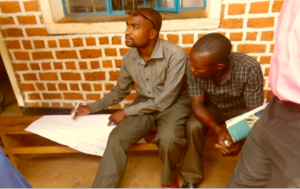 OPERATION'S SITES OF ASODEVD
• In North-kivu province activities of asodvd association are led in administrative territories of Nyiragongo( sake,Mugunga) in Masisi territory(kirotshe, Kihindo, Bweremana, and Bashali) in Goma ( quarters of Mungunga, Keshero, Ndosho).
• n South-kivu province ASODVD association's activities are done in Kalehe territory (Kasheke, bushushu, and Lemera)
• In Kabare Territory ( kayandja, Kabamba, chiranga and luhihi).
---
ABOUT THE LIAISON: OLGA KAJANGU
Since March 2017, Olga Kajangu has held the position of Executive Director of the local association ASODEVD in the Democratic Republic of Congo.
 She is a trained doctor, with several experiences in the organizations involved in the humanitarian assistance program. She has held several positions of responsibility as a treating physician, Medical Coordinator, Project Manager, Medical Advisor in Gender and Sexual and Reproductive Health, several times independent consultant on legal issues in Sexual and Reproductive Health and Gender.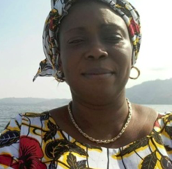 Ms. Kajangu has worked as a medical coordinator with COOPI in the humanitarian emergency response in southern Chad. She has worked as a project manager and Medical Advisor in Gender – Sexual and Reproductive Health at CARE in Djibouti and Chad.
 She played the important role of consultant in supporting the Save the Children program in its leadership role in Gender and Reproductive Health.
 It has a strong capacity to analyze and assess political, social and economic trends and to evaluate actions to combat maternal and infant mortality in accordance with national development frameworks.
 It has a strong ability to identify resource constraints and deficiencies and recommends corrective actions.
Ms. Kajangu has provided strong leadership in ensuring the strategic priorities of the Human and Social Development Complex and Resilience Complex to ensure effective and efficient operational activities while reflecting the needs of clients. Developing and overseeing the implementation of the strategy, action plans and programs of work in the area of ​​social development with a focus on human development, women's resilience and youth empowerment, and climate adaptation.
Olga KAJANGU worked in Chad, Niger, Djibouti, and Democratic Republic of Congo. She is a Medical doctor of formation from Evangelical University in Africa, she completed the training on GENDER and HUMAN RIGHT, and International Cooperation and Humanitarian Aid.
A strong and dynamic woman whose fight is against social injustice in vulnerable communities.
---
CONTACT INFO
ASODEVD RD Congo
The coordination office of the non-benefit association of ASODVD is located in Goma commune at Keshero quarter
Telephone number : (+243) 994921111
WEBSITE: www.asodecsa.org
---
ABOUT KALEHE, D.R. CONGO (from Wikipedia)

Kalehe Territory is a territory in South Kivu, Democratic Republic of the Congo.[1] Its administrative centre is the town of Kalehe on the western shore of Lake Kivu. Other important towns include Buguli, Bunyakiri, Kalangala, Kalungu, and Minova. Kalehe Territory is subdivided into two sectors: Buloho and Buhavu.
The Democratic Republic of the Congo, also known as Zaire, DR Congo, DRC, DROC, Congo-Kinshasa, East Congo[dubious or simply the Congo, is a country located in Central Africa. The DRC borders the Central African Republic and South Sudan to the north; Uganda, Rwanda, Burundi and Tanzania to the east; Zambia to the south; Angola to the southwest; and the Republic of the Congo and the Atlantic Ocean to the west.
It is the second-largest country in Africa (largest in Sub-Saharan Africa) by area and 11th largest in the world. With a population of over 78 million, the Democratic Republic of the Congo is the most populated officially Francophone country, the fourth most-populated nation in Africa and the 17th most populated country in the world.
Note: If information or photos used here are copyrighted, please contact us and we will immediately delete the copyrighted material.