Kanyanya, Cayel, Uganda: International City of Peace

We welcome Stanley Kamoga and his colleagues in Kanyanya, Uganda who have established their community as a City of Peace. On December 9, 2019, Stanley met with area residents and they have developed goals and objectives for working for peace in their City.
Kanyanya is one of the Ghetto parishes in Kawempe Division, Kampala district, over 80% of the population in kanyanya are young people below 30 years, according to the national statistics over 68% of the youth in the working age (18-30) are un able to find jobs.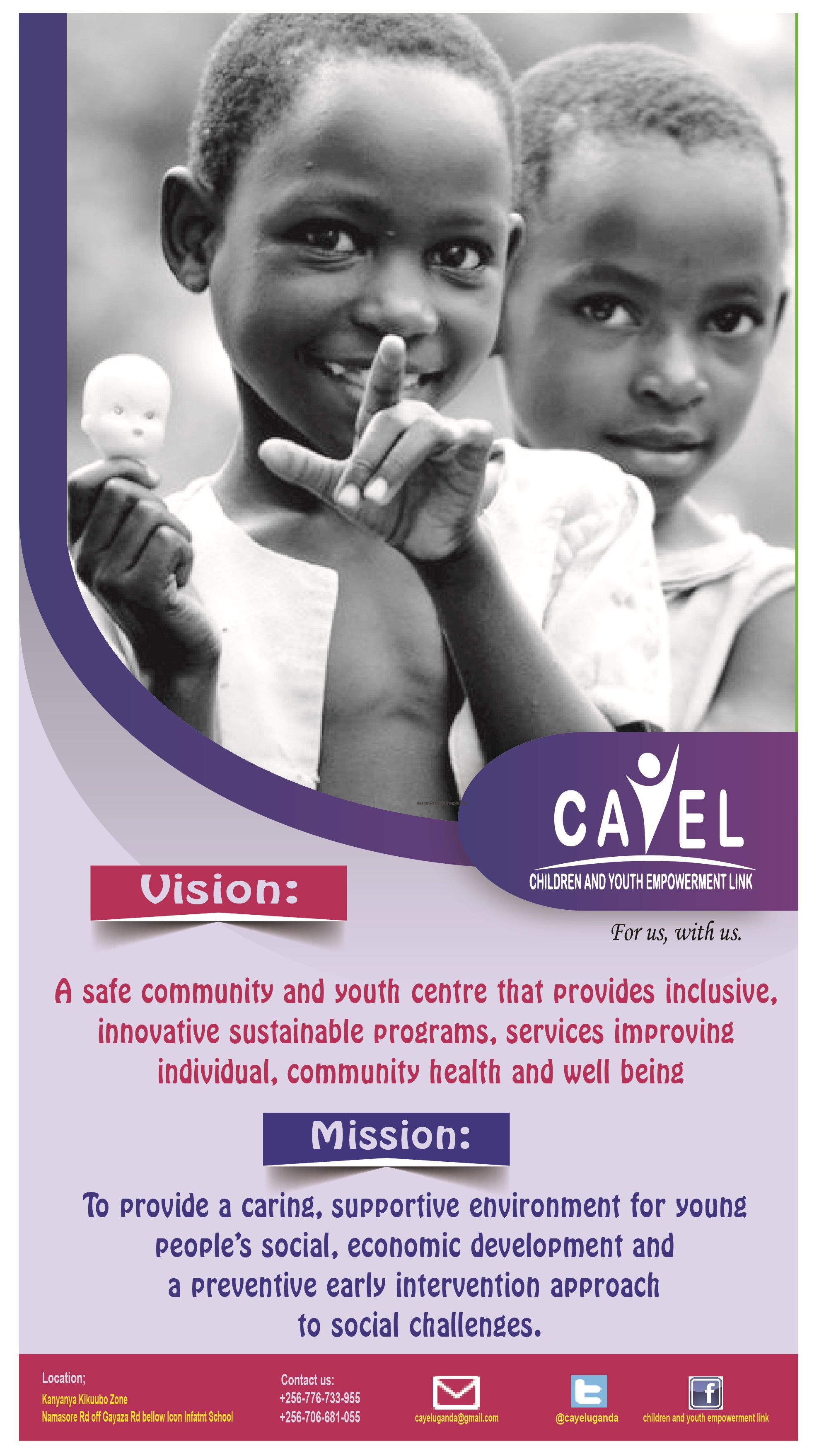 Note: Introduction page with information primarily at the time of joining International Cities of Peace. For updates, please contact the liaison.
---
ABOUT THE COMMUNITY
The desperate unemployed youth resort in to drugs and substance abuse, in the influence or as a way of getting survival they engage in crimes like Robbery, stealing, gang rapping among others making kanyanya not peace full.
The main landlord of land in kanyanya is the government; most of citizens in the parish are considered as "squatters "holding small pieces of land and are prone to eviction by government any time if it finds a project to be implemented on the  land."
The marginalized increasing community due to the high birth rates depending on a small swampy land is a reason for the development of the slums. Most of the places in kanyanya are not accessible by vehicles since land is scarce and the would be roads are people's homes.
---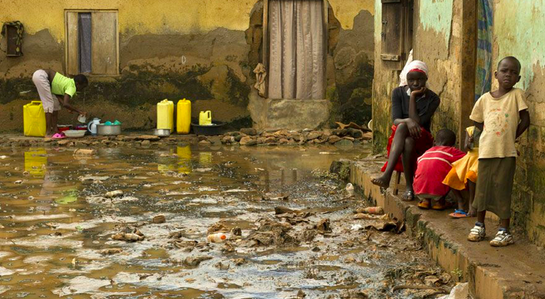 Some of the households in Kanyanya after a heavy down fall
The above information and the story I shared in my first email developed a passion in me to mobilize my fellow youth to restore peace in our home community through CAYEL initiative.
Since we are the very people who face the challenges who somehow  caused  them ourselves like, floods due to poor waste management, dumping in drainage systems, cutting down trees drug abuse, use and in the influence engage in crimes, making kanyanya not peaceful for us,
Therefore, we are in the right position to came up with innovative solutions to these challenges.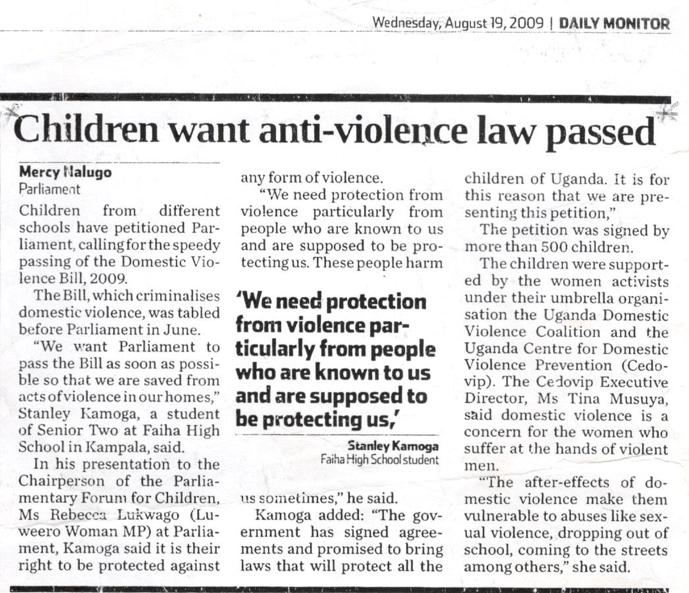 ---
The following are some of the programs at CAYEL
-Urban Farming,
Our main organization sustaining project is CAYEL Mushroom (we are the leading producer and supplier of Oyster mushrooms in Kawempe) our mushrooms are affordable and mainly consumed by the marginalized Ghetto Communities.
CAYEL Re-usable sanitary pads.
We discovered that some of the youth in our community cannot afford buying monthly sanitary towels therefore we train them to make re-usable towels. We are also planning to do massive production next years and sell at a small price.
Fashion and Design and Hair Dressing
This project is mainly done by young parents single mothers and HIV/AIDS victims. some have started their business after graduating from CAYEL.
Computer and ICT.
This is the project that attract most of the youth to us to transform, We are just challenged that we have note developed enough capacity to provide internet access to most of our youth to do online studies..
Health Living for a Health Young Generation Amplify Change Project)
We are a community based implementing partner of this project with our coordinating partners Kawempe Youth Centre. The project seeks to empower young people to demand for and fulfill their rights in a participatory and inclusive manner that also recognizes and actively engages with CSOs, key public sector agencies at various levels as well as relevant community-level actors. To achieve this, the project directly targets and works with the youth and their networks, while strengthening the local civil society to influence the spaces for CSOs operations and advocacy for youth Sexual and Reproductive health rights and policies, governance and participation in decision making processes. This project targets the young people and seeks to empower them to be able to deal with the issues that affect their sexual lives so as to fulfill their rights.
GHETO GO GREEN PROJECT.
We are community based implementing partner in Kanyanya Ghetto our coordinating Partner is Network for Active Citizens. The project's overall objective is "Young people in slums take action towards making
Their local communities more resilient towards the effects of climate change." The
Specific objectives are; increased awareness and understanding among youth in 3
Fragile urban communities of climate change and its effects in urban slums, increased
Access to green and climate resilient public spaces in 3 fragile urban communities and
Increased ability of young people to communicate and advocate about the impacts of
Climate change in their communities.
---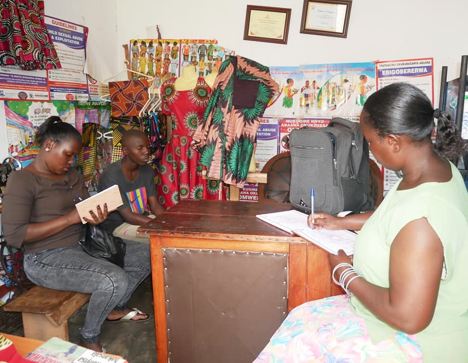 Some of the highlights of the peace committee meetings before signing the letter of intent, this involved consultation with a comrade Busulwa Paul of Kawempe City of Peace and one of our Patrons Madam Kaggwa Elizabeth.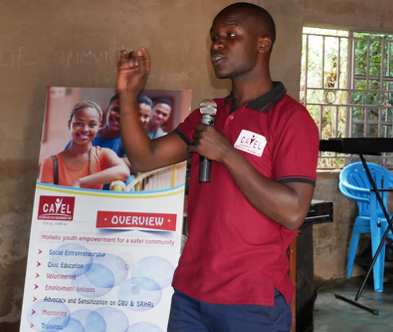 We train young people with vocational skills and link them to opportunities under our networks, here I had made a fallow up visit to the beneficiaries of CAYEL re-usable Sanitary Towel project Esther and Flavia who are now employed with One our partner organizations.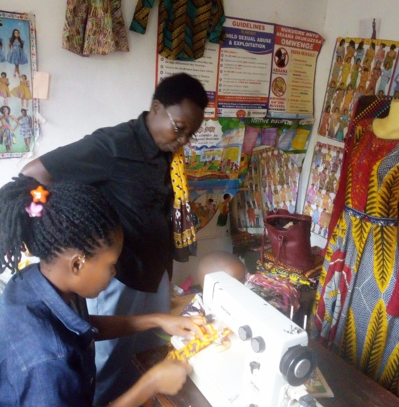 We provide counseling and mentoring to young people in Kanyanya to reform and engage in productive opportunities, Here a volunteering counselor is mentoring a youth who had dropped out of school.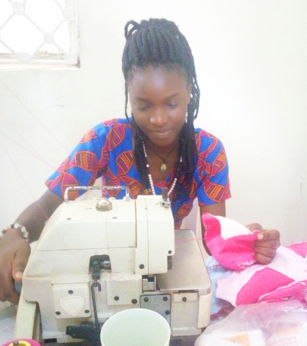 CAYEL Mushrooms is the group project that provide finances for most of our program, capital from this project was raised from our saving investment scheme. CAYEL oyster mushrooms are affordable, fresh and are rich in proteins, low in carbohydrate and fat content, thus highly recommended for people who are obese, diabetic or on diet. The mushrooms are rich in Vitamins A, B, C, D and minerals such as Calcium, Potassium, Phosphorus, Iron and Zinc are also contained. The mushrooms also have medicinal properties, which is good for human health.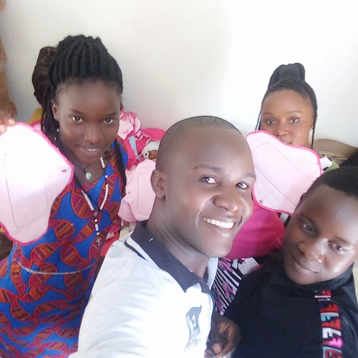 This business initially targets population living below the poverty line in Kampala Metropolitan area that comprises of Kampala city and the municipalities of Nansana, Kira, Kyengera and Makindye Sabagabo. The majority of these are women (25-64 years of age) including single mothers, divorced and married women whose primary role is to prepare food for their families. They represent a market size of 918,443 persons but in the first year the business shall target a total 45,992 women (5%). In addition, the elderly (65years and above) who comprise of 66,122 persons will also be targeted.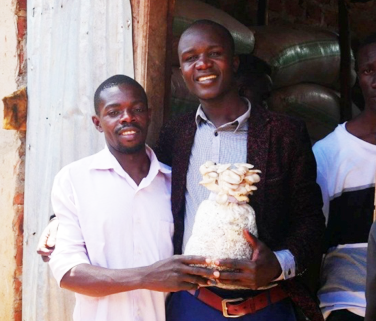 They are prone to non-communicable diseases such as diabetes and obesity. The target market size for the elderly to be reached within the first year of operation is 3,306 persons (5%).
Our office is a resource Centre for young people, we aim at providing a Holistic empowerment for a safer community, and we provide also information on Sexual Reproductive Health Rights and prevent Gender Based Violence in the community.
---
Letter of Intent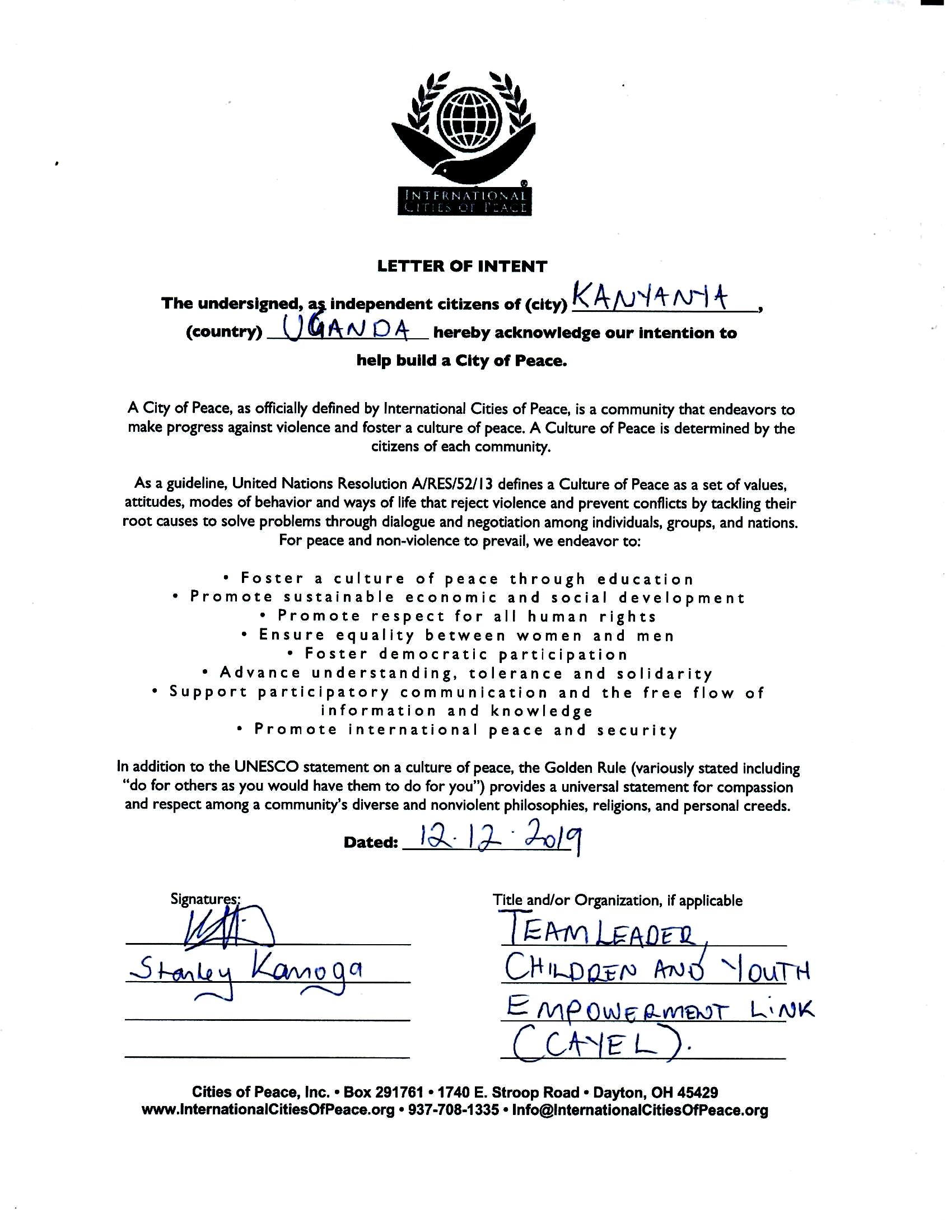 ---
ABOUT THE LIAISON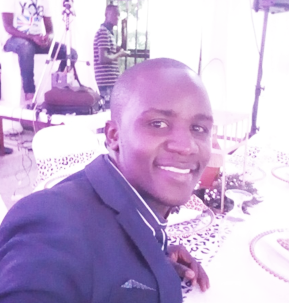 I am Stanley Kamoga 25 years a peace lover and human rights activist. Team leader of Children And Youth Empowerment Link (CAYEL) a youth led community based organization in Kanyanya ( Uganda), Empowering Marginalized young people in the Ghettos with vocational skills, advocate and sensitive communities on Human rights, Sexual Reproductive Health and Rights, Gender Based Violence and prevention of Alcohol and substance use among young people in the slums.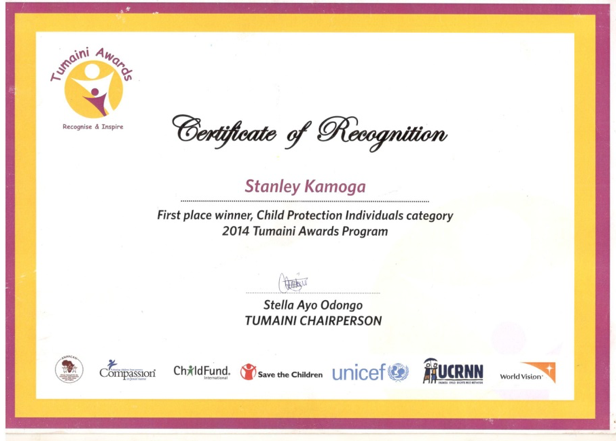 I hold bachelors Degree of Journalism and Communication from Makerere University Uganda, and received training in Human Right and transformational leadership from 'The Leadership Academy' an initiative of Uganda Youth Network.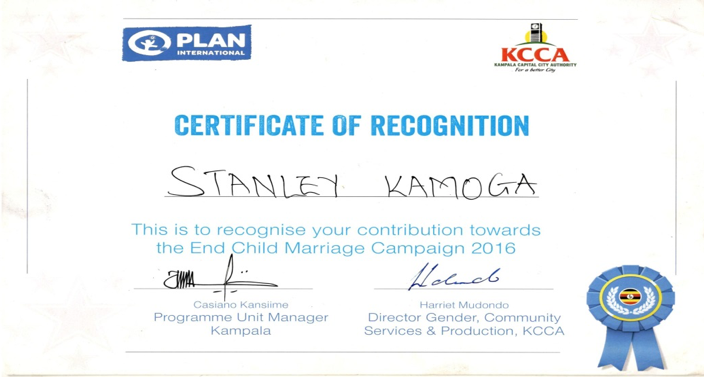 ---
CONTACT INFORMATION
To contact or support this initiative:
Stanley Kamoga
Team Leader, Children And Youth Empowerment Link
Watsapp +256776733955
---
ABOUT KANYANA, UGANDA

Kanyanya is bordered by Wakiso District to the north, Mpererwe to the east, Kaleerwe to the south, and Kawempe to the west. This is approximately 8 kilometres (5.0 mi), by road, north of Kampala's central business district. Kanyanya is predominantly a middle-class residential area.[3] Small business establishments, such as petrol stations, restaurants and bars, appear at major intersections and along Kampala–Gayaza Road.
Uganda, officially the Republic of Uganda, is a country in East-Central Africa. It is bordered to the east by Kenya, to the north by South Sudan, to the west by the Democratic Republic of the Congo, to the south-west by Rwanda, and to the south by Tanzania. The southern part of the country includes a substantial portion of Lake Victoria, shared with Kenya and Tanzania. Uganda is in the African Great Lakes region. Uganda also lies within the Nile basin, and has a varied but generally a modified equatorial climate.
Uganda takes its name from the Buganda kingdom, which encompasses a large portion of the south of the country, including the capital Kampala. The people of Uganda were hunter-gatherers until 1,700 to 2,300 years ago, when Bantu-speaking populations migrated to the southern parts of the country.
(from Wikipedia)

Note: If information or photos used here are copyrighted, please contact us and we will immediately delete the copyrighted material.