Karachi, Pakistan: City of Peace
Welcome to Mr. Kelash Kumar Sarhadi and his colleagues at the Interfaith Commission for Peace and Harmony as the citizens of Karachi, Pakistan self-define and work toward a culture of peace in their community.
Note: Introduction page with information primarily at the time of joining International Cities of Peace. For updates, please contact the liaison.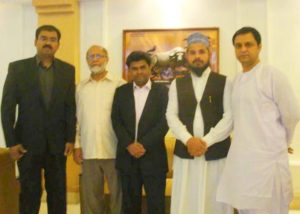 Mr. Sarhadi and the MasterPeace Team in Lebnon, Beruit at the Peace Boot Camp , May, 2015.
ABOUT THE ORGANIZATION
Interfaith Commission for Peace & Hormany was founded in December 2010, an objective to promote interfaith dialogue and tolerance in society. However, it focused on Muslim-Christian issues across the world despite having Hindu, Sikh, and other minorities on board.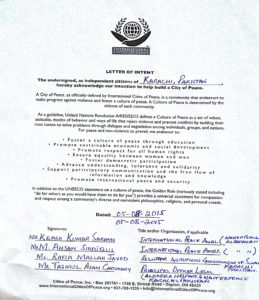 Letter of Intent
The Interfaith Commission for Peace & Harmony believes that hatred prevailing in the society is due to discriminatory laws viz-a-viz minorities that are also against the teachings of Islam. The Christian leaders also believe that such hatreds and gulfs were not in accordance with the Jesus Christ commandments. To bring the Muslim and Christian communities closer, the Interfaith Commission for Peace & Harmony struggled on common points in both the religions for nonviolence, tolerance, tranquility, peace, mutual respect and love, the Federation Chief uttered. The Interfaith Commission for Peace & Harmony is of the firm belief that exceptions to some differences, the Christianity and Islam have more common points to coexist. "It is historical fact that the first who confirmed Hazrat Muhammad (Peace Be Upon Him) as Prophet of God was a Christian, Warqa Bin Nofil, relative of Hazrat Khadeejatul Kubra (RA), wife of the Holy Prophet Hazrat Muhammad (PBUH). "The Muslims for their protection first migrated to a Christian state, Habsha (Ethopia). Moreover, both the religions believe that Jesus Christ would come before last day in the world. Except war of cross, the Muslims and the Christians had cordial relations,' the Interfaith Commission for Peace & Hormany Chief commented.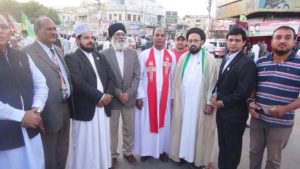 Karachi religious leaders with Mr. Sarhadi
VISION
Our vision is of a society where there is understanding of the diversity and richness of the faith among communities. Live and work together with mutual respect and share commitment to the common good.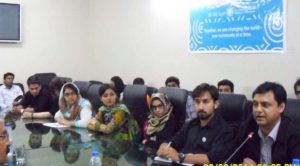 A student peace conference in Karachi
MISSION
Working with faith communities, intera faith organisations, educators and others to increase understanding and cooperation between people of different faiths and to widen public awareness of the distinctive religious.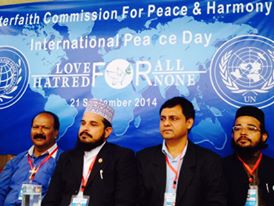 International Day of Peace, 2014, in Karachi, Pakistan
VALUES
Service to others
Integrity
Accountability
Trust
Consultative and cooperative working
Valuing diversity
Inclusiveness
Listening and openness
Courtesy
Mutual respect
OBJECTIVES

Communicating to achieve our Vision and Mission through:

Supporting and encouraging intera faith initiatives and sharing good practice between these

Helping create opportunities for mutual learning and tackling prejudice

Offering opportunity for engagement between faith communities, youth and Government.
---
ABOUT KELASH KUMAR SARHADI
Mr. Kelash Kumar Sarhadi is a Compassionate Peace Activist, certified IELTS Trainer, consultant, motivational speaker, social innovator and trainer of world fame "30 Peace points" for generation "Z". Mr. Kelash is engaged in peace activities since more than a decade, playing role of change catalyst in the society for making life more peaceful and proposers for the development of an inclusive global human society.

Mr. Sarhadi with MasterPeace founder Mr. Ilco van der Linde in Beruit

Mr. Sarhadi teaches and trains groups and individuals how to understand and practice inclusivity – the connection with all beings. He is the founder and president of Society of Human Development & Resources, currently serving as a Director Program for Interfaith Commission for Peace & Harmony and Peace Ambassador of MasterPeace in Pakistan. As well as, set up schools for garbage picker and underprivileged children with the help of family and friends with the help of family and friends.
---
CONTACT INFO
For more information please contact:

Kelash Kumar <kksarhadi@gmail.com>

 

 
---
ABOUT KARACHI, PAKISTAN (from Wikipedia)
Karachi is capital of province Sindh as well as the largest and most populous metropolitan city of Pakistan and the 2nd-largest city in the world by population. It is also the main seaport and financial centre of the country. Karachi is also known as City of Lights mainly due to city's night life, for which it is famous as the city which never sleeps. Karachi metro has an estimated population of over 23.5 million people as of 2013, and area of approximately 3,527 km2 (1,362 sq mi), resulting in a density of more than 6,000 people per square kilometre (15,500 per square mile).

Karachi is the 7th largest urban agglomeration in the world and the largest city in the Muslim world. It is Pakistan's centre of banking, industry, economic activity and trade and is home to Pakistan's largest corporations, including those involved in textiles, shipping, automotive industry, entertainment, the arts, fashion, advertising, publishing, software development and medical research. The city is a hub of higher education in South Asia and the Muslim world.

Karachi is also ranked as a beta world city. It was the capital of Pakistan until Islamabad was constructed as a capital to spread development evenly across the country and to prevent it from being concentrated in Karachi. Karachi is the location of the Port of Karachi and Port Bin Qasim, two of the region's largest and busiest ports. After the independence of Pakistan, the city population increased dramatically when hundreds of thousands of Muslim Muhajirs from India and from other parts of South Asia came to settle in Karachi. 

The city is located on the Arabian Sea coastline. It is also known as the Uroos ul Bilaad "The Bride of the Cities" and the "City of Lights", for its liveliness, and the "City of the Quaid", having been the birth and burial place of Quaid-e-Azam, the Great Leader, Muhammad Ali Jinnah, the founder of Pakistan, who made the city his home after Pakistan's independence from the British Raj on 14 August 1947. In 2009 Karachi had a total GDP of $78 billion with conservative projections expecting it to rise to $193 billion in 2025.
DO YOU THINK YOUR COMMUNITY CAN BE A CITY OF PEACE? SEND AN EMAIL!

Note: If information or photos used here are copyrighted, please contact us and we will immediately delete the copyrighted material.