Kasongo-Lunda, Democratic Republic of Congo: City of Peace
Welcome to Saki k Jean Claude and his colleagues who have established Kasongo-Lunda, D.R. Congo as a city of peace.
Since the late 20th century to today, life seems to be as peaceful as you could believe there was too much troubles, things are going very badly in Africa in general and the Democratic Republic of Congo in particular. "Confronted with conflicts, divisions, regionalism, wars, violence of all kinds, endemic corruption," said Jean Claude "we decided to create the Cercle des Jeunes Leaders pour la Paix(Circle of Young Leaders for Peace), CJLP in June 2008 in Kinshasa. A non-governmental organization (NGO / NPO involved in various fields PEACE, GENDER, GOVERNANCE, MANAGEMENT OF CONFLICT PREVENTION AND RECONCILIATION & NON-VIOLENCE, HUMAN RIGHTS AND RURAL AND COMMUNITY DEVELOPMENT (training, education, rehabilitation, supervision, safety food, community development, strengthening the technical and organizational capacity).Our actions for peace are carried out with several other independent, denominational and non-denominational organizations."

Note: Introduction page with information primarily at the time of joining International Cities of Peace. For updates, please contact the liaison.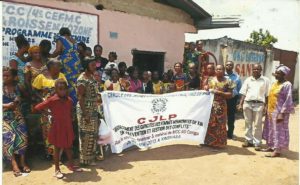 ABOUT THE ORGANIZATION

Objectives
The Democratic Republic of Congo is a country in conflict and post-conflict and had a long war mentality, the morality of many people is destroyed, that's why the NGO Cercle des Jeunes Leaders pour la Paix, CJLP dicide to work for educate and inform people of DRC to prevent, and resolve conflicts without violence, and they can live in peace and brotherly harmony, but also and above all to contribute to the consolidation of peace in the region in general has been destroyed by ethnic conflicts and leadership, to become a place where women and men have learned to reconcile their differences and help each other to live in harmony, joy, mutual respect, tolerance and forgiveness between people separated and divided. And thus promote change in this generation by changing bad acquisitions, unreal customs of ethnic divisions to rebuild a fully restored generation, educated and integrated for the peaceful resolution of conflict and violence, as well as building the foundation for sustainable development the community and the nation.

MENNONITES CEFMC TRAININGS IN PEACE AND GOOD GOVERNANCE AND LEADERSHIP

Letter of Intent

ACHIEVEMENTS RESULTATS EXPECTED
1) 1000 to 15.500 persons since 2008 in general women / men, students, pupils, farmers, peasants were trained directly in conflict prevention and management by the project in each Mennonite, Catholic, Kimbanguiste, and other local private church life sector or service (deaconess, women, teachers, directors, prefects) through a seminar / three-day training.(Area:Capital Kinshasa, Province of Kongo central in West, Province of Kwango in South West, Kwilu and can be involved in negotiating agreements peace. Their capacities are strengthened and able to mobilize and lead campaigns to reduce social tensions;
2) 900 persons women / men, without paying attention to their church at Kingwangala gained knowledge enabling them to exercise influence on decisions related to conflict management.

 

METHODOLOGY
The methodology used during this training session is the Demonstration of each cognitive phenomenon by the game rôle.20% of psychological analysis of cognitive phenomena, 80% of case analysis and practical scenario. Consideration of case participants and exchange of experience. Use of seven profiles in the learning approach

Alternately, as needed, group work and presentations in workshops and debates presentation / discussion of the results of work in plenary. Scenario (case studies) Development of intervention tools:
-The Training modules
-set out Plenary
-Works In groups
-Setting Joint plenary

In the various training sessions, we find that the methodology used is that of CJLP based on the factors and basic principles of adult learning.
These factors include:
– Interest,
– Experience,
– Relevance,
– Problem solving
– The discussion
– The action.

 

Training occurs in many regions


 
---
ABOUT THE LEADERSHIP
• Saki K Jean Claude: Executive Director, Master in Conflict Management and Prevention and Peacebuilding; Researcher and Assistant at the University of Peace Africa DR Congo and Conflict


Other Leaders


• Nsimba Fofolo, Secretary, Lawyer and lawyer

• Maweshi Mbenza, peace builder, certified in conflict prevention

 

Trainer and executive director Saki Jean Claude awarding a certificate to a participant


• Mbesenene Buanga, Cashier, Graduate of State in Business Humanities

• Jules Mingenda, trained in logistics practices

• Gaby Kama, journalist

• Tatsiana Ndjoku, Certified in Peace Education, Theologian

• Chiren Itela, Management of Institutions

• Mango, PhD Professor, Conflict and Security Studies, Consultant

 
---
CONTACT INFO
For more information please contact:

Saki k Jean Claude
jcsaki2000@yahoo.fr
what's app: +243850106713
facebook, messenger: cjlppaixrdc

 
---
ABOUT Kasongo Lunda, D.R. Congo (from Wikipedia)

The Kasongo Lunda covers the whole, 26 000 km2, eight sectors are: Panzi 5,521 km2, 2,757 km2 Kibunda, Kizamba 2,676 km2, 2,619 km2 Swa-Tenda, Kasa 1753 km2, 4,687 km2 Mahonga, Kingulu 1313 km2, 1,865 km2 Mawanga; two (2) Cities and rural Mucipalities: Kingwangala and Tembo; Sixty-three (63) Groupments. Population estimated at more than 800 000 inhabitants.
It is bordered to the south west by the Republic of Angola to the north by the territories of Popokabaka and Kenge, to the east by the territory of Feshi, south through the territory of Kahemba.

It has a humid tropical climate with two seasons: rainy and dry season. The average annual rainfall of 125.5 mm more or less while the average temperature is 25.6 ° C during the rainy season, 22 ° C during the dry season.

Growing conditions are not different from that found in the whole territory of Kasongo-Lunda. This vegetation is consistent with the geology and morphology of the terrain. She creates a double botanical landscape: the deep valleys with lush vegetation (which grows in abundance) and the highlands, arid areas of pseudo-steppes, woodlands and heathlands. The dense rainforests meet the great valleys of sand kalahariens reworked. They present themselves in extent of primary forest (makunda) or as secondary forests (Isangi).

With respect to hydrography, its network is quite dense and is characterized by the parallelism of the waterways. Several rivers in the country are born or have their sources in southern Angola. Others were born in the same territory to flow northward. It should be noted that all these conditions geographies do not an obstacle to development in all areas of the territory.

As for the morphology tribal territory of Kasongo-Lunda consists essentially of four main tribal groups that we can cut into two large groups because of having traditional social and political organization, also for sociological and historical reasons, always migrate to the same directions, although they lived together always differ from each other. Holo and some that are the fifth group (minority) scattered throughout the area affected by this project, this is the group Cokwe (Chokwe)-Lunda, Suku – Yaka and Holo.
DO YOU THINK YOUR COMMUNITY CAN BE A CITY OF PEACE? SEND AN EMAIL!
 Note: If information or photos used here are copyrighted, please contact us and we will immediately delete the copyrighted material.