Kawempe, Uganda: International City of Peace

We welcome Paul Busulwa and his colleagues who have established Kawempe near Kampala, Uganda as an International City of Peace. The first group meeting resulted in the development of a vision, mission, and goals to foster a Culture of Peace in Kawempe. The group's practical approach resulted in the first Free Health Clinic in Kawempe, the photos of which are shown below.
Note: Introduction page with information primarily at the time of joining International Cities of Peace. For updates, please contact the liaison.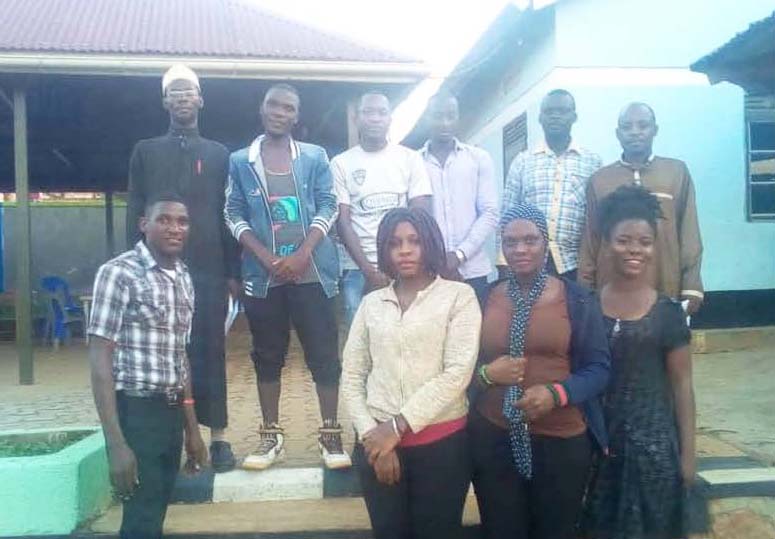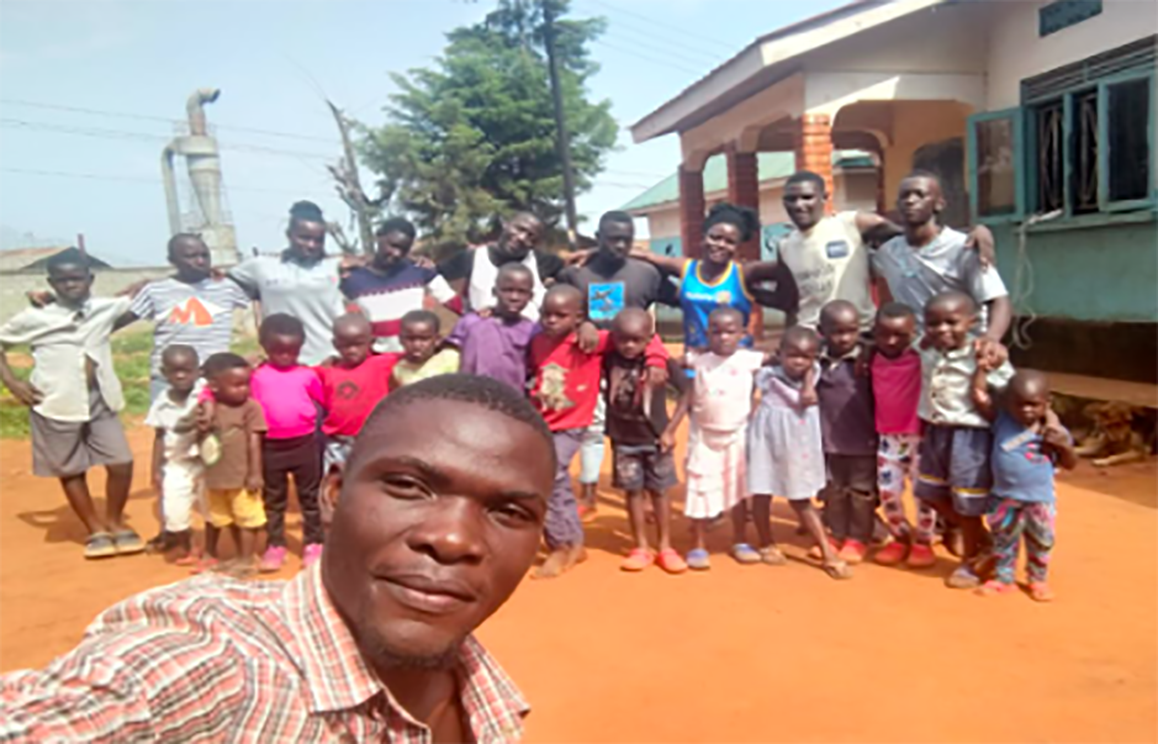 VISION
By 2030 we envision a city of peace in kawempe where every one lives in a life he/she can actualize fullest potentiality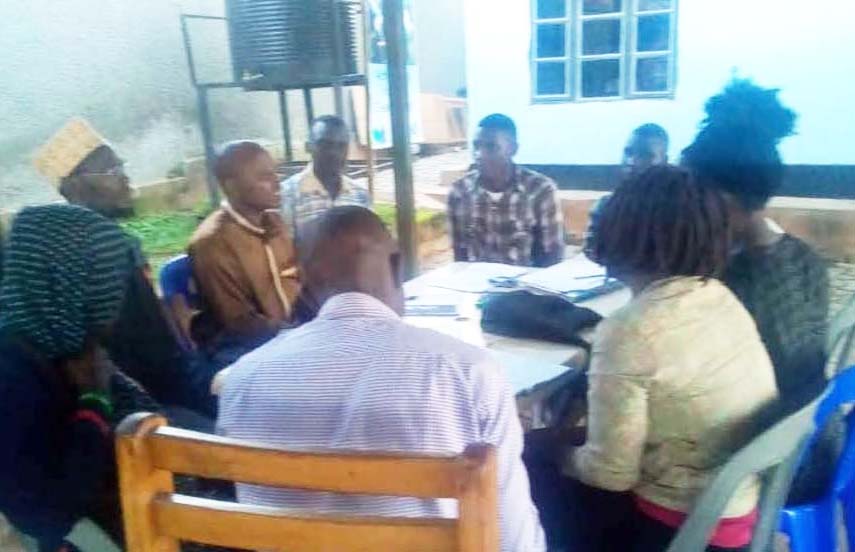 ---
MISSION 
To build a platform that promotes health,education and the well being of the communities in Kawempe.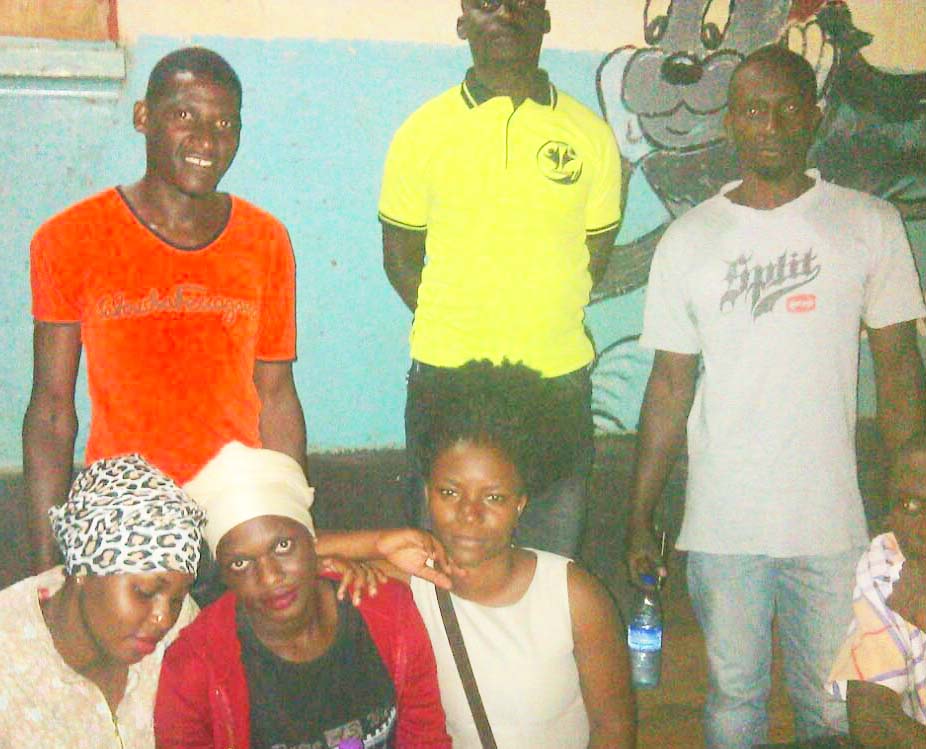 ---
GOALS/ OBJECTIVES
To conduct activities that promote peace through global citizenship and understanding for every one in Kawempe.
To promote health education and activities that improve the health and well being of the community members.
To ensure and promote quality education in our community for sustainable development.
To initiate activities that promote the environment and mitigate the effects of climate change on urban environment.
To promote girl and boy child, woman empowerment at all levels through community education, gender awareness building, advocacy, and campaigning.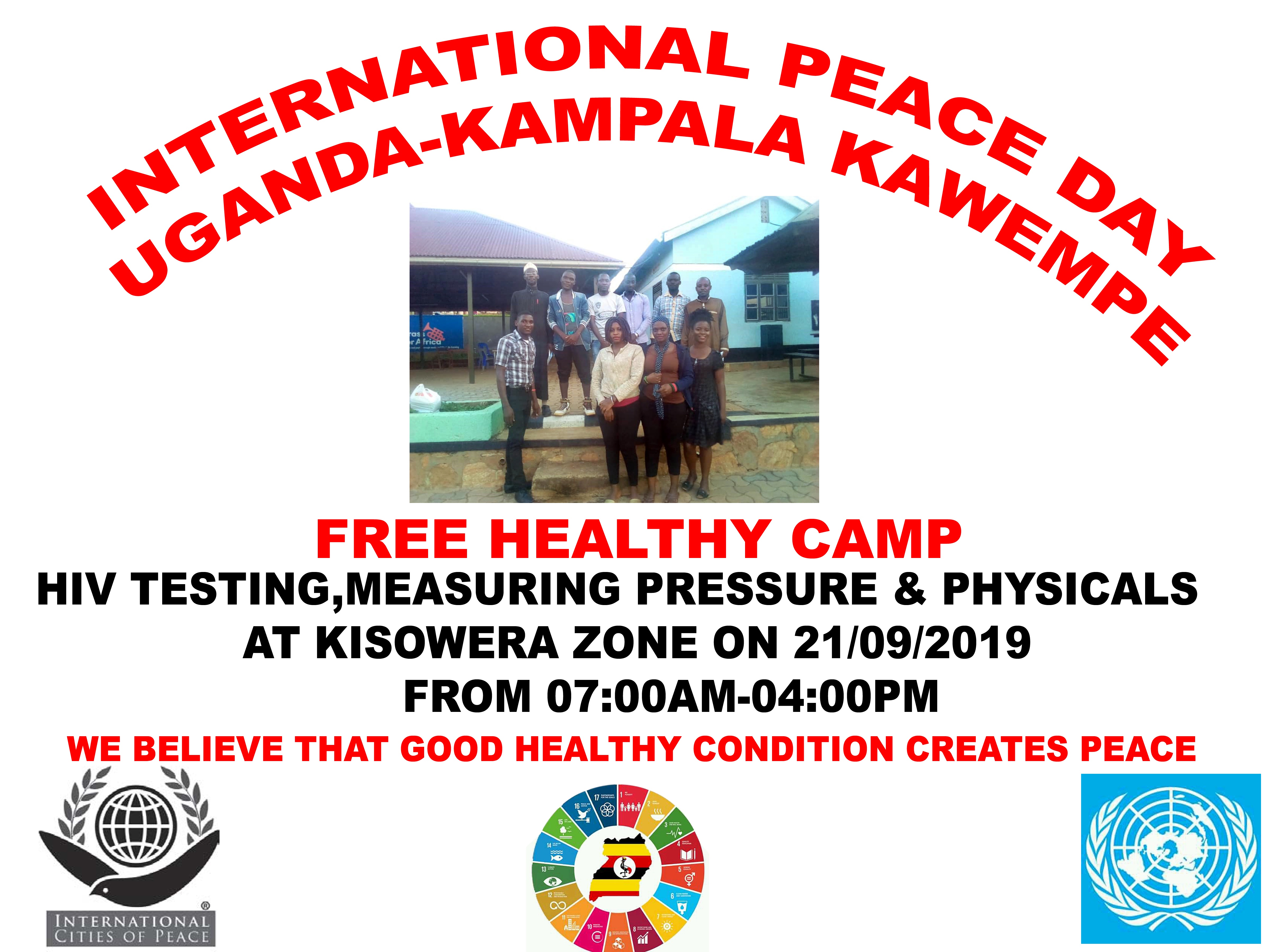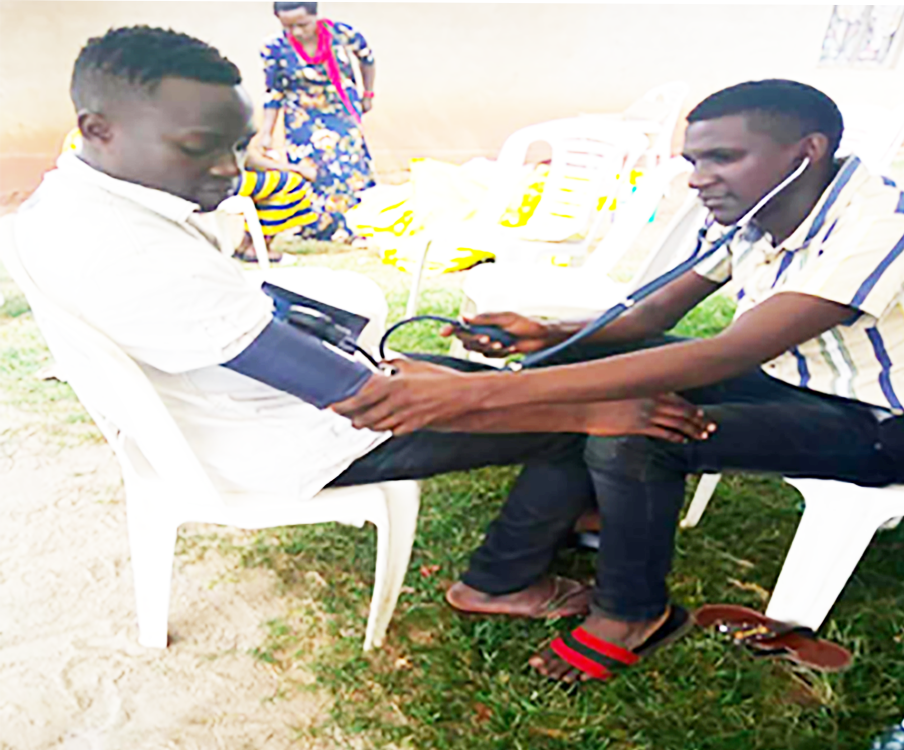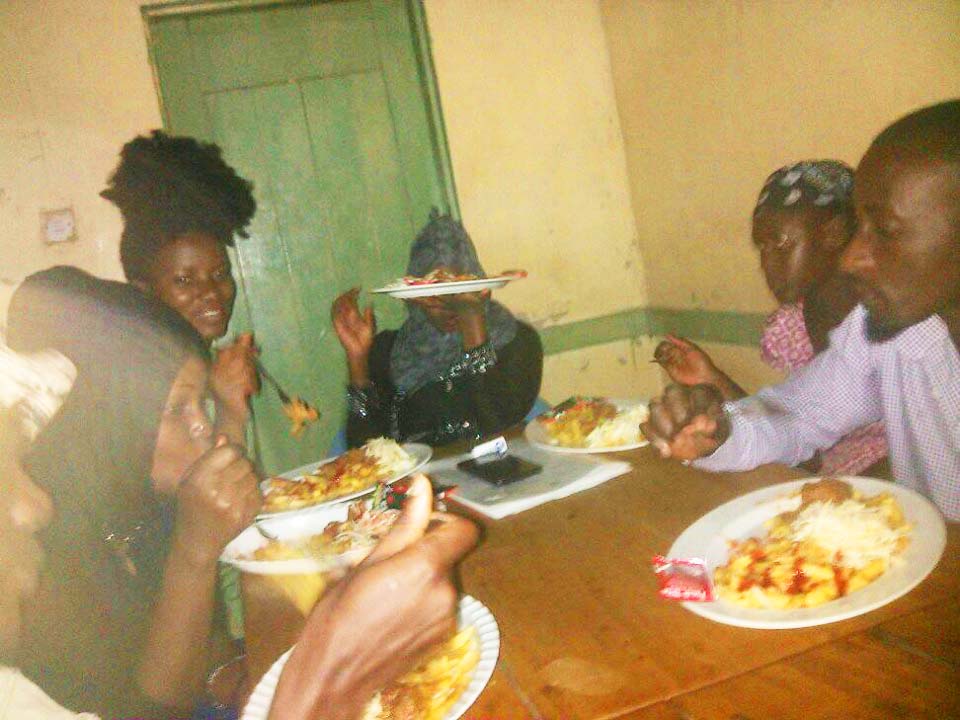 ---
January, 2020, meeting on a proposal for climate action activities.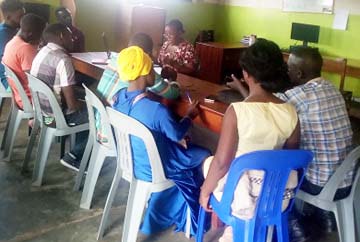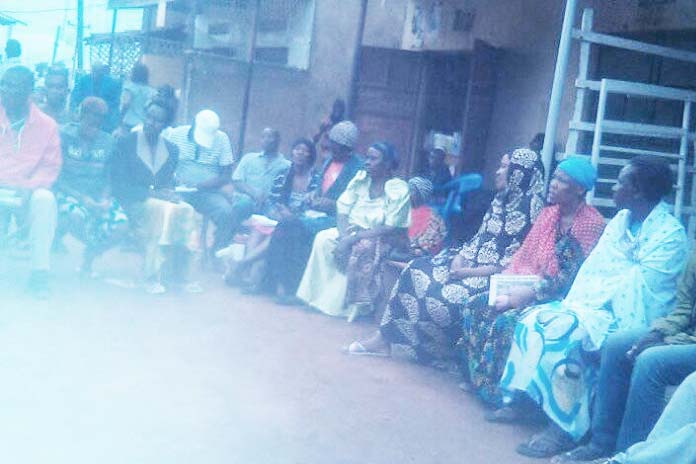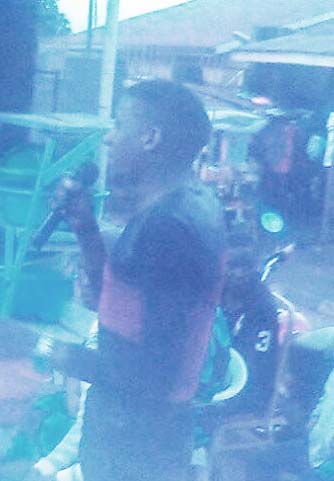 ---
S
IGNATURES FOR LETTER OF INTENT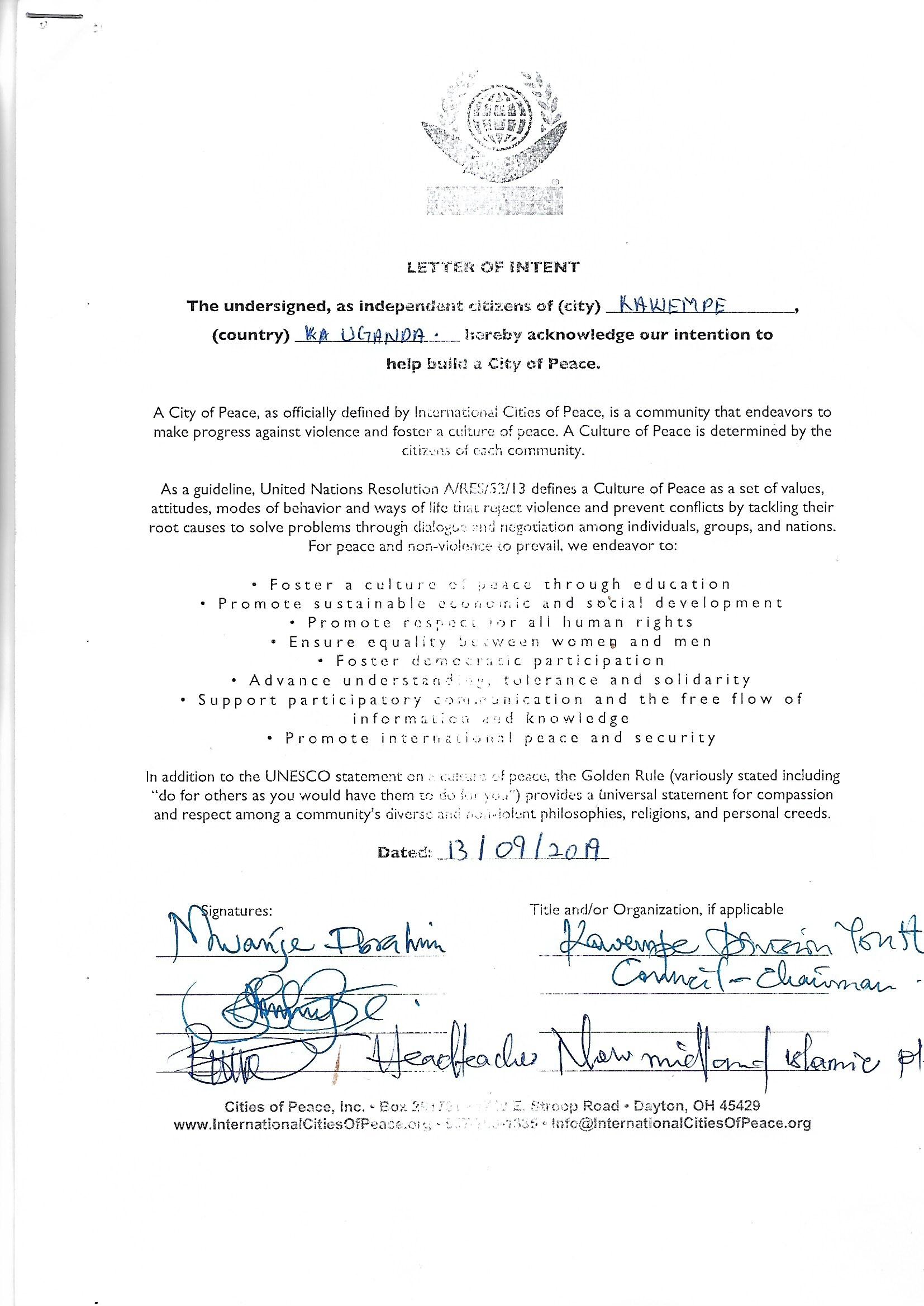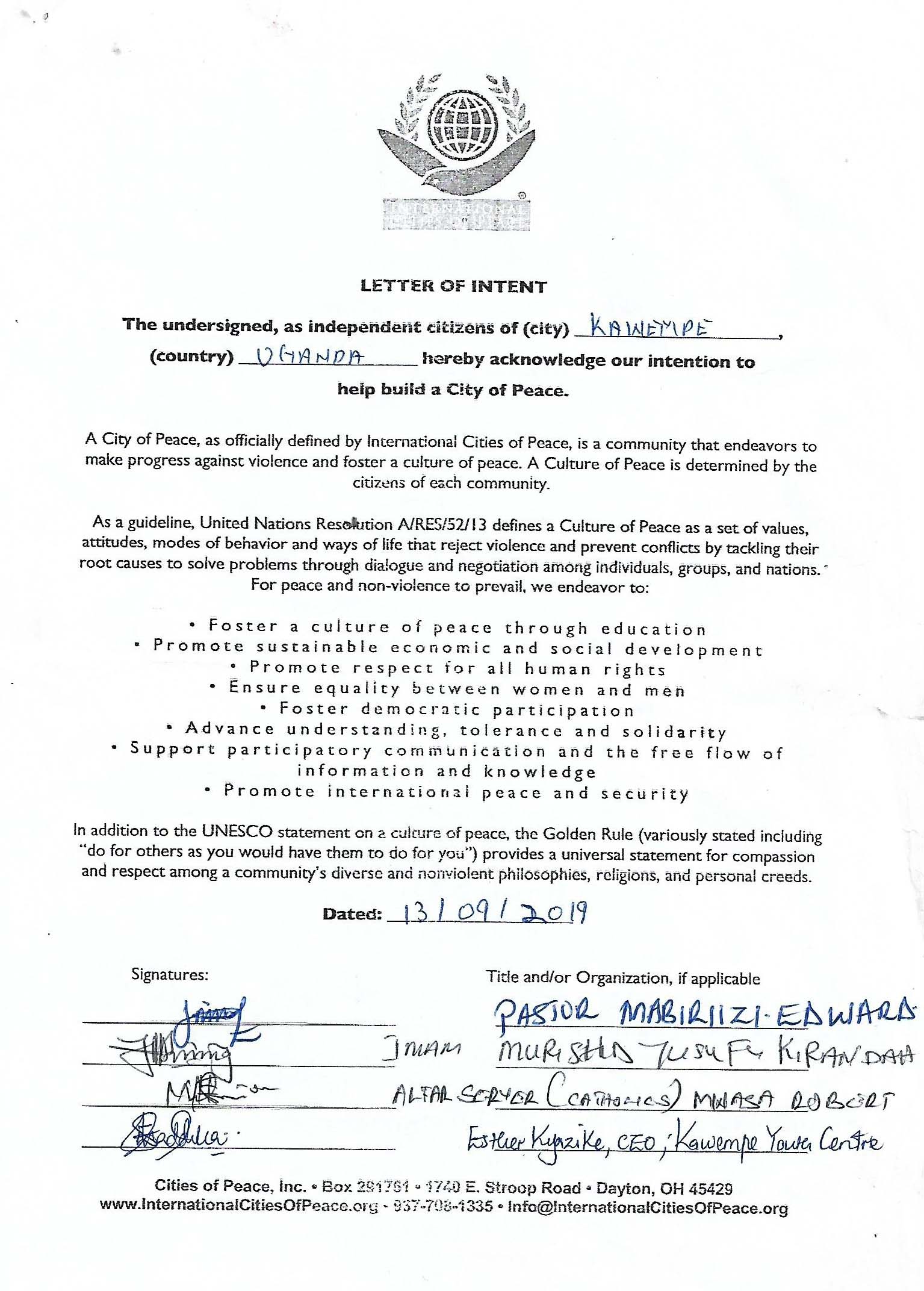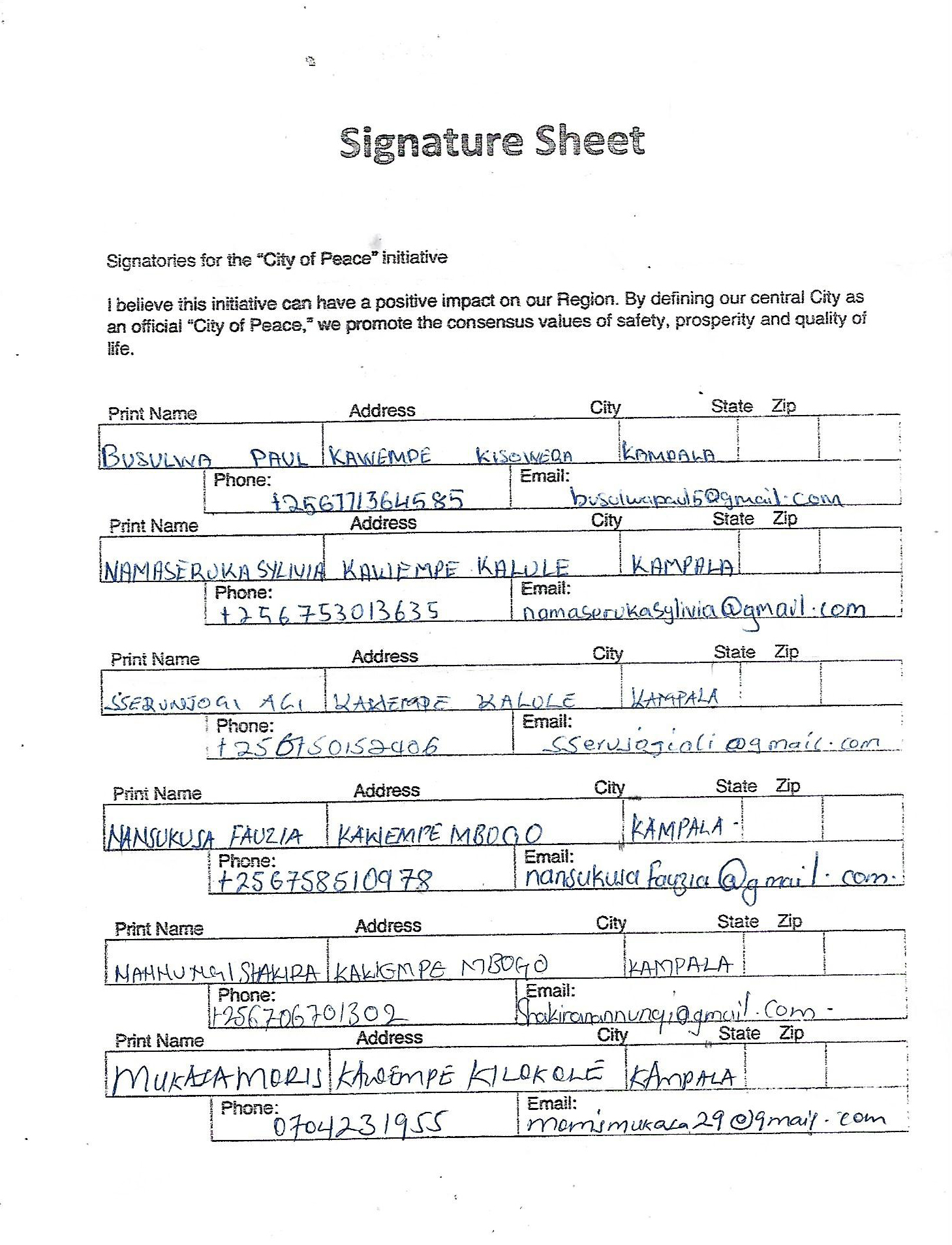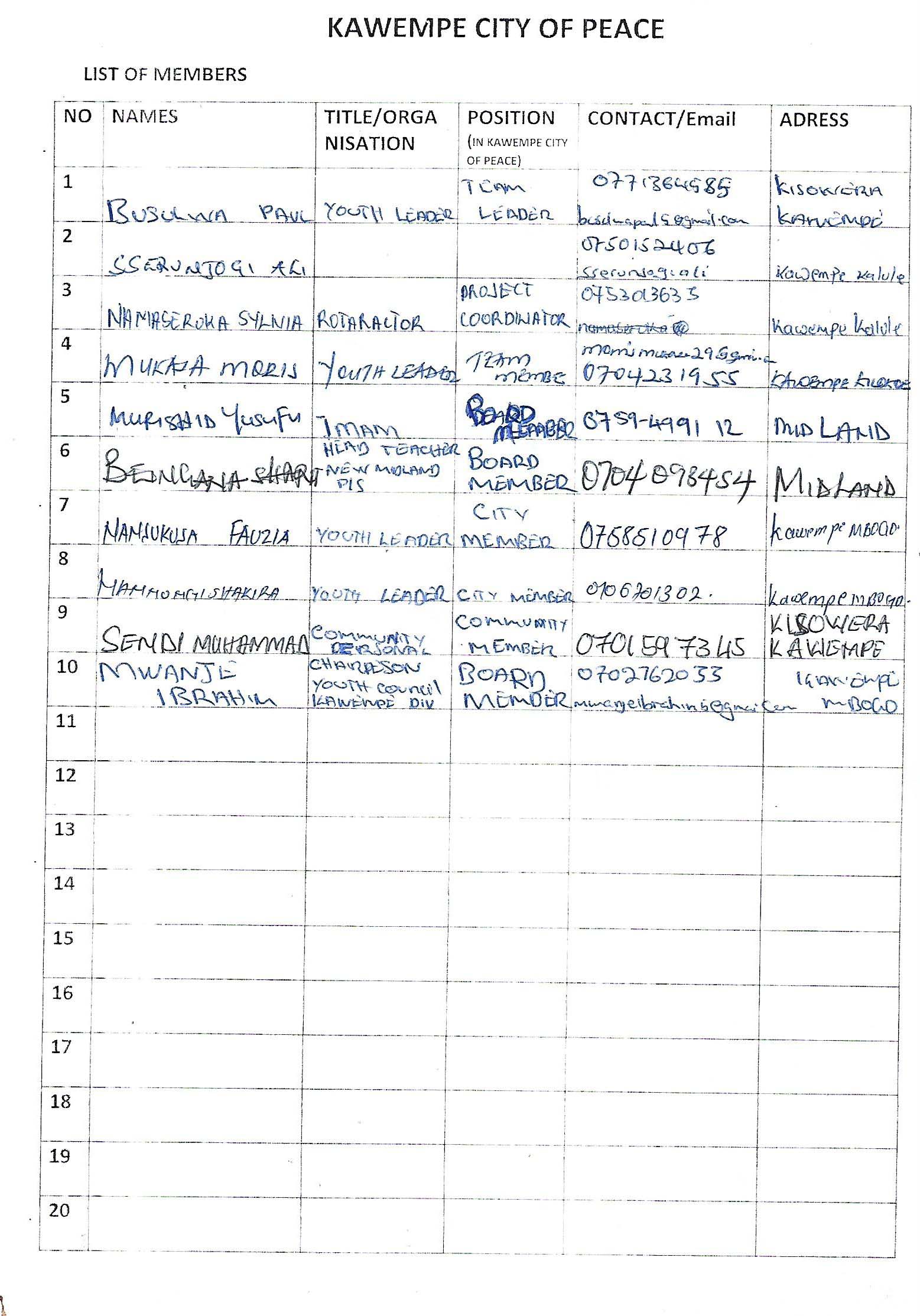 ---
ABOUT THE LIAISON — BUSULWA PAUL
EDUCATION BACKGROUND
2007
Wattuba UMEA Primary School (Wakiso)
Primary Leaving Examination
2011
High Standard Sec School (Kateera)
Uganda Certificate of Examination
2013
Kawempe Central Academy
Uganda Advanced Certificate of Education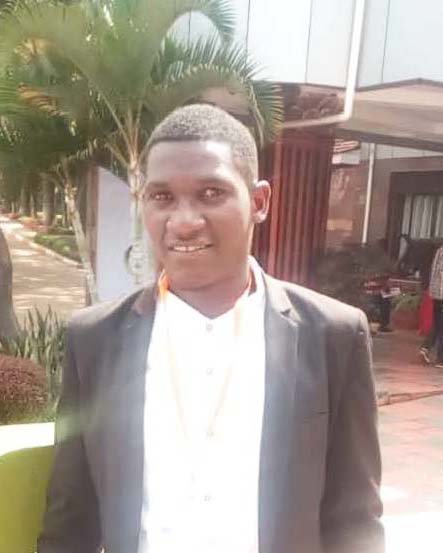 PROFESSIONAL COURSES
2014
KCCA Employment service Bureau
ICT Certificate
2018
Ruth Gaylord hospital
Canada Uganda emergency medical responder service (CUES) Certificate
2019
CUES (NGO)
Emergercy medical dvanced certificate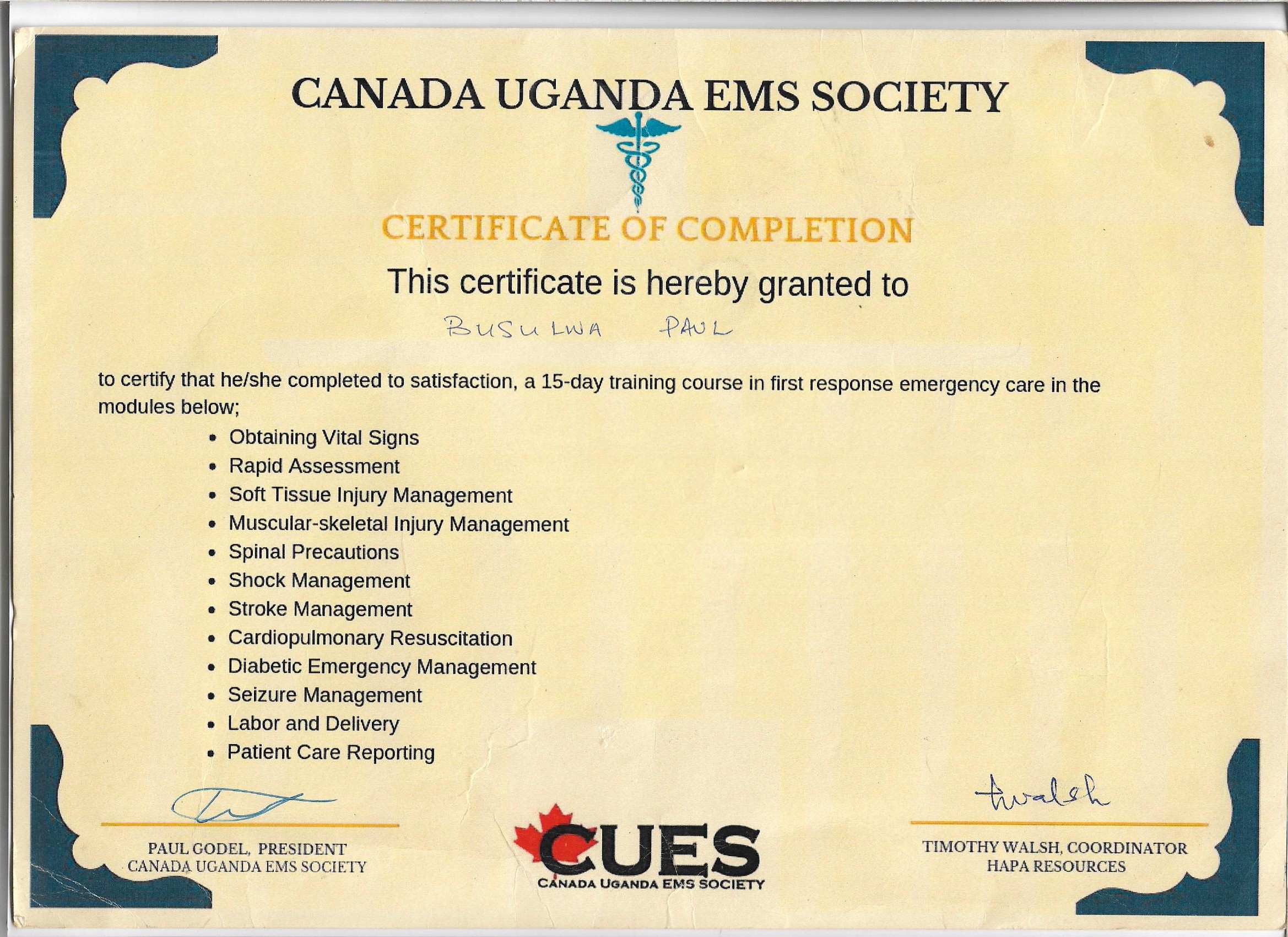 WORKING EXPERIENCE
2014
Officer
Kawempe Muslim Senior
To protect and guide the
Secondary School
properties of the school
2014
Youth coordinator
Kawempe youth Center
To coordinate youth meetings in kawempe
2015
Star times sales agent
Star Times Uganda
To promote sale and distribute
star times decoders
---
CONTACT INFORMATION
To contact or support this initiative:
---
ABOUT KAWEMPE, UGANDA (from Wikipedia)

Kawempe is an area in the city of Kampala, Uganda's capital. It is also the location of the headquarters of Kawempe Division, one of the five administrative divisions of Kampala. Kawempe is located on the northwestern edge of Kampala. It is bordered by Nabweru to the north, Kisaasi to the east, Bwaise to the south, Kazo to the southwest and Nansana in Wakiso District to the west.
Kampala is the capital and largest city of Uganda. The city proper is estimated to have population of 1,680,800 people in 2019 and is divided into five boroughs of Kampala Central Division, Kawempe Division,Makindye Division, Nakawa Division, and Rubaga Division.
Uganda, officially the Republic of Uganda, is a country in East-Central Africa. It is bordered to the east by Kenya, to the north by South Sudan, to the west by the Democratic Republic of the Congo, to the south-west by Rwanda, and to the south by Tanzania. The southern part of the country includes a substantial portion of Lake Victoria, shared with Kenya and Tanzania. Uganda is in the African Great Lakes region. Uganda also lies within the Nile basin, and has a varied but generally a modified equatorial climate.
Note: If information or photos used here are copyrighted, please contact us and we will immediately delete the copyrighted material.