Khartoum, Sudan: International City of Peace

We welcome Sharaf Alawad and his colleagues who have established Khartoum, Sudan as an International City of Peace. For the people of Khartoum and greater Sudan, peace building in terms of safety, prosperity and quality of life is very important. According to news reports, on 3 June 2019, Khartoum was the site of the Khartoum massacre, where over 100 dissidents were murdered, hundreds more injured and 70 women raped by Rapid Support Forces (RSF) in order to forcefully disperse the peaceful protests calling for civilian government. As the country moves forward in transition, the work of peace makers is essential and Sharaf and his colleagues are essential.
Note: Introduction page with information primarily at the time of joining International Cities of Peace. For updates, please contact the liaison.
---
PEACE STATEMENT
Khartoum is a city of more than seven million population in the matter of fact it's Sudan in one place my country was formed by people came from different races that diversity with lot's of other factors generated community of peacefully style of living.
Recently Sudan was rolled by massive dictatorship regime that they use Sudan different races to separate the components of community from each other they start war every where more than three million died and uncounted number of refugees the separation of south Sudan was one of the major damages they done .
---
VISION
Our vision is to rebuild the community of peace we deserve.
---
MISSION
Reorganize Sudanese youth group in Khartoum to be very active in process of peace building using all the available cultural heritage and art music sports by organizing spirit of competition and to do good efforts for your people and community making sure that they will get happens when they make others happy.
From the liaison/leader: "Today was one of the most important days of my experience because I realize that peace is the soul of human behavior and the major factor of happiness. I attended a festival we organize to celebrate international peace day in Khartoum… More than three teams came to share with us people from different places attended to celebrate this day."
---
GOALS
Our goal is to establish pursuit of happiness and peace in Khartoum.
Having will established training centers to train our people in humanitarian aid and human rights as well as respect for others and avoiding racism.
We would like to announce Khartoum as City of peace to save and protect our people from being a perfect citizens of third world country starting our capital of the future.
---
LETTER OF INTENT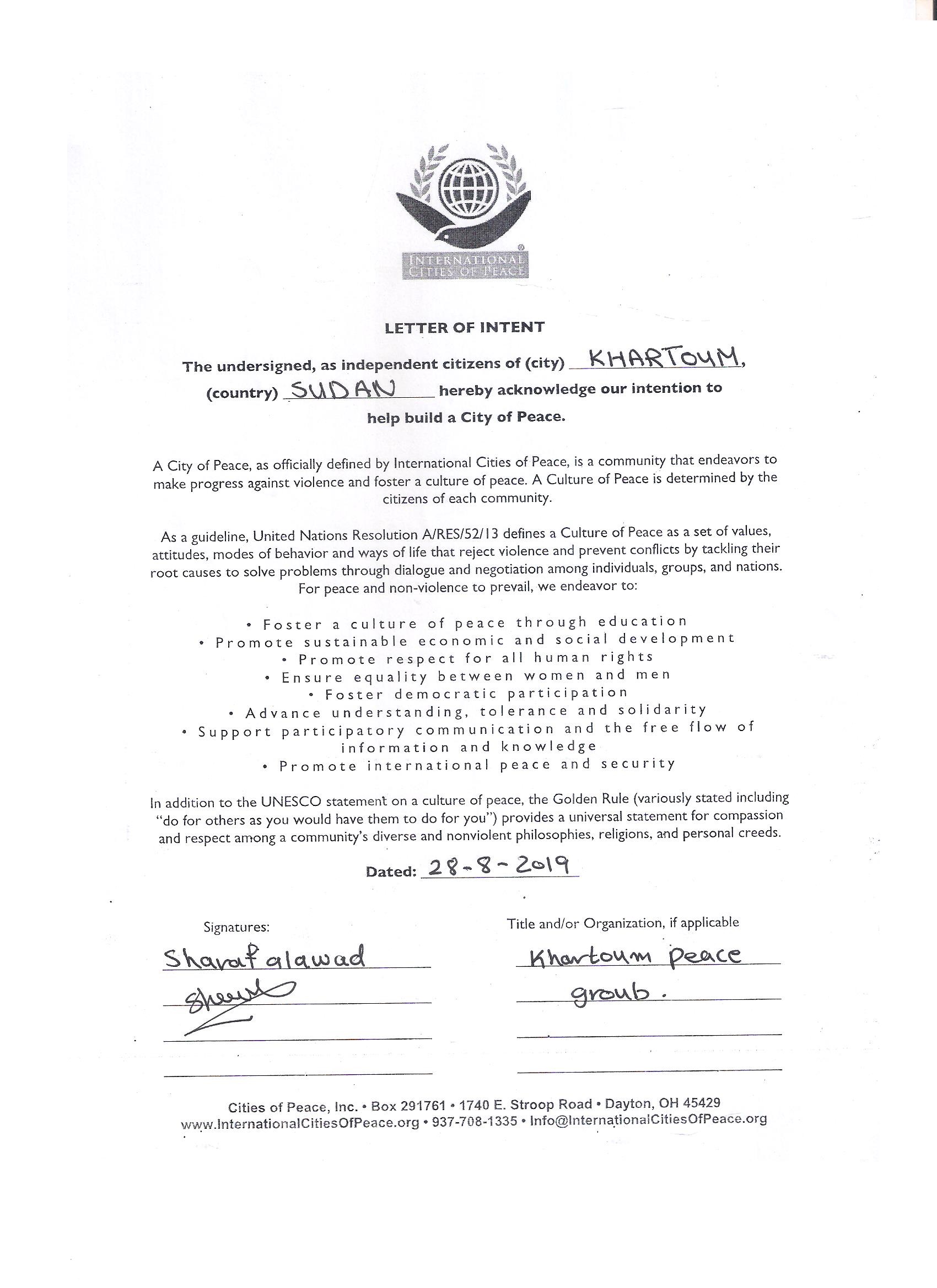 ---
ABOUT THE LIAISON
From Sharaf Alawad: "I was born in Khartoum City, umdurman province in fifth of October 1973. My father was an activists against military government at that time so he left for the UK and from there to UAE. My mother, my elder brother and sister and I followed him to UAE so I was raised in
Abu-Dhabi.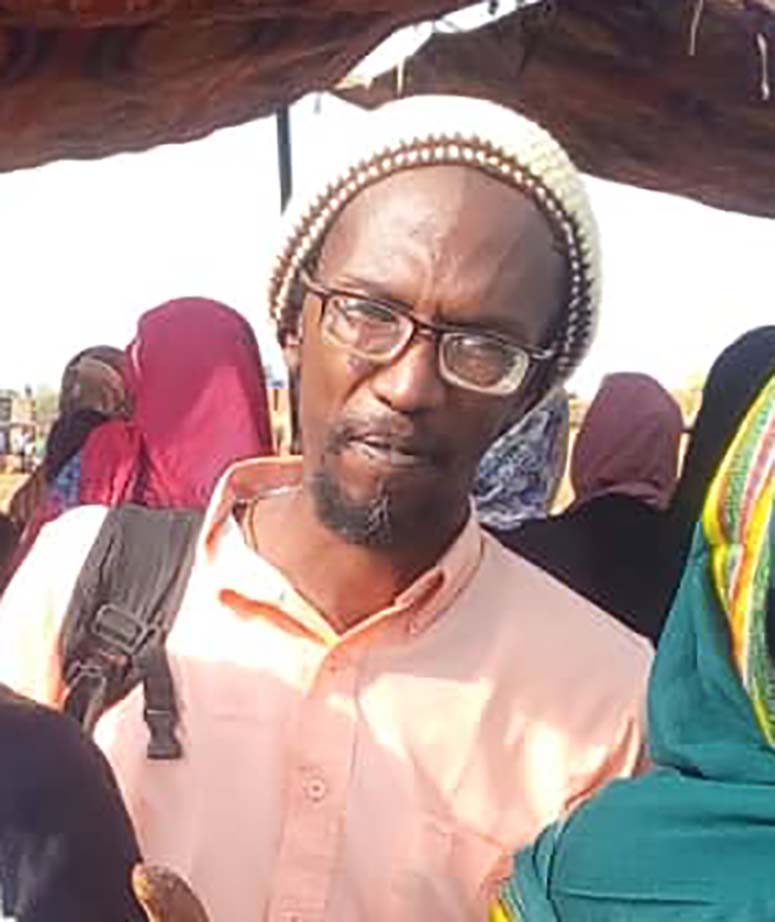 "I attended school in the UAE from kindergarten to high school. It was a great chance to have an idea about different nations and many other cultures. in 1991 was my first volunteering experience when I joined red crescent in the conflict of Iraq and Kuwait. I was already in the scout in my school days for ten years, my mother and daughter's and my sister are still in UAE.
"I left to Karachi-Pakistan to join Karachi University so I studied Microbiology for four years and I graduated with bachelor of science degree. In Karachi I joined lot's of humanitarian initiative's and I volunteered in many campaigns. After that I spend few years in UAE when I decided to go back to Sudan it was my decision that I want to serve my people as much as I can.
"I have lived in Sudan for the past nineteen years, participating in all places of conflicts and disasters whereever it is in my country. I am working with different NGOs in Khartoum, Darfur Blue Nile and other places. We organized many cultural and musical programs like peace throw music and I work hard after Sudan CPA 2003 to form a united group from young Sudanese to rebuild community of peace in most of the major cities in Sudan we succeeded to bring those group's together in cultural festivals and many other functions, I spend six years in Darfur in projects of supporting victims of genocide and sexual harassment and I served as volunteer in refugees camp's with local and international initiative and NGOs."
---
CONTACT INFORMATION
---
ABOUT KHARTOUM, SUDAN (from Wikipedia)

Khartoum or Khartum is the capital and largest city of Sudan. The city is also the capital of the state of Khartoum. It is located at the confluence of the White Nile, flowing north from Lake Victoria, and the Blue Nile, flowing west from Ethiopia. The location where the two Niles meet is known as al-Mogran or al-Muqran (المقرن; English: "The Confluence"). The main Nile continues to flow north towards Egypt and the Mediterranean Sea.
Divided by the two Rivers Nile, Khartoum is a tripartite metropolis with an estimated overall population of over five million people, consisting of Khartoum proper, and linked by bridges to Khartoum North (الخرطوم بحري al-Kharṭūm Baḥrī) and Omdurman (أم درمان Umm Durmān) to the west.
Sudan, officially the Republic of the Sudan, is a country in Northeast Africa. It is bordered by Egypt to the north, the Red Sea to the northeast, Eritrea to the east, Ethiopia to the southeast, South Sudan to the south, the Central African Republic to the southwest, Chad to the west, and Libya to the northwest. It has a population of 43 million people (2018 estimate)[14] and occupies a total area of 1,886,068 square kilometres (728,215 square miles), making it the third-largest country in Africa.[15] Sudan's predominant religion is Islam, and its official languages are Arabic and English. The capital is Khartoum, located at the confluence of the Blue and White Nile. Since 2011, Sudan is the scene of ongoing military conflict in its regions South Kordofan and the Blue Nile.
Note: If information or photos used here are copyrighted, please contact us and we will immediately delete the copyrighted material.