Kubwa, Nigeria: City of Peace
Welcome to Lamina Kamiludeen Omotoyosi and his colleagues who have established Kubwa, Abuja, Nigeria as a city of peace. The group has formed an organization called, Congress for Peace and Human Rights Defense, Nigeria.
Note: Introduction page with information primarily at the time of joining International Cities of Peace. For updates, please contact the liaison.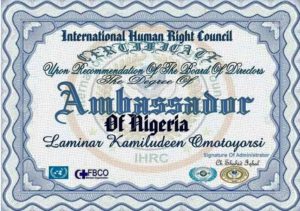 *To be contributing to the protection of human rights through both immediate and long-term action

*To be empowering the population to assert and claim their human rights

*To enable state and other national institutions to implement their human rights obligations and uphold the rule of law

* The protection of Civilians

*Addressing conflicts-related sexual violence and violation against Children

*Strenthening respect for human rights and the rule of law through legal and judicial reform discussion

Congress for Peace and Human Right Defence Nigeria: CPHR-NIG
Motto:……. Improving the qualities of peace & right
 

 

VISION
We are committed to building an emphatic society where men and nations will be free from all timely negative changes affecting universal peace building.

We are committed to promote world peace, to promote human rights & to promote better relations between peoples and societies.

 
MISSION STATEMENT
We are an artistic non-governmental, non-for-profit organization working in the area of peace, cense fire, conflict-resolution, non-violence and sustainable development.

 

AIM/OBJECTIVE

We aim to enhance humanities emphatic tendency by;

• Organizing art exhibitions, man-power development workshops, conferences, education programs and seminars for all conflict areas.

• Using pictures founded on the congress for peace and human rights defence Nigeria to portray empathy as a cultural preservative towards sustainable global peace and

• To be defending peoples right if there is abusive of fundamental human rights irrespective of language, ethnicity, gender or religion.
GOAL
We identified a picture of an Earth in totalness, and the coming of a new global community that now tasked man with so many details to contend with. Through research, we found that historically and currently many societies don't live for each other. This, therefore, produces a negative effect toward the building of sustainable global peace.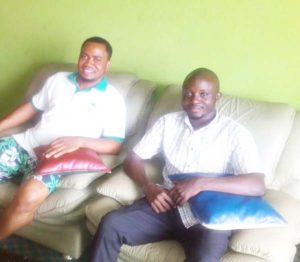 PROJECTS/KEY ACTIVITIES

1. World Peace Day 2015
2. International Human Rights Day 2014/2015
3. An online petition to Inspector General of- police of Nigeria- calling for warning of a police officer demanding for unlawdul N100 from motorists along Zuba to Kubwa Express-way, Abuja.
4. Different/Various online lecturers about how to live in peace, how to en terrorism and many other lecturers.
5. Meeting with community youths by purpose of training them the values and benefits of peace-making.
6. Advocating for community people suffering for drinkable water/food items.
---
W.I.P KEY PHYSICAL PROJECTS, 2018

1. Establishing I.C.T Center to connects all peace ambassadors and peace poets across the world. This I. C.T Center will connects all the peace ambassadors and the peace poets to the government of all nations in order to be exchanging ideas to curb menaces in the world all over..
2. Launching of International Anthology for World Peace that will be sent to national libraries of first selected 43 countries and some high schools in those selected countries.
3. Provision of Solar Panel Water System to some villages in Nigeria, Bangladesh, Burma, Uganda, Gambia, Syria and Nepal.
4. Launching of Center for Peace Education where people can study peace and conflict transformation for a period of 3 month before awarded certificate to them as "certified peace ambassador".
VOLUNTARY SUPPORTS NEEDED (NOT BY FORCE) :
1. 25 Sets of Desktop or laptop Computer System.
2. Office tables and chairs.
3. Writing Boards.
4. Solar panels and regulators.
5. Water pumping machines.
6. Plastic water storage tanks.
7. A space bus.
---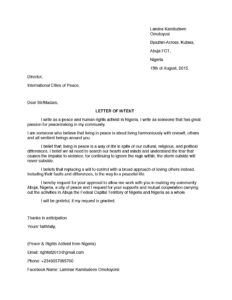 Letter of Intent
ABOUT LAMINA KAMILUDEEN OMOTOYOSI
Lamina Kamiludeen Omotoyosi is a human rights and peace activities that dedicates his life for enhancing peace stability and human rights protections by defending people rights in order to let peace reigns among people, irrespective of country, gender, religion, ethnicity, colour, or language. He is a native of Osogbo in Osun State, Nigeria but resides in Kubwa, Abuja, Nigeria.

 

Quotes from Omotoyosi:

"Always stand up for what is right even if you're standing alone."

"Peace can only be archived through means of understanding."

"Get together and talk."

 
---
CONTACT INFO
For more information please contact:

Contact Person: Lamina Kamiludeen Omotoyosi
Executive Director/CEO

OTHER SIGNATORIES
                                   
Olowolagba Ganiyu:                                          James Emmanuel ThankGod
Financial Director                                          welfarer

 

Tijani Ridwan Akintunde
Organizing Secretary

 

Congress for Peace and Human Right Defence, Nigeria: CPHRD-NIG.
Office Address: Byazhin Across Area, Kubwa Village, Abuja, Nigeria.

Tel: +234(0)905 709 5700

 
---
ABOUT KUBWA, ABUJA, NIGERIA (from Wikipedia)
Kubwa is a residential district in Bwari, one of the area councils in the Federal Capital Territory of Nigeria. It is one of the major suburbs within the metropolitan area of Abuja.

The Kubwa community has been in existence since 1990 as a satellite town of Abuja. The distance from Wuse market to Kubwa is approximately 26 kilometres. The Gbagi people were the original residents, but the Kubwa community, as a result of government policy on relocation of the Gbagi people, has the three major ethnic groups; Hausa, Yorubas, Igbos and other ethnic minorities as the main inhabitants of the community; they are mainly civic servants, businessmen and women, commercial motorcycle riders, artisans and entrepreneurs.

The Federal Republic of Nigeria is a federal constitutional republic in West Africa, bordering Benin in the west, Chad and Cameroon in the east, and Niger in the north. Its coast in the south lies on the Gulf of Guinea in the Atlantic Ocean. It comprises 36 states and the Federal Capital Territory, where the capital, Abuja is located. Nigeria is officially a democratic secular country.

Nigeria is often referred to as the "Giant of Africa", owing to its large population and economy. With approximately 184 million inhabitants, Nigeria is the most populous country in Africa and the seventh most populous country in the world. Nigeria has one of the largest populations of youth in the world. The country is viewed as a multinational state, as it is inhabited by over 500 ethnic groups, of which the three largest are the Hausa, Igbo and Yoruba; these ethnic groups speak over 500 different languages, and are identified with wide variety of cultures. The official language is English. Nigeria is divided roughly in half between Christians, who live mostly in the southern part of the country, and Muslims in the northern part. A minority of the population practice religions indigenous to Nigeria, such as those native to Igbo and Yoruba peoples.

As of 2015, Nigeria is the world's 20th largest economy, worth more than $500 billion and $1 trillion in terms of nominal GDP and purchasing power parity respectively. It overtook South Africa to become Africa's largest economy in 2014. Also, the debt-to-GDP ratio is only 11 percent, which is 8 percent below the 2012 ratio. Nigeria is considered to be an emerging market by the World Bank; It has been identified as a regional power on the African continent, a middle power in international affairs, and has also been identified as an emerging global power. Nigeria is a member of the MINT group of countries, which are widely seen as the globe's next "BRIC-like" economies. It is also listed among the "Next Eleven" economies set to become among the biggest in the world. Nigeria is a founding member of the Commonwealth of Nations, the African Union, OPEC, and the United Nations amongst other international organisations.

In the 2014 ebola outbreak, Nigeria was the first country to effectively contain and eliminate the Ebola threat that was ravaging three other countries in the West African region, as its unique method of contact tracing became an effective method later used by other countries, such as the United States, when Ebola threats were discovered.

Since 2002, the North East of the country has seen sectarian violence by Boko Haram, an Islamist movement that seeks to abolish the secular system of government and establish Sharia law. Nigerian President Goodluck Jonathan in May 2014 claimed that Boko Haram attacks have left at least 12,000 people dead and 8,000 people crippled. At the same time, neighbouring countries, Benin, Chad, Cameroon and Niger joined Nigeria in a united effort to combat Boko Haram in the aftermath of a world media highlighted kidnapping of 276 schoolgirls and the spread of Boko Haram attacks to these countries.
DO YOU THINK YOUR COMMUNITY CAN BE A CITY OF PEACE? SEND AN EMAIL!
 Note: If information or photos used here are copyrighted, please contact us and we will immediately delete the copyrighted material.