Kumbo, Cameroon: City of Peace
Welcome to Kari Jackson, founder of SURUDEV, and his colleagues who are establishing Kumbo Town as a city of peace in Cameroon. SURUDEV stands for Sustainable Run for Development and the group is active in environmental and agricultural concerns in many areas of Cameroon. The Peace Pollinator Project is intended to fulfill their mission, as outlined below.
Note: Introduction page with information primarily at the time of joining International Cities of Peace. For updates, please contact the liaison.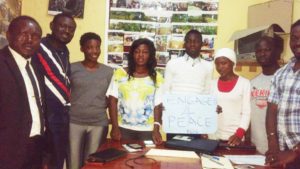 Engaged for peace campaign with peers.
Peace in Cameroon

Bamenda is the chief town of the North West region and the third largest in Cameroon after Douala and Yaoundé. Bamenda happens to be the fastest growing town in Cameroon. The Bamenda area is a peace loving community but plagued by a lot of tribal conflicts.

Kumbo is around 100 km away from Bamenda, which is a cosmopolitan city with more than two million inhabitants. City dwellers have more than 200 different ethnic backgrounds. Instability in peace stems from cultural segregation, tousle for traditional powers, political instability, gambling, armed banditry, rape, pedophile, incest, polygamy, drug abuse, poor land tenure system and land grabbing. The PPP will foster peace and enhance dialogue and tolerance with one another. Hence Bamenda City will be a peace city.

 

MISSION
SURUDEV via her campaign for peace, the Peace pollinators Project (PPP), is an initiative which has as mission to create inter-generational, inter-religious, inter-faith dialogue and unite households and various community members especially youths who are most vulnerable to tolerate one another while they go about their activities to make their livelihoods.

 

THE PEACE POLLINATOR PROJECT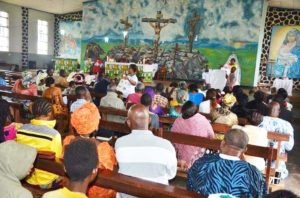 Delphine preaches peace in Church.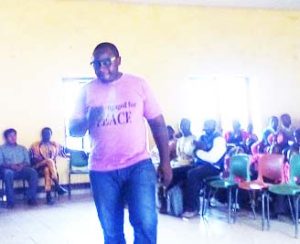 Abanda Marcel preaches peace to school dropouts and those of the informal sector.
OBJECTIVES

PPP envisions a community where everyone lives in harmony with one another, tolerant and talk peace through:

• Limitation of extreme vandalism amongst the youths and other adult groups;

• Campaigns that will foster civic behaviors amongst the youths;

• Provide entrepreneurial skills to youths in the slums of Bamenda;

• Training of youths on how to identify terrorists;

• Creation of peace clubs in schools and colleges;

• Promotion of healthy governance and responsible youths in election monitoring and participation;

• Working with the various faith, religious and government ministries to promote dialogue and ecumenism for everyone to be each other's keeper

• Organizing workshops and trainings for authorities and administration of Bamenda and other civil society organizations to foster peace;

• Engaging deviant youths in income generation activities that will stop them from engaging in prostitution, drug abuse, banditry and other societal ills.

 

Kari Jackson receiving a certificate of accomplishment.

 

Education in Cameroon

The Bamenda University of Science and Technology (BUST) is a brain child of The Industrial and Educational Development Company Ltd (INDECO). It was incorporated on the 12th October 1995.

INDECO and the university were founded by the Late Rt. Hon. Dr. John Ngu Foncha, with the encouragement of the Cameroon Government. The university went operational in January 1998. At the request of government, BUST participated and contributed extensively to the drafting of the Law on Private Higher Education in Cameroon.

BUST is a 4-year Arts, Science and Technology University and went operational in 1998. Degrees offered include B.A., B.Ed., B.Sc., HND.,SRN., AN., Lab. Tech., and Assist. Lab. Tech. Formalities for Post Graduate Studies have been put in place, to go operational by the academic year 2010/2011.

Its main national affiliate is the University of Buéa, though other partnership arrangements are under way with the University of Dschang. The Bamenda University of Science and Technology is affiliated to the University of Osnabrück (Germany) and the University of Wales at Bangor.[7]
There is also the University of Bamenda located in Bambili Town, founded in 2010. It trains college teachers, medical doctors etc. and graduates in Accountancy, management, marketing, and a number of other fields of study.

Another institution of higher learning is National Polytechnic Bamenda, formerly National Polytechnic Bambui.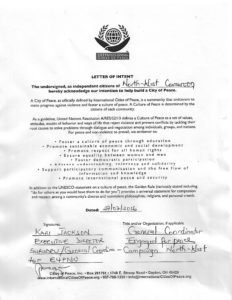 Letter of Intent
---
ABOUT KARI JACKSON
Kari Jackson is an educationist and environmentalist. He has a post graduate teacher's diploma and a BSc in Geology. He is founder and Executive Director at Sustainable Run for Development (SURUDEV).

Kari is a climate change fighter and an environmental lover and promoter
-He practices agriculture
-He is a peace lover and crusader
-He is a motivational speaker
---
CONTACT INFO
For more information please contact:

Kari Jackson
Executive Director SURUDEV
Tel: +237675957685
Email: karijackson@surudev.org
Skype: karijackson2
POB 309, Bamenda Cameroon

https://www.facebook.com/Sustainable-Run-for-Development-542106952517505/?fref=ts

 
---
ABOUT KUMBO, CAMEROON (from Wikipedia)

Kumbo, also known as Kimbo, is the second-largest city in the North West Province of Cameroon and the capital of Bui Division. It lies about 2000m above sea level and is situated approximately 110 km away from Bamenda (the provincial capital of the North West Province), on the Bamenda Highlands Ring Road.

Cameroon, officially the Republic of Cameroon (French: République du Cameroun), is a country in West Africa. It is bordered by Nigeria to the west; Chad to the northeast; the Central African Republic to the east; and Equatorial Guinea, Gabon, and the Republic of the Congo to the south. Cameroon's coastline lies on the Bight of Bonny, part of the Gulf of Guinea and the Atlantic Ocean.

Cameroon is home to more than 1738 different linguistic groups. French and English are the official languages. The country is often referred to as "Africa in miniature" for its geological and cultural diversity.

Kumbo has a population of 80,212 (at the 2005 Census) and is split into three distinctive hilly settlements of Tobin, Mbveh, and Squares. The town is known for horse racing (Tobin Stadium) and traditional medicine, and also for its palace (Nso Palace), a market and two hospitals (Shisong Hospital & Banso Baptist Hospital). Kumbo is the capital city of the Nso Kingdom of the Nso people. The lingua franca is Lamnso but Pidgin, English, French, Oku, Djottin, Fulfulde, and Hausa are spoken.
DO YOU THINK YOUR COMMUNITY CAN BE A CITY OF PEACE? SEND AN EMAIL!
 Note: If information or photos used here are copyrighted, please contact us and we will immediately delete the copyrighted material.