Lafia, Nigeria: City of Peace
Welcome to Emmanuel Peter Dadean and his colleagues who have established Lafia: City of Peace in the capital of Nasarawa State in Nigeria. With extensive peace-building programs, the group created the Foundation for Peace and Meditation (FOPM) as a non-partisan and non-religious service group that helps adullts and youth throughout the Lafia community. Dadean has also created a faith-based organization as described in his biography below.
Note: Introduction page with information primarily at the time of joining International Cities of Peace. For updates, please contact the liaison.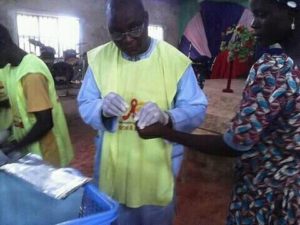 The Foundation for Peace and Meditation provides many services, including free HIV/AIDS testing.
ABOUT THE FOUNDATION FOR PEACE AND MEDIATION (FOPM)

A Non-Governmental Organizations called Foundation For Peace and Mediation works in the areas of HIV/AIDS awareness, peace building, mentoring and youth development.

MOTTO

Towards a more Peaceful Generation

   


Peace building training.

MISSION STATEMENT

FOPM is a non-partisan, non-religions and non-profit organization dedicated to promote, advocate and create awareness on peaceful co-existence among adherents of different faiths and ethnicities in Nigeria.

 

VISION

FOPM strengthens and promotes a culture of peace and seek to reduce violence through non-violent and agreeable approach.

Group photo of with participants during our Training Workshop

 Letter of Intent


OBJECTIVES

* To significantly reduce all forms of violence and promote peaceful co-existence among people of diverse cultural, political, social and religions background for sustainable development.

* To undertake an in dept research on remote causes of conflict and proffer solutions to prevent reoccurring.

* To initiate people-oriented development programs pertaining to the better service to humanity.

* To address ethno-religious conflicts by creating a platform for dialogue on some controversial cultural and doctrinal issues.

* To assist the Internally Displaced Persons (IDPs).

* To network with other organizations that share similar vision.

 

ACTIVITIES

• Peace Building

• Conflict resolution

• Inter-faith and inter-cultural dialogue

• People-Oriented Development Initiatives

• Humanitarian Services

Peace training for youth

 
---
ABOUT EMMANUEL PETER DADEAN
Emmanuel Peter Dadean was born on 26th May 1970 in Lafia, Nigeria to the humble family of Mr. & Mrs. Peter Dadean. He started his educational career in 1976 at St. Williams Primary school, Lafia. Later in 1982, he proceeded to Mada Hills Secondary School, Akwanga where he obtained the West African School Certificate in 1987.

In his quest for self-development, he attended a post-Secondary Certificate course in Accounts and Audit at the Plateau state Polytechnic, Barkin Ladi between 1988-1989. His journey to the Christian Ministry started in 1991 when he was admitted into Ayu Theological Seminary, Kaduna State to study Diploma in Theology. Through thick and thin, he distinguished himself as the overall best student in theology, in 1994. From 1994-1998, he served as a lecturer and Chaplain at ERCC Bible College, Akasa and ERCC Secondary School, Azuba respectively. In 1998, he gained admission into the prestigious, Jos ECWA Theological Seminary (JETS) for a Bachelor of Arts in Theology (Christian Education).

After completing his course work in 2000, he was enlisted into a mandatory Youth Scheme, National Youth Service Corps (NYSC), where he served my country as a teacher at the Government Science Secondary School, Nasarawa Eggon. Because of the love and concern he have for humanity, he and Other development workers conceived and initiated a concept and found a Non-Governmental and Faith-Based organizations called Foundation For Peace and Mediation is a Non-Governmental, Non-Denominational and Non-Profit organization working in the areas of HIV/AIDS awareness, peace- building, mentoring and youth development.

Peace Seminar at Abacha Youth Center, Lafia

In addition to his work in FOEM, Daedean organized the Faith and Action Gospel Services (FAGS). He is also a volunteer in so many civil society organizations and an Education Officer serving under Nasarawa State Ministry of Education. To professionalize his teaching career, he enrolled at the University of Jos, Nigeria for a Post-Graduate Diploma in Education between 2007 and 2012. He is a Master in Peace Studies and Conflict Resolution graduate of The National Open University of Nigeria.
---
CONTACT INFO
For more information please contact:

Emmanuel Peter Dadean:

+2348036513778

 
---
ABOUT LAFIA, NIGERIA (from Wikipedia)
Lafia is a town in central Nigeria. It is the capital city of Nasarawa State and has a population of 330,712 inhabitants according to the 2006 census results. It is the largest town in Nasarawa state.

The Federal Republic of Nigeria Listeni/naɪˈdʒɪəriə/, commonly referred to as Nigeria, is a federal republic in West Africa, bordering Benin in the west, Chad and Cameroon in the east, and Niger in the north. Its coast in the south lies on the Gulf of Guinea in the Atlantic Ocean. It comprises 36 states and the Federal Capital Territory, where the capital, Abuja is located. Its largest cities include: Lagos, Kano, Ibadan, Benin City and Port Harcourt. Nigeria is officially a democratic secular country.

Before Lafia became the capital of a local chiefdom in the early nineteenth century, a small settlement consisting of a minority tribe called madah had existed on the site.

Lafia, formerly Lafia Beri-Beri, town, Nassarawa State, central Nigeria. Originally the site of eggon a small town of the Koro (Migili) people and now have 16th Emir in the person of Isa Musatafa Agwai I. Lafia became the capital of a prominent local chiefdom in the early 19th century. During the rule of Mohamman Agwai (1881–1903), the Lafia market became one of the most important in the Benue Valley, and a trade route was opened to Loko (56 mi [90 km] southwest), a Benue River port. In 1903 the British, who controlled Northern Nigeriarecognized Chief Musa as Lafia's first emir. The emirate formed the major part of the Lafia Division of Benue province. In 1967 the town became part of Benue-Plateau state, and in 1976 it was allocated to Plateau state.

Modern Lafia is a collecting point for sesame seeds, soybeans, and is a trading centre for yams, sorghum, millet, and cotton. Besides farming, cotton weaving and dyeing are traditionally important activities of the town's permanent inhabitants—members of the Alago, Tiv, and Kanuri people which are the royal clans—while Fulani herdsmen bring their cattle to graze in the vicinity during the dry season. Tin and columbite are mined nearby, and there is a deposit of coal southeast of the town.
In addition to the Emir's palace, Lafia has a central mosque, a Roman Catholic secondary school, and a government health office. It is situated on the trunk railway from Port Harcourt and on the main highway between Makurdi and Jos. Population of (2006) census in Lafia local government area was estimated 330,712.

Lafia is home to Nasarawa State University Faculty of Agriculture Lafia, Nasarawa State Polytechnic Lafia, College of Agriculture Lafia, and recently Federal University, Lafia and a large number of primary and secondary schools. Lafia is the location of Nasarawa United, a football club whose stadium is Lafia Township Stadium.
DO YOU THINK YOUR COMMUNITY CAN BE A CITY OF PEACE? SEND AN EMAIL!
 Note: If information or photos used here are copyrighted, please contact us and we will immediately delete the copyrighted material.