Lalitpur, Nepal: City of Peace
Welcome Santosh Bidari and his colleagues at the People for Peace organization, who have created an International Cities of Peace organization in two district/cities of Nepal, Bhaktapur and Lalitpur (the third is Kathmandu, also a city of peace).
Note: Introduction page with information primarily at the time of joining International Cities of Peace. For updates, please contact the liaison.
For the Past 13 Years, Santosh Bidari (1987) has been driven by his passion to bring together people regardless of cast, faith or cultural background. Music, art, media , education and non formal education always play a central role in his campaigns. Directly as well as indirectly, thousands of people have been reached to generate attention for the social causes he has promoted.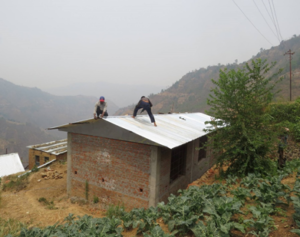 http://www.masterpeace.org/sdgs-series-masterpeace-nepal-helping-quality-education-nepal/
VISION OF BHAKTAPUR AND LALITPUR: CITIES OF PEACE
Create the best model for a peace city in the world.

VISION OF THE ORGANIZATION, "PEACE FOR PEOPLE"
The mission of peace for people is to promote the transition to sustainable ways of living and a society founded on a shared ethical framework that includes respect and care for the community if life, ecological integrity, universal human rights, respect for diversity, economic justice, democracy and a culture of peace. if you want to more contact us :admin@pfpnepal.org.np and go the link www.pfpnepal.org.np and see all info.

Global Peace is possible only through combine efforts of the people of the World. For this Peace for people was established in 2009 under government act (B.S 2034) in Nepal. It's Non Profit organizations which acts as mediator for People and stakeholders of Peace. To live in a peaceful environment is a basic right of human beings. And to create a such environment is a mission of United Nations (U.N) and principle of worldwide human rights.

 

MISSION
The Light of Peace, Gauttam Buddha, was born in Nepal. we want to build both cities as peace cities where all people feel the light. As i am stay at peace city and they can respect, love and care for each other, which is first step of peace establishment. Then we will bring message global peace this as our mission.

 

GOALS
Bhaktapur and Lalitpur are both famous cities. For people around the world, these are historical places, with Bhaktapur Durbar Square, Nagarkot and Patan Durbar Square. We want to build the message of peace from children and youth as well as the eldest people and define peace as love for all citizens.
---
About Santosh Bidari:
Founder and Director of Peace for People, Santos Bidari first began his career in social welfare work at age 15 as vice president of a local social welfare youth society. After attaining his education, he wanted to further engage in solving problems and challenges of society at the local level. He became editor for the Pratibha poetry collection which appeared in "Mirmire Literature," published monthly. Facing insurgency conflict in the period from 1996 to 2006, daily life in the country was greatly affected. He believed media could help solve the problems of society and end conflict such as this by exposing current issues and educating others about them. Thus, he commenced his study in Mass Communication and Journalism in college. While studying, he was able to connect firsthand with countries and the problems of their people, an experience which later helped him greatly with his peace work. He gained the position of publisher and senior editor of the "Vaskar Pakshik" newspaper and the "Gadatantirk Bihani" national weekly newspaper.
He was also involved in numerous positions concerning social welfare. After having gone down the career path of a journalist, Santosh had a revelation that led him to aspire to serve people and bring global peace. Therefore, he founded Peace for People in 2009. His goal was to implement behavioral practice for people to learn about peace and practice it. Currently, he also works with numerous peace related organizations. He also holds the position of National Coordinator of Master Peace and Peace Ambassador of SPMUDA (South Philippines Muslim and Non-Muslim Development Association). In 2012, he earned the International Peace Award from SPMUDA.
For more information, contact:
Santosh Bidari <santosh.peace4people@gmail.com>
About Bhaktapur and Lalitpur, Nepal
Nepal, officially the Federal Democratic Republic of Nepal, is a landlocked sovereign state located in South Asia. With an area of 147,181 square kilometres (56,827 sq mi) and a population of approximately 27 million (and nearly 2 million absentee workers living abroad), Nepal is the world's 93rd largest country by land mass and the 41st most populous country. It is located in the Himalayas and bordered to the north by the People's Republic of China, and to the south, east, and west by the Republic of India. Specifically, the Indian states of Uttarakhand, Uttar Pradesh, Bihar, West Bengal, and Sikkim border Nepal, while across the Himalayas lies the Tibetan Autonomous Region. Kathmandu is the nation's capital and largest metropolis. 
The district of Bhaktapur is the home of traditional art and architecture, historical monuments and craft works, magnificent windows, pottery and weaving industries, excellent temples, beautiful ponds, rich local customs, culture, religion, festivals, and musical mystic. Bhaktapur is still an untouched as well as preserved ancient city that is itself a world to explore for tourists. From time immemorial it lay on the trade route between Tibet and India. This position on the main caravan route made the town rich and prosperous.
Lalitpur District , a part of Bagmati Zone, is one of the seventy-five districts of Nepal, a landlocked country of South Asia. The district, with Patan as its district headquarters, covers an area of 385 km² and has a population (2001) of 337,785. It is one of the three districts in the Kathmandu Valley, along with Kathmandu and Bhaktapur. Its population was 466,784 in the initial 2011 census tabulation.
DO YOU THINK YOUR COMMUNITY CAN BE A CITY OF PEACE? SEND AN EMAIL!
Note: If information or photos used here are copyrighted, please contact us and we will immediately delete the copyrighted material.